FOR THOSE ABOUT TO ROCK
Hard Rock Hotel & Casino Atlantic City is the regions must-visit entertainment complex.
By J. Phillip Vogel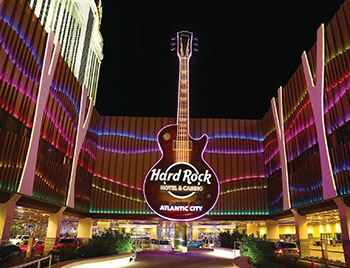 Atlantic City is a gambling town, a multi-billion-dollar casino market that draws millions of players from surrounding states each year. For much of the past decade, the city has seen its share of ups and downs, mostly downs, as growing competition from New York, Pennsylvania and Maryland have siphoned off many of its players who have opted for the convenience of closer-to-home gambling rather than taking the trip to the shore town.
But it looks like the worst is in the rear-view mirror. With last year's opening of two prominent casino resorts, players have found exciting new reasons to eschew convenience in search of a better experience.
Beyond question, the property responsible for the bulk of the region's impressive rebirth is the Hard Rock Hotel & Casino Atlantic City. With a staggering price tag of over $500 million, the Hard Rock is the most expansive and aggressive project in what is considered a very tough – and at the time failing – market. But after nearly a year in operation, the gamble seems to have paid off for both the company and the city, with the Hard Rock drawing massive crowds and almost single- handedly revitalizing the seaside gambling town.
Last month I had the opportunity to meet with Joe Lupo, President of Hard Rock Hotel & Casino Atlantic City. A friendly, if somewhat intimidating presence, Mr. Lupo has spent his entire career within the gaming industry, beginning with Boyd Gaming in Las Vegas in 1986 shortly after graduating from University of Nevada, Las Vegas. He came through the ranks of bookmaking by way of the former Stardust Hotel & Casino Las Vegas, eventually moving to New Jersey and serving as Senior Vice President of Gaming Operations, Marketing & Entertainment at Borgata Hotel Casino & Spa in Atlantic City.
"I oversaw different aspects and my career grew to understanding more resort business as opposed to just sports betting and horses," he said. "And then MGM bought the property in 2016 and soon after that I was given the opportunity to work at Seminole Hard Rock Tampa for two years. I came up here six months ago."
Now back in New Jersey, Mr. Lupo is firmly in the driver's seat for what is arguably the grandest and most influential entertainment complex to hit Atlantic City in decades.
Casino Player: How would you describe Hard Rock's impact on the Atlantic City region?
Joe Lupo: I think a new, energetic brand has been great for the city. We've obviously seen some really great numbers both from visitation and revenue. We're 2nd in table game drop in the city and 4th in overall casino revenue. So, I think our brand has resonated. But it also brought new energy. We've taken a property and completely revamped it with $500 million of investment. And we're getting great feedback – 2,000 hotel rooms is a lot to offer, along with entertainment, dining, a world- class spa, as well as our convention business.
I think we have a lot to offer, and we've come into the market at a good time. You have Borgata going through changes, Caesars coming out of bankruptcy, Tropicana under new management from Eldorado, and you have Ocean under new management as well. So, it's a bit of a tumultuous time from an operating standpoint, where you have us opening last year with real support from our owners the Seminole Tribe in Florida. And the property's been doing really well.
I think it has resonated with the New Jerseyan who has come to the city and seen the same thing over and over again and now there is a new property they're going to with new, nice amenities. I think product sells and I think our product can contend better than most and at least we're on par with the best.
How is Atlantic City different from other gaming destinations? How does it compare, say, to Las Vegas?
It's a unique market, obviously. To compare it to Las Vegas, Las Vegas has a resort destination customer who stays three or four days and goes out once or twice a year. Here our customer comes 50 times a year for a night. So, it's much different to market due to the fact that if I want to get you here 50 times a year, I have to have 50 different promotions. If I want to get you out west twice a year, I need two promotions. It's a different type of marketing. It's a different customer who obviously spends a smaller portion of their wallet more often as opposed to that Las Vegas visitor.
Las Vegas has 10 times the rooms, players stay longer, and the retail business and hotel business is much different. We're turning rooms over every night; and there's no reason to have a lot of retail business here when you pass three malls on your ride here.
Shows are a little bit different here as well. We have to have a lot more shows… again, you're not going to watch Cirque Du Soleil 20 times. So, we have a much more diverse entertainment program. It's a lot more difficult. Las Vegas and Atlantic City are just apples and oranges. But it's a very competitive environment, two properties opened in the past year in basically a flat environment.
Hard Rock is packed with just about everything a gambler could want – slots, table games, sports betting, but no poker. What's behind that decision?
Two very simple things: space, and the fact that the major brands like the WSOP and WPT are all tied into other brands, and we didn't have that availability to have that partnership. It's tough without that partnership. Here, it's very competitive and with the growth in poker outside Atlantic City – NY, PA, Maryland –the size of the poker market just dwindled here. I was over at Borgata when that happened and it was really tough, and you saw a couple of rooms close. So being unable to partner with any major brand and the lack of space it's a tough thing to consider, especially when we could probably use some more slots.
Casino Player readers are very knowledgeable, active players. They know the games, the strategies, money management and the best places to play. Given the regional options in NY and PA, how does Hard Rock appeal to these active gamblers and inspire them to make the trip to Atlantic City?
There are a couple things from a gaming standpoint specifically. We have the newest slot product in town and that really speaks to the slot customer. Having over 2,000 new machines, our numbers are doing pretty well and we're constantly looking at the floor and what's working. You have some product around town that's literally been here 10 or 15 years. For us to be able to give the slot player all new slot products has been really meaningful and it's resonated with the slot player.
And our Asian room stands out as the nicest Asian room in town bar none. I think that's really resonated with the table games player. We're making a few changes with our table games layout now.
But in some respects, you can say gaming is gaming. It's really about what else brings you here, like having terrific dining, 2,000 hotel rooms, entertainment, and having big shows with big headline entertainers. I think the entertainment really brings a different segment, a different demographic and introduces the property to someone who may not be a gamer. And I think when you see our floor it's beautiful, it's very bright, and very energetic. Plus, we have a great team here and obviously service is a priority. We're working hard to ensure good service.
What has been the feedback from your guests about their experience?
If there is one word I can say, it's energy. Everybody who walks in the door, that's the word I hear all the time. We're trying to be fun, energetic and ensure that Hard Rock name provides a fun atmosphere.
There's no question there is such a great energy here. As a resident, coming out here on a Saturday night there's always a lot of activity. People are happy, and having a good time. There are great shows, great restaurant choices… What's the source of so much excitement?
Having bands 365 days a year with two venues, one of the biggest venues in town; our lobby bar and hard rock cafe bar with the live music. Whether you come in from the boardwalk or the main entrance you hear a vibrant energetic event going on here.
You've been at the helm since shortly after the grand opening. What challenges did you face running a brand-new property? Was there anything unexpected?
That I can speak about, right (laughing)? The biggest challenge here is being in a market without a database… being in a competitive, flat market without a database. We've really worked hard to get people in the door, show them the property and get them in the database. The database is without question the engine to a casino. Not having that here has been the challenge that we're working to remedy.
I would bet anyone that we're probably getting more new visitors a day than any other property. I know how many we get and I know how many other properties used to get. So I think we're getting that visitation and that will just take some time. And I think we've done a good job trying to get people in the door through promotions.
Oh, you mean like giving a car a day away in May? That's pretty powerful right there. I imagine it's hard to top that…
It's important for us, for me and for our customer base to feel that we're trying to provide opportunities to them that are different. The Car-a-Day in May promotion, we've received really great feedback on. I see billboards around town where a casino is giving away a car on Sunday, or one here and there. And we're giving away one guaranteed every single day.
And what about your tier matching program? I'm sure that helped to build that database.
Yeah very much so. With so many properties it's always been a pretty consistent type of promotion. The one thing here is that we had a lot of knowledge about the other properties. But don't forget there's Parx Casino and Sugar House and Resorts World, National Harbor, and Live! Casino, so our customers have gotten away from us in Atlantic City. To be able to talk to those players and tier match them has been helpful.
Your first anniversary is fast approaching. What can guests expect this summer? I'm sure you have celebrations planned, parties happening, special events…
They can expect a one-of-a-kind, for the first time, unique and extremely powerful promotion. We're going to really maintain an aggressive approach. I think we have to, being that we're new to the city. You build real loyalty when you come 50 times a year for 20 years. That customer knows the employee names and the rooms they like, that they want that certain floor. So, for us to garner that customer's loyalty is not easy. We have to be a little bit more aggressive and do some WOW initiatives that make people give us a good look. And I think that when they do, they'll see a great property, beautiful, well-lit, good people, good service with a real opportunity to win some great prizes.
Describe your perfect Hard Rock night out for someone who's never been here.
You check into a beautiful suite overlooking the Atlantic ocean, you go downstairs and enjoy a great band at the lobby bar, have a great dinner in Kuro or one of our other great restaurants, and then you head to Hard Rock Live at Etess Arena to see a top entertainer, come out with a big smile on your face, gamble and win a big jackpot and go to bed happy.
There are plenty of terrific restaurants in AC. How would you rate the dining at Hard Rock?
Pretty good! We're a unique property where we have our own restaurants and we have partners as well. We have our Council Oak, Kuro and Robert's Steakhouse as well as Il Mulino. We have a good offering for everyone.
And we also have Sugar Factory which I think speaks to a younger demographic, somebody who loves a great banana split. It's NOT just a dessert concept, but serving the most innovative and best desserts in town. It's almost a dessert restaurant. They have a full menu and it's kind of like a unique offering. And our Hard Rock Cafe is a great mid-level restaurant that's accessible. And having an excellent noodle bar is really advantageous to us.
What is the #1 thing you'd like guests to walk away with after a visit here?
The thought "I had a great time…" That's all. We're an entertainment complex. Whether you gamble, or just come for a show, or to go to the spa… I just want people to walk away thinking, "what a great time, I've gotta go back!"
Finally, I think we'd be remiss if we didn't talk about the amazing memorabilia.
We really do have great memorabilia here. In this city we really had to make a big statement. From Elvis to the Stones, it's a big piece of who we are and it brings people back to some great memories. You see something from The Beatles from when you were young and it takes you back to a different time. It makes you feel good to remember a concert that you went to. It's more than just a jacket in a display – it's a real memory.