EXECUTIVE DECISIONS: FANDUEL CASINO'S VP, DANIELE PHILLIPS, TALKS ONLINE CASINO AND MORE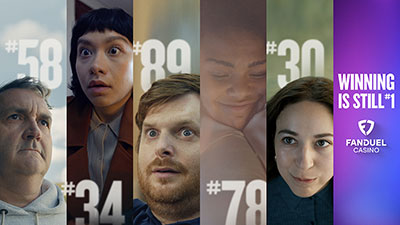 FanDuel Casino unveiled its "Winning is Undefeated" ad campaign's second chapter in September, spreading across TV, social media and contextual out-of-home platforms. This announcement coincides with the launch of their exclusive game, Fort Knox Cleopatra, which offers a unique take on the popular IGT's Cleopatra slot.
FanDuel Casino, in collaboration with Mischief @ No Fixed Address, is promoting the exhilarating feeling of winning in the new campaign, with ads appearing in key markets like New Jersey, Pennsylvania and Michigan. As an added bonus for new players, FanDuel Casino offers 50 bonus spins upon signing up and making their initial deposit, along with the chance to experience that unbeatable winning sensation through their Free-to-Play Reward Machine.
In an exclusive interview with Daniele Phillips, vice president of casino brand strategy at FanDuel Group, Casino Player delves into the world of FanDuel's online Casino. Phillips provides unique insights into the strategies and features that make FanDuel Casino stand out in the competitive online gambling landscape.
CP: What was the inspiration behind FanDuel's decision to enter the online casino market?
DP: We have a large footprint in Casino as part of Flutter across many brands like Sky Betting & Gaming, Paddy Power & Pokerstars operating in the UK and many other global markets. When PASPA [Professional and Amateur Sports Protection Act] came to fruition in the US, to allow real-money sports betting, we launched FanDuel Sportsbook in NJ and it made sense to have a casino in there as a hybrid sportsbook & casino app vs operating as Betfair Casino—which was who we were originally. The U.S. casino market is one of the largest in the world and given our heritage in Flutter it made sense for us to join the party!
At such a momentous time for online gaming, what sets FanDuel Casino apart from the other big players?
I would point to two main things that set FanDuel Casino apart and that would be firstly, our team. As mentioned above there is a huge amount of experience within Flutter and that's what has given us a major edge in many of our markets. A significant number of our employees have come across from other parts of the wider group—so we benefit from lots of amazing expertise.
I am an example of this as I have worked across three brands within Flutter in my 15-year career in the gambling industry, all focused on digital first and online gaming. We have a passionate group of people who genuinely love what we do—giving our players unique and exciting experiences every single day. We aren't the type of people that will settle for being #3 in market share either! Plus, you can't mention FanDuel without talking about our huge Sportsbook & DFS advantage, which we benefit massively from being part of the wider FanDuel ecosystem. Whether that's seamless log-in between Sportsbook & Casino or one account and wallet.
Avid slot players will be thrilled to see the addition of the iconic Fort Knox Cleopatra game, which is coming soon to FanDuel Casino. Can you describe the range of casino games and other offerings on FanDuel Casino?
There's lots more to come in these areas as we have built the foundations across the portfolio of games that our players expect us to have and closed that gap in the last year. In fact we have launched over 75% more games year on year. Now is the time to launch content that players wouldn't find anywhere else and that starts with Fort Knox in partnership with IGT. We are excited to make several big announcements in the coming months. Stay tuned for what's to come from FanDuel Casino!
Are there any unique or innovative features on FanDuel Casino that players should be excited about?
FanDuel Casino has three features we are specifically proud of. Reward Machine is our daily free-to-play game where players get three free spins each and every day to win prizes of up to $2,000. Secondly, we have the top Live Dealer studio across the Evolution platform—and that comes from the time and effort we put into building our dedicated studios. And thirdly, our Daily Jackpots offering allows our players in NJ and MI to try and win a jackpot, which is guaranteed to be won by 11 p.m. each day.
FanDuel, as a company, emphasizes responsible gaming. What measures are in place to ensure the safety and well-being of players on FanDuel Casino?
We're committed to providing our players with resources and support to have responsible fun, so we've made it easy for them to set custom limits on how much money you deposit or wager and time you spend on the app or site.
You can take a timeout for a short period of time or close your account permanently.
How does FanDuel Casino address security concerns related to online casino operations, including data protection and fair play?
We've seen from our research that security and trust are the number one concern of many online casino players. Players want to make sure their personal details are safe and secure and this is of absolute paramount importance to us.
Fun features and new games are the cherry on top but it's fundamental that we continue to invest in security. We have proprietary FanDuel technology that has embedded controls that give us increased security capabilities and resiliency to best protect our customers' data and their opportunity to play. These controls allow us to ensure compliance with GLI and industry regulations. At FanDuel, our talented team of engineers and security specialists work non-stop to make our code as secure as possible and we will continue to do so.
Online gambling is subject to strict regulations. How does FanDuel Casino ensure compliance with relevant laws and regulations in the jurisdictions it operates in?
We have dedicated teams in place that liaise between each of our regulators and our internal teams to ensure we are acting in the right way.
FanDuel has long been a heavy hitter in sports betting. Has the addition of FanDuel Casino introduced an influx of new users? How have things shifted since?
Yes absolutely! This has been a relatively untapped part of the market for us given the huge cross-sell opportunity from our predominant sports base, but since last year we are ensuring we have a good mix of both direct acquisition and cross-sell. We have historically under-punched in female customers, who we know are much more likely to be casino players vs sports bettors. It's been a major focus for us to ensure we reach this demographic and get new and existing customers excited about all that FanDuel Casino has to offer.
Finally, how can players and interested parties get started or stay informed about FanDuel Casinos online casino offerings?
We love to stay in contact with our players so we encourage those who want to hear from us to sign up for an account and opt in to emails/notifications. Throw us a follow on FanDuel Casino's Instagram, Facebook or X for news and announcements from the brand. Lots of exciting happenings are in store—stay tuned!