ELEVATED LUXE
Circa Resort & Casino opens in Downtown Las Vegas
By Steve Kieva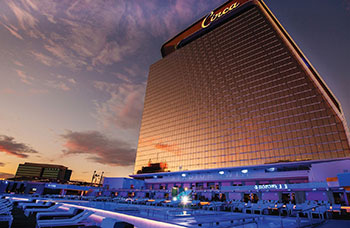 Developers and brothers Derek and Greg Stevens have officially opened Circa Resort & Casino, the newest— and tallest—integrated gaming resort in Downtown Las Vegas.
A welcome addition to the iconic Fremont Street Experience, Circa Resort & Casino brings a new energy to Downtown as the first ground-up resort development in the area since 1980.The innovative property celebrates the timeless spirit of the city while leading the charge for a bold new era with game-changing guest offerings.
"There is a lot of unmet demand for fun in Las Vegas," said Derek Stevens. "At Circa, our goal was to create a destination resort in a historic part of the city, while showing guests the time of their lives. We plan to double down on the world-class service Las Vegas has always been known for while bringing personalized experiences to a new level."
In the spirit of staying true to the city, Circa delivers a new experience built on the original principles of old-school Vegas hospitality.
It mixes the glamour of vintage Vegas with modern luxuries and cutting-edge technology, honoring the golden age of the city. Guests can expect top-notch entertainment while enjoying honest, attentive and friendly service.
Paying homage to the city's vibrant history, Circa tips its hat to the Las Vegas legends of decades past, ranging from the visionaries behind the first gambling halls on Fremont Street to the preeminent destination resorts on the Strip.
Designed for those seeking the ultimate Las Vegas vacation, Circa boasts 777 rooms and suites and a collection of thoughtful amenities, including a range of eclectic restaurants and the longest outdoor bar on Fremont Street.
At Circa, you will experience a rejuvenating spa and a two-level casino with state-of-the-art slot and table gaming options.
Circa is also home to a state-of-the art parking structure playfully dubbed "Garage Mahal," specifically designed with ride-sharing in mind. Catering to the growing use of Uber and Lyft, and housing 1,201 parking spaces, the centrally located nine-story garage will be the first of its kind in Downtown Las Vegas, allowing guests to conveniently and efficiently travel to and from the property.
Another signature element is the multi-level, stadium-style sports- book, equipped with the biggest screen in sportsbook history.
The resort is also defined by a bold design, accented by a backlit roofline and an expansive multi-tiered pool amphitheater. Featuring several pools and a massive screen with the latest high-resolution technology, the amphitheater offers a unique watch-party atmosphere for sun seekers and sports fans. The venue is complemented by a delicious food and beverage menu, private cabanas and music from DJs and special guests. Circa's interior will welcome the return of a Las Vegas icon: Vegas Vickie, the kicking cowgirl who was once perched high above the Fremont Street Experience, will become a key design feature and must-see photo opportunity within the hotel's lobby.
Circa will offer an eclectic restaurant lineup featuring several original concepts from a collection of chefs and proprietors revered both locally and around the world:
Saginaw's Delicatessen from Detroit restaurateur Paul Saginaw.  Barry's Downtown Prime, the first Downtown venture by Chef Barry S. Dakake. Victory Burger & Wings Co. from American Coney Island's Chris Sotiropoulos and Grace Keros. 8 East, the first pan-Asian restaurant from Chef Dan Coughlin. Project  BBQ by Chef Rex Bernales, the first permanent food truck and Carolina barbecue joint on the Fremont Street Experience.
Here is a little more info about each restaurant:
Saginaw's Delicatessen – Conceptualized by Michigan legend Paul Saginaw, Saginaw's Delicatessen will be his first restaurant outside of the region.  A lifelong fan of Downtown Las Vegas, Saginaw has collaborated with Stevens to introduce a family-style deli touting sandwiches "so big, you'll need two hands to eat them."
Saginaw's menu includes Paul's famous Reuben and several more of the creative sandwiches for which he's known. Traditional delicatessen favorites round out the menu, including matzo ball soup, onion rings, salads, latkes, chopped liver, breakfast specialties and more.
Barry's Downtown Prime Vintage – Glamour and hospitality meet modern innovation and design at Barry's Downtown Prime, the new steakhouse concept from Chef Barry S. Dakake and Make It Happen Hospitality. Barry's Downtown Prime delivers the city's finest steaks and seafood, fresh tableside preparations, creative cocktails and a memorable service experience.
Evoking a throwback vibe worthy of Downtown's legacy, Barry's brings guests back to the classic cool of the '50s and '60s, when great music and sounds of clinking martini glasses filled the air, the chef greeted you at the table, the bartender knew your favorite cocktail and everyone felt like a VIP.
Victory Burger & Wings Co. – Overlooking Circa's sportsbook, Victory Burger & Wings Co. is an all-star sports bar experience. Developed by Chris Sotiropoulos and Grace Keros—third-generation owners of Detroit's 102-year-old American Coney Island—the menu offers simple items, executed flawlessly. Gameday staples will include five specialty burgers, wings and appetizers.
Following the same business model that made American Coney Island successful for more than a century, the new Circa concept features fresh, high-quality ingredients, made to order, in a fun and lively atmosphere.
The star of the show will be the Victory Burger, featuring a ½-pound patty made with a proprietary blend of Angus beef, short rib and brisket topped with a secret sauce. In an homage to the Midwest, Victory also will serve a twist on the beloved Michigan Olive Burger. Crispy and meaty, diners will love the hearty portions of wings and signature dipping sauces. And no meal will be complete without Victory fries and a pour from its excellent beer selection.
Guests can watch the sports action via TVs throughout the space in addition to a prime view of the massive three-story screen in Circa's sportsbook. The venue has its own radio booth, where fans might spot their favorite sports talk show conducting a broadcast on gameday.
8 East  – Inspired by metropolitan Asian food markets, 8 East offers Chef Dan Coughlin's creative takes on pan-Asian cuisine. Spanning Chinese, Japanese, Vietnamese, Korean and Thai dishes, 8 East has a hip, high-energy atmosphere punctuated by great music and communal dining.
A key player in sparking the Downtown food movement with hot spot Le Thai, Coughlin  introduces new fusion dishes and techniques at 8 East that he's been keeping in "the vault"—previously tested both at his Thai restaurant and at home for family and friends.
His menu is full of shareable dishes, such as Coughlin's GaPow basil chicken pot stickers, dumplings, wontons, skewers and steaks. Each will be served with signature Chinese, Szechuan, Shangdu and Thai sauces, among others, offering unique flavor combinations for guests to explore.
Project BBQ – Serving up a Southern festival of gourmet smoked meats,  Project  BBQ will be Fremont Street Experience's only permanent food truck  and its first Carolina  BBQ joint.
Conceptualized by Chef Rex Bernales, along with partners Rob Baker, Mo Pierce and Steve Hamlin, Project BBQ's menu offers pulled brisket, pork, chicken and more.
Its "Garbage Bowl" includes hand-made potato chips covered in its signature meats and decked out with a trio of Carolina BBQ, beer and cheese sauces, then topped with applewood-smoked bacon and coleslaw.
Situated on Circa's exterior, Project BBQ spills out onto the Fremont Street Experience with a built-in "backyard" for communal gathering. Guests can dine on picnic tables and sip cocktails from Circa's Fremont Street Experience bar as they enjoy the spectacular Fremont Street Light Show.