DOWNTOWN'S SPIN ON THE B&B
Downtown Grand's new Bed & Brewski package
By Tim Wassberg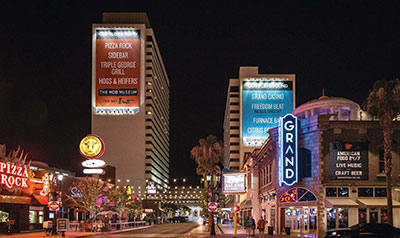 Mixing the right amount of vibe while embracing local texture can be tricky. With Downtown Las Vegas surging with more possibilities, the Downtown Grand, which rose from the ashes of Lady Luck, continues to apply its hip chill approach with interesting interactions. Point in fact is their new Bed & Brewski package with local stalwart Tenaya Creek Brewery which integrates discounts, a brewery tour and a welcome six pack in the room. Downtown Grand Resort General Manager Kevin Glass and Food & Beverage Director Case Cicchelli talk to Casino Player about this new endeavor.
Casino Player: How did your partnership with Tenaya Creek Brewery come about?
Kevin Glass: Downtown Grand is often referred to as sort of the hip place downtown. We're the newest, the cleanest. We have the best service. Actually, how this this whole package came about is that I drive by Tenaya Creek Brewery every day on my way to work. And one day I was just sitting there thinking to myself "You know there's a lot of packages out there! Some of these places on The Strip, they've got packages on packages on packages?' And I was thinking "Wow. How cool would it be for us to offer something that's sort of like a beer tour where a consumer could come stay at our hotel?' Everybody who comes to Vegas is looking for something unique and fun to do and we obviously also want to support the local community. So, we put this package together where you get a six pack of beer on check in and then a pint during the tour while you go over to Tenaya Creek. And then they give you a bunch of discounts.
This partnership also speaks to promoting the genuine local article of Downtown…
Case Cicchelli: We focus on more the American style craft beers. So a lot of small batch craft styles. When you check in you can actually get a choice of three different beers and we deliver that as an amenities six pack. Somebody brings it up to your room and you can have a cold one before you go down to the pool. You can have a Gypsy Fade which is Tenaya Creek's IPA. I'm more of a Brown Ale fan. We also feature their Bonanza Brown as well as their Craft Pilsner which is their new signature. We have 10 different handles at our Freedom Beat restaurant as far as draught beers on property. We cater to the beer crowd and the food really goes well with that Beer and food pairings with different styles have come a long way and our head chef Scott Commings embraces that. It's a good mix and marriage of flavors.
What are the aspects of interacting this way since many properties try to do a brewery internally which at times, puts the cart before the horse?
KG: We're obviously a pretty small property and it wouldn't make sense for us to go and build our own brewery. We sell Tenaya's beers and have their products here today. It's a name that I think people know even if you're not from Nevada. I was very happy that that they were interested in doing the package. And we've sold quite a few already.
How does Downtown Grand fit into the vibe of Downtown in partnering with Tenaya?
KG: Downtown Grand is different from when it was the Lady Luck. We're going on our 5th year of being open so we're still in the infant stages. But when you come down our way, we're just far enough off of Fremont Street… but we're also just close enough where if you are interested in that, it's less than a block away. We've redone the majority of our property including our restaurant Freedom Beat. We redid the pool from top to bottom. We do a 3rd Thursday on 3rd street where we bring food trucks down and have live entertainment and art once a month. You have to be mindful when you come up with super unique ideas. I mean everybody's got slot machines, right? Everybody has hotel rooms.
What discounts can the "Bed & Brewski" package buyer enjoy?
CC: So we feature a Tenaya product draft beer at every one of our food
and beverage outlets including Freedom Beat, Triple George Grill and Furnace Bar. The buyer can actually get 25 percent off retail price of beer. So, it's a pretty significant discount and promotion that goes hand in hand with the package.
Plus the palette of the beer connoisseur is evolving…
CC: We also have over 25 different bottled beers as well. Our new menu at Furnace has a sampler of four different styles of beer and it is only five bucks. It's a taster with about an ounce and a half of each beer, but it gets a lot of people oriented and it's shaped like a guitar. It goes hand-in-hand with the entertainment aspect. And [as far as pairing] I love the loaded fries. They have their own cheese sauce. And then maybe add some shredded pork and onions. When you throw that in with a nice citrus, well-balanced hefeweizen, you're in heaven right? It's not easy but you have to know a little bit about beer to pair it well. I also think that our service staff is getting some good training with some good knowledge and the guests enjoy that. I think it's a pretty natural experience.
I am a beer connoisseur. I love beer. I had Tenaya Creek beer at my house before this ever happened. My wife and I like to support local and when you think about it, I'm a consumer. Even though I've been in the industry now for more than 20 years, I eat, sleep and dream this business. I often will go to other properties to see what they're doing, just for a competitive analysis. So, I feel like I'm a student and I am always looking for ways to do things better and different. I know people want to do new things like this and we wanted to be the first of the market to try something new.
Tell us about the evolution of Downtown Las Vegas and its continued resurgence? 
KG: I don't know the numbers exactly but we have an alliance meeting where all the executives from the different properties and the sales and marketing industry get together. We talk about how to better downtown as a destination to compete with The Strip. We estimate that somewhere around a billion dollars has been put into downtown in the last five years. If you take into consideration all the things that Tony Hsieh has done with Zappos and his projects as well as Derek Stevens with The D, plus the Golden Nugget and all the things that we've done… this area has changed. Over the last few years Downtown now is completely different than what it used to be.