DEADWOOD MOUNTAIN GRAND
A Historic Gem Restored in the Heart of South Dakota
By Steve Kieva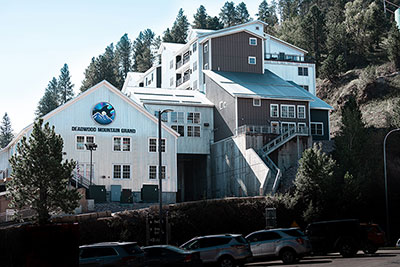 In 1874, the discovery of gold in the southern Black Hills triggered a momentous gold rush in America. In 1876, miners migrated to the northern Black Hills, stumbling upon a gulch with lifeless trees and a creek brimming with gold, birthing the town of Deadwood, South Dakota.
Almost overnight, this small gold camp burgeoned into a town that adhered to its unique code, drawing in outlaws, gamblers, and gunslingers, alongside gold prospectors. Wild Bill Hickok was among those who sought their fortune there. However, mere weeks after his arrival, he met his demise while holding a poker hand consisting of aces and eights, forever remembered as the "Dead Man's Hand."
Calamity Jane also made a name for herself in these parts and rests beside Hickok in Mount Moriah Cemetery. Other legends, such as Potato Creek Johnny, Seth Bullock, and Al Swearengen, etched their legacies in this small Black Hills community.
From 1876 until the 1980s, Deadwood harbored a not-so-hidden secret – prostitution. The first Working Girls, along with infamous Madams Mustache and Dirty Em, arrived in Deadwood with Colorado Charlie Utter's wagon train, the same one that brought Wild Bill Hickok and Calamity Jane. Miners welcomed the prostitutes with applause as they rolled into town. Subsequently, prospecting and prostitution became intertwined in Deadwood, with an entire city block devoted to brothels.
Even after the Black Hills gold rush had ended, the brothels on Deadwood's Main Street continued to operate. They faced a brief shutdown in 1950 when a South Dakota State's Attorney tried to close them down. Yet, many of these establishments reopened shortly after due to a legal technicality. It was only in 1980 that federal and state authorities managed to close the last four remaining brothels, including the famous Pam's Purple Door.
Deadwood endured three significant fires and numerous economic challenges, teetering on the brink of becoming another ghost town from the Old West. However, in 1989, limited-wage gambling was legalized, breathing new life into Deadwood.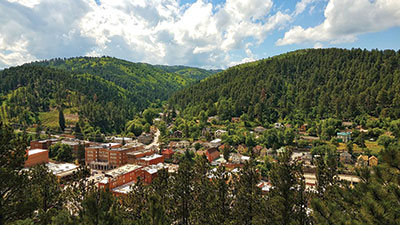 Today, the town thrives once more, offering modern casinos, resort hotels, full-service spas, renowned concerts, and some of the most vibrant parties in the United States. There are 25 commercial casinos in Deadwood which are overseen by the South Dakota Gaming Commission.
Notably, Deadwood's most historic casino, Deadwood Mountain Grand, has recently completed its renovation and revealed its entirely rejuvenated hotel.
The Deadwood Mountain Grand Hotel is a beautifully restored ore-processing plant dating back to 1906, previously under the ownership of the Homestake Mining Co. It provides a charming vista of Historic Deadwood. This establishment comprises a luxurious 98-room hotel, two top-tier restaurants, a collection of 210 state-of-the-art casino games, high-stakes gaming options, including the renowned Dale's Sportsbook Bar & Grill, and an expansive 3,000-person entertainment and event center that frequently hosts some of the most prominent acts in contemporary entertainment.
Conveniently located just a stone's throw away from the historic downtown of Deadwood, this property was once recognized as the 1906 Homestake Mining Co. ore-processing plant. In 2011, it underwent a transformation, becoming Deadwood's exclusive large-scale event center and casino, seamlessly connected with Deadwood Mountain Grand.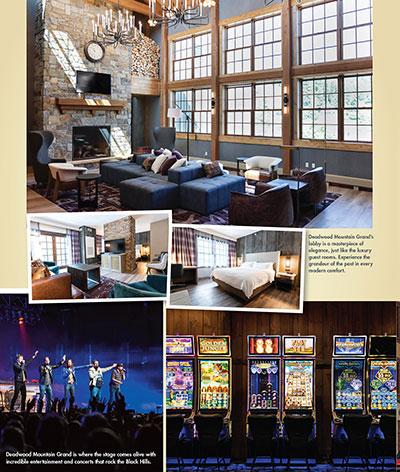 Recent enhancements include the revamp 93 luxurious rooms, all of which are adorned with fireplaces, and an additional five exquisitely appointed suites, as well as communal guest areas, such as the lobby and restaurant. These updated spaces provide a deeper connection to Deadwood's rustic and industrial heritage while infusing a touch of elegance to offer an elevated mountain lodge experience. Guests can enjoy a range of amenities, including complimentary valet parking, concierge services, a heated indoor pool, hot tub, fitness center, a gift shop, and accommodations that are dog-friendly.
Designed by Ste Marie Design, this renovation ensures that the rich history of Deadwood is interwoven throughout the hotel via artwork, materials, and finishes. A deep dive into Deadwood's history, in collaboration with Deadwood History Inc., has shaped the refreshed interiors, balancing the town's rugged past with contemporary elements. The combination of industrial and luxurious materials, including brass, bronze and wood, is thoughtfully integrated into the lobby and guest rooms, paying homage to Deadwood's gold mining heritage while providing a modern lodge ambiance nestled in the stunning Black Hills. Sumptuous fabrics like velvet, suede, leather and sherpa adorn the hotel in opulent, eclectic hues, creating a fusion of lavish comfort and a refined experience.
Upon entering the lobby, guests are greeted by a collection of historic photos sourced from Deadwood's History Inc., offering newcomers an instant glimpse into Deadwood's intriguing past. The lobby is designed as a welcoming space with two spacious seating areas, each centered around beautiful stone fireplaces and layered ambient lighting. In the main area, guests can savor sweeping views through large windows that frame the wooded hills. The check-in process carries a hint of nostalgia, with the check-in desks designed to resemble old mining carts.
As guests ascend in the elevator to their rooms, they encounter striking graphics superimposed on historic photographs. Upon entering their rooms, visitors are enveloped in comfort, welcomed by rich textural elements such as weathered wood-like wallpaper, playful plaid and velvet fabrics, and intentional touches of elegance brought to life by premium materials like stone, marble and bronze. In the bathrooms, a letter written by Sarah Sawyer to W.E. Adams, a prominent figure in the Adams family, is prominently displayed with a custom watercolor overlay serving as a wall covering, a tribute to the town's history. The brass illuminated mirrors and the vanity shelving detail mimic the appearance of gold mining pans, further emphasizing the building's historical significance. These upscale features in the bathrooms provide guests with a luxurious experience.
Music fans can catch the latest acts at Deadwood Mountain Grand including Three Dog Night, Oct. 28; Hairball, Nov. 11; Clay Walker, Nov. 17; The Clairvoyants Holiday Spectacular, Nov. 24; William & Ree, Nov. 25; Grand Funk Railroad with special guest Jefferson Starship, Nov. 30; Jay Leno, Dec. 16;  and Deadwood Red Dirt Festival: Corey Keny, Jan. 12 & 13.
The casino floor features hundreds of the latest slot machines to choose from, and of course, table games like blackjack, Three-Card Poker, Texas Hold'em and even live roulette and craps. Dale's Sportsbook features a massive video wall, dozens of luxury seats, convenient betting kiosks and state-of-the-art technology for the best sports wagering experience in Deadwood.
To learn more, visit deadwoodmountaingrand.com
Editor's Note: The historical account of Deadwood has been generously shared by Deadwood Mountain Grand, along with details about their recent transformation into a luxurious resort.