CRUISE TIME
Celebrity Cruises ups the ante on the ultimate gaming vacation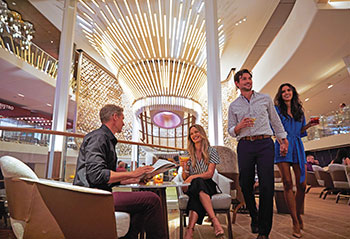 Celebrity Cruises knows that as a player you have high expectations of the places where you vacation. You want the best of every- thing, and that's just what you get when you sail with Celebrity Cruises. Aboard their award- winning fleet of 16 stunning ships, including those in the latest Edge Series, you'll enjoy the ultimate in luxury travel with stylish accommodations, the finest dining at sea, personalized service, and of course, a first-rate casino.
Inspired by the finest gaming establishments around the world, the casinos offer the same excitement and captivating atmosphere. Celebrity's casino team spared no expense in reinventing the casino concept from the ground up to deliver a unique gaming experience at sea. Plus, the dedicated casino staff is on hand to add a unique spin to make your time at the tables or slots truly exceptional, with extra touches including complimentary cocktails while you play. They've incorporated state-of-the-art technology into over 150 of your favorite table games, including blackjack, roulette, craps, baccarat and more than 2,000 of the latest slot machines across the fleet. In addition to a refined but vibrant gaming environment, Celebrity Cruises offer a personalized experience based entirely on your preferences. This includes limits adjusted to your playing profile, late hours and action-packed tournaments for players of all levels. You play to win, and they believe you should play your way to do so.
It's been said that membership has its privileges, and any member of the exclusive Blue Chip Club will tell you how true that is. Being a Blue Chip Club member entitles you to numerous rewards and benefits, including free-play in the casinos, complimentary staterooms, concierge-style service, plus access to exclusive locations and events. The more you play, the more rewards you earn. Joining the Blue Chip Club is quick and effortless. Just swipe your SeaPass card at any slot machine when you enter the casino, and you'll instantly become a member. When you earn your first
20 points, you'll receive $20 in Free Play. Once you join the Blue Chip Club, you'll be able to play your way through ascending levels of membership from Pearl all the way up to Ruby, with each level granting you even greater privileges. Now more than ever, it pays to play in their casinos. With luck on your side, join Celebrity for the ultimate journey of excitement, exploration and exhilarating casino action.
Celebrity understands that you came to play, but on a Celebrity cruise, the exhilaration starts long before your first roll of the dice or pull of the handle on your favorite slot machine. The moment you step aboard, you'll know you're in for an extraordinary vacation. From the incredible spaces that surround you, down to the thoughtful attention to detail in everything they do. Like the greatest destinations in the world, their ships offer art, architecture and global flavors that transport you far from the everyday. On board, there's truly something for everyone. Sip, swirl and savor some of the best wines in the world at a wine tasting led by one of their certified sommeliers. Tour the contemporary art displayed throughout the ship or browse the collection in the art gallery, where you can purchase your next favorite piece. Feeling competitive? Join a friendly game of volleyball at the pool. Catch a Broadway-caliber show in The Theatre. Savor hand-crafted cocktails in a variety of bars and lounges. On a Celebrity cruise, you can do as much or as little as you choose, which is exactly the way a vacation should be.
Are you new to Celebrity Cruises? There has never been a better time to sail.
Go to www.celebritycruises.com/casino or email bluechip-club@celebrity.com to learn more about the unique gaming vacation experience that awaits you. Be sure to sign up to receive news about exciting events, special offers and exclusive benefits for Blue Chip Club members