COLORADO GOLD
Casino gambling with distinctly Old West Feel.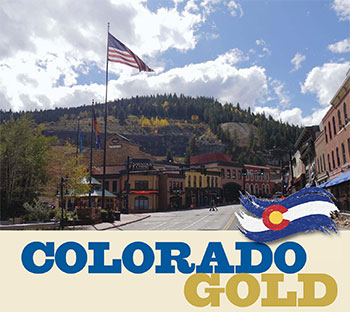 Sweeping mountains and vistas, great snow skiing, and amazing outdoor adventures – Colorado offers plenty for those seeking a getaway. That can also include some casino gambling with a distinctly Old West feel.
The state legalized casino gambling in 1991 in three Colorado mining towns – Black Hawk, Cripple Creek, and Central City. Black Hawk is the state's biggest gaming town with 13 casinos, and serves the Denver market. The Ameristar, Monarch, and Isle properties are the market leaders. Beyond those mining towns, the Four Corners region of Colorado is home to two casinos run by Native American tribes.
In the early days, betting stakes were limited to $5 and gambling hours restricted, but limits were increased in 2009 to $100. The changes also allowed for table games like craps and 24-hour gambling. There is currently an effort to legalize sports betting and several casinos are preparing for that legislation.
A trip to the Colorado casino scene offers something you might not expect – a unique casino experience that takes you back in time and offers plenty of fun.
BLACK HAWK
Ameristar Casino and Hotel
Up until this year, Ameristar was the largest casino resort in Colorado. The Penn National Gaming property has plenty of amenities gamblers have come to expect including a 500-room hotel tower with 60 suites. Guests can enjoy a comfortable stay in style with luxury furnishings and linens. A trip to the spa or rooftop pool can make it even more relaxing. Ameristar has the city's only hotel pool and also includes indoor and outdoor hot tubs. Chill for a bit and relish brilliant views of the Rockies.
Ready for some gaming? The 71,500-square-foot property is large by Colorado standards and features 55,000 square feet of gaming space. There are plenty of options for gamblers. Slots fans can take a seat at one of 1,240 slot and video poker machines. Players can also jump on one of 40 table games including blackjack, craps, and roulette with denominations ranging from a penny up to $100.A visit to the poker room may seem appropriate for a visit west. Ameristar boasts a large room with 22 tables and numerous amenities.
After working up an appetite, head to Centennial Buffet for choices ranging from Italian to Chinese to Mexican to traditional American fare. Enjoy some delectable comfort food at Fireside Kitchen.
Dishes include hickory-roasted prime rib and orange glaze salmon to chicken fried steak and great breakfast options – all fittingly by a fire- place. Other dining and cocktail options include Waypost Deli, Club 38, and even a Starbucks for a bit of a wakeup. For cocktails head to Bar 8042 to take in some live music and even blackjack at one of the six tables. There's something for everyone at Ameristar. www.blackhawk.ameristar.com
Promotions – Players can earn up to $500 with a MyChoice card while they play, stay, shop, and dine. 
Monarch Casino Resort
Black Hawk is only a short drive from Denver, and this property is the first casino you see when you arrive on Highway 119.Already a premier casino in the area, the property is also undergoing a master planned expansion that will nearly double the casino space to 60,000 square feet and add a 23-story hotel tower with 500 guest rooms and suites, an upscale spa and pool facility, three restaurants, additional bars, and more. The project is expected to be complete by the end of 2019.
Monarch offers bettors two floors of action. Bring home a jackpot from one of the 600 slots including exclusive premier games such as: Three Armies; Lock It Links: Cats, Hats & More Bats; and Dragon's Fury. Video poker is also offered and table games players are also in luck with games like blackjack, craps, roulette, pai gow poker, and three card poker.
Take a break from the gaming floor with a trip to The Buffet. This property prides itself on some great offerings including whole Maine lobster served nightly. Or dig into some crab or prime rib. There are also nice Asian and Southwest options as well as tasty dessert options like tiramisu, fresh baked cookies, apple pie, cobblers, and much more. Pho offers the best in Vietnamese fare, and head to Chicago Dogs –   the best hots dogs, pizza, quick-serve breakfast, and more. Head to the Stage Bar for some great live music. Gamblers can live like a king at the Monarch. www.monarchblackhawk.com
Promotions: Guests 50 and over receive 4X comp point multipliers on all machines every Wednesday as well as $10 off the buffet.
Isle Casino Hotel
When it opened in 1998, the Isle was the largest casino and hotel in the state. The property is also connected to its sister property, the Lady Luck Casino, via a climate-controlled skywalk. This Eldorado property offers plenty of bang for the gaming buck. The Isle recently completed a $35 million renovation of the facility that upgraded the casino floors, improved all 240 rooms, and added the upscale restaurant, ROXY, which features a list of 52 martinis.
When you're ready to hit the tables, the Isle offers plenty of chances to win a few dollars. For slots fans. the property offers a wide variety with more than 1,100 slot machines to choose from with denominations from one cent to $100.With 30 table games, there's something for every mood – from favorites like blackjack, craps, and roulette to other games like ultimate Texas hold'em, three card poker progressive, high card flush, and buffalo blackjack. Poker players can bluff and bet in style in this 10-table room – complete with regular tournaments and promotions as well as amenities to keep players coming back.
Whether you're up for some great mixed drinks with friends or some fine dining, there are numerous choices for guests. The Farmers Pick Buffet offers something unique by partnering with local farmers and regional growers for the freshest meals around. Seafood fans will also love the all-you-can-eat crab Friday through Wednesday with prime rib night on Thursday. Visit the Dash Cafe for a quick bite, breakfast, or snack. Choose from top-notch burgers, sandwiches, pizzas, rice bowls, and more. You can also take advantage of the all-day breakfast. The Isle offers plenty of fun and a great place to play. www.isleblackhawk.com
Promotions: Players earning Gold, Platinum, or Millionaire status can earn a seven-night cruise to the Caribbean or Bahamas, set for November and December.
Wildwood Casino
This property is billed as "the highest casino in the world" at 9,593 feet above sea level. Hopefully your stack of chips will also find epic heights when gambling here. Get some Vegas-style action with an old mining town feel. The property offers majestic mountain views as well as a chance to hit it big. For gamblers, choose from one of 500 slots and video poker machines. Along with its elevation distinction, the Wildwood promises that it has "the most table games in town." That includes craps, blackjack, roulette, buffalo bonus blackjack, three card poker, double up blackjack, and more.
For a great Rocky Mountain getaway, check in to the 100-room Gold King Inn for a comfortable stay. The hotel is a short ride away via a free shuttle. Guests can expect even more when the new 104-room hotel (a $14 million project) opens in September 2020.
For dining, head to Joe's Diner to satisfy any appetite. Dishes include great burgers and sandwiches as well as salmon, steak, and brilliant breakfast options. Catch some football, basketball, or baseball with some drinks and bar food at Woody's Sports Bar and Grill. The eatery serves up some delicious pizza, chicken wings and hot dogs, as well as some cold brews. Don't forget to sample some of the 99-cent shrimp cocktails, available 24/7. Get some friends together and get a little wild at the Wildwood. www.wildwoodcasino.net
Promotions: Hit a qualifying jackpot on Thursdays and receive a Wild Loot Jackpot Bonus of $100.
Bronco Billy's Casino
A stay at Bronco Billy's offers gamblers a chance to basically visit three casinos in one.
A Full House Resorts property, the casino is also linked to its two sister properties – Billy's and the Christmas Casino. At each location, players will enjoy video poker and 900 of the latest slot machines, with a few vintage machines as well to fit with the feel of Cripple Creek.
Table games include craps, roulette, blackjack, three card poker, and more. Craps players will delight in 10X odds wagers.
Enjoy some historic charm befitting Cripple Creek at the property's hotel just next door at the Christmas Casino Inn. A stay at Bronco Billy's hotel includes a free breakfast at the Home Cafe – quite a deal. Along with delicious breakfasts, this eatery offers hamburgers, chicken fried steak, and meatloaf. The $5.49 steak and eggs is also a nice option.
For margaritas and some South of the Border flavor, snag a table at Baja Billy's Cantina for great Mexican food. The Steakhouse is regularly voted the #1 steakhouse in southern Colorado, and along with great chops, also serves up tasty salmon, lobster tail, and pasta. It also has an extensive wine list. Hop into the Bronco for plenty of gambling fun. www.broncobillys.com
Promotions: Earn Happy Daze free play entries every day at Bronco Billy's or the Christmas Casino for a chance to win up to $125.
Triple Crown Casinos
This destination offers bettors three casinos in one including the Brass Ass Casino, Midnight Rose Hotel and Casino, and McGills Hotel and Casino. McGill's offers a large variety of slots, video poker, and keno, as well as a variety of table games. The property features an Irish theme and the hotel is perfect for a nice mountain gambling getaway.
At the Midnight Rose, gamblers will enjoy Victorian-era furnishings with two floors of 300 of the most popular slot machines such as Avatar, Iron Man, and more. The property also features table games and the largest poker room in town, perfect for cash game or tournament players. Looking for an extended stay? The hotel offers a first-class stay with a discount meal coupon for each guest.
A visit to the Brass Ass offers a real trip back in time and a unique Colorado gaming experience. This property is located in one of the city's most historic buildings, complete with a vintage street scene ambiance featuring street lamps, western building facades, and the original Cripple Creek lighted sign from H.H. Rosser's Pool Hall. Play some blackjack, craps, three card poker, roulette, and more in a unique historic environment – the oldest casino in Cripple Creek. www.triplecrowncasinos.com
Promotions: Join in the Jackpot Party with a chance to win thou- sands of dollars the first Friday of each month. Enter a drawing for a chance at free cash.
CENTRAL CITY
CC Gaming – Johnny Z's and Grand Z
These two casinos are part of the largest locally-owned Colorado gaming group, which also includes the Z Casino in Black Hawk. The company takes pride that the properties reflect the traditional Colorado gambling scene. Johnny Z's opened in 2011 and boasts 25 percent of the gaming positions in the city. It features 350 of the latest slots as well as video craps, roulette, and blackjack.
The Grand Z boasts live table games with plenty of the favorites gamblers have come to love. The casino also features more than 700 slot and video poker machines. For some live entertainment, head to the Mile High Room for regular acts of every genre. Grab a beer or mixed drink, and chill out with some friends. The Grand Z also boasts the two properties' boutique hotel, with 119 recently renovated comfortable rooms and suites.
Both properties also offer some nice dining options. At Johnny Z's, make your way the Z Grill for breakfast, lunch, or dinner including the signature prime rib. At the sister casino, check out the Grand Bistro for mouth-watering steaks, fresh seafood, and more. The $29 Sunday Surf and Turf special shouldn't be missed. Players in Black Hawk may also want to check out the third property, the Z Casino, or the Z Stop, one of the only gas stations and convenience stores between Denver and Black Hawk/Central City. Put some Z in your gamble! www.johnnyzcasino.com, grandzcasino.com
Promotions: Sign up for a player's card, simply earn 50 points, and take advantage of the $7.77 prime rib special. That's a delizious deal!
Easy Street Casino and Famous Bonanza Casino
These two properties have been owned by the same local family since 2000 and are just a short walk across Main Street from each other. The Bonanza offers players a great gamble with a step back in time, the way a casino might have looked a hundred years ago. That even includes some coin-operated machines for fans of old school gambling.
For a bite to eat, Stella's Cafe serves up traditional items like burgers and pizza, but also dishes like paninis, soups, salads, and classic fish and chips. For another option, just walk across the street to the Easy Street for Millie's Restaurant for breakfast, lunch, or dinner. Check out the steak and eggs or Gamblers Special (two eggs, bacon or sausage, country potatoes, and toast for only $5) for breakfast. Enjoy a savory New York strip or country fried steak for dinner.
The Easy Street casino may be small, but offers plenty of fun and great customer service. Hit one of the slot machines or belly up to the Gold Coin Bar for a cold beer or cocktail. These two gambling halls are full of mining town charm with beautiful views of the stunning land- scape. www.famousbonanza.com, easystreetcentralcity.com
Promotions: New player's club members can spin the Cash Wheel for a chance to win a free $100.