College Basketball Means Big Business
March Madness betting volume now tops that of Super Bowl
by Buzz Daly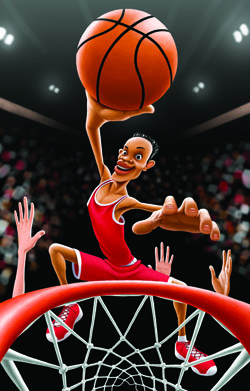 Whether "bigger is better" may be a matter of debate, but if we're using financial measurements, being Number 1 stands for more tangible benefits than just bragging rights.
And so, after years of playing bridesmaid to the Super Bowl in terms of wagering volume, March Madness has now assumed leadership as sports betting's biggest jackpot. While there are no official figures to document this achievement, the general consensus among industry authorities in Las Vegas is that the annual NCAA Men's Basketball Tournament has finally earned its status as the number-one betting event.
So once again, the city's bookmakers look forward to the highly anticipated betting frenzy that peaks on opening weekend, Thursday-Sunday, as the action engulfs overflowing sports books and other viewing venues throughout the city. While bracket mania grips the rest of the country, Vegas bettors are focused on the myriad wagering options available to both casual and serious players.
Selection Sunday provides the hype that primes the pump, along with a brief qualifying round on the following Tuesday and Wednesday. Then, this year's main event tips off Thursday, March 21, in arenas across four U.S. time zones, starting in the east and concluding on the west coast.
Notable for virtually nonstop college basketball accompanied by feverish betting, this hyper-kinetic four-day smorgasbord of hoops action is the vortex of the March Madness tornado. Because Casino Player goes to press well in advance of Selection Sunday, I cannot offer predictions, but it is a given that upsets will occur.
That's a big part of the attraction of this single-elimination competition. The bewildering, bizarre losses of strong favorites to lightly regarded lower seeds that become "bracket busters" crush the bankrolls of some bettors, while enriching others.
The competition transcends the actual participants. Whatever the current mix of elite teams, mid-majors and Cinderella hopefuls is, the quest to be Number 1 has a life of its own. Bettors love a challenge, and this tournament tests their mettle.
Earlier, I mentioned that March Madness has usurped top spot among betting events from the Super Bowl. Technically, the Super Bowl, while it's just a single game, has a two-week betting period with lots of additional wagering options. The NCAA basketball tournament covers three weeks and consists of 67 games. Paradoxically, it's bigger at the beginning of the competition than at the finale, observed Jay Kornegay, LVH Race and Sports Book manager.
Nevada gaming regulators don't provide a breakout of the amateur vs. pro basketball handles. But based on empirical analysis, the state's sports books have seen a $100 million jump in basketball betting during March in recent years. Compare that figure with last year's handle in Nevada on Super Bowl XLVI, which was $93.9 million.
Illegal gambling also reflects the surge in betting on the NCAA event. R.J. Bell of Pregame.com estimated that $12 billion worldwide was bet on March Madness in 2012, compared with $10 billion on the Super Bowl.
The correlation between visibility of the games and betting handle is obvious. Bookmakers agree that exposure on TV begets vigorous action. Every game will be on television via mainstream networks CBS, TNT and TBS. A smaller network, truTV, will also carry the games. If you wish to watch online, the NCAA is charging $3.99 for the entire schedule.
Remember, once the games are underway, the frantic pace of the first four days means that the books are posting odds on the fly as best they can. With that in mind, I have elicited some time-tested guidelines from local sharps for betting the tournament.
* Half-time wagers reduce the books' edge, since they generally follow a standard formula for posting second-half sides and totals. These numbers are usually based on the closing lines, rather than on the actual flow of the first half. There will be some opportunities in which second-half numbers offer significant edges. But you must be among the first to get your bet down. The books' subsequent adjustments will reduce your initial advantage.
* Look for teams that play superior defense. These teams are often coached by men who are conservative and have disciplined, patient players. Offensively-oriented teams sometimes don't travel well, particularly those that depend on three-point shooting. Defense travels.
* If you like a "live dog," be sure to back up your play with a 50 percent money-line bet. If the team covers but loses outright, you're still ahead. If it wins straight up, you're a double winner. If the third outcome occurs, it means you didn't have a live dog.
* You can get a brain bleed analyzing all the info that is available. One of the most useful capping stats for bettors is turnovers. Check a team's turnover difference. Opportunistic teams that don't turn the ball over can overcome squads that are more talented, but that may be less disciplined or not as well coached. A strong back court that handles pressure well, and can also apply it, has a strong chance of making a deep run in the tournament.
Ideally, by the time the title game tips off at the Georgia Dome in Atlanta on April 8, most of the Cinderella teams we bet on will have defied the midnight hour, and enough chalk will have covered so that we're playing with house money.
Sports Betting Documentary To Give Genuine Glimpse of the Lifestyle
It seems that whenever Hollywood tries to give an accurate depiction of sports betting, and the tenacious souls who make their living hoping the ball bounces their way, Tinsel Town lays an egg.
However, a young filmmaker reportedly has successfully captured the elusive essence of what it means to be a professional bettor. Two years in the making, the documentary "Life on the Line" features prominent Las Vegas sharps doing their thing in the weeks leading up a recent Super Bowl.
I will attend the premiere when it opens here, and give a full report in the next issue of Casino Player. As a bettor who is not superstitious, I'm keeping my fingers crossed that it lives up to the advance word I have heard.