CLICK & MORTAR
Where – and what – you can bet online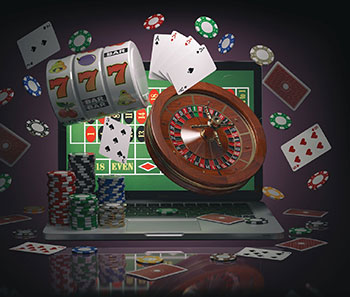 There's no question that the corona virus led to a push for expanded  online gambling.  As you can imagine, the stay- at-home requirements yielded some big results for online casinos, sportsbooks, and poker rooms as players were forced to get their gambling fix via the web.
But it might surprise you to know that online gambling in various forms was already making great strides for acceptance among government and players before the pandemic turned us all into couch potatoes. Here's a breakdown of the states that welcome online gambling.
NEVADA
All things being equal, Nevada is the true heavy hitter when it comes to gambling, with the options spread throughout the state, instead of one central location as is the case with New Jersey.
Legally, most everything gaming-related is available here. Land- based casinos flourish, offering more slots and table games than all the other 49 states combined. You'll also find slots at restaurants, gas stations, and even laundromats. Card rooms also can be found dotting the landscape, offering poker and other table games for cash.
When it comes to online gambling, however, things are a little more restrictive. You'll have no problem finding poker sites to gamble on, but to date the state has forbidden casino games online. Slot players have to settle for social gaming sites and play for fun instead of profit.
Sports betting, on the other hand, is a legal and profitable pastime, with sports books located within established casinos. While there are no active racing tracks with betting in Nevada, you can make parimutuel bets on national horse races through sports books. Additionally, most sports books in the state also offer mobile sports betting apps so people can place bets right on their cell phones.
ONLINE GAMBLING OPTIONS
Online poker , online sports betting
Nevada enjoyed a virtual monopoly on sports betting for nearly two decades. So, it's no surprise that the Silver State was the first to launch an online sportsbook, doing so in 2010.
---
NEW JERSEY
Other than Nevada, perhaps no other state is more synonymous with gambling in the US than New Jersey. The Garden State has also embraced online gambling faster than most states, now offering a wide selection of online gambling options including online casinos, online sportsbooks, and poker. In fact, in terms of accessibility, no other state has so many opportunities available.
Residents and visitors in New Jersey can pick between dozens of New Jersey online casinos and sportsbooks in the state.
ONLINE GAMBLING OPTIONS
Online casinos, online poker and online sports betting.
Currently the largest market for regulated online gambling in the US, New Jersey offers over a dozen legal and licensed online casino sites and poker rooms. These compete for an overall market that is worth more than $225 million a year and growing quickly, in part due to limitations imposed by the corona virus outbreak.
---
PENNSYLVANIA
It's a great time to be a player and bettor in the Keystone State. Pennsylvania is home to some of the best in online gambling, including online casinos, online sports betting, and online poker.
Online casinos first launched in Pennsylvania in July 2019. Since then, the industry has quickly grown into a staple of the gambling community in the Keystone State. At this point, there are more than half a dozen PA online  casinos  open  for business, with more are on the way. And with a state as populous as Pennsylvania, the sky's the limit for how big the market can grow.
ONLINE GAMBLING OPTIONS
Online casinos, online poker and online sports betting.
Since being legalized, many of PA's major casinos have rolled-out online casino sites. And online sports betting is live and active with DraftKings, FanDuel and Unibet to name a few. Players have the option of placing bets in person or online via the website and mobile app.
---
WEST VIRGINIA
West Virginia is becoming a major player when it comes to gambling in the eastern portion of the US. Along with five casino proper- ties, you will also find retail and online sports betting as well as WV online casino gambling.
West Virginia's ascendance into the ranks of the gambling elite may surprise casual observers. However, West Virginia was at the fore- front of the fight to legalize sports betting. It certainly helped that Republican Gov. Jim Justice owns one of the five WV casinos, so there was definitely support for gambling in this otherwise unassuming state.
ONLINE GAMBLING OPTIONS
Online sports betting, online casinos and online poker.
The enactment of the West Virginia Lottery Interactive Wagering Act is what opened the door for online casinos and poker rooms in 2020.
---
INDIANA
Throughout the expansion of legal online gambling in the US over the past decade, Indiana remained resistant to the idea. So, it came as a bit of a surprise that Indiana entered the online gambling market when online sports betting debuted there in 2019.
The first online sportsbooks opened their virtual doors in October 2019, and Indianans have quickly found themselves with several online sports betting options in state. Online casinos have not appeared in the Hoosier State, and there's no law on the books to allow them just yet.
ONLINE GAMBLING OPTIONS
Online sports betting. No plans for online casinos or online poker.
Indiana joined the group of states with legal sports betting, both retail and mobile, in 2019.The Hoosier State now offers three online sportsbooks – DraftKings, FanDuel, and BetRivers. Five more have indicated they will launch soon.
---
IOWA
While it might have slipped under the radar, betting on sports is legal in Iowa. Iowa may not strike outsiders as a hub for many types of gambling. However,a closer look at the Hawkeye State reveals that's exactly what it is. There are now both online and retail sportsbooks aplenty inside the state lines.
ONLINE GAMBLING OPTIONS
Online sports betting. No plans for online casinos or online poker.
Iowa has quickly joined the party when it comes to online sports betting. In a period of less than six months, the Hawkeye State moved from zero sportsbooks to five. Iowa is a bit different in that you need to download and register first, then complete your registration in person at the partnered  casino. Even with registration required to be in-person, the sky's the limit.
---
NEW HAMPSHIRE
New Hampshire has long been a state regarded for its rugged independence. Its "live free or die" motto continues to permeate the Granite State's approach to life and lawmaking to this day. So, it's no surprise that New Hampshire launched legal online sports betting.
ONLINE GAMBLING OPTIONS
Online sports betting. No plans for online casinos or online poker.
DraftKings Sportsbook began the era of online sports betting in the Granite State, rolling out the first New Hampshire sports betting app on December 30, 2019.
---
DELAWARE
Delaware seems something of an odd choice to be at the forefront of gambling law in the United States. It is a small, unassuming state best known for its strategic advantages in the area of incorporating a business and for its favorite son, former Vice President Joe Biden.
Nonetheless, Delaware jumped with both feet into the Internet gambling arena years ahead of the rest, legalizing it way back in 2012. And it was the only state other than Nevada and New Jersey to have legalized online gambling in any form until Pennsylvania joined the list in 2017.
Delaware's Internet gambling is basically consolidated in one single platform. Each of the three land-based casinos are licensed to offer their own branded paths to online gambling, but ultimately, it's a unified system managed by 888 Holdings.
Within that system, Delaware's law actually allows for a quite broad interpretation of what can be offered. The director of the Delaware Department of Gaming Enforcement has, by law, quite a bit of latitude to decide the range of offerings, and the current holder of that position has not been eager to exclude anything. So, Delaware residents enjoy a favorable set of options for online gambling.
ONLINE GAMBLING OPTIONS
Online casinos, online poker and online sports betting.
Delaware may seem a strange location to find a stalwart of online gambling. However, that's exactly what the First State is. Delaware was the first state to launch online sports betting post-PASPA and was among the earliest to launch online gambling and poker.
---
OREGON
When it comes to gambling, Oregon's laws and acceptance have grown in a rather organic way, starting with social games. Social casino options in Oregon are typical. Slotomania, Double Down Casino, Big Fish, and Zynga are available through Facebook and mobile devices to residents and visitors. Unfortunately, none of the tribal casino properties in the state offer any kind of mobile or social gaming tied to their properties or affiliated with a larger site.
ONLINE GAMBLING OPTIONS
Online sports betting. No plans for online casino or online poker.
Oregon claims an unusual spot in US sports betting history. It was one of the few states outside of Nevada to offer a sports betting product. So, it only makes sense that the Beaver State is now one of the first to offer online sports betting
---
COLORADO
Colorado legalized sports betting through a voter referendum in November 2019. Such gaming expansion provides the Centennial State with a taste of an ever-expanding industry, one that includes retail and online sports betting. For the time being, sports betting remains the only form of regulated online gaming open to Coloradans. Already, though, the public has access to four operators with online sportsbooks and surely more to come in the near future.
ONLINE GAMBLING OPTIONS
Online sports betting. No plans for online casinos or online poker.
Colorado sports betting debuted to residents in May 2020.The new law, which allows the state's casinos to open both online and retail books, passed by a narrow margin. Colorado is home to 33 casinos, which are mostly clustered into three mountain towns.
---
RHODE ISLAND
Rhode Island is probably best known for its miniscule size – the state's 1,214 square miles makes it the smallest state in terms of area. But tiny or not, Rhode Island took a very big step by being one of the first to offer sports betting to its residents, beginning back in 2018.
ONLINE GAMBLING OPTIONS
Online sports betting. No plans for online casinos or online poker.
Twin River Casino launched its sports book with mobile betting earlier this year, powered by William Hill, one of the biggest names in sports betting.
---
MONTANA
Back in the Wild West days, gambling was not permitted in Montana – although there certainly was no shortage of illegal gambling halls stretched across the state.
By the middle decades of the 20th century, things began to change. In the 1970s, lawmakers began authorizing certain forms of charitable gaming. The 1980s then saw the introduction  of the lottery and legalization of both video poker and video keno machines.
In 1989, a law was passed centralizing gambling regulation at the state level, thereby consolidating all of Montana's gambling statutes. A couple of years later, the state Legislature authorized all establishments with a liquor license to operate up to 20 video gambling machines. Users can play video slots, poker, keno and the lottery on these machines. They can also wager on horses via off-track betting.
In addition, Montana allows these establishments to offer live poker games. About two dozen of them do have small poker rooms, most of which consist of just a couple of tables. However other casino-style table games are not allowed.
But thanks to these rather unique gambling laws, there are technically hundreds of licensed "casinos" in Montana, that is, bars or taverns that offer gambling to patrons. There are also seven Native American tribes in Montana that operate 10 traditional retail casinos along with dozens of smaller gambling venues.
ONLINE GAMBLING OPTIONS
Online sports betting. No plans for online casinos or online poker.
Montana Gov. Steve Bullock affixed his signature to H 725 in May 2019,and thus, ushered full sports betting into Montana, which launched in March 2020.The law allows for both mobile and retail sports betting in the state, though mobile wagering is restricted to within the walls of lottery retailers and taverns authorized to offer sports betting.
---
MICHIGAN
Michigan is on the fast track to becoming a powerhouse in the online gambling world. Comprehensive gambling expansion passed both houses of the legislature and on Dec. 20, 2019, Gov. Gretchen Whitmer signed legislation to legalize online gambling in the state. As a result, Michiganders will soon have an entire spectrum of gaming at their fingertips. The opportunities will include sports betting, casino gambling and online poker.
Legalization is only the first step, of course. Both potential operators and state regulators  will have a hefty task ahead of them. However, based upon the text of the bill and other bits of information, we can already get a sense of how things will proceed in Michigan.
ONLINE GAMBLING OPTIONS
Online sports betting, online casinos and online poker.
The state's first retail sportsbooks went live in March 2020, while online platforms are expected to enter the fold as early as October 2020. Operators will be limited to one online skin. The bill does not permit multi-state games. Each of the three commercial and 23 tribal casinos will be permitted to apply for licensing, which will cost $50,000 for application, $100,000 for actual licensing and $50,000 for annual renewal.
---
ILLINOIS
Retail wagering made its Illinois debut in March 2020 as Rivers Casino accepted the first legal bet. Brick-and-mortar casinos will continue to crop up throughout the state, and several other properties have received temporary permits to begin retail betting. Online casino betting options, however, don't seem to be launching any time soon. At the moment, there is still no official timeline for mobile wagering in Illinois.
ONLINE GAMBLING OPTIONS
Online sports betting. No plans for online casinos or online poker.
Sports betting became legal in Illinois in June 2019 and led to the first retail sportsbooks opening in March 2020.The bill provides for both retail and online sports wagering. On June 18, Rivers Casino launched BetRivers to become the first mobile/online sportsbook in the state. Additionally, due to the corona virus pandemic,  Gov. Pritzker issued an executive order that no longer requires customers to sign-up for sports betting accounts in-person.
---
WASHINGTON D.C.
As unlikely as it seems, Washington D.C. has officially joined the sports betting ranks. Gambet D.C. is the new platform run by the state lottery. The D.C. City Council approved a single vendor, Intralot, to be the official provider of sports betting in the district. Brick- and-mortar sportsbooks are still waiting to get the green light to launch.
ONLINE GAMBLING OPTIONS
Online sports betting. No plans for online casinos or online poker.
Technically, Mayor Muriel Bowser did not sign off on legislation in January 2019 to legalize sports betting in the nation's capital. Rather, enough time passed for the bill to pass.