Casino Slot Clubs Embrace Social Media, New Technology
MGM Resorts and Boyd Gaming are changing the way casinos interface with guests
By H. Scot Krause
When members make a hotel reservation online or by phone for Excalibur using their enrolled Visa account, they might receive an SMS text with a special show ticket offer and a link for advance purchase.
"Casino, meet Technology. Technology, meet Casino." It seems these introductions have already been made as more casinos embrace social media and social networking. These items have become new tools for casinos to attract and maintain customers. Mlife (www.mlife.com), MGM Resorts International's loyalty program, recently announced two new relationships to help personalize the way it rewards members for their use of social networking media and mobile technology.
M life has teamed up with Visa and Topguest, a product of Switchfly, Inc. that provides an all-in-one platform to enable loyalty programs to reward members for sharing on social networks. By rewarding M life members with Tier Credits for social engagement and with timely, pertinent offers when using their enrolled Visa card, M life delivers even more reasons to sign up for free and start enjoying VIP access and experiences.
By using Visa's real-time messaging technology, M life Mobile Offers provides personalized offers from MGM Resorts' Las Vegas properties to Visa account holders who opt into the program. Visa credit card account holders can visit www.visa.com/mlife to enroll their eligible Visa account and mobile phone number. Once enrolled, members may receive offers to enhance their Las Vegas experience via SMS text to their mobile phones.
For example, when members make a hotel reservation online or by phone for Excalibur using their enrolled Visa account, they might receive an SMS text with a special show ticket offer and a link for advance purchase. While shopping in Las Vegas with their enrolled Visa card, members can receive offers relevant to their interests. A ticket purchase for Bellagio's exquisite production show "O" by Cirque du Soleil might trigger an offer for a pre-theatre dinner at the resort's renowned restaurant Le Cirque; a retail purchase at Aria could result in an unbeatable deal on designer jeans at Aria Men's; or rejuvenating at the spa might prompt an offer to use that new-found energy at a nightclub. The possibilities are almost endless. M life Mobile Offers puts these offers right in your hand.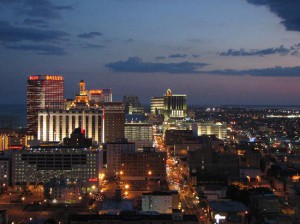 M life Mobile Offers isn't only for MGM Resorts' Las Vegas properties. The program will launch later this year at Beau Rivage in Biloxi, Gold Strike in Tunica and MGM Grand Detroit.
In addition to the special offers mentioned above, M life now rewards members for sharing their MGM Resorts' adventures via popular social media networks. Members who link their social media accounts will receive 500 M life Tier Credits when they virtually check in with Facebook Places or Foursquare; post a location-tagged tweet to Twitter; or share an Instagram photo from participating MGM Resorts' venues on the Las Vegas Strip, Biloxi, Tunica, or Detroit. Members can earn 500 Tier Credits per resort, per day. In Las Vegas alone, you can earn up to 6,000 credits in one day if you visit all 12 participating properties. This is a great way to accumulate Tier Credits and advance more quickly to the next Tier Level. A maximum of 7,500 Tier Credits per quarter and 30,000 total Tier Credits per year may be earned through social engagement. Subsequently higher tiers provide additional member benefits. Register your social media accounts with Topguest at www.topguest.mlife.com.
Travelers ready to plan a trip should visit the redesigned M life website to create the ultimate vacation. The site allows easy bundling of favorite experiences across MGM Resorts' 15 properties into a single itinerary. This itinerary, or any portion of it, can then be booked all at once with just one click of the mouse.
By leveraging the growing trend of social sharing, mlife.com has integrated a new functionality that allows users to create a virtual itinerary, sharable with friends and family so they can easily book the same trip or provide suggestions for additional activities. A maid-of-honor planning a "last fling before the ring" can build an epic Vegas trip, for example, and then e-mail it to friends across the country. Attendees can simply "join" the trip to easily book the same itinerary.
A few months ago I wrote about M life's recently enhanced player's card program. Working with Visa and Topguest now adds even more benefits to the new program. M life rewards members not only for gambling, but for any money spent enjoying its resorts, restaurants, shows, spas, nightclubs and more. No longer just for casino customers, M life now provides all guests with "high roller" treatment simply by joining for free and using technology to take advantage of exclusive offers and experiences. Check out M life's website at www.mlife.com for all the details.
Boyd Gaming has also joined the technological revolution to reward customer loyalty. It recently launched "B Connected Mobile," a personalized mobile application that delivers customized offers and information directly to a customer's iPhone, iPod Touch or iPad. The app further expands the benefits of B Connected membership. B Connected Mobile was the first multi-property, loyalty program-based iPhone application of its kind in the gaming industry. It's available for free download at the iPhone App Store.
Club card holders can now earn "Social Points" through B Connected Social for using various features of B Connected Online or other Boyd Gaming websites to make room reservations, or check point balances, as well as, promoting their activities, offers, and events on major social media channels such as Facebook, Twitter, Google Plus and Foursquare.
In addition to B Connected Social, Boyd's next-generation website includes My Alerts, a feature that uses instant messaging to immediately alert customers of several key events. These include:  "Offers Watch," which alerts customers when they receive a new, personalized offer at a Boyd Gaming property; "Entertainment Watch" which notifies members when tickets for an entertainer go on sale, based on the member's stated entertainment interests; and, finally, "Slot Watch" which notifies players when a new slot machine debuts at their favorite property. For additional information, visit www.bconnectedonline.com.
Out & About Promos
Palace Station and Red Rock Casino Resort Spa in Las Vegas are now offering one table each of the poker game Mississippi Stud. The game differs from other poker table games in that players compete against a pay table instead of the other players. To begin, players make an ante wager and the dealer gives each player two cards, dealt face down. Three community cards are also placed face down. After viewing their first two cards, a player may then fold or make a bet of one to three times the ante amount. The bet options repeat as the community cards are revealed. Wagers are paid according to a posted pay table. The minimum Mississippi Stud wager is $5.
The Siena Hotel Spa Casino in Reno is offering up to a $200 loss-rebate for new players' club members. The loss is rebated in two parts with 50% of the loss available the first day and the remaining 50% available the following day. You must be a new member to be eligible for this promotion. Sign-up is free. Visit the Gateway Siena players' club for complete details.
Las Vegas Hotel & Casino, formerly the Las Vegas Hilton, has announced the return of its widely popular SUPERCONTEST. Held in the SuperBook, the world's largest race & sports book, the SUPERCONTEST is the ultimate pro football handicapping competition. Contestants can win their share of nearly $800,000 by paying a $1,500 entry fee prior to kickoff of the pro football regular season and then picking five pro games against the point spread each week throughout the season. The prize structure is based on the total number of entries with 100% of entry fees returned in prize money. The top 20 scores at season's end get the cash. Early-bird registration closes at 4 p.m. on September 3. The final deadline for signing up is 11 a.m. on September 8. Complete rules are available in the SuperBook or online at www.thelvh.com/supercontest.
H. Scot Krause is a gaming industry analyst, researcher and journalist. He is a former entertainment director and a 17-year resident of Las Vegas. His work is regularly featured in Casino Player, Strictly Slots and Gaming Today, as well as other gaming publications including the annual American Casino Guide Book. Questions or comments for Scot may be addressed to: krauseinvegas@cox.net