Are You Ready For Some Football! Handicapping Contests Continue to Grow in Popularity
Sportsbooks are getting creative when it comes to offering bettors some extra bang for their bucks, such as season-long football handicapping contests. These competitions allow players to pick a certain number of games each week and compete in the standings with other bettors. It's a fun way to watch the season play out with a shot at some truly huge payouts for the winners.
PENNSYLVANIA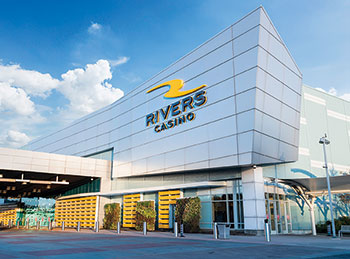 PRO FOOTBALL CONTESTS KICKS OFF SEASON AT RIVERS CASINO PHILADELPHIA
Bet, spin and win for a chance to score Birds tickets throughout football season at Rivers Casino Philadelphia. The BetRivers Sportsbook's Home Field Advantage: Spin to Win and Choose the Champs contests are just some of the fun that will be offered at Philly's first casino when pro football's regular season kicks off in September.
Choose the Champs starts on Tuesday, Sept. 6, and runs every week, while guests can spin to win during Birds home games beginning on Monday, Sept. 19. Jack's Bar + Grill's food specials will be offered throughout the season.
"The game-day atmosphere at the BetRivers Sportsbook will be amazing this season," said Justin Moore, general manager at Rivers Casino Philadelphia. "Whether the Birds are home or away, football fans can watch and wager from our comfortable recliners while having a tailgate menu delivered right to their seat. You won't miss any of the action at Rivers."
Home Field Advantage: Spin to Win
Sports bettors who place qualifying game-day bets in the BetRivers Sportsbook can enter the Spin to Win contest during Philadelphia pro football home games.
Guests will receive entries by placing at least a $50 wager on professional football.
Maximum number of entries per wager is three.
Random drawings will determine the winners, who must be present to spin the prize wheel. Prizes will include Free Play, cash and two tickets to a Birds home game.
At the end of each quarter, two winners will be randomly selected to spin the wheel. If the Birds win, an additional two winners will be selected.
Choose the Champs
Football fans and all Rush Rewards Card members can win their share of more than $50,000 in Free Slot Play by playing Choose the Champs all season long. Beginning on Tuesday, Sept. 6, participants can make their pro football picks at casino kiosks, and those who choose the most winning teams will earn the following weekly prizes:
First place: $1,000 Free Slot Play
Second place: $500 Free Slot Play
Third place: $250 Free Slot Play
Fourth-10th place: $100 Free Slot Play
11th-20th place: $50 Free Slot Play
BetRivers Sportsbook Teams Up With Jack's Bar + Grill
This football season, guests who watch and wager in the BetRivers Sportsbook can now have Jack's Bar + Grill menu items delivered right to their seat. The restaurant's full menu items are available in the sportsbook every Friday, Saturday and Sunday and include game-day favorites Liberty Bell pretzels, chicken wings and loaded nachos.
Game-day specials include:
Chips and salsa
Pretzel bites with cheddar cheese sauce
Shrimp cocktail (one-pound, easy peel)
Menu service, subject to Jack's hours, also will be available in the sportsbook when the Birds have a Monday or Thursday game (Monday, Sept. 19; Thursday, Nov. 3; and Monday, Nov. 14).
Also, $2 Miller Lite specials will be featured on Sundays, Mondays and Thursdays this fall in the sportsbook.
For more information about Rivers Casino, please visit RiversCasino.com/Philadelphia.
LAS VEGAS

The Westgate SuperContest
The Westgate Superbook in Las Vegas was the first to launch, with the SuperContest debuting in 1988 and paying out more than $107 million during that time. The Westgate features one of the largest sportsbooks in the world and Super Contest continues to grow in popularity each year. Beyond the main $1,000 season-long contest, there are also smaller contests as part of that initial buy-in throughout the season. The entire contest schedule guarantees a winner's payout of at least $1.1 million. Entries are open to Sept. 10 at  www.westgateresorts.com/hotels/nevada/las-vegas/westgate-las-vegas-resort-casino/casino/supercontest/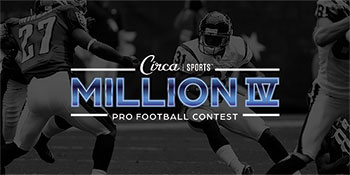 Circa Million IV and Circa Survior at Circa Las Vegas
Circa Sports offers handicappers some fun action as well via the Circa Million IV and Circa Survivor. The contest paid out $11 million last season and sportsbook officials are promising a guarantee of $12 million for 2022–2023. The $1,000 Circa Million IV guarantees $6 million in prizes with $1 million for first place. Circa Survivor also returns with a $6 million payout for the last entry standing. An undefeated selector can also earn a  $1 million bonus prize.
Both Circa and Westgate take no rake for the handicapping contests. Registration is now open for both contests until Sept. 10 at /www.circalasvegas.com
Raiders & Reels
Las Vegas Raiders return for the thrid season in Las Vegas 
Football fans looking to mix in some slot play with some gridiron action will find the Raiders playing their third season in Las Vegas. The team finished 10-7 in 2021 before losing to the Cincinnati Bengals in the first round of the playoffs.
Raiders games have become quite an event in Vegas. Casinos host pregame activities that often include drink specials, live music and appearances by football experts often breaking down the day's NFL matchups. Sportsbooks host watch parties as fans gather to place their bets and have some fun with friends.
Those looking to head to Las Vegas this season to check out a game and play some of their favorite slots have some nice games to check out. The biggest game at Allegiant Stadium, of course, is Super Bowl LVII, which is set for Feb. 12. Will the Raiders join Tom Brady and the Tampa Bay Buccaneers from 2021 and be hosting the big game at their own stadium? That remains to be seen, but here's a look at the team's 2022–23 home games for slot-playing football fans heading to Sin City.
18 – Arizona Cardinals
2 – Denver Broncos
23 – Houston Texans
13 – Indianapolis Colts
4 – Los Angeles Chargers
18 – New England Patriots
1 – San Francisco 49ers
Week 18 – Kansas City Chiefs (date and time to be determined)