BETTING THE FAVORITE: Supreme Court Rules Against NCAA
By Sean Chaffin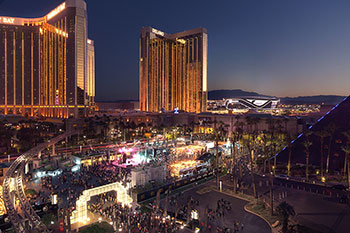 Sports betting has made plenty of headlines lately and this issue of "Betting the Favorite" is jam-packed—from Supreme Court rulings to three new states legalizing to some interesting new casino offerings. Sit back and gain some insight on where the industry is headed.
Some major changes in the way college sports do business could be on the way. In a unanimous decision, the Supreme Court ruled in June that the NCAA violated antitrust laws by limiting education-related benefits schools can provide for student-athletes. The ruling now allows schools to provide athletes with unlimited education-related compensation.
The decision also now opens up the NCAA for legal scrutiny regarding a wider range of compensation, including payments and benefits for athletic participation. Justice Brett Kavanaugh's opinion detailed his view that building an industry based on non-compensation of employees wouldn't be tolerated by any other sector of the labor market.
"Nowhere else in America can businesses get away with agreeing not to pay their workers a fair market rate on the theory that their product is defined by not paying their workers a fair market rate," Kavanaugh wrote. "And under ordinary principles of antitrust law, it is not evident why college sports should be any different. The NCAA is not above the law."
How will the NCAA proceed? That remains to be seen, but the eroding of the college "amateur" status rules seems inevitable. Kavanaugh argued that college sports fans prefer players being amateurs, but that doesn't mean the NCAA's business plan is legal. He noted that administrators, athletic directors, and coaches are making millions of dollars based on this system.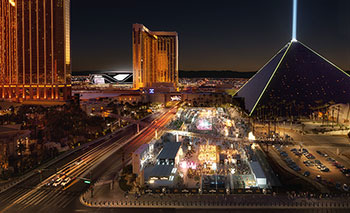 "All of the restaurants in a region cannot come together to cut cooks' wages on the theory that 'customers prefer' to eat food from low-paid cooks," Kavanaugh notes. "Law firms cannot conspire to cabin lawyers' salaries in the name of providing legal services out of a 'love of the law.' Hospitals cannot agree to cap nurses' income in order to create a 'purer' form of helping the sick. News organizations cannot join forces to curtail pay to reporters to preserve a 'tradition' of public-minded journalism. Movie studios cannot collude to slash benefits to camera crews to kindle a 'spirit of amateurism' in Hollywood." 
Vegas Stadium Walk Renderings Unveiled
Last month's "Betting the Favorite" featured the new MGM "Stadium Walk" area at Mandalay Bay and Luxor. The venue will be utilized by sports fans and those attending Las Vegas Raiders games this fall. The two casinos are offering special room packages, sports-related festivities, and live entertainment throughout the season. The team's home base, Allegiant Stadium, is located just west of the two properties.
The new venue also promises plenty of pregame fun for those heading to the stadium or gamblers hoping for some pregame festivities. That will also include some live shows featuring game and betting analysis from athletes and handicappers. MGM recently unveiled artist renderings of the new facilities and fans will find a spacious open-air concept for gathering to watch the game.
Canada Gets In on Sports Betting Bandwagon
Sports bettors heading north of the border may soon be able to plunk down a few dollars on a sporting event. In June, the Canadian Parliament overturned the country's ban on single-game wagering. This now allows provincial and territorial governments to determine their own laws regarding sports betting as states do in the U.S.
Officials in Ontario, Quebec, British Columbia and Alberta have already expressed interest in allowing sports betting in their provinces. Companies like Caesars and MGM are already making inroads in the country for when sports betting goes live.
"With this change in federal law, we welcome the opportunity to collaborate with provincial governments, policymakers, and regulators in crafting policy that benefits taxpayers and provinces, while safeguarding the integrity of games," MGM said in a statement. "BetMGM also applauds ongoing efforts in the province of Ontario to establish a robust, competitive, and regulated online gaming market and looks forward to participating in the Ontario licensing process."
How big could the Canadian betting market be, eh? It's large by U.S. state standards, but not the massive market one might expect. The country has almost 38 million people, a bit less than California's 39.5 million. The move should be pretty popular if provinces can open betting windows for the next NHL, NFL and CFL season.
Great Deal for The Great One
Speaking of the NHL, the league's greatest player has added his name to the growing numbers of athletes serving as brand ambassadors for sportsbooks. As the Stanley Cup playoffs continued in June, BetMGM announced Wayne Gretzky would serve as a company rep in a multi-year agreement. The NHL legend and four-time Stanley Cup champion still holds or shares 61 NHL records and will join BetMGM's hockey and North American marketing efforts.
"BetMGM is a terrific company and one at the forefront of the dynamic changes taking place in the sports business," Gretzky said. "I'm excited to be a part of the company's continued expansion into new states and territories and to help tell BetMGM's story.""The Great One" is regarded as the greatest hockey player ever and is the all-time leader in both goals and assists, totaling 2,857 points in 21 seasons with Edmonton, Los Angeles, St. Louis and the New York Rangers. He also won nine Hart Trophies as the league's Most Valuable Player. No one in league history has accomplished more than Canada's legendary superstar.
After football season, sports betting platforms experience some major declines and BetMGM hopes adding some star power to the roster may help in adding more bettors during hockey season. The addition is also a big opportunity to market the brand north of the border.
"Wayne is an exceptional talent who transcends the sports world and we're proud to welcome him to the BetMGM team," BetMGM Chief Revenue Officer Matt Prevost said. "As we look toward potential expansion into Canada, and elsewhere throughout the United States, Wayne will bring a unique ability to tell our brand story."
Circa Goes Big With Latest Football Contests
Circa Sports has ramped things up even more for the Las Vegas company's popular pro football contests. The contests promise players $10 million in guaranteed prizes with no casino rake. This marks the largest pro football contest guarantee ever as well as the most significant prize purse for a survivor-style contest.
"The demand for our contests in the past years was so high we knew we needed to come back bigger and better than ever," Circa CEO Derek Stevens said.
The $1,000 Circa Millions III will guarantee $4 million in prizes, with a $1 million top prize and quarterly payouts. That's up from $3 million in 2020–21. To enter, each player makes five pro football picks against the spread each week.
The $1,000 Circa Survivor guarantees at least $6 million in payouts, up from $1 million in 2020–21. A $1 million Undefeated Prize is also up for grabs. Each participant selects one team to win straight up each week, but the player cannot pick the same team twice.
Sign-ups for both contests began May 28 via the mobile app or at all Nevada Circa Sports Nevada locations:
Circa Resort
Golden Gate Casino
the D Las Vegas
Tuscany Casino
The Pass at Water Street
LEGALIZATION WATCH
Three More States Getting in the Sports Betting Business
Three more states have been added to the ever-growing list of states legalizing sports wagering. Nebraska got the ball rolling on May 27 when Gov. Pete Ricketts (R) signed the state's first commercial casino bill. The law would allow for casino gaming and sportsbooks at the state's racetracks, but no mobile or online wagering.
In Connecticut, Gov. Gov. Ned Lamont (D) signed a bill allowing online gaming and sports betting on May 27. The law moved quickly through the state's legislation and received broad bipartisan support. The move puts the state in line with nearby New York, New Jersey, Pennsylvania and Rhode Island.
Florida may also be opening the betting windows soon. In June, Gov. Ron DeSantis (R) reached an agreement with the Seminole Tribe to allow the group to be the state's exclusive provider of sports betting. The Seminoles own the Hard Rock casino and hotel empire, including several resorts in Florida. Two attempts in the state legislature to legalize sports betting have failed to reach a vote.
However, as a Native American tribe, the Seminoles argue that their servers would be on tribal lands so therefore exempt from state gaming laws—whether a bet is made at a casino or somewhere else in the state via a mobile app. There remains some murkiness in this process. The new compact would need approval by the Department of Interior, which has never approved a compact that included sports betting.
Opponents also argue that the compact violates the state's Amendment 3, which requires all gaming expansion to undergo a popular vote. Lawsuits on the issue are probably in the works, so there remain several hurdles before making that next Super Bowl bet in the Sunshine State.
States with live, legal betting (21 + D.C.) – Arkansas, Colorado, Delaware, Illinois, Indiana, Iowa, Michigan, Mississippi, Montana, New Hampshire, New Jersey, New Mexico, New York, Nevada, North Carolina, Oregon, Pennsylvania, Rhode Island, Tennessee, Virginia, Washington D.C., West Virginia,
States (9) that have legalized, but have yet to launch – Arizona, Connecticut, Florida, Louisiana, Maryland, Nebraska, South Dakota, Washington, Wyoming
Sean Chaffin is a freelance writer in Crandall, Texas, and senior writer for Casino Player and Strictly Slots magazines. Follow him on Twitter @PokerTraditions or email him at seanchaffin@sbcglobal.net for story assignments.
call 702-676-7000.