Foxwoods Resort Casino Unveils Pequot Woodlands Casino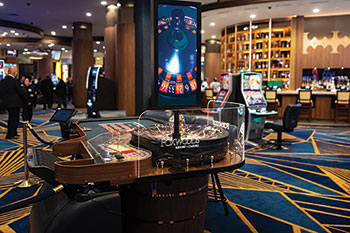 Foxwoods Resort Casino in Mashantucket, CT, has announced the eagerly anticipated debut of the all-new Pequot Woodlands Casino, which opened its doors to the public on Aug. 29. This new expansive casino, spanning over 50,000 square feet, is situated within the Grand Pequot Concourse.
Highlighted attributes of this new area encompass an impressive collection of over 430 new slot machines, accompanied by the inviting 40-seat slot bar known as Truth Searcher. Complementing these offerings are 24 table games, a state-of-the-art High Limit Slot room featuring 130 cutting-edge machines, a public bar, and a casino cage. This combination results in an engaging and dynamic experience for guests in one of the most popular locations at Foxwoods.
"We are proud to open our Pequot Woodlands Casino, one of the most significant property updates we have made in recent years," said Jason Guyot, president & CEO of Foxwoods Resort Casino. "This incredible achievement speaks volumes about Foxwoods' growth and innovation over the past year, as we continue to focus on offering our guests world-class amenities. We are excited for our guests to experience this dynamic new gaming area, right in the heart of the resort."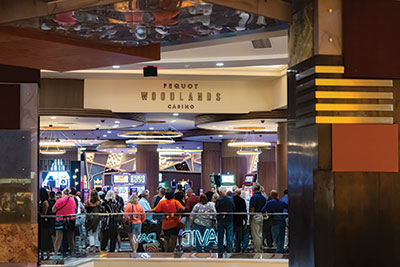 The casino's design presents a contemporary and elevated aesthetic that seamlessly integrates elements inspired by the Pequot culture. This results in a distinctive ambiance reminiscent of a serene forest environment. Notable design features include pillars adorned with wood wrapping, structures evoking clouds, and a bespoke carpet design that artfully replicates the interplay of light through trees. Custom chandeliers and cloud formations adorned with a three-ring motif add to the decor, showcasing Pequot symbols that celebrate unity and community.
The Pequot Woodlands Casino represents the latest addition to Foxwoods' series of exciting developments and enhancements over the past year. Adjacent to the new casino within the Grand Pequot Concourse, guests can find Gordon Ramsay HELL'S KITCHEN, the renowned restaurant by acclaimed chef Gordon Ramsay, which recently celebrated its grand opening. Further additions encompass a sprawling new Bingo Hall and Expo Hall, the forthcoming Great Wolf Lodge set to debut in 2025, and the imminent opening of the well-regarded fast-casual chain, Wahlburgers.