Water Dog Atlantic City Opens at Bally's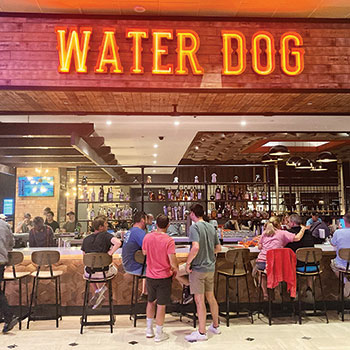 Water Dog Atlantic City is one of the newest restaurants in Bally's Hotel & Casino in Atlantic City, NJ, marking the company's 2nd location in the area. The original, Water Dog Smoke House, resides in neighboring Ventnor, which has been a huge success since opening in 2019.
Water Dog Atlantic City occupies 8,000 square feet of space, features 220 dining seats, a 35-seat bar with a super-creative and fun cocktail list, a large open-floor concept with plenty of seating for fast-casual dining, along with live music every weekend, says General Manager John Connor. "Think casual, yet high-energy bar and restaurant with a bit more flair. Features like happy hour, rotating local brewery beer taps, signature cocktails and live entertainment are a few things you can expect to find at our Bally's location—and of course our creative and tasty menu."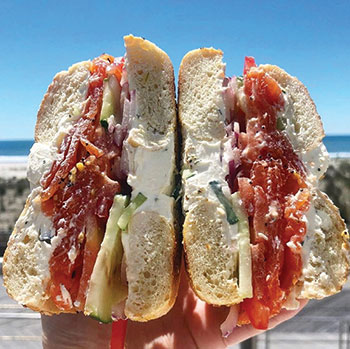 Water Dog AC offers breakfast, lunch, dinner and late-night menu on weekends featuring a large eclectic mix of choices like Poke Bowls, their famous Maine Lobster Rolls, Jersey Scallop Rolls, Artisanal Bagels with Smoked Fish, stacked NY–style sandwiches, as well as dinner entrees such as Truffle Grilled Filet Mignon and Port Rosemary Braised Short Rib, among others. Water Dog features an ambitious and broad food and cocktail menu to satisfy all palates with an array of creative and healthy culinary choices.
Water Dog's breakfast menu features classics like omelets, Benedicts, short-stacked pancakes and breakfast sandwiches. Bottomless mimosas are also available to kick-start your morning 7 days a week. The lunch menu begins with appetizers featuring loaded truffle fries, wrapped shrimp and crab cakes. Hamburgers are part of the lineup, featuring Pat LaFrieda's blend of short-rib, brisket and chuck including the Connor's patty melt. Also, the Poke Bowls will have everyone wanting more.
The dinner menu is just as enticing, featuring mouth-watering lobster rolls (no filler, just meat), truffle-grilled filet mignon, roasted lemon half-chicken and Port rosemary short ribs. To complement the food menus are two handcrafted cocktail menus, an approachable wine list and featured local craft beers daily. Also included in the lineup, Water Dog will highlight its own bourbon, distilled by Makers Mark, as well as feature local favorites like Mr. Fingers Alibi Gin, Little Water Distillery Liberty Rum and Stateside Vodka.
At the heart of Water Dog is a love for fresh, creatively prepared food and craft cocktails. "We love that we added Water Dog to our mix of restaurants located at Dining On The Sixth. This unique dining experience will offer breakfast, lunch, dinner and late-night options for our guests. Water Dog's bar and live music will bring additional energy to the property," said Phil Juliano, executive vice president, casino operations and chief marketing officer, at Bally's Corporation. Water Dog will be the go-to restaurant for a casual date night, a night out with friends enjoying the most creative cocktails in Atlantic City, a gathering spot for a sporting event, or hosting a large party, celebrating special occasions.
For more information, visit www.waterdogatlanticcity.com.