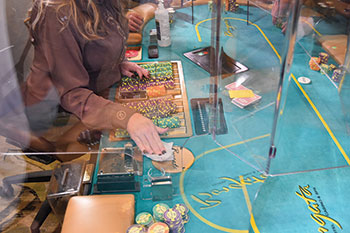 Players missing the feel of some chips in front of them and cards in their hands have gotten the chance to get back in the action in recent weeks. Live poker has returned to casino properties in several states around the country, although it's a bit of a new post-pandemic environment.
Those heading back to poker rooms around the country will find between six- and eight-handed play for social distancing reasons. Masks are also required with most properties also adding plexiglass partitions between players. Extra sanitation protocols and sanitizer stations are also a big part of the mix.
Some of those now with live poker include Nevada, Florida, California, Texas,  Arizona, Washington, Louisiana,  Alabama, and others. Two of the biggest casino states have been slower in returning to action – New Jersey and Pennsylvania. However, players in both states were dealt in during October.
The Borgata offers players a massive poker scene and is a mecca for poker in Atlantic City. The MGM Resorts property hosts World Poker Tour events as well as its own popular tournament series throughout the year. The property reopened for poker on Oct. 21 with 30 socially distanced tables following the company's comprehensive health and safety protocols, including mandatory masks. Cash games opened initially with tournaments hopefully returning sometime in the future.
"We are happy to welcome back our loyal players as we reopen Atlantic City's market-leading East Coast poker destination."