27 – A MUSICAL ADVENTURE OPENS AT VIRGIN HOTELS LAS VEGAS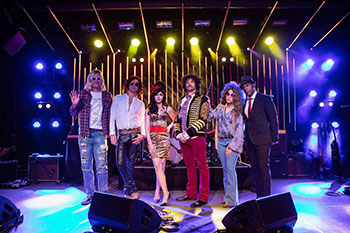 They changed the music, then they changed the world. "27 – A Musical Adventure" honors the music icons gone too soon at the age of 27: Kurt Cobain, Jimi Hendrix, Janis Joplin, Robert Johnson, Jim Morrison and Amy Winehouse.
This new residency debuted on May 19 at its new home inside 24 Oxford at Virgin Hotels Las Vegas, part of Curio Collection by Hilton.
Throughout the show, the audience is taken on a retrospective journey of sight and sound, showcasing each artist's respective contributions to our musical landscape. The show culminates with the artists all performing together on one stage in a rock concert like no other.
"27 has been in the works for more than 15 years. The show received a tremendous response across multiple generations when it debuted at the Troubadour, and we are excited about the residency at the new Virgin Hotels Las Vegas. Virgin is synonymous with music, so we think it's a great fit," said Ramy El-Batrawi of Hen Entertainment and co-writer/co-producer of 27 – A Musical Adventure.
"We are excited to be able to announce that live entertainment is back," said Gary Scott, COO of JC Hospitality, owner of Virgin Hotels Las Vegas.  "27 – A Musical Adventure inside 24 Oxford will highlight the talents of performers who bring the legendary artists to life and we're proud for this rock retrospective show to kick off our entertainment lineup."
Tickets for 27 – A Musical Adventure are on sale, with ticket prices starting at $65 plus tax and fees. Performances are Wednesday through Sunday at 8:30 p.m. and can be purchased at  https://ticketbat.com.