El Cortez Hotel & Casino: Best Place to Play BJ in Las Vegas
80 Years of Vintage Vegas Legacy and Unbeatable Blackjack Experience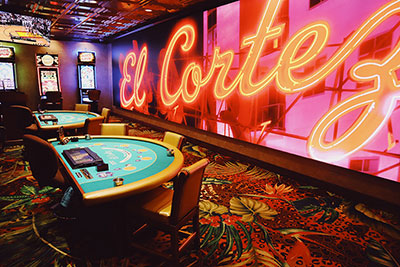 With a remarkable legacy spanning over 80 years, El Cortez Hotel & Casino holds the distinction of being the longest continuously operating hotel and casino in Las Vegas. This iconic establishment in Downtown Las Vegas presents visitors with an authentic taste of vintage Vegas. Amid the ever-changing landscape, El Cortez stands as a resilient testament to the past, exuding the classic allure of Sin City. Its neon cursive sign, array of coin-operated games, and blackjack tables boasting the town's most favorable odds encapsulate the essence of old-school charm.
Recognizing its historical significance, the property was added to the National Register of Historic Places on Feb. 22, 2013.
Encompassing a spacious 45,300-square-foot casino floor, El Cortez beckons players with an array of attractions, particularly its dozen blackjack tables featuring accommodating minimum bets, player-friendly rules, and the added delight of complimentary beverages. Key highlights include:
3:2 Odds: Since 1941, El Cortez Hotel & Casino has dealt blackjack with 3:2 odds, a commitment to providing players with superior odds compared to the prevalent 6:5 blackjack offerings at most other casinos.
Low Minimum Stakes: While many Las Vegas casinos demand minimum bets of $25 for blackjack, El Cortez sets itself apart with approachable minimums of just $10 on midweek days and $15 on weekends.
Free Beer in the Pit: Enhancing the gaming atmosphere, El Cortez extends the courtesy of complimentary ice-cold beers in the pit, elevating the overall experience for players.
Double Deck: El Cortez proudly hosts the exclusive double-deck blackjack game in Las Vegas, granting players the rare opportunity to double down on any two cards while playing 3:2 on a natural blackjack. The dealer hits on soft 17. This unique game allows for doubling down both before and after splitting, with a remarkably low minimum bet of only $5.
For dining, the El Cortez will have something to satisfy your cravings. Siegel's 1941, named after mobster Bugsy Siegel, is a classic morning, noon and night eatery offering staple dishes like Prime Rib and Alaskan King Crab Legs. The Parlour Bar and Ike's are the perfect places to relax, watch the game and enjoy signature cocktails and other libations. If patrons are sitting on a hot machine but simultaneously craving a bite to eat, guests can order food right from their machine with Gambling Gourmet.
The El Cortez Hotel & Casino embodies a rich history and an enduring commitment to delivering an unparalleled gaming encounter. Its longevity, dedication to classic Vegas charm and player-centric offerings make it a must-visit destination for those seeking an authentic and rewarding casino experience.