Turning Stone Opens All-New Market-Style Buffet, 7 Kitchens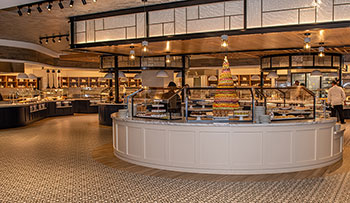 Turning Stone Resort and Casino in Verona, NY, held the highly anticipated grand opening of its all-new 7 Kitchens market-style buffet on April 29. The totally redesigned eatery combines quality artisan food prepared by Turning Stone's award-winning culinary team, with a contemporary design infusing crisp, clean whites, contrasted by stark blacks and shades of deep greens. With seating for more than 370 guests, 7 Kitchens is Turning Stone's largest restaurant and guaranteed to be among guests' most popular.
Developed by Turning Stone's award-winning culinary team, 7 Kitchens' unique dining experience is similar to eating at seven different restaurants, all under one roof. The extensive menu will appeal to every palate with its diverse options, introducing guests to a completely new culinary experience that redefines a traditional buffet. Led by Executive Chef Ron Ross and 7 Kitchens Chef de Cuisine Dustin Tuthill, Turning Stone's culinary team has curated a menu that features a mix of new and exciting items, while also offering new twists on the classics, all beautifully displayed in a way unlike anything guests have experienced before.
"Our goal for 7 Kitchens is to introduce a completely new dining concept and create an experience unlike anything else you can find in the Northeast," said Oneida Indian Nation Representative and Nation Enterprises CEO Ray Halbritter. "The menu and presentation curated by our culinary team combined with the absolutely stunning space, makes 7 Kitchens a truly memorable dining destination."
Seven special features at 7 Kitchens include an Asian/dim-sum station, seafood station, carving station, Mexican station, Italian station, dessert station and an antipasto station.