Bellagio Embarks on $110 Million Transformation of Spa Tower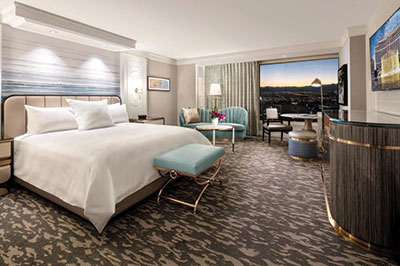 The Grand Dame of the Las Vegas Strip, Bellagio, has unveiled details on a massive $110 million transformation of its Spa Tower rooms and suites, delivering contemporary accommodations inspired by the beauty and tranquility of Italy's Lake Como.
The renovation is no small feat, and following a recent remodel of more than 2,500 guest rooms in its main tower, the Spa Tower redesign, which encompasses 819 guest rooms and 104 suites, is slated for completion in October, with the first collection of rooms available for guest stays beginning in July.
"Bellagio's commitment to delivering unparalleled accommodations, experiences and guest service for our discerning guests from around the world is the hallmark of our brand promise," said Ann Hoff, president & COO of Bellagio. "The Spa Tower's beautiful and luxurious new suites and guest rooms will reinforce our position as one of the hospitality industry's premier destinations."
The new rooms and suites are a marvel of modern design. Each one features a sleek and sophisticated aesthetic, with clean lines and muted colors. Well-appointed bedrooms will feature tufted cream-colored curved headboards, soft uplighting, custom TV armoires in a sycamore wood grain, and floral touches in an homage to Italian fashion.
But the real star of the show is the bathrooms. Each one is a work of art, with gleaming marble surfaces, spacious showers, and oversized soaking tubs. Guests can bask in the luxury of their private oasis, soaking away the stress of the day.
Of course, the transformation wasn't just about aesthetics. The Bellagio also took steps to make its rooms and suites more eco-friendly, with a focus on energy efficiency and sustainability.
The transformation of the Bellagio's Spa Tower rooms and suites is a testament to the hotel's commitment to excellence. It's a reminder that even the grandest hotels can always strive to be better. And it's a promise to guests that the Bellagio will always be at the forefront of luxury hospitality.