Ocean Casino Resorts Opens The Gallery Bar Book & Games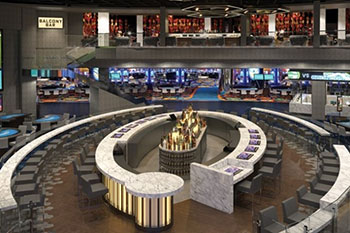 Ocean Casino Resort kicked off the Fourth of July weekend by unveiling their brand new sportsbook, The Gallery Bar Book & Games. Former Philadelphia Eagle and Super Bowl Champion Barrett Brooks along with the Philadelphia 76'ers official drumline and the Harlem Wizards joined the festivities and unveiled a 10-foot high "The Gallery" sign marking the debut of the new hotspot.
The 12,000-square-foot $5.2 million venue, located in the heart of the casino, boasts a 100-foot elevated bar and lounge including 59 seats and 12 slot machines. A mix of blackjack and roulette tables surround the perimeter of the bar, while 140 feet of LED walls line the venue. A 17-foot open-air staircase connects to The Balcony Bar, a mezzanine bar and lounge where guests will enjoy the ultimate VIP sportsbook experience.