Gaming Elevated: Scarlet Pearl Casino Resort Debuts Orchid Room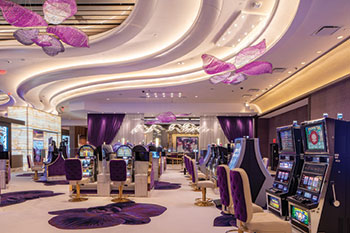 Scarlet Pearl Casino Resort in  D'Iberville, MS, opened its new high-limit Orchid Room, Gaming Elevated, a new standard in high limit gaming experiences on Sept. 11. The new Orchid Room redefines high limit gaming with eight blackjack and mini-baccarat table games, 53 slot and video poker machines, and a dedicated cashier and player services counter.
Scarlet Pearl has rethought the VIP customer experience. Signature services and niceties include warm scented hand towels, curated cocktails, tasting menus, dessert pairings, personal televisions, phone chargers at each slot machine, and a host of unexpected amenities. Staff members were stringently vetted with demanding expectations to provide a polished and consistent experience.  The Orchid Room is only available to members of Pearl Rewards, Scarlet Pearl's loyalty program and is open 24/7.
"Any casino can raise their minimums, put in high-denomination slots, and call it a 'high-limit room'," said Scarlet Pearl CEO LuAnn Pappas, "Here, we have created an 'elevated' experience. The best players deserve the best room, the best services, the best amenities and most importantly, the best employees. The Orchid Room is simply the best."
The room's high-style design boasts rich materials including Alabastri di Rexe porcelain floors, a magnificent entry of backlit Grecian vanilla onyx, touchable Velveteen Vector wall fabric and a lush Orchid-print carpet custom-made to room specifications. KGM-made stands offer slot players a "personal gaming pod" complete with charging stations, television, food trays and storage compartments.  The area is lit by one-of-a-kind hand-beaded orchid petal fixtures and crystal ribbon chandeliers.
Privately owned since opening in 2015, Scarlet Pearl Casino Resort has committed to the South Mississippi community through charity and capital investment. The $4 million Orchid Room is part of a $6 million overall 2020 project to enhance the VIP customer experience.