Get Ready to Rock Indiana!
Hard Rock Casino Northern Indiana Prepares to Open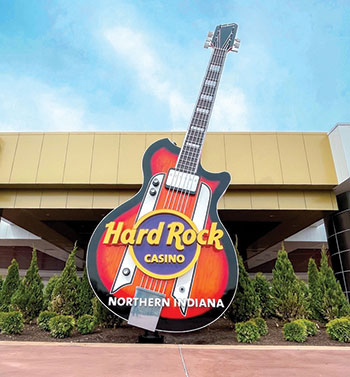 On April 8, the Hard Rock Casino Northern Indiana revealed the iconic guitar marquee sign and uncrated the first piece of music memorabilia at the new property which is scheduled to open to the public May 14 in Gary, IN. Matt Schuffert, president of Hard Rock Casino Northern Indiana, showed off the giant sign that will greet visitors to the property, and thanked the construction teams who transformed the bricks and mortar into the 200,000-square-foot entertainment complex.
Measuring 37 feet tall by 15 feet, 7.5 inches wide, the oversized guitar was designed to replicate Joe Jackson's original guitar from 1965. Joe Jackson is the father and founder of the Jackson 5, the musical group that went from humble beginnings, right here in the region, to become international superstars. The Jackson family is one of the most incredible success stories in the history of music. The family holds a special place in the hearts of area residents and their childhood home is a popular attraction for Jackson fans who come from all over the world.
Schuffert introduced Giovanni Taliaferro, director of Memorabilia Design for Hard Rock International. Taliaferro told the incredible story of Joe Jackson's guitar and why it is such an important piece of music history. Taliaferro then removed Joe's original guitar from a guitar case and gave the construction team the first glimpse of the special piece of memorabilia. The guitar will be one of many pieces of music memorabilia to be on display inside the Hard Rock Casino Northern Indiana. Taliaferro placed the guitar on a stand in front of the giant guitar monument sign that was created in its likeness.
A Guitar that Changed the World
In 1964, at 10 years of age, Tito Jackson was caught playing his father, Joe Jackson's, 1961 Supro Airline Town & Country guitar after Joe noticed a broken string. Joe, a musician in a band called the Falcons, had strict rules that no one was to touch his guitar as those gigs supplemented his income with his main job at the steel factory in Gary.
Once Joe fixed the string, he requested that Tito play for him. Brothers Jackie and Jermaine joined him by singing. Once finished, Joe was so impressed that he convinced them to form a singing group with Michael on congas and Marlon on tambourine. He then immediately bought Tito his own guitar.
Later that year, after a performance at a school talent show, Michael started sharing the lead vocals with Jermaine and the Jackson 5 were born.
All thanks in part to a broken string, the world has been blessed with the Jackson family, the Royal Family of Music.
The grand opening of the Hard Rock Casino is scheduled for Friday, May 14.