The Return of Live Entertainment: Concerts are coming back to casinos from coast to coast
Let loose and enjoy great concerts, shows and big-name entertainment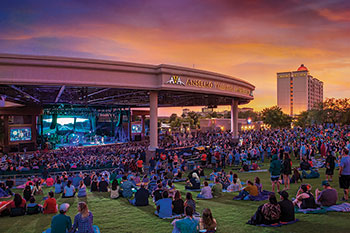 Concerts are coming back! The wait is over for the return of live entertainment and casinos across the country are gearing up for a spectacular summer after being silenced for more than a year by the coronavirus pandemic.
With the number of vaccinated individuals rising and the number of COVID-19 restrictions easing, casinos from coast to coast are thrilled to bring back live entertainment from headline acts and tribute bands to top comedians and dazzling production shows.
One thing is for sure, there's no shortage of great acts to catch this summer so stay tuned, because every day, more live concerts and events are being announced and on the way to a casino near you.
Following is a sampling of shows and events that are sure to please. Be sure to check the websites of individual casinos for more information, safety measures and to purchase tickets.
FireKeepers Casino Hotel
Battle Creek, MI
FireKeepers Casino Hotel is excited to welcome live entertainment back to the Event Center this summer. Most of FireKeepers' 2020 shows that were postponed due to the pandemic have been rescheduled, and new shows are still being added.
"The return of entertainment to the property has been highly anticipated; we cannot wait to welcome guests and artists back to the Event Center!" stated FireKeepers CEO, Kathy George. "This summer's lineup spans all genres, promising something for everyone."
FireKeepers entertainment lineup includes Jake Owen, Aug. 21; Larry the Cable Guy, Sept. 4; Earth, Wind & Fire, Oct. 2; Randy Houser, Oct. 16; Chicago, Nov. 5; and Tyler Henry, Nov. 18.
Tickets for rescheduled shows will still be honored for the new show dates. Refunds are available through the point of purchase up to 30 days before the new show date. Visit www.firekeeperscasino.com for more information.
Casino Del Sol
Tucson, AZ
Casino Del Sol is one of the premier destinations for entertainment in all the Southwest, from top comedy to A-list rock and roll, and they recently announced they will be hosting live music and comedy shows once again, after a 22-month break.
The AVA Amphitheater is one of the finest outdoor amphitheaters in Arizona and has played host to some of the world's greatest acts. It possesses a uniquely intimate and acoustically perfect setting that must be experienced to be appreciated. The AVA seats around 5,000 people in an outdoor setting, allowing for proper health and safety guidelines.
Casino Del Sol and the Pascua Yaqui Tribe are encouraging guests to get vaccinated before attending a concert and the Pascua Yaqui Tribe said that if you get vaccinated at the tribe's clinic, you will receive a $10 food and drink voucher.
The first shows kick off in September and include Chaka Khan, Sept. 3; Ice Cube, Sept. 11; George Lopez, Oct. 2; and Midland, Oct. 9. For more information, visit casinodelsol.com.
Harrah's Cherokee Casino
Cherokee, NC
Harrah's Cherokee's 3,000-seat Event Center is known for hosting big names like Dolly Parton, Alicia Keys, Chris Rock and more! Upcoming shows include Gabriel Iglesias, Aug. 7; Tanya Tucker, Aug. 27; and Little Big Town, Oct. 15.
Agua Caliente Resort Casino Spa Rancho Mirage
Rancho Mirage, CA
Entertainment is on at Agua Caliente Resort Casino Spa Rancho Mirage in a big way. Southern California fans know that The Show is the area's premier concert theater featuring headliners, comedians and more. On July 24, Theresa Caputo Live! The Experience comes to The Show for an evening of healing messages. Other headline shows include Kevin James, July 31; Jo Koy, Aug. 6, 7 & 8; Pat Benatar & Neil Giraldo, Sept. 4; Tower of Power & Average White Band, Sept. 11; Styx, Sept. 18; and Frankie Vallie & The Four Seasons, Oct. 9.
The Mirage Draws Pocket Aces as Popular 'Aces of Comedy' Series Returns
The Aces of Comedy series at The Mirage Hotel & Casino features one of the country's most comprehensive and diverse comedic lineups. Over the last decade, the 1,257-seat Theatre at The Mirage has been the place to enjoy the best comedy in Las Vegas, featuring some of the most popular comedians worldwide, including Tim Allen, Tiffany Haddish, Gabriel Iglesias, Jay Leno, Kathleen Madigan, Bill Maher, Ray Romano, David Spade, Iliza Shlesinger, Daniel Tosh and Ron White, among others.
The popular Aces of Comedy series is returning in July with some of the biggest names in comedy scheduled to take The Mirage Theater stage. Leading the lineup are Chelsea Handler, July 10); Bill Maher, July 16 & 17; Gabriel Iglesias, July 23 & 24; and Jim Jefferies, July 30 & 31. All shows are scheduled to begin at 10 p.m. unless otherwise noted. Tickets can be purchased online at mirage.com/aces or at ticketmaster.com.
Seminole Hard Rock Hotel & Casino Hollywood
Hollywood, FL
The new Hard Rock Live at Seminole Hard Rock Hotel & Casino Hollywood is South Florida's premier entertainment venue. An investment of more than $125 million, the 7,000-capacity indoor venue has clamshell-style seating where the farthest seat from the stage is only 164 feet away, giving guests an intimate experience. The 225,000-square-foot facility is also equipped with state-of-the-art in-house sound and lighting, multiple 30′ x 17′ HD viewing screens and mobile-stage technology. With its technical capabilities, Hard Rock Live supports A-List acts and they are ready to welcome guests.
Headliners include Dave Chappelle, Aug. 6; Bill Burr, Aug. 28; Sebastian Maniscalo: Nobody Does This Tour, Sept. 1; Daryl Hall & John Oates, Sept. 22; Eric Clapton, Sept. 28; Tom Segura: I'm Coming Everywhere World Tour, Oct. 1; Guns N' Roses, Oct. 1: Trevor Noah, Oct. 22; and Little Big Town, Oct. 24.
Ovation Hall Reopens at Ocean Casino Resort
Ocean Casino Resort in Atlantic City is turning the volume back on with the anticipated return of headlining entertainment to Ovation Hall. Starting in July, chart-topping performances by Loverboy, Brian McKnight and Melissa Etheridge will take over Ocean's state-of-the-art concert venue before legendary rocker Alice Cooper kicks off his national tour live from Ocean in September. A diverse schedule of celebrated talent is set to perform throughout the year, including Jeff Dunham, The Beach Boys and Collective Soul, among others.
Also, this summer, Ocean will introduce Glen Burtnick's Summer of Love Concert series, beginning on July 9 and running every Friday and Sunday through August 29. The immersive residency will focus on iconic rock music from the period between the 1967 release of The Beatles album "Sgt. Pepper's Lonely Hearts Club Band" and the 1969 Woodstock Music and Art Festival. Guests will further enjoy covered hits from artists like The Rolling Stones, Bob Dylan, Janis Joplin, Jimi Hendrix, The Doors, Santana, Crosby, Stills, Nash and Young and more.
"We are elated to bring back such an acclaimed group of headlining performers to Ovation Hall for our customers to enjoy," said Terry Glebocki, chief executive officer for Ocean Casino Resort. "Entertainment is one of Ocean's core foundations, and as restrictions ease and we are able to open up more of our property, the return of live music and comedy serves to bolster our premier resort experience."
In conjunction with local health officials, guidelines from the CDC and state authorities, Ocean has implemented health and safety initiatives throughout the property, both in front of and behind the curtain. Included in the protocols are mask requirements, thermal screening for employees, hand sanitizing stations and physical distancing. Advanced ticket reservations are highly encouraged to help Ocean comply with capacity restrictions and to maximize contactless ticket scanning.
A total of 19 entertainers are confirmed through 2022 with more to be announced. Acts include Summer of Love, every Friday from July 9 to August 27 and every Sunday, from July 11 to August 29; Morris Day & The Time, Aug. 14; Jeff Dunham, Aug. 21; Melissa Etheridge, Sept. 4; Three Dog Night, Sept. 10; Alice Cooper, Sept. 17; George Thorogood, Sept. 24; The Beach Boys, Sept. 25; Kansas, Oct. 2; The Monkees, Oct. 23; Collective Soul with Better Than Ezra and Tonic, Oct. 30; Aaron Lewis, Nov. 6; Straight No Chaser, Dec. 3; Sarah Brightman, Dec. 4; Terry Fator, Dec. 11; and Jay Leno, March 19, 2022.
Tickets can be purchased through ticketmaster.com. For more about what's new at Ocean Casino Resort, visit www.theoceanac.com.
Headline Entertainment Returns to Beau Rivage
It's showtime once again as headline entertainment makes its long-awaited return to MGM Resorts International's Beau Rivage Resort & Casino in Biloxi, MS. Country star Gary Allan will kick off the schedule when he takes the Beau Rivage Theatre stage on Saturday, Aug. 28.
"Live entertainment is a key component to the Beau Rivage experience," said MGM Resorts' Southeast Region president and COO Travis Lunn. "We have seen tremendous pent-up demand for live entertainment and since reopening, guests have been looking forward to the time when they can sing along to their favorite artists."
Gary Allan has four No. 1 hits and 14 Top 10 hits on the country charts to his credit, including "Man to Man," "Tough Little Boys," "Nothing On but the Radio" and "Every Storm (Runs Out of Rain.)"
Multi-platinum entertainer Sara Evans, one of the most-played female artists at country radio in the last two decades, is scheduled to perform on Saturday, Sept. 4. Following Evans, R&B singer and former front man of The Gap Band Charlie Wilson will visit Beau Rivage on Saturday, Sept. 11.
GRAMMY Award–winning hip hop artist Nelly, who owned the charts in the early 2000s with a string of hits, four of which peaked at No. 1 on the Billboard Hot 100, including "Hot In Herre," "Shake Ya Tailfeather," "Dilemma" and "Grillz," will perform Saturday, Sept. 25.
Mississippi native and country legend LeAnn Rimes is scheduled to return to Beau Rivage Theatre Friday, Oct. 2. A native of Jackson, MS, Rimes rose to stardom in 1991 at the age of 13 with the release of "Blue." Since that time, she has sold more than 37 million records worldwide while winning two GRAMMY Awards, three Academy of Country Music Awards and 12 Billboard Music Awards. Her hits include "Can't Fight the Moonlight," "How Do I Live" and "Something's Gotta Give."
For events rescheduled due to COVID-19, tickets are automatically valid for the new performance date, and no action is required. Should guests be unable to attend, a full refund may be requested within 30 days of the new show date being announced.
For more information or to purchase tickets, visit  www.beaurivage.com or call  888.750.7111.