MGM Resorts Announces Return of Live Entertainment in Las Vegas

On With The Show!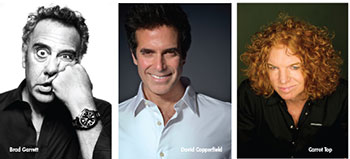 On Oct. 22, MGM Resorts shared details around the first shows to return following months of closure amid the Covid-19 pandemic. In accordance with current government guidelines, the company will return seven shows to stages at MGM Grand, Luxor and Excalibur beginning November 6.
"After eight months, it's time to bring entertainment back to the Entertainment Capital of the World," said George Kliavkoff, MGM Resorts' President of Entertainment and Sports. "While there is still a long road in our city's recovery, the reintroduction of these shows is an important first step. November 6 is going to feel very special as we welcome back team members and guests and bring the curtains up for that first time."
This initial phase of entertainment allows for a maximum audience of 250 guests, physically distanced at six feet between parties and a minimum of 25 feet from on-stage performers. In addition, MGM Resorts has implemented a comprehensive Seven Point Safety Plan and its "Convene with Confidence" program, which outline the company's approach to protecting the health and safety of guests and employees.
Beginning November 6, David Copperfield will return to the David Copperfield Theater at MGM Grand. The Emmy Award-winning perfomer wows audiences with his stage production of Live The Impossible. Recipient of the Living Legend honor by the Library of Congress, Copperfield holds 11 Guinness World Records, has a star on the Hollywood Walk of Fame, and has sold more tickets than any solo performer in history.
Also at MGM Grand, Jabbawockeez will bring its signature moves and one-of-a-kind style that has positioned the group as the most influential dance crew in the world. Jabbawockeez brings their new Timeless show to the MGM Grand Garden Arena.
For those looking for a laugh, Brad Garrett's Comedy Club returns to the stage nightly in the resort's Studio A & B Ballrooms. The club provides the Emmy Award-winning comedian and other comedians a place to call home in Las Vegas.  Brad Garrett said, "Cannot wait to get back to disappointing audiences."
Over at the Luxor, Carrot Top will perform inside the Luxor Theater. Utilizing a one-of-a-kind style, the resident show is ever evolving and has become a Las Vegas staple, reflecting current headlines and consistently poking fun at pop culture, politics and music.
To spice things up a bit, the female revue, Fantasy, returns to the Luxor Theater with dynamic lead singer Lorena Peril taking center stage and delivering powerhouse vocals, alongside a talented cast of beautiful dancers. Popular among singles and couples alike, the always-evolving, sexy production showcases 15 high-energy numbers set to today's top music. International World Champion Magician Murray Sawchuck will be appearing as a special guest star.
The Australian Bee Gees Show – A Tribute to the Bee Gees returns to the Thunderland Showroom inside Excalibur with a multi-media concert event featuring state-of-the-art sound, superb lighting and giant screens streaming video clips, live camera images and stunning graphics. It is the definitive live celebration of five decades of memorable music written by the Brothers Gibb, one of the most successful and adored acts in musical history.
The longest-running and highest-grossing male revue in the history of Las Vegas, Thunder From Down Under, will perform nightly in the resorts'  Thunderland Showroom and provides a sensual adventure for guests, using state-of-the-art lighting, amazing costumes and perfected choreography.
Kliavkoff added, "Our hope is that as we successfully navigate the reintroduction of these initial shows, we can continue working with our state and local officials to create an environment in which we can return even more of the city's entertainment landscape. Entertainment is in our DNA and we are anxious to get back to our roots."
For show schedules, additional information and to purchase tickets for any of these shows, visit www.mgmresorts.com.