Summer Sounds: Entertainment Heats Up at Casinos Across America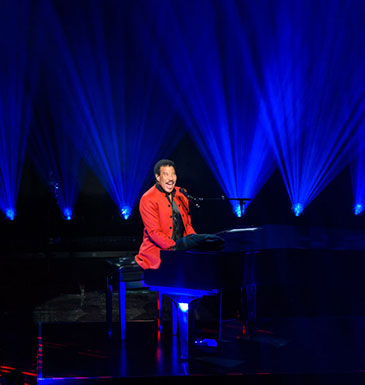 Lionel Richie Extends Residency at Encore Theater at Wynn Las Vegas 
Due to overwhelming demand, music icon Lionel Richie announced he will extend his residency at Encore Theater at    Wynn Las Vegas through October 2022. Richie's popular show Lionel Richie: Back to Las Vegas! will continue on select nights in August and October of this year.
Throughout his current residency, the Oscar, Golden Globe and four-time GRAMMY Award winner has received new accolades, including a nomination for the 2022 Rock & Roll Hall of Fame and receiving the Library of Congress Gershwin Prize for Popular Song. The international superstar, known for countless hits like "Endless Love," "Lady," "All Night Long," "Penny Lover," "Stuck on You," "Hello," "Say You, Say Me," "Dancing on the Ceiling" and others, will return to the intimate Encore Theater to offer fans more nights of unforgettable entertainment.
Show dates are Aug. 5 & 6, 12 & 13, 19 & 20, Oct. 12, 14 & 15, 19, 21 & 22; all shows at 8 p.m. Tickets start at $69.95 plus applicable fees and can be purchased at www.ticketmaster.com.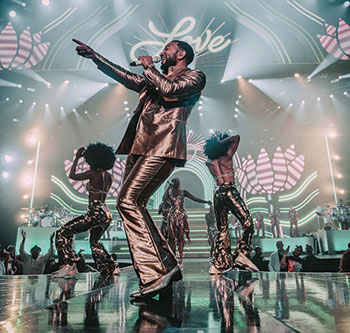 John Legend Opens Show at Planet Hollywood Resort & Casino
Twelve-time GRAMMY Award winner, multi-platinum artist, activist, and EGOT (Emmy, GRAMMY, Oscar and Tony) winner John Legend celebrated the launch of his Las Vegas residency, Love In Las Vegas, at Zappos Theater at Planet Hollywood Resort & Casino. Designed exclusively for Zappos Theater and promoted by Live Nation and Caesars Entertainment, Love In Las Vegas is a beautiful, soulful concert experience, showcasing Legend's greatest hits, "soaring vocals [and] silky-smooth piano playing skills" (Billboard).
The performance features Legend's incredible full band and is a vibrant, colorful celebration of love and coming together, sentiments echoed on Legend's GRAMMY Award–winning seventh studio album, Bigger Love. The exclusive, only-in-Vegas experience is filled with hits from the beginning of Legend's career, including "Used to Love U," "Penthouse Floor," "Like I'm Gonna Lose You," "All of Me" and "Green Light." He is also performing soon-to-be-released new music ahead of his upcoming album including "Dope," which received rave reactions from the crowd.
Upcoming show dates are Aug. 5, 6, 10, 12, 13, 17, 19 & 20; and Oct. 14 & 15. Tickets may be purchased at www.ticketmaster.com.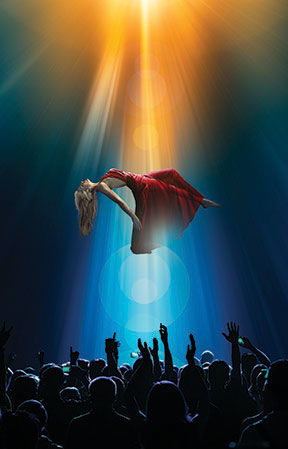 Masters of Illusion—Live! at Harrah's Atlantic City
Escape the ordinary this summer at Harrah's Atlantic City with Masters of Illusion—Live! These cutting-edge illusionists perform sleight-of-hand, perplexing interactive mind magic, hilarious comedy, dangerous escapes and large-scale illusions. These modern masters display skills that have taken a lifetime to perfect. Masters of         Illusion runs through Sept. 4.  Tickets start at $28.50 and may be purchased through www.ticketmaster.com  or  call 609-441-5786.
FINAL SHOWS: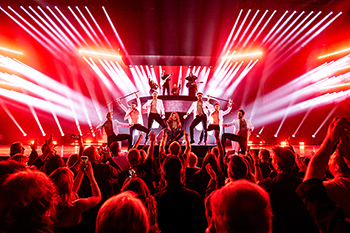 SHANIA TWAIN "LET'S GO!" THE LAS VEGAS RESIDENCY
Shania Twain, the top-selling female country artist of all time, has announced the final dates for her residency show, Shania Twain "Let's Go!" The Las Vegas Residency, at Zappos             Theater at Planet Hollywood Resort & Casino. Upcoming shows are Aug. 26–Sept. 10.
Shania Twain "Let's Go!" The Las Vegas Residency is a concert celebration of one of Las Vegas' first female and country music headliners who has paved the way for other superstar residencies across the city. Designed exclusively for Zappos Theater and promoted by Live Nation and Caesars Entertainment, the high-energy production is a nonstop party, taking fans on a spectacular journey through Shania's monumental catalog of hits, including "Man! I Feel Like A Woman!," "You're Still The One," and "That Don't Impress Me Much."
Tickets may be purchased online at ticketmaster.com/shaniavegas.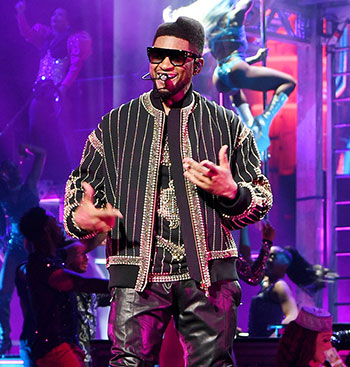 USHER ANNOUNCES NEW HEADLINING LAS VEGAS RESIDENCY AT PARK MGM
Global megastar and eight-time GRAMMY Award winner Usher will headline a new Las Vegas residency at Dolby Live at Park MGM, beginning Friday, July 15.
Usher's move to Dolby Live at Park MGM is the next generation follow-up to his extraordinarily successful 20-show Las Vegas residency in 2021, which sold out every date, bringing in record grosses.
The immersive new show will incorporate audience interaction and staging throughout the 5,200-seat entertainment venue, where every guest will have an up close and personal experience with the superstar. The exclusive, only-in-Vegas spectacular will be packed with an impressive repertoire of smash hits spanning the multi-talented showman's 20-year career, as well as new music.
Show dates are July 15, 16, 20, 22, 23, 27, 29, 30; Aug. 26, 27, 31; Sept. 3, 4, 9, 10; and October 14, 15, 19, 21, 22, 26, 28, 29. Tickets can be purchased at www.ticketmaster.com/ushervegas.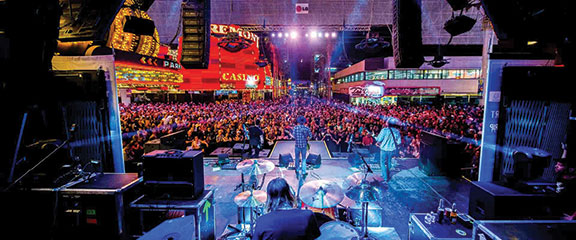 Downtown Rocks Free Concert Series Returns to Fremont Street Experience
Fremont Street Experience, the six-block entertainment district located in historic Downtown Las Vegas, is ready to rock the city with the return of its epic free concert series, Downtown Rocks. The jam-packed lineup is filled with fan-favorite and chart-topping bands appealing to music fans of all ages, set under the mesmerizing glow of the world's largest digital screen, Viva Vision. The free concert series features top artists covering multiple decades of music including Rick Springfield, Jelly Roll, X Ambassadors, The Pretty Reckless and more. The series culminates with the legendary Stone Temple Pilots. Downtown Rocks plays into the seasons of spring, summer and fall. Additional dates and performances are expected to be added to the stacked line-up. The line-up includes:
July 23 – Sebastian Bach
July 30 – Hoobastank, Soul Asylum, Alien Ant Farm
Aug. 13 – Saliva & Theory of a Deadman
Aug. 20 – Simple Plan
Sept. 3 – Rick Springfield, Men at Work, John Waite
Sept. 10 – The Pretty Reckless
Oct. 15 – Jelly Roll
Oct. 22 – Slaughter, Vixen, Sweet
Nov. 19 – Stone Temple Pilots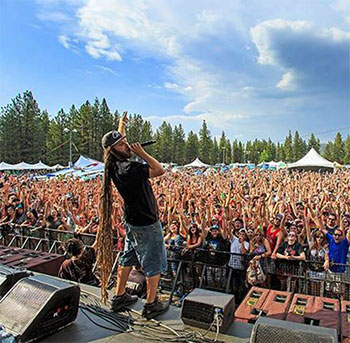 HARD ROCK LAKE TAHOE HOSTS A WEEKEND OF NONSTOP ENTERTAINMENT & MORE
From Friday, July 22 to Sunday, July 24, Hard Rock Hotel & Casino Lake Tahoe will be the ultimate destination for music fans, with three back-to-back music festivals taking place at Hard Rock's Outdoor Arena. EDM, reggae and bluegrass fans are invited to join together for one full weekend of music, community and nonstop entertainment.
The weekend will kick-off on Friday, July 22, with the Lake Tahoe Bluegrass & Beyond Festival. Banjos, flat-top guitars, fiddles, and mandolins will have fans dancing under the Tahoe sun and into the night with a unique combination of mountain music, blues, and jazz. Headliners include the bluegrass band of founding Grateful Dead member, Phil Lesh & Friends and pioneers of the modern jam band scene, Leftover Salmon.
On Saturday, July 23, EDM fans can return for Lake Tahoe's fifth annual summer electronic dance music event, Bass Camp Festival. This year's festival is headlined by two EDM duos, SLANDER, whose song "Love is Gone" recently went gold, and Adventure Club, whose performance at Bass Camp Festival V will be one of the last shows on its LOVE // CHAOS 2022 tour.
Closing out the weekend, Lake Tahoe Reggae Festival, will return to Hard Rock Lake Tahoe for the fifth annual gathering of reggae music lovers on Sunday, July 24. This festival is brought together by a collaboration of California Roots and PR Entertainment to bring its signature vibe back to Lake Tahoe with reggae-rock sensations Slightly Stoopid and Dirty Heads headlining.
The festival grounds include a beautiful 30,000 square-foot real-grass lawn, beautiful shade structures and sails, a vendor village with arts, crafts, clothing, festival merchandise, a live artist paint wall and great food and beverage offerings. All three festivals are open to all ages. Minors under 13 must be accompanied by an adult. Tickets for all three festivals are available for purchase at www.hardrockcasinolaketahoe.com.
Bloom Bar & Lounge is the perfect spot to party after each festival – Tahoe's #1 nightlife spot couldn't be anywhere else! Must be 21+ years of age to enter. For VIP Bottle Service, call 775-589-7606.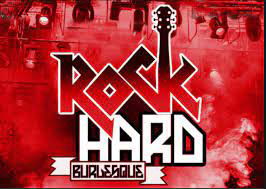 BURLESQUE SUMMER '22
Dreu Murin Productions is bringing back the entertainment to Hard Rock Hotel & Casino Lake Tahoe and it's hotter than ever! Now through August 27, Rock Hard Burlesque takes the stage inside the Vinyl Showroom. This is an erotic mixture of classic and modern rock & roll songs, seductive dancers and risqué aerialists, along with a seductive host who will guide you through the night with her comedic fun and games. Tickets for general admission are $40 per person and VIP Front Row Couch Seating is $50 per person. Show time is 8 p.m.
Attendees are still able to book their stay at Hard Rock Hotel & Casino by visiting hrhctahoe.com or calling 844-588-ROCK.
MIRANDA LAMBERT ANNOUNCES HEADLINING LAS VEGAS RESIDENCY
On the heels of being crowned Entertainer of the Year at this year's Academy of Country Music Awards, where she holds the record as the most decorated artist in ACM history, Miranda Lambert will celebrate the next chapter in her storied musical journey with a headlining Las Vegas residency. Miranda Lambert: Velvet Rodeo The Las Vegas Residency opens Friday, Sept. 23, for a run of 24 shows at Zappos Theater at Planet Hollywood Resort & Casino.
Designed exclusively for Zappos Theater and promoted by Live Nation and Caesars Entertainment, Miranda Lambert: Velvet Rodeo The Las Vegas Residency, will give fans an up close and personal opportunity to experience live performances of the numerous chart-topping songs and beloved album cuts from Lambert's seven No. 1 albums as well as her newest album, Palomino, which was released on April 29.
"When you've been touring as long as I have, there's something really creative about imagining a residency in a city like Las Vegas," shares the woman celebrated by UPROXX as "the queen of modern country." "I've had a lot of fun designing our sets, merchandise, and clothing and boot lines—and even my place on Broadway in Nashville, Casa Rosa—so, this opportunity allows me to lean in a bit more into that side of myself and think about how to really bring country music to life in this room. I think everyone will like what we've dreamed up. I'm really excited about this!"
Show dates include Sept. 23, 24, 28, 30; Oct. 1, 5, 7, 8; Nov. 26, 27, 30; and Dec. 3, 4, 8, 10, 11. 2023 show dates include March 24, 25, 30 and April 1, 2, 6, 8, 9. Tickets may be purchased online at ticketmaster.com/mirandavegas. All shows are scheduled to begin at 8 p.m.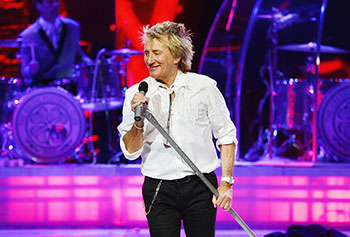 Rod Stewart North American Tour
Sir Rod Stewart, the legendary two-time Rock & Roll Hall of Fame–inducted singer-songwriter, announced his highly anticipated 2022 North American summer tour with special guests Cheap Trick. Stops include Hard Rock Hotel & Casino in Atlantic City and Mohegan Sun in Uncasville, CT. This tour marks Stewart's first tour in four years and promises an unprecedented night of iconic hit songs from one of the best-selling music artists of all time.
Additionally, Rod will return to his stellar Las Vegas residency Rod Stewart: The Hits at The Colosseum at Caesars Palace. Since its premiere in 2011, Stewart's residency has remained one of the best-reviewed and must-see shows on the Las Vegas Strip. Tickets are on sale now at www.Ticketmaster.com.
Sir Rod Stewart has sold more than 250 million records worldwide during a stellar career that includes ten #1 albums and 26 Top 10 singles in the U.K.; plus 17 Top 10 albums and 16 Top 10 singles in the U.S. As a singer-songwriter his extensive catalog of hits includes "Gasoline Alley," "Every Picture Tells a Story," "Tonight's the Night," "You're In My Heart (The Final Acclaim)," "Mandolin Wind," "You Wear It Well," "The Killing of Georgie," "Da Ya Think I'm Sexy?," "Young Turks," "Forever Young," "Hot Legs," "Infatuation," the indelible "Maggie May," and many more.
Show dates include:
Hard Rock Hotel & Casino Atlantic City • Aug. 19
Mohegan Sun • Aug. 13
The Colosseum at Caesars Palace, Sept. 23, 24, 28, 30; Oct. 1