The Neon Museum Offers New 360 Virtual Tour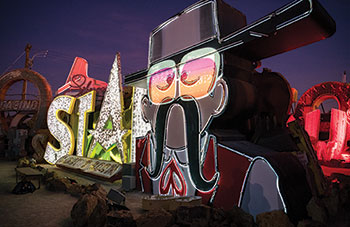 The Neon Museum in Las Vegas, NV, is an attraction that dedicates itself to the collection and preservation of historic signs. In short, it's a living museum that's definitely worth a visit for all lovers of vintage Las Vegas and Sin City history.
For those of you who are hankering down and staying home to protect yourself and others from spreading Covid-19, you can now visit this distinctive destination without leaving your house.
The Neon Museum now offers a 360 Virtual Tour, allowing visitors to "move" freely throughout the Neon Boneyard's sign collection, exploring more than 130 informational hotspots. The 360 Virtual Tour launches with an Evening Glow experience as guests tour the museum at night while the signage is illuminated. Once guests enter the museum via the virtual tour, a welcome video provides details and instruction on how to navigate the Neon Boneyard. By clicking the white circles along the museum's pathways, or by using the arrow keys, guests may freely explore the Boneyard, navigating from sign to sign while enjoying 360-degree vantage points at every stop.
This virtual experience is $10 and allows you an evening visit to the Neon Boneyard indefinitely. For more information and to take the tour, visit  www.neonmuseum.org