Meet Brannon Rees – Director of Marketing for Hash House a Go Go
by Steve Kieva
Hash House a Go Go is known for their Indiana-inspired twisted farm food, and what they prefer to call "generous" servings. You're looking at mounds upon mounds of food with sauces and other gooey delights that will make your personal trainer up your workout schedule by about 50%.
Hash House A Go Go brings farm-fresh food with a funky, modern twist to the locals and visitors of Las Vegas. The well-known restaurant is famous for its unusual décor and enormous portions. The restaurant has garnered dozens of local and national "Best Of" accolades, including, most recently, "Best Local Brunch of All Time" in Las Vegas Weekly's "Best of All Time" Awards in 2020; "Best Waffles" in the Las Vegas Review-Journal's 2019 "Best of Las Vegas" poll; and has been featured on the Food Network, Martha Stewart, Dr. Phil and the popular Travel Channel program, Man v. Food.
Although that concept may not appeal to everyone, HHAGG's great food and flavors will.
Founded by Andy Beardslee and Johnny Rivera, HHAGG believes in using the best of ingredients, sticking to their culinary values, staying true to great service, always appreciating their customers, and never forgetting to keep it a good ol' time.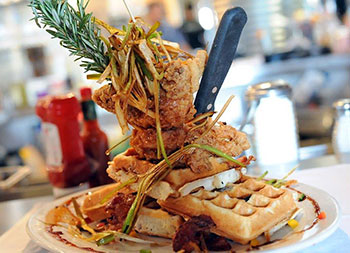 Andy was born in Michigan and raised in Milford, IN—less than a mile from Maple Leaf Farms. Growing up in the agricultural Midwest, Andy learned to cook from his mom and grandma and perfected his skills at the Cambridge Culinary School in Boston. His family's recipes and Midwestern roots continue to inspire his Hash House creations.
Johnny has a lifetime of restaurant experience and is influenced by everything from American classics to European cuisine. He believes in creating honest, visceral dining experiences that bring fun and entertainment without pretense.
Brannon started at HHAGG when their first Las Vegas restaurant opened 15 years ago on Flamingo & Rainbow. HHAGG now has a total of six restaurants in Las Vegas and four others nationwide.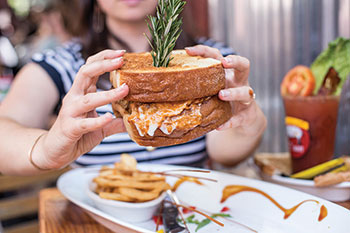 I have been to HHAGG many times. My favorite dish is the Roasted Chicken Hash, which is found on the Low Cal portion of the menu. Just kidding! You won't find a Low Cal section in an HHAGG menu. (There is a Caesar Salad on the menu if you look hard enough.)
Their biggest seller by far is Andy's World Famous Sage Fried Chicken & Waffles, an Indiana tradition. It's two sage fried chicken breasts piled high on top of a hickory-smoked bacon waffle tower, with a hot syrup reduction and fried leeks.
Another favorite is Andy's Sage Fried Chicken Benedict—fresh spinach, hickory smoked bacon, market tomato, griddled Mozzarella, chipotle cream, and scrambled eggs served on a fresh split biscuit with griddled mashed potatoes and fresh fruit garnish.
As I already mentioned, the portions are humongous and the food is spectacular. It's a Must Do for anyone visiting Las Vegas.
I had a chance to ask Brannon a few questions about HHAGG.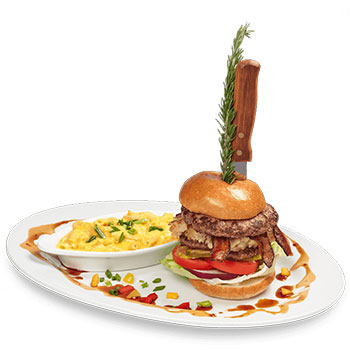 How did you get started at HHAGG?
I started with Hash House a Go Go 15 years ago when we had just one location on Sahara & Rainbow. We now have 10 locations, with six locations in Las Vegas.
What are your personal favorites?
My personal favorites and our most popular dishes are the Sage Fried Chicken Benedict, Chicken & Waffles, and the Chorizo Hash.
Dinner service is limited at HHAGG. Are there plans to serve dinner at more HHAGG locations?
We currently serve dinner at the Plaza Hotel nightly until 10 p.m. and at the Linq Hotel on Friday and Saturday until 9 p.m. We currently don't have plans to open up for dinner at the other locations.
Are there plans to open any more Las Vegas locations?
Not at this time. Current Las Vegas locations are at Linq, Plaza, Rio, Summerlin, W. Sahara and Henderson.
I have been to many HHAGG restaurants and have never experienced any bad service. The servers have always been friendly and knowledgeable. Is that something that HHAGG focuses on?
Hash House a Go Go has always prided ourselves on our hospitality and quality service. We want our customers to have a fantastic experience that can only happen with a friendly staff and outstanding customer service.