That's Entertainment, Strip Style!
New residencies light up Sin City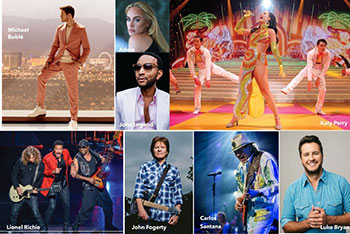 Welcome to 2022, where live events and concerts are back in a big way. Entertainment is the lifeblood of a casino, and perhaps no place does it better than Las Vegas. Sin City is known the world over for attracting the biggest names in pop culture and fans flock to this desert destination just to be a part of the excitement and watch a legend in person. Cher, Celine Dion, Elton John, Rod Stewart, Bruno Mars and Mariah Carey have all decorated the stages in Vegas year after year, and the new crop of residencies in the new year are equally exciting!
WEEKENDS WITH ADELE Las Vegas Residency at Caesars Palace

Probably the hottest ticket in Las Vegas, Adele announced she will be making Las Vegas her new home with her show, Weekends With Adele, an exclusive residency at the Colosseum at Caesars Palace. The global superstar will perform two shows each weekend starting Jan. 21 and running through Saturday, April 16. The announcement comes on the heels of Adele's recent release of her fourth studio album 30 on Columbia Records. The album is being heralded by fans and critics alike as Adele's boldest and most ambitious album yet. 30 debuted at #1 on album charts in 30 countries and is already one of the biggest selling albums of 2021.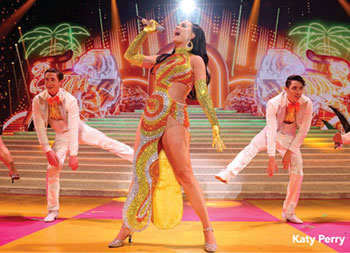 Katy Perry Debuts Katy Perry: PLAY at Resorts World Theatre
Global superstar Katy Perry recently kicked off her headlining Las Vegas residency, Katy Perry: PLAY, at the brand-new Resorts World Theatre on Jan. 7. The newly opened 5,000-capacity theatre at Resorts World Las Vegas is a state-of-the-art, multi-level intimate venue, with the farthest seat only 150 feet from the stage. The venue features unparalleled comfort, unobstructed sightlines and an unmatched spatial audio experience through more than 200 L-Acoustics speakers powered by L-ISA Immersive Hyperreal Sound technology. Upcoming show dates include March 2, 4, 5, 11, 12, 16, 18 and 19.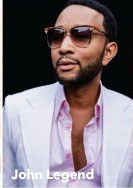 John Legend Announces Love in Las Vegas at Planet Hollywood Resort & Casino
Twelve-time GRAMMY Award winner, multi-platinum artist, activist, and EGOT (Emmy, GRAMMY, Oscar and Tony) winner John Legend will headline a Las Vegas residency, Love In Las Vegas, at Zappos Theater at Planet Hollywood Resort & Casino, opening Friday, April 22. Designed exclusively for Zappos, Love In Las Vegas will be a beautiful, soulful concert experience, showcasing Legend's greatest hits, "soaring vocals [and] silky-smooth piano playing skills" (Billboard). The performance will feature Legend's incredible full band and will be a vibrant, colorful celebration of love and coming together, sentiments echoed on Legend's GRAMMY Award–winning seventh studio album, Bigger Love, and companion 2021 headline tour—which resulted in multiple sold-out shows and garnered rave reviews in the press.
Show dates include April 22, 23, 27, 29 & 30; May 4, 6 & 7; August 5, 6, 10, 12, 13, 17, 19 & 20; and October 14, 15, 19, 21, 22, 26, 28 & 29.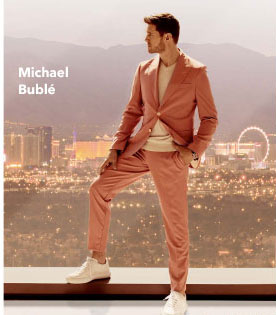 Michael Bublé Announces Exclusive Limited Engagement at Resorts World Theatre
Michael Bublé, the multi-platinum, multi-Grammy Award–winning artist, has announced he will headline a limited engagement at the Las Vegas Strip's newest integrated resort, Resorts World Las Vegas, beginning April 27. The six-show run is produced by AEG Presents. The exclusive Las Vegas shows will give Michael Bublé fans an extraordinary opportunity to experience the incomparable performer up close and personal in the intimate setting of the new 5,000-capacity, state-of-the-art Resorts World Theatre. The spectacular production will feature the singer's timeless hits accompanied by a full orchestra and unmatched audio and video technology for an only-in-Vegas, unforgettable night with Michael Bublé.
CARLOS SANTANA EXTENDS INTIMATE HOUSE OF BLUES RESIDENCY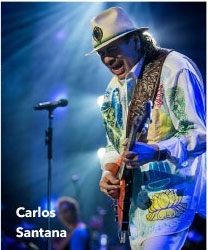 House of Blues Las Vegas and Carlos Santana extend the legendary artist's residency An Intimate Evening with Santana: Greatest Hits Live well into 2022. These new shows will mark a decade that Santana has graced the intimate House of Blues stage inside Mandalay Bay Resort and Casino. With unparalleled dynamic energy, Santana is the must-see concert experience.
Show dates include Jan. 26, 28–30; Feb. 2, 4– 6; and May 18, 20– 22, 25 and 27–29. The popular VIP packages will be available for purchase with customizable experiences that include limited-edition photos and specialty food and beverage packages featuring stage-side dining.
Luke Bryan – The Theater at Resorts World Las Vegas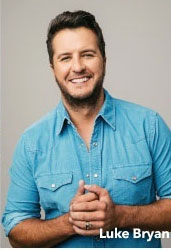 Country superstar, Luke Bryan, also announced a headlining residency at the state-of-the-art The Theater at Resorts World Las Vegas, and due to extremely strong pre-sale ticket demand, Luke Bryan has added three more show dates.
His much anticipated show kicks off Feb. 11 with shows on Feb. 12, 16, 18, 19 & 20, and added shows on Feb. 23, 25 & 26.
"We're looking forward to putting on a unique show at The Theatre at Resorts World Las Vegas," said Luke Bryan. "I'm already working on ideas and can't wait to play on this new playground where I can create a fun and high-energy experience."
Rock Legend John Fogerty Returns to Wynn Las Vegas' Encore Theater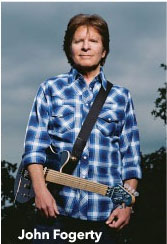 Rock legend John Fogerty is returning to the intimate Encore Theater with an extended residency at Wynn Las Vegas in 2022 following his wildly successful run of shows at the venue this year. Performances are set for Feb. 23, 25 & 26, and March 2, 4 & 5. Fogerty received a key to the Las Vegas Strip during his 2019 run at Wynn Las Vegas in recognition of his dedication to supporting veterans in the city and across the country. His chart-topping hits with Creedence Clearwater Revival are known around the world, including "Proud Mary," "Centerfield," "Fortunate Son" and more.
Wayne: Up Close and Personal Extends Residency
Flamingo Las Vegas and the legendary Wayne Newton announce new dates for Wayne: Up Close and Personal, in the Wayne Newton Theater inside Bugsy's Cabaret. Having achieved "headliner" status for the first time in his career at Flamingo in the 1960s, Mr. Las Vegas will make a triumphant return to the iconic resort beginning Jan. 24 with additional performance dates set for February, March, April, May and June. Wayne: Up Close and Personal presents the entertainer in an intimate setting where he interacts with the audience, performs some favorite songs and shares personal career highlights through songs, film clips, anecdotes and audience Q&A.
MJ LIVE Moonwalks to Tropicana Las Vegas
MJ LIVE, the award-winning Michael Jackson tribute concert highlighting the talent of the legendary Michael Jackson, moves to Tropicana Las Vegas starting Monday, Feb. 7. As the #1 Michael Jackson tribute show in the world, MJ LIVE re-creates the electrifying stage show of one of the greatest performers of all time. From iconic dance moves like the moonwalk to timeless hits like "Bad," "Billie Jean," "Thriller" and "Beat It," the spot-on show brings all the Gloved One's staples to life. Sing along during the special Jackson 5 segment featuring classics like "I'll Be There," "I Want You Back," "ABC," and more, inspired by Soul Train. Dazzling lighting and effects, plus the MJ LIVE dancers and a live band, make this show a true spectacular fitting of the King of Pop.
The Doobie Brothers Announce Exclusive Las Vegas Limited Engagement
Four-time GRAMMY Award winners and Rock & Roll Hall of Fame inductees The Doobie Brothers will headline an eight-show exclusive Las Vegas limited engagement at Zappos Theater at Planet Hollywood Resort & Casino. Off the heels of their 50th Anniversary Tour, Tom Johnston, Michael McDonald, Pat Simmons and John McFee will perform iconic hits starting Friday, May 13, and will close out the run on May 28.
Lionel Richie Extends Back to Las Vegas! Residency at Wynn Las Vegas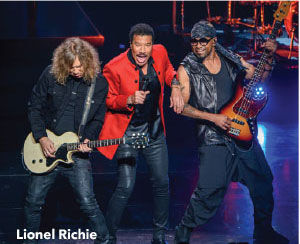 On the heels of a successful and sold-out residency at Wynn Las Vegas, international music icon Lionel Richie is extending his residency with a 12-show engagement at the Encore Theater in early 2022. Richie's show Lionel Richie: Back to Las Vegas! continues on select nights in January, February, March and April. The Oscar, Golden Globe, and four-time GRAMMY Award winner will share stories from his multi-decade career that included No. 1 hits for eleven consecutive years. Richie has sold more than 125 million albums worldwide and will perform his iconic hits such as "All Night Long," "Hello," "Easy," and others in this exclusive production.
Wynn Las Vegas Presents Where to Laugh Featuring Renowned Comedians, Headlined by Sebastian Maniscalco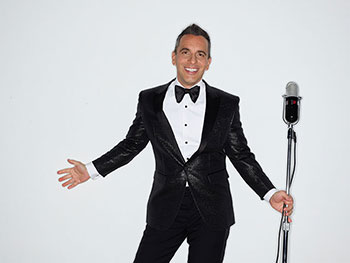 In 2022, Wynn Las Vegas' Encore Theater will serve as the ultimate destination for comedy fans. Featuring world-renowned talents like Sebastian Maniscalco—returning for an extended 12-show residency at Encore Theater with his Nobody Does This Tour—plus first-ever appearances by Whitney Cummings and Taylor Tomlinson among others, and returning resident performers like Nate Bargatze and Jim Gaffigan.