Blue Man Group electrifies Las Vegas with their sensational residency
NO BLUES ABOUT IT
By Lisa Robertson-Dziedzic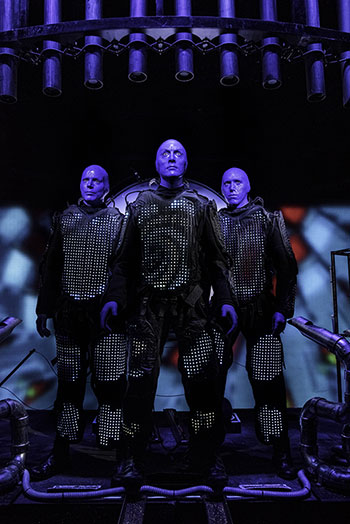 The Blue Man Group has been entertaining audiences for more than 30 years with their unique brand of performance art, combining music, comedy and multimedia. One of their most popular shows takes place in Las Vegas, where they have been performing since 2000. If you're looking for a fun and unforgettable experience on your next trip to Sin City, the Blue Man Group show is definitely worth checking out.
The Blue Man Group show in Las Vegas takes place at the Luxor Hotel and Casino, where they have their own purpose-built, 830-seat theater. The Blue Man Theater is designed to immerse the audience in the experience, with state-of-the-art sound and lighting systems and interactive elements that engage the audience throughout the show with new music, innovative technology and a completely reimagined finale.
The show itself is a nonstop spectacle of music, comedy and visual effects, all performed by the iconic non-verbal blue-painted trio of performers. The Blue Man Group uses a combination of custom-made percussion instruments, including PVC pipes and drums, to create a unique and unforgettable sound that connects audiences everywhere.
But it's not just the music that makes the Blue Man Group show so special. The performers are also incredibly talented comedians, with a wry and irreverent sense of humor that will have you laughing out loud.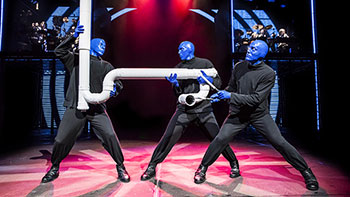 One of the most memorable elements of the Blue Man Group show is their use of multimedia. Throughout the performance, they use a combination of video projections, lighting effects and interactive props to create a truly immersive experience. And they're not afraid to involve the audience in the action, with plenty of opportunities for participation and engagement throughout the show.
New this year, Blue Man Group is offering guests a chance to experience the iconic entertainment phenomenon like never before with VIP packages. These one-of-a-kind experiences feature exclusive perks from show merch to special seating, beverage and snack to a post-show meet and greet with photos with one of the Blue Men and are the perfect, immersive addition for long-time fans, first-time showgoers, family festivities and special occasions.
The Blue Man Group is a must-see for anyone looking for a unique and unforgettable entertainment experience. With its combination of music, comedy and multimedia, it's a show that will leave you feeling energized, inspired and thoroughly entertained.
For more information and to purchase tickets, please visit www.blueman.com.