Caesars Windsor
Ontario, Canada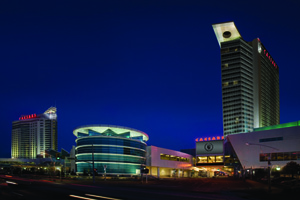 There's no mystery why we've included Caesars Windsor (formerly Casino Windsor) as one of our Top 25 casinos in North America. Aside from the obvious aesthetics—the place is remarkable—Caesars Windsor is the largest casino resort in Canada and the first of its kind outside the US to be branded with this world-renowned name. Now celebrating their five year anniversary, this recipient of the CAA/AAA Four Diamond hotel award for 14 consecutive years defines modern luxury in the midst of timeless elegance.  As you step inside these spectacular accommodations, be prepared to discover the essence of indulgence, comfort and luxury.
Since accommodations often set the tone of any casino adventure, it seems like just the place to begin our tour of this world-class casino resort. All of Caesars Windsor's 758 guestrooms and suites are wonderfully appointed housed in two towers overlooking the charming, manicured riverfront trails of Windsor and Detroit. For those environmentally conscious travelers, the hotel is also 4-Green Key Eco-Rating Certified. Here are a couple of the special features of our favorite rooms.
Deluxe Room: Impressively appointed with amenities including high-definition flat-screen television, separate shower and baths, plush pillow top mattresses with elegant linens, a refrigerator, complimentary high-speed Internet access, an in-room safe and personal voice messaging.
Luxury Room: The Luxury Room features a postcard view of the Detroit River & city skyline, and stands as a monument to luxurious accommodations, with captivating surroundings, outstanding amenities, and world class hospitality.
Time To Play
What's the point of going to a casino if you're not going to gamble?  And with 100,000-square-foot of gaming floor, Caesars Windsor has plenty of room to do it in.
Slots Galore
Slots action is always intense and fortunes can change with the pull of a lever. Caesars Windsor is known as a "player's payout paradise," and features over 2,200 of the most exciting slot machine games available today. You'll find all of your favorite slots, plus progressives and video poker in a wide range of denominations. In addition, their slot machines feature exclusive Total Touch technology, enabling players to order their favorite cocktail right from the machine with just the touch of a button. Total Touch even remembers your drink history so you can re-order your favorites.
Table Games
Get in on the action with over 80 table games featuring blackjack, Spanish 21, mini and midi baccarat, craps, roulette, rapid roulette, pai gow poker, let it ride, three card poker, four card poker, Mississippi stud, Texas hold'em bonus and Caribbean stud. Caesars Windsor now features the highest posted limits in the Detroit area and all of Ontario, up to $50,000 on craps and roulette, $25,000 for blackjack and $15,000 maximum bets on pai gow and baccarat.
Sports Betting
The ultimate excitement for the Windsor Game Picks enthusiast is now offered in Legends Sports Bar providing 6,458 square feet of viewing area. Choose to bet on four different sports games. You must bet on a minimum of two games, with a minimum $2 (CAD) and maximum $1,000 (CAD) bet per product. Maximum bet per ticket is $200 (CAD). Sports included in Game Picks are American professional football, North American professional hockey, pro baseball, American college football and basketball.
Dinning, Dining and More Dining
One of the highlights of any gambling excursion is the cuisine.  Don't miss out on sampling the fare at Caesars Windsor—there are quite a few terrific eateries to choose from.
Neros Steakhouse: A spectacular wine list and the most succulent cuts you've ever tasted are the reasons why this classic steakhouse is an award-winning Windsor favorite. Savor the very essence of steak at Neros.
Artist Café: This colorful, artistic casual dining hotspot is an upbeat eatery featuring bright paintings, airy sculptures and bold Warhol-inspired murals. Options include everything from char-broiled burgers to oven-baked pizza. Late this summer, this outlet will be introducing an innovative design, experience and menu.
Legends Sports Bar: If sports fans were to build the ultimate hangout to enjoy their favorite game, chances are it would look like Legends Sports Bar at Caesars. Menu features appetizers and stadium-style favorites.
Market Buffet: The magic ingredient that puts Market Buffet on par with other world-class buffets is the fact that each of the seven serving stations functions as its own kitchen.
Pronto Café: Fuel up for the next round of action with a choice of take-out foods including a slice of freshly made pizza, sandwiches, subs, pastries and cold or hot refreshments.
Taza Mediterranean Grill: Diners at Taza can enjoy a delectable variety of authentic, Lebanese-style dishes rich with flavor and traditional spices.
Coming soon: Last month, Caesars announced that it will unveil three new amenities to guests late this summer: Johnny Rockets, Trattoria Uno and a cool modern bar.
Entertainment and Special Events
Thanks in no small part to The Colosseum, Caesars Windsor has become THE concert scene in the region. With seating for 5,000 and state-of-the-art sound and lighting, The Colosseum will delight your senses. With large, comfortable seating no further than 225 feet from the stage, you'll be up close and personal with some of the world's biggest and best names in entertainment. Since opening, The Colosseum has seen over 300 live performances from the biggest names in entertainment including Billy Joel, Celine Dion, Jay Leno, Chris Rock, Kelly Clarkson and more.
If you're planning a visit to Caesars Windsor over the next month or two, you picked the right time to go.  The property is celebrating its five-year anniversary—and everyone's invited to the party! Festivities kick off at 11 a.m. on June 11 and run through July.  Here's a breakdown of what's going on. For ticket details go to www.caesarswindsor.com
June 9: Caesars Windsor welcomes the return of Blues icon and guitar legend BB King. Show starts at 8 p.m. at The Colosseum. Tickets start at $30.
June 11: Five Year Anniversary Celebration in Cosmos. Enjoy free cupcakes and live music. Also, for a limited time guests may purchase a stunning commemorative $5 chip to mark the occasion.
June 13: Legendary musician and rocker Peter Frampton and five-time Grammy Award winner blues guitarist and singer Robert Cray come together on The Colosseum stage. Show begins at 8 p.m. Tickets start at $35.
June 15: Play your favorite slot game on this day and Caesars Windsor will donate a portion of coin-in to five local charities.
June 19: Performance by Willie Nelson, legendary singer-songwriter, activist and actor, and one of the most recognized artists in country music. Show begins at 8 p.m. Tickets start at $35.
June 28: "Redneck" comedy icon Jeff Foxworthy at The Colosseum at 9 p.m. Tickets start at $35.
June 29: Five car giveaway.  Every hour from 6 p.m. to 10 p.m., Caesars Windsor is giving away a new car to a lucky winner!
June 30: $50,000 cash sweepstakes. Swipe your Total Rewards card at the promotion kiosks on June 30 to win. From 11 a.m.-8:30 p.m. every 30 minutes, they'll draw the names of five lucky $500 winners.
July 5: Shock rocker Alice Cooper at The Colosseum at 9 p.m. Tickets start at $35.
July 11: Alternative pop-rock group Weezer at The Colosseum at 8 p.m. Tickets start at $20.
July 20: Chart-topping rock band Lifehouse at The Colosseum at 9 p.m. Tickets start at $25. (Canadian)
July 24: Rock legend Journey will perform at The Colosseum at 8 p.m. Tickets start at $45 (Canadian).
August 10: Hilarious talk show host and comedian Chelsea Handler at 9 p.m. Tickets start at $45 (Canadian)
August 16: Award-winning country music star Trace Adkins at 9 p.m. Tickets start at $35 (Canadian)
SIDEBAR: Since the Beginning
In an age where nobody seems to stay put in one job for more than a brief couple of years, it speaks volumes about a company when employees stick around for nearly two decades. But that's exactly the case with President and CEO, Kevin Laforet, and Senior Vice President Glen Sawhill. They are both proud day one employees who have been with the property since 1994 and have seen it transform from Casino Windsor to Caesars Windsor.