BY GAMBLERS, FOR GAMBLERS
Atlantic City's resurgence begins with the new Hard Rock Hotel & Casino Atlantic City
BY J. Phillip Vogel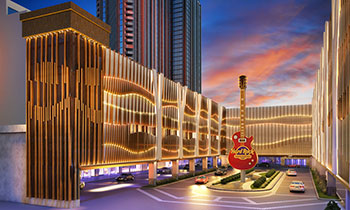 It's no secret that Atlantic City has seen its share of woes. Thanks in part to growing competition from neighboring states, the region has been hit hard in the wallet for over a decade, with dwindling visitation and multiple casino closings in recent years. But that's all about to change with the opening of Hard Rock Hotel & Casino Atlantic City on Thursday, June 28.
Perched on the site formerly housing the Trump Taj Mahal, the new Hard Rock promises to be a one-of-a-kind entertainment experience that goes beyond gambling and features exceptional dining, shopping, bars, lounges, spas and more – not to mention a hallmark of the Hard Rock brand: music.
"We have eight performance stages, so not only will we have something for everyone but something for every mood," said Todd Moyer, Senior Vice President, Marketing for Hard Rock Atlantic City. "Sometimes you may want to listen to light jazz, or the smooth sounds of Motown.  Other times you may be in the mood for country, reggae or rock.  But whether you want to relax or crank it up, see an old favorite or discover something new, we've got you covered."
Moyer, who has held every marketing position in the industry and for the last 10 years and has been the general manager at two properties in Iowa, most recently the successful Hard Rock Hotel & Casino Sioux City, is eager to point out what visitors can expect when they pass through the doors next month. "Excitement – a different vibe at every turn and most importantly an environment that is rewarding and carefree," Moyer said. "You will be able to find your way around; the property layout is intuitive and easy to navigate.  It is a great place to bring your friends or meet new ones."
And then there's the casino itself. With its expansive gaming floor boasting over 2,000 of the hottest slots and a sea of table games, elegant design and game positioning, amenities, and highly trained staff, it's a safe bet that the Hard Rock Hotel & Casino Atlantic City will quickly become the premiere gambling destination in NJ – if not on the entire east coast.
To help achieve this goal, they've assembled a wealth of talent from numerous gaming jurisdictions, a management team that reads like a who's-who in the casino industry, with experts and heavy-hitters brought in from across the country to develop a property that will be unlike any other.
"The property was designed by gamblers for gamblers," said Moyer.  "We know the game. And when appointing the property, we did it with the player in mind: from the most comfortable slot chairs in the business, to conveniently located amenities (the cage, player's club, credit offices and player lounges – all just steps away from your favorite game).  Our carefully selected, highly trained, welcoming dealers and slot attendants know how to orchestrate a great time, not just one time, but every time."
It's over a month until the opening and the excitement in the air is palpable. Locals and gamblers far and wide eagerly await the coming launch, which promises to be fun and exciting, and a major step in the rebuilding of the one-time gambling mecca.
As for Moyer, there's a bit of personal satisfaction to be had by being involved in the Hard Rock's creation.  "I started my career in the gaming industry, humbly at the bottom as a tuxedo-clad greeter at the grand opening of Trump Taj Mahal. To be able to return to Atlantic City, my 'hometown', and be part of this new resurgence is truly a dream realized."
The Slots Have Arrived
Months before the big day, Hard Rock Hotel and Casino Atlantic City welcomed the arrival of their slot machines with the installation of models exclusive to the casino. Hard Rock Hotel & Casino Atlantic City's slot machines will be the cornerstone of the casino's highly anticipated gaming experience, as the grand opening approaches.
"The casino floor is coming to life with the installation of our all new themed slot machines. We're excited to be raising the bar with exclusive amenities, technology and slot themes for our customers to enjoy," stated Vice President of Slot Operations, Dave Polizzi.
A sample of the wide selection of the hottest slot machines installed include:
IGT: The Voice, Harley Davidson, $1, $5, $25 & $100 Wheel of Fortune, Wheel of Fortune MEGA Tower and Double Top Dollar, Fort Knox
Bally: Michael Jackson, Johnny Cash, Elvis, Lord of the Rings, Ultimate Fire Link, Monopoly Money, Seinfeld, Willy Wonka, 88 Fortunes, Dancing Drums and Lock It Link
Aristocrat: Lightning Link, 5 Dragons, My Cousin Vinnie, Walking Dead, Buffalo Grand, Game of Thrones, RELM XL, Dragon Link
And with more than 2,000 slots expected to grace the floor, that's just the tip of the iceberg.  There are also a host of exclusive slot offerings that include games that deliver the highest pay-out offered by manufacturer – 98%!  They have also set an impressive goal of paying jackpots in five minutes!
There's no doubt that Hard Rock Hotel & Casino Atlantic City will be the new go-to destination for world-class entertainment, rock star service and their signature legendary vibe. The music-inspired hotel will feature dynamic culinary experiences, superstar performances, sporting events, a beach bar and a spectacular casino packed with the latest slots and exciting table games.
The entertainment lineup set to kick off this summer includes incredible headline performances such as Maroon 5, Amy Schumer and Friends, Florida Georgia Line, Kid Rock plus over 300 nights of entertainment booked for the new casino resort.
Hard Rock Hotel & Casino Atlantic City online room reservations are live; visit www.hardrockhotel.com or call 609.449.1000.  Hotel Guests can book now to experience music inspired offerings such as The Sound of Your Stay program.
Rock  and Enroll
Get ready to become a Wild Card Founding Member of Hard Rock Hotel & Casino Atlantic City. Members receive:
Behind-the-curtain construction updates and information on pre-opening events
Insider access – special ticket offers on shows and pre-sale offers
Limited Edition Founding Member Wild Card mailed to you before the grand opening
Benefits and special deals at Hard Rock properties around the globe
For more information visit www.hardrockhotel.com.
THE GAMES WE PLAY
In anticipation of the grand opening, Strictly Slots spoke with Dave Polizzi, Vice President of Slot Operations, and Herb Gee, Vice President of Table Games, two critical members of the Hard Rock's executive team charged with developing this one-of-a-kind casino resort.  Here's a small sample of what goes in to crafting a world-class gaming floor.
Strictly Slots: How many slots will be available upon opening? What is the range of denomination? 
Dave Polizzi: About 2,100 slot machines, range in all denominations penny through $100's.
What about table games? How many will you have?
Herb Gee: We'll have about 120 table games.
What table games do you anticipate to be the most popular among players?
HG: Our Asian gaming room will be the best in Atlantic City, offering 16 baccarat games, including Macau style Baccarat. Pai Gow, Pai Gow Tiles and Asian Poker will be offered as well. The high limit area will have Blackjack, single zero Roulette and Craps in a comfortable room with dedicated cocktail service, table side food offerings and a private cage for customers.
What factors were considered when planning game selection and position?
HG:  Strategic planning of game mix include Craps, Blackjack, Baccarat and Roulette with added progressive bonus games such as Super 4 which will interface with our Online Gaming product. We want Hard Rock Atlantic City to        be known for a fun, professional gaming environment, with liberal rules and odds for the serious gambler.
What factors do you consider when deciding which slot machines to include?
DP: I review competitive analysis, as well as manufacturer market shares and performance data from all proven slot manufacturers to provide the best slot mix available.
What are some of the popular slot titles that will be available on opening day?
DP: Some of the popular game titles our players will enjoy are:  Lightning Link, Dragon Link, The Voice, Harley Davidson, 5 Dragons, Seinfeld, Willy Wonka and Ultimate Fire Link.
How about your decisions concerning the physical layout and where you want to place the machines? Is position a factor?
DP: Our slot floor was developed to offer a comfortable and entertaining gaming experience. We developed smaller banks and carousel layouts that allow easy flow through the casino and open site lines to showcase our product. We positioned the most popular game themes in multiple locations throughout our floor so players could have additional opportunities to play them.
Do you have any suggestions or advice for players when choosing a slot machine to play?
DP: Technology is continuing to progress in slot development and design allowing for a menu of options to choose from. Whether it's your favorite movie or TV program, progressive jackpot, free spin feature or wheel spin bonus game, I am confident that we will have just the game for you.