BLACKJACK SURVIVAL IN X-RATED STRIP CASINOS
The state of blackjack on the Las Vegas Strip
By Henry Tamburin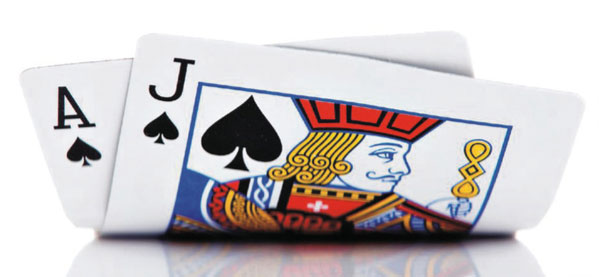 The state of blackjack on the Las Vegas Strip
You probably thought I've gone off the deep end with the above title for this column but I figured it would get your attention about what I'm about to share with you: the serious state of blackjack in the Las Vegas Strip casinos.
Before I get started on my rant, I want to give you a brief blackjack history lesson. Many moons ago, the casinos on the Las Vegas Strip had been the Mecca for good blackjack games. I can remember those fantastic deeply cut four-deck games that you could find up and down the Strip, and those wonderful double-deck and single-deck games, all paying 3 to 2 for a blackjack. When the six-deck games arrived, almost every casino had these rules: the dealer stood on soft 17, you could double down on any two cards, you could double down after pair splitting, late surrendered was offered, and you always received a 3 to 2 payoff on your blackjacks. In this very fair game, a basic strategy player faced a meager house edge of only 0.26 percent (that's an expected loss of 26 cents for every one hundred dollars bet). But, alas, times have changed and for the most part, the blackjack games in the Strip casinos these days … let me be blunt about this … really, really, suck.
What I intend to do in this article is to:
– Warn you about these lousy, unfair blackjack games being offered in X-rated casinos (their awful and pitiful blackjack games are what makes them X-rated in my book);
– Tell you which casinos are offering these shameful games to unknowing tourists so you can avoid playing them; and
– Where you can go in Las Vegas to find much, much better (G-Rated) blackjack games
What Makes These Blackjack Games So Horrid
For starters, you'd be hard pressed to find a less than $25 minimum bet blackjack game these days on the Strip that pays 3-2 for a blackjack (with less than eight decks). The casino moguls there have decided to gouge tourists by paying only 6-5 on a blackjack, rather than the traditional 3-2. It's interesting how the casino bosses decided to launch the 6-5 debacle. It probably went something like this:
"How are we going to get these fools to play blackjack when we are only going to pay 'em 6-5 for a blackjack," said one casino boss to another. "Hey I've got an idea. Let's put a whole bunch of single-deck tables on our casino floor to get the suckers in the door. We'll promote "the return of single-deck blackjack" on our marquee, only we won't tell them the payoff on the blackjack is 6-5." And so the BIG experiment began at one casino and guess what happened? The clueless tourists flocked to these single-deck games, believing the latter have better odds than a traditional six-deck game. (This is true if the blackjack payoff were the same, but it is not.) Other hapless players believe a 6-5 payoff is actually better than a 3-2 payoff, "because the payoff numbers are bigger." (More than one player has told me that; excuse me while I throw up.)
Listen up, people: 6-5 is NOT a better payoff than 3-2. Don't believe me? Suppose you bet ten bucks and you get a blackjack. At a 3-2 game, how much would you win? That's right, fifteen bucks (that's a 3-2 payoff). Make the same bet at a 6-5 game, get a blackjack, and guess how much you'll be paid? Only $12, which, the last time I looked, is $3 less than you would have gotten for the same winning blackjack hand at a 3-2 game.
Oh pooh, pooh, what's the big deal over a few bucks when you get a blackjack? (Many players have also told me that.) Then let me ask you this: How many blackjacks would you expect to get every hour you play? Assuming 80 hands per hour, you can expect to get four of them. (Sometimes you'll get more,sometimes less, but on average you'll get four.) That means for every hour you play blackjack with a flat $10 wager, you will be forking over to the casino an extra 12 bucks to play their "wonderful" single-deck 6-5 game. And get this… if you are a typical tourist that crams 12 hours of blackjack during your dream four-day Vegas vacation, you'll be giving the casino bosses $144 by playing their appalling 6-5 game. But wait… it gets even worse.
Just when I thought I'd seen it all with the horrendous single-deck blackjack 6-5 games (which by the way, have a house edge of 1.57%, with h17), what do you think the casino bosses cooked up next to gouge the clueless? How about paying 6-5 on double-deck and, heaven forbid, even six- and eight-deck games? (The house edge goes up to 2% depending on the mix of rules in these games, yet the crowds of gullible tourists keep coming and playing these appalling games.)
What follows are the X-Rated casinos on the Strip that belong in the Blackjack Hall of Shame for offering these horrendous 6-5 payoff blackjack games. If you are planning a trip to Vegas, here's my tip of the century: Avoid playing any 6-5 game on the Strip; instead drive (rent a car, taxi, Uber, bus, or whatever) to an off-the-Strip casino (affectionately known as a locals casino) that will give you a much better G-Rated 3-2 blackjack game at lower stakes to boot.
List of X-Rated Strip Casinos
The following casinos located on the Strip currently offer 6-5 blackjack games. (Information was obtained from the Las Vegas-based pros that report on playing conditions for my Blackjack Insider newsletter, from Current Blackjack News (CBJN), a subscription-based monthly newsletter that maintains a list of playing rules for casinos throughout the U.S. and Canada (bj21.com), and from my personal experience. Note: The number in parentheses is the number of 6-5 blackjack tables (from the August issue of CBJN).
Note: In total, there are more 6-5 than 3-2 blackjack tables in the casinos on the Strip (hard to believe). The following Strip casinos are Triple X-Rated because they offer predominantly only 6-5 blackjack games in their casinos (no, I'm not kidding… the percentage of 6-5 games is in parentheses): Monte Carlo (84%), Luxor (84%), Cromwell (82%), NYNY (78%), Stratosphere (75%), Venetian (74%), Excalibur (73%), Mirage (68%), Linq (67%), CircusCircus (64%), Palazzo (62%), MGM (60%), and Wynn (60%).
G-Rated Las Vegas Blackjack Games
Here is a list of casinos in the Las Vegas area where you will find a much better blackjack game. They offer good double- and six-deck games with 3-2 payoffs for a blackjack (some have a few 6-5 tables; of course, you should avoid playing them). The house edges on these 3-2 games range from 0.26% to 0.6%, depending on the mix of rules (much better than the up to 2% house edge on the 6-5 games you'll find predominantly in the Strip casinos). Additionally, the stakes are usually lower in G-Rated casinos ($10 to $25 for most 3-2 games; sometimes a $5 game is available during the weekday at some of the casinos).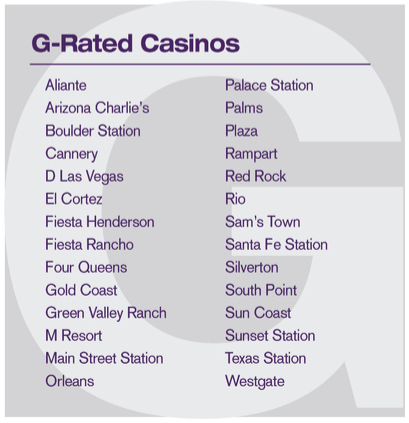 AWAY FROM THE STRIP
Do yourself a favor if you are planning a trip to Vegas. Forget about playing blackjack in any of the Strip casinos; instead, jot down the list of G-Rated casinos (or just rip out this page from the magazine), save it, and refer to it when you arrive in Vegas. Then find a way to visit these casinos to play blackjack. You'll be happy and glad you made the switch to a fair blackjack game rather than the horrendous 6-5 ripoff Strip games.
Henry Tamburin, Ph.D. is the author of the Ultimate Guide to Blackjack (http://blog.888casino.com/casino-guides/blackjack), editor of the Blackjack Insider e-Newsletter (www.bjinsider.com), lead instructor for the Golden Touch Blackjack course, and host of smartgaming.com.  For a free three-month subscription to his blackjack newsletter, go to www.bjinsider.com/freetrial.  To receive his free catalog, call 1-888-353-3234 of visit www.smartgaming.com.