Big Michigan Winner Ready to Cover Family Mortgages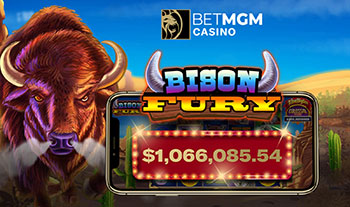 A BetMGM online casino player in Michigan scored the Big One Colossal Cash jackpot in June, turning a $4 Bison Fury bet into just over $1 million.
"I'm still in shock by the size of this win," the winning player said. "I'm referring to it as good karma though and before I treat myself to anything special, I'm going to pay it forward and use the money to help my family. I want to pay off their mortgages and loans and make sure that they're happy, healthy, and well-educated. Thank you BetMGM for helping to make that happen."
Bison Fury was developed by BetMGM's in-house games studio and only launched on June 2. The win came just days after another BetMGM player won a "Mega Jackpot" of $990,000 while playing Divine Fortune.
"After awarding $9.5 million in jackpot prizes last year, BetMGM is thrilled to deliver our players a world-class experience and great access to life-changing wins," BetMGM Vice President of Gaming Matthew Sunderland said. "Through our in-house, networked progressive jackpot games and vendor partnerships bringing more chances for a big win, we'll continue engaging players and offering even larger prizes in the future."