BETTING THE UNDERDOG
New Jersey seeks legal sports wagering, but faces an uphill battle against U.S. government
By Sean Chaffin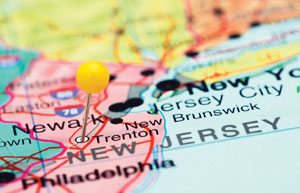 As Atlantic City suffers through the bankruptcy of four casinos and renewed casino competition from other states, the state of New Jersey has been seeking to allow sports wagering at its casinos and racetracks and is battling the federal government every step of the way.
February's Super Bowl was a nail-biter and an example of the stakes involved. The game brought in big numbers of viewers, and according to a study by the American Gaming Association, it continues to bring in big numbers of bettors, both legally and illegally.
The AGA study reports that $3.8 billion was bet illegally on the big game in comparison to $116 million legally in Las Vegas. Bringing some of that cash into New Jersey casinos could be a boon to the state's suffering gaming industry and break Nevada's monopoly on the legal sports wagering business. As the state faces challenges in court, the prospects of that happening certainly remain some-what of a long shot.
A NEW JERSEY GAMBLE
The battle for New Jersey sports wagering began in 2011 when New Jersey residents passed a referendum allowing sports betting at race-tracks and Atlantic City casinos. A year later, Governor Chris Christie signed the state's first sports wagering bill. Several sports leagues sued the state in 2012, arguing that New Jersey's actions violated the Professional and Amateur Sports Protection Act (PASPA), which was passed by Congress and signed into law in 1992.
PASPA was sponsored by then-New Jersey senator and New York Knicks forward Bill Bradley. Attorneys for the state argued that the law violated the principle of state's rights and allowing legal sports-betting exemptions in only a few states (namely Nevada for sports wagering and Montana, Oregon, and Delaware for certain types of sports lotteries and parlays).
PASPA, in essence, specifically exempts state sports wagering schemes to those a state conducted between 1976 and 1990. New Jersey argued that PASPA, which prohibits "state-sponsored" sports betting, violated the Tenth Amendment because it "commandeered" New Jersey's legislative authority by effectively requiring it to maintain unwanted state-law prohibitions on sports betting.
Daniel L. Wallach, a gaming attorney with the firm Becker and Poliakoff in Fort Lauderdale, Florida, says the state's efforts to "legalize" and "regulate" (and, hence, tax) sports betting may have been struck down, but that New Jersey is relying on language in the district court decision suggesting it could "repeal" its state-law ban on sports betting without violating PASPA.
In November, a federal judge rejected New Jersey's law allowing the regulation of sports wagering. However, the court stated "we do not read PASPA to prohibit New Jersey from repealing its ban on sports wagering." As Wallach notes, the court explained that a "repeal" of state-law prohibitions against sports betting would not violate PASPA. In its opinion, the court noted:
[PASPA] . . . leave[s] much room for states to make their own policy. Thus, under PASPA, on the one hand, a state may repeal its sports wagering ban, a move that will result in the expenditure of no resources or effort by any state official. On the other hand, a state may choose to keep a complete ban on sports gambling, but it is left up to each state to decide how much of a law enforcment priority it wants to make of sports gambling, or what the exact contours of the prohibition will be."
So in essence, the court noted that a state could repeal its laws banning sports wagering without violating PASPA provided it did not regulate. New Jersey might be able to repeal its ban and leave wide open sports wagering, some legal experts believe.
Wallach argues that while state officials believe that the majority of the court held against New Jersey, it also held that a "state may repeal its sports wagering ban" without violating PASPA, and that each state is free "to decide what the exact contours of the prohibition [on sports betting] will be."
"The phrase the 'exact contours of the prohibition' suggests that New Jersey is free to decide just how much of a prohibition on sports gambling it wants to maintain on its books," Wallach says. "And that is precisely the approach that New Jersey is taking with its new law, which repeals its state-law ban on sports betting, but only partially. The problem with this 'partial' repeal is that it is limited to New Jersey's casinos and racetracks, which are already subject to extensive regulation by the state. But New Jersey's repeal law comports with prior statements made by United States Solicitor General Donald M. Verrilli, Jr., who asserted in a brief filed with the U.S. Supreme Court last year that New Jersey was free to repeal its ban against sports wagering 'in whole or in part' with-out violating PASPA."
New Jersey appealed the ruling in November and two New Jersey congressmen introduced legislation in January to legalize sports wagering. How successful federal efforts to legalize sports wagering is anyone guess.
COMPETITIVE ENVIRONMENT
Gaming in New Jersey has been on a downward spiral of late with four casinos closing their doors or declaring bankruptcy. Increased competition from other states legalizing casinos has put stress on the state's gaming industry. States continue adding casinos and both Massachusetts and New Hampshire currently have plans for casinos. According to the Wall Street Journal, the Indian tribes behind the state's Foxwoods and Mohegan Sun resort casinos have plans to team up on a smaller facility in the northern part of the state.
With increased competition, New Jersey officials are hoping sports wagering might be a competitive advantage to the state's casinos and racetracks.
"In the past decade, more casinos have opened in the mid-Atlantic to Maine than in any other part of the country," the Wall Street Journal reported on Feb. 4. "That has put pressure on states that moved into the market early, especially those that have come to rely on revenue from casinos."
Legal opinions vary as to whether New Jersey has a chance in court, but seem to view their chances as an uphill climb based on the previous federal rulings. Despite the state's appeal based on simply repealing its own ban on sports wagering, some predict the case will deter other states from bringing a test case to fight PAPSA.
Nelson Rose, a gaming attorney, professor and author of Gambling Law in a Nutshell and GamblingandtheLaw.com, believes other states will be deterred from tackling the issue because so many complicated constitutional issues have become involved in New Jersey's efforts. However, he argues PASPA has not gotten much attention through the years from lawmakers, but believes it probably doesn't necessarily pass Constitutional muster.
"It is too bad," Rose says of other states not taking up the issue. "The Ninth Circuit and federal courts might very well have ruled the other way. The federal law in question, the Professional Sports and Amateur Sports Protection Act, is actually one of the most radical statutes ever passed, and fairly easy to throw out as unconstitutional."
PASPA carved out 12 states which had some form of sports wagering (usually involving lotteries or small sports pools) and specifically allowed horse wagering and jai alai. Christie's lawyers argue that the law discriminates against New Jersey and other states by treating them differently than other states which allow sports wagering. The state argues that this violates the "equal sovereignty" principle and "that PASPA permits Nevada to license widespread sports gambling while banning other states from doing so."
POTENTIAL
Super Bowl Sunday is always a big event in Las Vegas. Bettors not only come to wager on the game, but also to spend the weekend partying, taking in shows, and, of course, gambling. With potentially billions of dollars being left on the table in terms of sports wagering as well ancillary revenue such as hotel stays, the American casino industry will certainly be enticed by expanding the possibility of sports wagering to other states.
However, the American Gaming Association is communicating with members before making a final decision on the expansion of sports betting into other states.
"We're looking at the issue," says AGA Director of Media Relations Christopher Moyer. "It's certainly something that's gotten a lot of attention."
So far, New Jersey is alone in its efforts to outmaneuver or undo PAPSA. Some legal experts like Wallach believe the quickest path to expanding legal sports betting would be for other states to enact legislation similar to New Jersey's, which might lead to a different outcome in another federal appeals court.
Wallach says these courts would not be bound by the Third Circuit's decision, and could increase the likelihood of review by the Supreme Court. He argues that it is considerably easier for the leagues opposed to expanded wagering to take on one state at a time, than have to battle in multiple jurisdictions against other states.
"I have never understood why other states are waiting on the outcome in New Jersey. If New Jersey loses, it could be several years before Congress takes up the issue," he says. "The states should force this issue now by enacting their own sports betting laws and challenging PASPA in a different federal court. It is quite possible, and perhaps likely, that another federal court would find PASPA to be un-constitutional. Such action—regardless of the ultimate outcome—would put immediate pressure on Congress to prioritize the issue."
THE FUTURE
In the meantime, New Jersey continues to go it alone. And while the NCAA and NFL continue to oppose the expansion of sports wagering, some things may be changing. In recent months, National Basketball Association Commissioner Adam Silver and Major League Baseball Commissioner Rob Manfred have come out in favor of expanding regulated sports wagering, arguing that the endeavor has become commonplace among sports fans and would be better suited to a regulated market.
"… despite legal restrictions, sports betting is widespread. It is a thriving underground business that operates free from regulation or oversight," Silver wrote in a November op-ed in the New York Times. "Because there are few legal options available, those who wish to bet resort to illicit bookmaking operations and shady offshore websites."
In the piece, Silver cited figures that an estimated $400 billion is wagered on sports annually and notes that "times have changed since PASPA was enacted" and encouraged Congress to "adopt a federal framework that allows states to authorize betting on professional sports, subject to strict regulatory requirements and technological safeguards."
Manfred has said that MLB needs to begin having a discussion about changing its long-held opposition to sports wagering.
"Gambling in terms of our society has changed its presence on legalization and I think it's important for there to be a conversation between me and the owners about what our institutional position will be," Manfred said on ESPN's Outside the Lines.
In many respects, sports wagering has helped professional sports grow as an industry—especially when the popularity of fantasy sports is taken into account. Fantasy football has grown into a billion-dollar industry and one-week fantasy game sites like FanDuel.com and DraftKings.com allow real-money wagering using fantasy teams instead of point spreads.
The popularity of fantasy football as well as sports betting has certainly added to the NFL's massive popularity. In fact, the New Jersey Thoroughbred Horsemen's Association, which wants to offer sports wagering at Monmouth Park Racetrack, filed with the Third Circuit Court of Appeals that the leagues suing to prevent New Jersey's efforts are involved in fantasy football and have "unclean hands" when it comes to the issue.
"The Leagues sponsor, promote, invest in, profit from, and own sports betting enterprises that engage in the very kinds of sports betting activities the Leagues claim irreparably harm them and, thus, entitle them to an injunction," the brief notes in an article by the Associated Press. "Because of their unclean hands, rooted in their hypocrisy, the District Court should not have entertained the Leagues' request for an injunction. Instead, the courthouse doors should have been closed to the Leagues."
The leagues have argued in court filings that fantasy sports is different than single-play wagering because outcomes are based on the statistics of certain players.
Where is sports betting headed in the U.S.? Analysts differ, but believe there is so much money being bet illegally that other states and Congress will eventually make some kind of movement. Wallach says he will be shocked if there isn't expanded sports wagering by 2018.
David Schwartz, director of the University of Nevada -Las Vegas Center for Gaming Research and author of Roll the Bones: The History of Gambling, agrees that many Americans simply no longer believe sports gambling is a serious crime or even a crime at all. He has analyzed the economic situation of New Jersey's casino and believes adding sports wagering could slow the bleeding.
"The state would probably make more money if sports betting were legal and taxed. There is definitely an appetite for it," he says. "It seems many people want to do it—and the state certainly needs the money."
New Jersey officials have vowed to carry on the fight.
"We continue to believe that New Jersey has the right to allow sports betting in the state and we will keep up the fight in court," State Senate President Steve Sweeney announced in a statement in November after the court's ruling. "We are going to continue pursuing every legal option available. The economic impact that sports wagering can have on the state of New Jersey is far too important to simply shrug our shoulders and move on."
Sean Chaffin is a freelance writer in Crandall, Texas. His new book is Raising the Stakes: True Tales of Gambling, Wagering & Poker Faces, available at his blog PokerTraditions.com, Amazon.com, and BarnesandNoble.com. Follow him on Twitter @PokerTraditions.