Betting The Big Game
Wacky Wagers Beyond Point Spreads and Over/Unders
By Sean Chaffin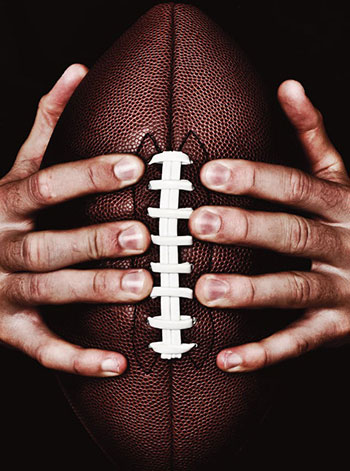 When Super Bowl LVII gets underway from State Farm Stadium in Glendale, AZ, on Feb. 12, many bettors will have some action not just on the actual play on the field but also some other unique scenarios that can make for a nice sweat.
The Super Bowl is a gambler's delight with prop bet after prop bet. You can bet on nearly anything, including which team will win the coin toss, the color of Gatorade poured on the winning coach, and much more. These kinds of wagers can not only be interesting, but offer some action for those
more casual fans just looking for some fun on Super Bowl Sunday. Here's a look at some of those wacky wagers to check out when the action gets underway.
Coin Toss
Tails never fails? Or does it? Prognosticators can take a shot at predicting the future, at least which side of the coin will turn up to get the gridiron action started. Action junkies may just pick a side and go with it. But those "savvy" handicappers may want to check out some trends. What may seem like a 50/50 proposition has actually seen a trend toward tails.
That side of the coin has shown up 29 times over the history of the 46 big games played so far for a 52% winning edge. Heads checks in at 27 times for 48%. The last two games have seen heads come out a winner, however, and that side also holds the longest streak at five. Heads or tails—it's all fun.
Our pick: Heads make three in a row and five out of the last six.
National Anthem
Betting on the national anthem has become a regular part of Super Bowl wagering as well, with handicappers trying to determine the over or under on how long each singer will take to belt out the "Star-Spangled Banner." This year, Rihanna takes center stage to kick off the festivities with her own performance of the song. She follows musical legends like Gladys Knight, Billy Joel, Alicia Keys and Aretha Franklin.
Bettors are usually charged with determining whether that year's performer will go long or short. Mickey Guyton's rendition in 2022 hit the over at 110 seconds. Bettors had a bit of breathing room this year as she reached 106 seconds. The over has seen several wins in recent years as singers look for a few extra seconds in the spotlight.
Our pick: Today's divas like to extend these songs, so look for another "over" winner.
Gatorade Shower
The Gatorade show has become a major part of the Super Bowl's postgame festivities. The drenching of the winning head coach is a fun part of the celebration. When the Los Angeles Rams won the Lombardi Trophy in 2022, head coach Sean McVay was doused with blue Gatorade.
It's believed the tradition began in 1984 when New York Giants nose tackle Jim Burt was the first to tackle the feat. After feeling he'd been mistreated during a week of practice prior to a matchup with the Washington Redskins, Burt grabbed a cooler after the win and gave coach Bill Parcells a shower. The practice gained popularity two years later when the Giants won Super Bowl XXI and has endured ever since.
"The Super Bowl is a gambler's delight with prop bet after prop bet. You can bet on nearly anything, including which team will win the coin toss, the color of Gatorade poured on the winning coach, and much more."
And it may seem absurd, but bettors can drop some cash on what color that Gatorade will be that soaks the "lucky" coach. Players will usually find these betting options:
orange red/pink clear/water yellow/green/lime blue/purple
Orange, blue and yellow tend to be the favorites while red and purple are usually among the long shots. But that often depends on the teams in the Super Bowl. A team like the Rams usually receives some action on an option within the team's own color scheme, with blue a popular bet among bettors last year. Look for that trend to continue.
Our pick: Numerous teams were still alive in the playoff race at press time in December. There was no clear-cut best team in the NFL but the Eagles were looking to be in top form. A bet on green seems like a solid option. A hedge on red for the Kansas City Chiefs may also be worth a wager.
Betting Bonanza
There's usually no shortage of other interesting prop bets each Super Bowl. Last year, players could put some cash on the first performing artist shown live during halftime or the first song played during the halftime show. Some halftime show wagering options are even geared toward specific artists, such as if any part of Eminem's performance would be censored.
Football viewers could even bet on whether a fan would run on the field during the game. Those bettors who might also be racing fans and looking for some cross-sport action found a unique wager in 2022. They were given the option of what would be higher: the average speed at the Daytona 500 or Rams quarterback Matthew Stafford's first-half passing yards. Daytona came out ahead in that one—125 miles per hour versus the QB's 105 yards passing.
Sportsbooks are creative and constantly looking for more wagers to entertain and entice bettors. Look for more unique prop bets in 2023 and here's hoping they pay off nicely—whether your actual team pick comes out a winner or not.