BETTING BONANZA
Super Bowl Makes Annual Appearance in Las Vegas
By Buzz Daly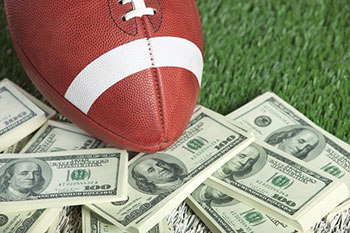 Just in time to rescue a nation badly in need of a remedy for the winter blahs and distraction from relentless politically-inspired turmoil, we get to celebrate our favorite unofficial national holiday, Super Bowl Sunday. Ostensibly, the Super Bowl crowns the NFL's best team, but the game is really an excuse for a weeks-long explosion of sports betting that makes Las Vegas the center of the universe for a single day. The game's host city, this year Minneapolis, comes in second.
With 51 Super Bowls behind us, much of the accompanying activity seems like deja vu or Groundhog Day. But with eight of the 12 teams having a shot at the big game not in last year's playoffs, at least it is not just a matchup of the usual suspects.
This year, the city's sports books are revved up for another blockbuster event with the purpose of enriching the casinos' coffers. This is one game where handicapping opinions, free-flowing alcohol and a surfeit of greasy stadium food all come together in a confluence of attitudes based on dedication to the mantra Party Hardy.
No longer do sports book directors root for specific matchups between "public" teams, since interest in the SB now transcends such considerations. A small-market team does not inhibit betting handle as it once did. The trend for betting volume shows consistent growth. Last year's game set a record of $1 38.48 million, surpassing the record-breaking year before that. Three of the last four years have been record-breakers for wagering handle. The last time handle was under $100 million was 2013 when it was $98.9 million.
If football is a sport custom-made for betting, and it is, the Super Bowl is the ne plus ultra of gridiron action. Nevada is the only state in the US where a full menu of legal wagering options is offered, and Vegas is the throbbing heart of that industry. The city is dedicated to servicing everyone, from novices risking a few quid to heavy hitters with briefcases full of dead presidents. South Point's resident sports book adviser Jimmy Vaccaro noted, "This is the one game that the wise guys don't have a big say in the line. There is so much action that the public really has the upper hand. And it just keeps getting bigger."
As the universe of customers expands for this betting bonanza, so does the wagering menu. Betting on the side and total is fine for traditionalists. But after several decades of tweaking and expanding their lists of proposition bets that can best be described as bizarre, zany and weirdly innovative, the books know there is more than one way to satisfy antsy bettors.
Prop bets have progressed from an appetizer to an entrée as bettors demand action on virtually every snap of the ball. Check out the players in a jammed sports book or ballroom converted to a viewing venue to see how many have bets riding on the next play. Every completed pass, penalty or sack is helping or hurting an army of bettors.
Prop bets include picking the color of the Gatorade that gets poured on the winning coach. Wagers keyed to NHL goals, NBA free throws and virtually anything that can be calibrated are just examples of the mind-bending convoluted action now offered by the books.
Westgate sports director Jay Kornegay leads the league in producing a prop bet list numbering in the hundreds, printed on legal-size paper. This year look for at least 20 new plays dedicated to the game's officiating crew, including a prop on how many challenges will be issued by the coaches.
Given the aggressive competition among the books, props are a good way for savvy bettors to squeeze out a few winning tickets. The prop sheets come out by the first weekend after the teams are decided, and there are a sprinkling of plays that offer soft numbers due to the short timeframe the books have to create the lines. If you can collect several prop lists when they first come out and compare numbers – for instance, on the skill players' yardage, in which a bet is over or under – you will find attractive variances.
The books reduce their liability on such props by offering low limits and by immediately adjusting numbers so that only a few early bettors get the opening numbers. Although parlays are generally not allowed, some shops do allow them on props that cannot be correlated.
Now a new trend is emerging. Satisfying the need for more action, in-game or in-progress betting via mobile devices is rapidly becoming a staple. Players can open an account and deposit or post-up funds with which to bet as the game progresses. Although this has been available for several years, it is now producing impressive volume.
For in-progress action, new numbers are offered on sides and totals whenever there is a score or a change of possession. For instance, if a game is picked and a team scores a touchdown, the new line will see that scoring team offered as perhaps a 3Vz- or 41/1-point fav. There is generally a one-to two-minute window of opportunity to make a bet. Be quick; odds change during this brief period based on volume, which can be heavy and one-sided. Parlays are not permitted, but may be made at half time.  There are juicy payoffs for bettors supporting a losing team that comes back to win.
The vig on in-game betting can get a little excessive, and many punters are looking for middles or trying to get off a losing bet. Sharp players can project line changes as a game progresses, and if they have a good fix on how the game will play out, it can be quite profitable. Conversely, guessing wrong can be costly.
As handicappers prepare for this year's championship finale, we should remember that two of the last three SBs were decided by horrific meltdowns instigated by coaches on the losing teams. Three years ago, in SB XLIX, Seattle Seahawks head coach Pete Carroll cemented his inclusion in the Bonehead Hall of Shame when he made a decision that will go down in infamy. With 26 seconds left in the game and losing 28-24, on second and goal he eschewed using Beast Mode running back Marshawn Lynch to score from the one-yard line. Instead he called for a pass that was promptly intercepted. It was a stunning finish as Seattle ignominiously snatched defeat from the jaws of victory.
Last year, instead of the wheels coming off in a nanosecond, the Atlanta Falcons took the drip-drip-drip approach. The team's brain trust blew a seemingly insurmountable second-half lead of 28-3 with a succession of inept coaching decisions and saw the game go into overtime. OT was an anti-climax as the Falcons lost the coin toss, and to no one's surprise were quickly dispatched 34-28.
It's worth noting that in both instances, the winning team was the New England Patriots led by their terse, doesn't-suffer-fools-gladly coach Bill Belichick. It should also be acknowledged that for all the losing bettors claiming world-class bad beats, there were plenty of punters cashing tickets and basking in the euphoria of miraculous victories.
This may be the last year that Vegas holds an exclusive franchise on legal Super Bowl betting in the US. A case before the Supreme Court could be decided in favor of sports bettors. If that happens, a federal law prohibiting sports betting would be repealed and it would be up to individual states to pass legislation to permit people to bet on sports. Last month it was reported that 18 to 30 states could introduce legislation to regulate sports betting this year.
Meanwhile, the popularity of the Super Bowl is reflected in some numbers. In 2015, the country's TV audience for the game was a record-breaking 114.4 million, and last year's game netted advertising revenue of $385 million.