BET ON IT
Forget Vegas – Some Of The Best Casino Entertainment Is In Maryland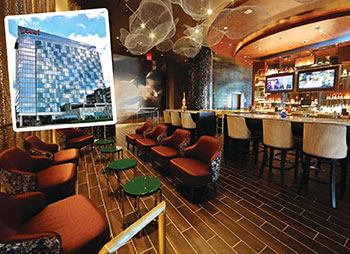 The "Old Line State" Maryland is the birthplace of the national anthem, abundant waterways and your next dream vacation.
When seeking out the perfect stop for your summer escape this Mid-Atlantic state has it all: exceptional food, culture, excitement, and everything from seaports to mountains. But most notably, two exciting casino properties that embrace all of these beloved qualities: Live! Casino & Hotel and Rocky Gap Casino Resort.
LIVE! CASINO & HOTEL – HANOVER, MD
You've always had plenty of reasons to visit, but now there is finally a reason to stay. Live! Casino & Hotel in Hanover is the epitome of fun and excitement! With approximately 4,000 slots, 200 live action table games, one of the largest poker rooms nationwide and giant jackpots, what more could you ask for? Oh wait!
The Cordish Companies and Live! Casino & Hotel announced on June 6 that Live! Hotel now is officially open to guests, adding 310 overnight rooms, two new restaurants, an Event Center and spa to Maryland's top tourist destination.
The first hotel to carry the renowned Live! brand, Live! Hotel opens as Live! Casino and celebrates its six-year anniversary as one of the largest commercial casinos on the East Coast. The opening establishes Live! Casino & Hotel as a preeminent all-inclusive gaming destination, with world-class amenities and a reputation for spontaneity and fun.
"Live! Hotel is now officially open and ready to wow guests with an all-inclusive experience, from a world-class spa and globally inspired cuisine, to winning big while enjoying luxury accommodations," said David Cordish, Chairman of The Cordish Companies. "Our combination of gaming, entertainment, dining, retail and excellent customer service is unmatched anywhere in the region. We have arrived at the finish line, but the celebration is just beginning."
Connected to Live! Casino, the 17-story, 350,000-square-foot hotel, features luxurious accommodations for the business and gaming traveler, equipped with the latest in technology, lighting and amenities. The new hotel includes 132 Deluxe King rooms, featuring a spacious bathroom with an oversized walk-in shower and water closet and a 55″ HDTV There are 126 Deluxe Double Queen rooms, including all the ammenities as the Deluxe King rooms.
And then there are the suites! Featuring 33 Signature Suites the each come with a 55″ HDTV a seating area, a spacious bathroom with an oversized walk-in shower (some with a deep soaking tub), a separate water closet and vanity table and chair:
Two Luxury Suites offer a separate living room, a 65″ Ultra HDTV, a wet bar, powder room and some with a dining area. The spacious master bath has dual sinks, an oversized walk-in shower, a separate water closet and a vanity table and chair. The connecting room provides luxury linens and another 65″ HDTV 10 Presidential Suites offer a spacious living room and a 75″ Ultra HDTV, bar area, mini-fridge, a powder room and a master bathroom with the same features as the luxury suite. Some rooms include a dining table. Five Spa Suites include the spa villa that has a private terrace with sweeping views of the Baltimore landscape. Both the spa suite and spa
Connected to Live! Casino, the 17-story, 350,000-square-foot hotel, features luxurious accommodations such as 132 Deluxe King rooms, featuring a spacious bathroom with an oversized walk-in shower and water closet and a 55″HDTV.
villa include a private spa treatment room, expansive living room with a dining table and two 60″ Ultra HDTV Both also boast an oversized bathroom that includes a soaking tub, dual sinks, walk-in shower and water closet.
Two Penthouses include the grand West Wing Penthouse, offering a private terrace and expansive suite with a powder room, built in wet-bar, dining and living room, two 86″ ultra HDTVs and a game room. The Southview Penthouse features an in-suite movie theater room with an 80″ curved screen. Additionally, the expansive living room has a 55′ Ultra HDTV a dining table that seats eight, powder room and wet bar. Both penthouses offer two luxurious king bedrooms, each with an en-suite bath and a wide screen HDTV.
The hotel also features a host of amenities including the boutique Live! Spa, with a full menu of services including massage therapies, body polishes and wraps, advanced skincare from Villa Floriani, private in-room treatment areas for couples or friends, nail and hair services, and an outdoor patio area ideal for groups of girlfriends, bridal and private parties.
New culinary options include David's, which offers 24-hour service and an eclectic menu of culinary creations inspired by the world travels of David Cordish himself. The Lobby Bar At David's, with more than 50 seats and live entertainment, and Luckies, offering expertly crafted espresso, Starbucks coffee drinks, fresh-baked pastries and a wide variety of Italian specialty gelato.
The hotel also features a fully-equipped gym offering full-body strength and cardio training, with window views of the dramatic surrounding landscape.
And while you're there, be sure to check out some top entertainment! The Grand Event Center is a 1,500-seat concert venue, featuring a regular lineup of headline entertainment. Upcoming acts include America (Aug. 10 & 11), Dennis Miller (Aug. 25), Frank Reyes (Sept. 8), Dane Cook (Sept. 15),Tracy Morgon (Oct. 20) and Sheila E. (Oct. 27) to name just a few. To see all that Live! Casino Hotel has to offer, book a room or reserve tickets, visit www.LiveCasinoHotel.com or call (443) 445-2929.
ROCKY GAP CASINO RESORT – FLINTSTONE, MD
Whether you enjoy the soothing tranquility of the great outdoors, or prefer to ramp up the excitement to a fevered pitch, Rocky Gap Casino Resort in Flintstone will help create your perfect Maryland getaway. Tap into your luck at the casino, grab a bite to eat with friends or hit a round of golf—Rocky Gap is designed to please.
From lush views to lavish details, the Rocky Gap Casino Resort turns weekend getaways into lasting memories. Resort amenities include a casino floor featuring over 600 of the latest slot machines, blackjack, craps and roulette, four different restaurants, a bar and Event Center. Imagine yourself recharging in your suite overlooking the breathtaking view of the mountains and lake.
With summer in full swing, plan to make your stay at Rocky Gap a true adventure by taking part in any of the numerous onsite activities including: canoe, kayak, peddle pontoon boat and YOLO Board rentals ("You Only Live Once" stand up paddleboards).
If you've got a touch of the angler's spirit, the adjacent Mountain Lake has a number of largemouth bass—with some lunkers weighing in at over 10 pounds. The lake also supports smallmouth bass, sunfish, channel catfish and trout. A wide variety of fishing poles, bait and tackle are offered for hourly rental.
Such an amazing property certainly must have equally amazing restaurants. Have no fear—Rocky Gap doesn't disappoint when it comes to getting your feast on. Choose your preferred dining destination—all are terrific—and let them fill your visit with flavor. Here are some of our favorites:
LAKESIDE RESTAURANT. Enjoy casual dining with flair. Lakeside Restaurant offers you affordable and stylish buffet dining with a breathtaking lake view, prime rib, chicken, seafood and more.
SIGNATURES BAR & GRILL.
Signature's has it all, live entertainment, great views, relaxing atmosphere, premium sports viewing on a multi-screen TV wall, so grab a chair and get comfortable because fresh food and high spirits are on the way!
LB'S PLACE. With fantastic salad bowls, flatbreads, signature burgers and delicious Maryland Crab, LB's is one of Western Maryland's best casual dining restaurants! Enjoy a full bar with a well suited wine list and during the warmer months, enjoy outside seating with a beautiful lakeside view.
For the ultimate in relaxation, treat your body and mind to a rejuvenating session at The Spa at Rocky Gap Casino Resort. Pamper yourself with a wide variety of services specific to women and men of all ages. Services include massages, soothing skin care facials, waxing, body treatments, manicures and pedicures.
The Event Center at Rocky Gap Casino Resort provides you with a rich venue to catch your favorite acts. Upcoming acts include: Tuesday's Gone – Lynyrd Skynyrd Tribute, (Aug. 3), David James Spaliaras, (Aug. 9), David Kaye, (Aug. 23) and don't miss ROCKtember Fest (Sept. 15), it's sure to be a blast!
Finally, during your stay enjoy exclusive access to Maryland's only Jack Nicklaus Signature Golf Course. Nestled in the foothills of the ageless Appalachian Mountains, the scenic vistas and shimmering lake offer the perfect backdrop for a round of golf with friends.
For more information, visit www.rockygapresort.com