BEST OF RACINOS AWARDS 2022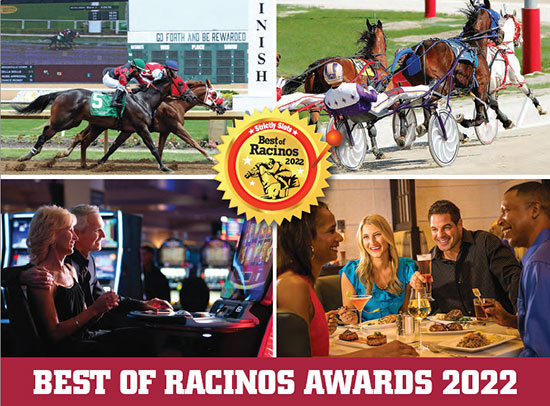 Strictly Slots magazine's annual survey of the country's favorite racinos
By Sean Chaffin
The bugle call, the parade of horses, the tote board, and the betting window. Who can resist the fun that awaits at that nearest horse track? A bit of casino gaming only adds to the fun and racinos are now a huge part of the gaming industry. Whether you're more into betting on the track or would rather sit at a slot and sip a cocktail, these gaming venues are the perfect way to spend some time with friends and family betting on the ponies, chasing a jackpot, hitting some table games, or gathering together for some fine dining and drinks. Some of these properties even feature top-notch hotels to extend that stay for a weekend of fun.
"Racino" combines "race" and "casino" and these have been popular gaming destinations for years now. Iowa's Prairie Meadows kickstarted the trend by adding slots to the facility in 1996. That effort revived the racetrack's fortunes, adding to purses for horsemen and keeping the facility solvent. The additions also benefited gamblers and opened the facility up to even more people. A new type of gaming venue was born in the process and the industry is now going strong more than a quarter of a century later.
After Prairie Meadows, more states and properties embraced the idea of combining slots, table games, and quarter horse and thoroughbred racing. In the process, states kept the horse racing industry alive and added more tax revenue. Racinos run the gamut across the country—from small facilities offering a limited number of games to larger, full-scale resorts with hotels, great fine-dining options, major entertainment options, and much more.
Strictly Slots stays on top of the best in gaming and highlights some of the best properties in the industry. That includes the best racinos across the country—from slots and casino expansions to entertainment options, player promotions, restaurants and more. We work to cover all aspects of the industry  and the Best Of Racinos focuses on categories fitting for the industry. Those properties that also excel at customer service are singled out in several categories.
As with other "Best Of" surveys in Strictly Slots and Casino Player, readers also contributed with their favorite racinos across the numerous categories. Here are the results of those votes; readers' selections for this year's best of the best among the nation's racinos. Check out how others ranked your favorite local or favorite racino. Better yet, find a venue that looks appealing and plan on getting out for some racing and slot machine play. Thanks for voting and kudos to all of the winning properties! Grab your tip sheet and lucky charm—some racino fun awaits.
Click on the magazine cover below to read our digital edition and see how your favorite racino did.