BEST CASINO GAME ODDS IN VEGAS
Where to go and what to play in Sin City
By Cliff Spiller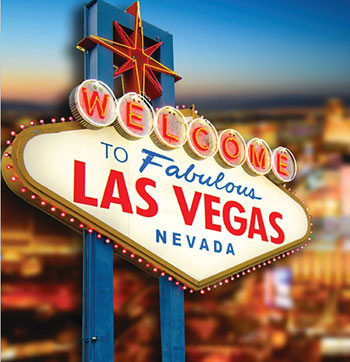 Welcome to Las Vegas, the most fabulous international travel destination. For gamblers, Las Vegas is the full package. It combines a comprehensive gaming experience with charming amenities and brilliant attractions.
The heart of Las Vegas is its casinos, of course. Every venue tries to one-up each other with brand new table games and advantageous new rules for old games. Some cater to high rollers with the biggest max bets in the city, while others welcome bargain players with the best deals in town. With so many choices, a guide to Las Vegas casino games is essential – this article provides just that.
PLAY AT THE BEST LAS VEGAS CASINOS TABLES
If you're a high roller or low stakes player, we provide information on the biggest makes and smallest stakes for each game. Whether you prefer to stay on the Las Vegas Strip or wander off the beaten path, we provide tips for finding the best casinos for your gaming needs. Browse the tables on the following pages according to game variants so you'll know where to find the best casino games in Vegas.
BEST LAS VEGAS BLACKJACK TABLES
Blackjack is the ultimate favorite casino game for one major reason: players can learn strategies to increase their chances of winning. Las Vegas casinos offer great rules for blackjack, but only if you know where to look.
El Cortez has the best single-deck blackjack game at $5 a hand, while M Resort has the best high roller odds for players willing to plop down $5,000 a hand. In Table 1 you will find the top blackjack tables in Las Vegas that offer fair rules and great payouts.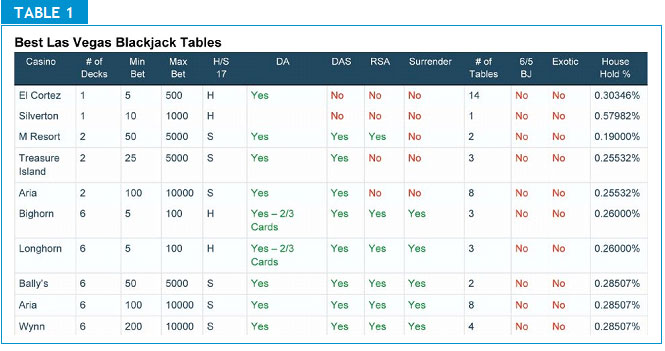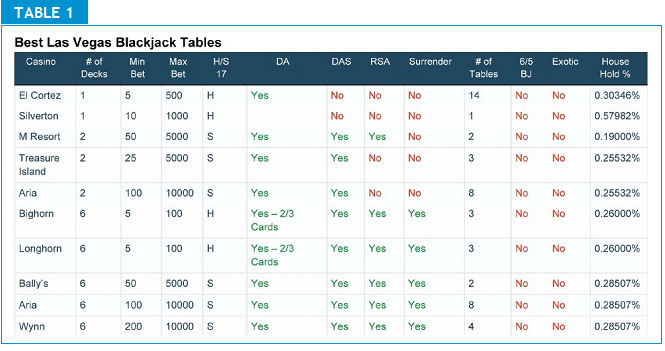 PLAYING CRAPS AT THE BEST LAS VEGAS CASINOS
Shooting dice is among the most entertaining parts of a casino trip. Craps gives a player wild swings of fortune along with the camaraderie of wagering on the same outcome as most other bettors at the table.With four dealers and a dizzying array of single- roll bets, craps is where the action is at.The secret to success: make the basic bets.
Table 2 shows the best Las Vegas Casino for Craps. Roll the dice for high stakes at the D Las Vegas, Cromwell, or Wynn Las Vegas. Leave the Vegas Strip for low stake games at Joker's Wild ($1) or Arizona Charlie's in Boulder ($2). If you prefer the best odds betting, choose the Cromwell with its 100x odds.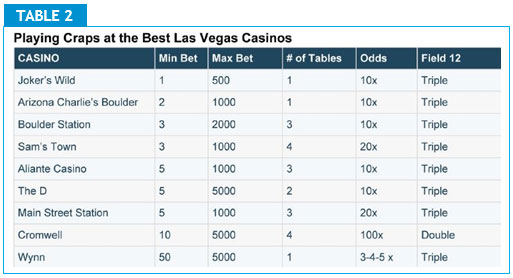 THE TOP ROULETTE TABLES
Roulette is that rare game where a player can relax due to the mesmerizing effect of the ball's descent on the spinning wheel, but also has the adrenaline rush of 35 to 1 payouts. Roulette players enjoy the game because it requires no great strategy, but provides a wide range of both even-money and high payout wagers.
Play at the Palazzo or the Wynn Las Vegas for high roller roulette at $5,000 a spin or leave the Vegas Strip for low roller roulette games for $5 a spin at M Resort, Eastside Cannery, and Silver 7's.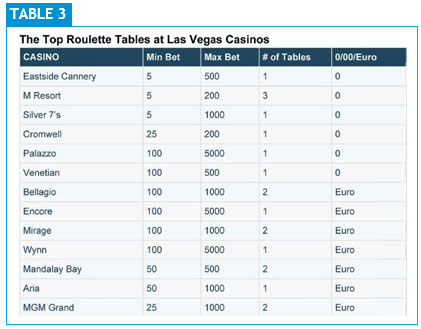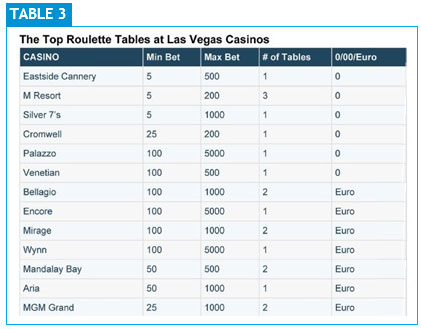 PLAY BACCARAT AT THESE TOP CASINOS
Baccarat is easy to learn and has a low house edge for a game with so little
strategy. It is the most popular game in Asia because players walk the floor to find the baccarat table with the best energy flow ("chi"). Because of its huge popularity in Macau and Singapore, most Las Vegas casinos have expanded their baccarat sections in the past few years.
Try baccarat for as little as $5 a hand at Boulder Station or Palace Station, or wager for $20,000 a hand at Encore.
OTHER GREAT GAMES TO PLAY IN LAS VEGAS
Las Vegas is loved because of the huge variety of games available. The titles below have the best opportunities for high-stakes varieties of the popular table games. Besides the big wheel, each of the games below is a "table poker" game – either draw, stud, or hold'em versions of poker adapted for the gaming tables.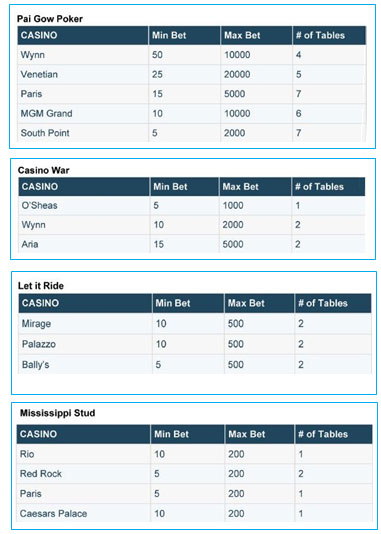 PAI GOW POKER
Loosely based on the Chinese domino game pai gow, the object is to build two hands with seven cards: a five-card hand and a two-card hand. The trick is each hand pays out the same.
Created by Sam Torosian of the Bell Card Club, pai gow poker is played with a 52-card deck and a joker card. Visit The Venetian for high roller games of $20,000.
CASINO WAR
Anyone who played "War" with a deck of cards as a kid is familiar with casino war. One of the simplest games in the casino, the house edge derives from a player decision on a tie: surrender and lose half the bet or go to war by doubling the stake.
Aria has the best version of casino war for high rollers. If you prefer $5 bets, try O'Sheas, which is located on the Las Vegas Strip.
LET IT RIDE
Let it Ride is popular because it has simple five-card stud rules and a progressive side bet. It has three player cards and two community cards, along with two decisions on whether to pull back one-third of the bet (fold) or let the bet ride. John Breeding created Let it Ride as a marketing tool for shuffling machines, but its popularity has risen steadily in the 25 years since.
The Mirage and Palazzo each have the best high roller games of Let it Ride, while Bally's gives players the chance to bet on Let it Ride at $5 a hand.
MISSISSIPPI STUD
Popularized in Biloxi casinos like Beau Rivage, Mississippi stud plays like a table game version of Texas hold'em with two hole cards and three community cards. Players make an ante bet to start a hand, then have three decisions to make: the 3rd street, 4th street, and 5th street bets. A pair of sixes or better wins, while the Mississippi stud side bet pays up to 500-to-1.Table 4 shows you the top casinos to play Mississippi stud.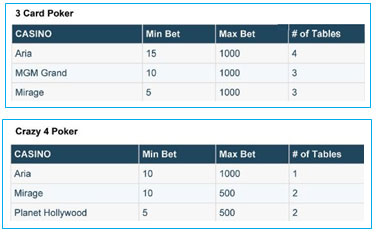 THREE CARD POKER
Three card poker is an easy to learn but entertaining game invented by the UK's Derek Webb in 1994.The ante bet pits the player versus the dealer, while a pair plus side bet provides 40- to-1 payouts based on a paytable like slots or video poker would.
Aria has the most three card poker tables in the city, while The Mirage has the game for as little as $5 a hand. The casinos in Table 5 have a high stakes version these casinos offer a $1,000 max bet.
CRAZY 4 POKER
Crazy 4 poker is a table poker game in which the player receives five cards, but builds the best 4-card hand. The game has two main bets, the ante bet and super bonus bet. There is also an optional "Queens Up" side bet. After a player sees their five cards, he or she decides to fold or raise by making a play bet, which can be 3x the ante bet. The novelty of crazy 4 poker is the 4-card hand, which makes the game unpredictable.
For the biggest stakes of crazy 4 poker, go to Aria Las Vegas. Low rollers can play for $5 a hand at Planet Hollywood.
PLAY AT THE TOP VEGAS TABLES
This guide to the best casino games will enhance your fun in Las Vegas. The Vegas Strip packs a world full of games into one destination, but it can be confusing. Visitors who come prepared with information on where to gamble leave town with great experiences. On your next trip to Las Vegas, use this guide to find the best casino games with great odds, fair rules, and awesome payouts.
Cliff Spiller is a researcher and writer for OnlineUnitedStatesCasinos.com He has been writing about the casino industry for over 15 years. He likes to learn and teach, which is why he keeps his articles relatable and educational so everyone can read them – regardless if you're a pro or a novice. You can reach Cliff or the OUSC team at: contact@onlineunitedstatescasinos.com