Back In Business
Palms Officially Reopens With Vegas' First Tribal Owner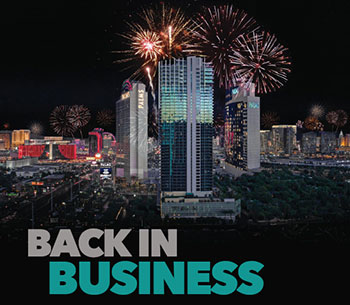 The Palms Casino Resort was the toast of the town when it opened in 2001 just off the Strip in Las Vegas on Flamingo Road across from the Rio. The property was owned by the Maloof family, an American success story that parlayed a beer distribution company into even larger business interests like owning the NBA's Sacramento Kings. The family has already been successful in opening a casino, running the Fiesta Rancho in the 1990s before selling in 1994 for $185 million.
That was used to help fund construction of the Palms. The property experienced plenty of fanfare in the early days, and was even featured on MTV's reality show The Real World: Las Vegas. The property also featured a Playboy Club and condos for those looking to spend even more time in Sin City. However, the recession of 2007–2009 took a toll on the property. The Maloofs sold the property in 2011 to private equity investors. In 2016, the property was purchased by Red Rock Resorts (parent company of Station Casinos) for $312.5 million. The property received a $620 million facelift, with new restaurants and clubs, but still struggled.
The company ultimately closed the property in 2020 during the COVID-19 pandemic and it never reopened. However, that changed recently and the Palms' reopening comes with a bit of Las Vegas casino history being made. The San Manuel Band of Mission Indians purchased the property last year for $650 million and officially reopened the doors on April 27. The Palms becomes the first Vegas casino resort with a Native American tribal owner—California's San Manuel Band of Mission Indians.
The property's opening celebration began with a traditional tribal ceremony led by the San Manuel Gaming and Hospitality Authority (SMGHA) Board and Palms General Manager Cynthia Kiser Murphey. The "Celebration of Community" continued throughout the day and evening with cocktails poolside and a fireworks extravaganza. The casino officially ushered in a new era at 9 p.m. local time after the first dice were rolled.
"Our team has worked incredibly hard to get to this day, and it's a great accomplishment to introduce Palms once again to Las Vegas," Murphey said. "The excitement and outpouring of support to see Palms reopen has been incredible. This is truly a special property, and we all consider it a privilege to be trusted with its return to the city. Our goal is to deliver a distinctive experience that makes everyone feel at home while they are in Las Vegas."
A New Face and a Familiar Face in Las Vegas
The San Manuel tribe owns and operates the popular Yaamavá Resort and Casino, located about 65 miles east of Los Angeles. The tribe may have set a trend in Las Vegas. Since the purchase, another Native American tribe has also gotten in on the act. In December, Florida's Seminoles announced a pending purchase of the Mirage.
At the Palms, visitors will find two distinct towers with 766 hotel rooms and suites. There is also a diverse mix of bars, restaurants, entertainment venues, and a 95,000-square-foot reimagined casino. Some of the resort's entertainment amenities include the Pearl, a 2,500-seat theater; an expansive pool and spa area; a wedding chapel; a 14-screen cinema; and nearly 600 units at Palms Place condominiums.
The property's return doesn't just ring in a new era for the casino, but also meant the return of many longtime employees. That's something that pleased management and also returns some experienced staff to the casino.
Not many hotels get an opportunity to make a grand reintroduction in Las Vegas, but Palms is a unique property," adds Murphey. "We are proud that more than 50% of Palms team members are returning employees and we are confident that this new era in Palms history will be one filled with making new, and lasting memories."
Opening Day Celebration
The Palms' reopening day was filled with celebration. Actor and host Mark Shunock, a local favorite, hosted a special tribal ceremony, where members of the San Manuel and Southern Paiute tribes opened with traditional bird singing. The SMGHA board also presented charitable contributions to three local non-profit organizations.
Those attending were also treated to "A Taste of Palms" event, offering a flavor of many of the resort's restaurant offerings. Some of the property's returning bars and restaurants include the highly acclaimed Scotch 80 Prime and Mabel's BBQ by Chef Michael Symon. The A.Y.C.E. Buffet also returned and features seven globally inspired stations open for breakfast, dinner and weekend brunch. A.Y.C.E. Casual dining options include Send Noodles and the debut of Serrano Vista Cafe.
Opening day also included a ribbon cutting at the Palms Sportsbook and Lounge by William Hill. A poolside reception featured local DJs and entertainers including the Moonshiners, David Perrico, and Pop Strings Orchestra. Tribe leaders were pleased to see their hard work and preparation finally come to fruition.
"We could not be happier than we are today," said SMGHA chairwoman Latisha Casas. "So many people came together to make today possible. We are grateful for the expertise of our shared services teams and the hard work by Palms team members to make this day a reality. And the Las Vegas community and our brothers and sisters from the local Southern Paiute tribes have been so generous and warm with their hospitality. This is a day our Tribe will never forget."