ATLANTIC CITY'S FIRST ROLL OF THE DICE
Resorts Casino Hotel Celebrates 40 years of gaming
By Lisa Robertson-Dziedzic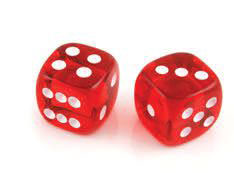 Can it be 40 years since entertainer Steve Lawrence rolled the first dice at Resorts International, heralding the rebirth of America's first and favorite playground?
You bet! On May 26, 1978, thousands of people flocked to the Boardwalk at North Carolina Avenue eagerly awaiting the opening of Atlantic City's first legal casino, Resorts International. With crowds that stretched down the wooden way waiting for the doors to open, elated players chatted about the long-promised approval of gaming in New Jersey and how they no longer had to travel to Las Vegas to spin the reels or roll the dice.
After then-governor Brendan Byrne cut the ribbon, gamblers piled into the casino at record numbers, so much so, that the New York Times called it "Woodstock by the Sea" and they were right on the money—the gaming floor looked more like Times Square on New Year's Eve than a ritzy gambling hall. It's estimated that 75,000 to 100,000 people walked through the door on opening day.
And while Atlantic City has seen its ups and downs in recent years, Resorts Casino Hotel has been steadfast and completed more than $100 million in renovations in the last five years to reposition and transform the property to a vibrant destination with offerings well beyond casino gaming.
In the fall of 2012, Mohegan Sun Gaming Advisors assumed management of Resorts Casino Hotel—a move that created significant cross-marketing opportunities between Resorts Casino Hotel and Mohegan Sun in Uncasville, CT, and Mohegan Sun Pocono in Pennsylvania. Most notably Star Card reward club members can now have the ability to earn and spend comp dollars at all three properties.
The property reached a new milestone in May 2013 with the opening of the $35 million Margaritaville casino and entertainment complex by Jimmy Buffett.This new area provides guests with a fun beach vibe and includes a Margaritaville Café, Landshark Bar & Grill, 5 O'Clock Somewhere Casino Bar, coffee shop, themed retail shops and last but certainly not least, a Margaritaville-themed casino space including table games and more than 160 of the latest slot machines.
In April 2015, Resorts opened a first-of-its-kind iGaming Lounge solely dedicated to the online gaming experience, as well as, completely remodeled the casino floor adding over 800 new slot machines.
Forty years after that ground breaking day, players are still flocking to Resorts as a complete entertainment destination with around the clock casino action, award-winning restaurants, headline entertainment, luxurious accommodations, retail shops, health club and indoor pool, plus the only full-service, year round on-the-beach-bar in Atlantic City–the Landshark Bar and Grill.
To pay tribute to the property's 40th anniversary, Resorts Casino Hotel is hosting an outstanding lineup of celebratory events and performances kicking off on Memorial Day Weekend and lasting through the summer.
"We are thrilled to kick off our anniversary celebration with an outstanding performance and summer event lineup; however, more importantly, honor our guests and employees who supported Resorts and the evolution of Atlantic City over the past 40 years," said President and CEO of Resorts Casino Hotel, Mark Giannantonio. "It is a privilege to be a part of the creation of gaming in Atlantic City, taking it from a small gambling town in 1978 to what it is today – a multi-faceted industry providing countless visitors with first-class retail, dining and entertainment experiences. Our 40th anniversary is a celebration of Resorts' success, and we look forward to commemorating this exciting time in our history by hosting three months of can't-miss entertainment and promotions."
Resorts' 40th Anniversary Celebration
Kicking off Memorial Day weekend, Resorts Casino Hotel will mark the unofficial start of summer with a full day of excitement starting Friday, May 25, including a live radio broadcast, fun games and giveaways, strolling boardwalk entertainment, an appearance by the famous Resorts' Showgirls and much more.
At 5 p.m., the 5th annual Beach Ball drop takes place when thousands of beach balls are released along the Atlantic City boardwalk. Guests will also have a chance to witness the re-enactment of Atlantic City's legendary first roll of the dice at 5:15 p.m. on the casino floor, helping to transport them back to the time when gaming first became popular on the East Coast.
Following, the celebration will move inside to Bar One for a nostalgic cocktail hour inspired by Resorts' 40-year history, where guests are invited to throw back popular cocktails from the late-1970's while enjoying music from the decade of disco.
Additionally, in true "AC" celebratory fashion, Resorts Casino Hotel will debut its special edition 40th anniversary gaming chips and Star Cards for rewards members over Memorial Day weekend.
On Saturday, May 26, guests will be invited to test their luck and take a pull on Atlantic City's very first slot machine between 10 a.m. and 10 p.m. in the lobby of Jimmy Buffett's Margaritaville for a chance to win up to $2,500 in slot cash. At noon, Resorts will have an official cake cutting in the hotel lobby giving a free slice of cake to anyone in attendance. Later that evening, Resorts Casino Hotel will welcome the Village People to its Superstar Theater stage at 8 p.m. Also celebrating their 40th anniversary this year, the group's '70s pop hits like "Macho Man" and "Y.M.C.S' offer the perfect throwback vibes for guests to party through the milestone weekend.
Capping off the weekend on Sunday evening, Resorts will showcase an unforgettable beachfront firework display by Grucci at 9 p.m.
Continuing the 40th anniversary momentum all summer, Resorts Casino Hotel will host "Throwback Thursdays" at Bar One starting Thurs-day, May 31 and continuing through Thursday, August 30, from 5 p.m. to 9 p.m. weekly. During the special event, guests will have the opportunity to experience the iconic history and nostalgia of Atlantic City with a throwback-themed cocktail menu, featuring $4 drinks including the Brandy Alexander, Grasshopper, Tom Collins and Harvey Wallbanger. As part of "Throwback Thursdays" at Resorts, guests can also listen to hit music from the late-1970's, check out historical photos and play trivia contests for the chance to win cool giveaways. Additionally, guests who present an old ticket stub from a past concert at Resorts Promotions Booth will be eligible to win a special anniversary prize.
A 40-Year Winning Streak
As soon as singer Steve Lawrence threw out the first pair of dice (he rolled a five, then crapped out), Resorts made history as the first casino-hotel outside Nevada with 84 table games and 893 slot machines on a 33,735-square-foot casino floor. Over past four decades, Resorts' show-stopping performance venue has welcomed some of the world's hottest musicians and celebrity appearances, including Frank Sinatra, Dolly Parton, Cher, The Beach Boys, Stevie Wonder, Barry Manilow and Aretha Franklin, to name a few.
Today, Resorts boasts more than 1,500 slot machines and over 70 exhilarating table games sprawling across 83,000 square-feet of casino space, plus two hotel towers, the 462-room Rendezvous Tower and the newly renovated 480-room Ocean Tower and the famous 1,350 seat Superstar Theater.
In addition, Resorts' serves up extensive restaurant options, from gourmet favorites like Gallagher's Steakhouse and Capriccio, to casual dining such as Jimmy Buffett's Margaritaville, as well as LandShark Bar & Grill. Adding to its overall prestige as one of the top casino-resorts in the region, Resorts took home eight first place wins during Casino Player's 2017 Best of Gaming Awards, including "Casino Where You Feel the Luckiest," "Best Video Slots, Best Blackjack, "Best Hotel Staff" and more.
For more information on the 40th anniversary celebration, visit www.ResortsAC.com/40 for the latest updates on shows and ticketing information, special promotions and various anniversary events.