AND THE WINNER IS…
The Best & Worst BlackJack Games in Las Vegas
 By OnlineUnitedStatesCasinos.com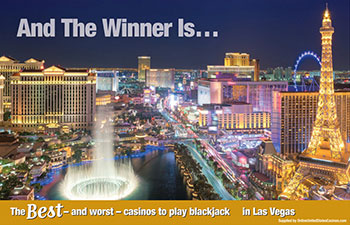 Las Vegas holds a special place in every blackjack players' heart. Once in Vegas, finding the right casino to place your bets can be a bit overwhelming, especially when every casino is offering such a wide range of experiences. This is why the OnlineUnited-StatesCasinos.com Las Vegas Survey was born – to help players have all of the information about where to play blackjack in one place.
For us at Online United States Casinos, making sure players get the most up-to-date and exclusive information is our top priority. For the second year in a row we have produced the Las Vegas Blackjack Survey were players can the best and worst places in Vegas to play blackjack in 2018.
Our index of blackjack games covers different regions in Las Vegas, including the North, Central, and South Las Vegas Strip, Downtown Las Vegas, and Off-the-Strip casinos. The survey also categorizes blackjack according to rules: single deck, double deck, 6-deck, and video blackjack.
How We Review Casinos and Games
Our recommendations are based on the house edge of each game. We also include minimum bet information to help players find the bet limits in their range. Our survey discusses specific rules and how they affect players. Each blackjack rule, from the number of decks used to the dealer's decision on a soft 17, affects the house edge.
When it comes to bad blackjack rules, the 6:5 blackjack payout is the most common factor. Some casinos offer low-limit blackjack with mandatory side bets, too.
Vegas casinos that play it straight make our list of the best black-jack tables. Several Las Vegas casinos have blackjack tables with a 0.30% house edge or lower. Among the name brand companies, MGM Resorts and Station Casinos have the best general set of rules. Gaming & Leisure Properties, a subsidiary of Penn National Gaming, has the best blackjack game in town at its M Resort.
Below you will find the complete list of the Las Vegas casinos that have the best and worst blackjack tables. Make sure to keep these in mind when you are visiting Vegas to make the most of your bankroll and win big!
#1 Casino for Blackjack: M Resort
M Resort's double deck table has the dealer stand on all 17s, while a player can double down before and after splitting. Aces may be re-split. The house edge at this boutique resort's blackjack tables is 0.19%, though these are high roller tables with a posted minimum bet of $50.
M Resort is a boutique casino located in Henderson, so it is a quieter resort than what you'll findd on the Las Vegas Strip. M Resort has a big, beautiful casino floor which makes playing blackjack a pleasure. They have liberal comps. (For instance, when I was there, they counted odds betting in craps for comps purposes.) Whether you choose to bet on slots or video poker, join the players club, because you get $2 off the buffet, which is one of the best in town. In fact, if you average two hours of green chip play or four hours of red chip play, you'll be comped for the buffet.
Players looking for a nice off-the-strip hotel can get a good deal on M Resort rooms. The hotel is a 4-star resort, but like the Vegas Strip casinos, it caters to visitors' love of special accommodations. The rooms are modern and big. Some even have an LCD tv embedded in the bathroom mirror. If you plan on snacking at M Resort, try the Baby Cakes Bakery, which you'll find in its own shop and in the dessert bar.
#2 Casino for Blackjack: The Cosmopolitan of Las Vegas and MGM Resorts Casinos
The Cosmopolitan of Las Vegas and several MGM Resorts casinos tie for the second-best, because they share the same rules. The Cosmopolitan and Treasure Island use two decks and have the dealer stand on all 17s.
The player may double down before and after splitting, though aces cannot be re-split. This produces a 0.26% house edge, slightly higher than M Resort. The minimum bet is $25.
MGM Grand offers the same game with a $25 bet minimum during low seasons, but the limits increase to $50 to $100 at other times. Bellagio, Mandalay Bay, Aria, and Mirage have the same rules with a $100 limit.
The Cosmopolitan of Las Vegas
Like M Resort, the Cosmopolitan also has good comps in its Identity Players Club. The gaming tables are separated into a series of small game pits, though the electronic blackjack and roulette lounge is large these days. The Party Pit on the gaming floor has all-female dealers. For those who want an exotic bet, Cosmopolitan offers Free Bet Blackjack, which stipulates you don't have to bet when splitting or doubling, though the dealer pushes on 22.
The lobby staff at Cosmopolitan are pleasant and helpful – some of the best I've encountered in Las Vegas. The one-bedroom suites are comparable to two-bedroom condos, complete with a king-sized bed, big kitchen, a large living room and master bathroom, even guest bathroom, and (in my case) a wraparound balcony.
Treasure Island
Treasure Island has the best blackjack on the Las Vegas Strip. Players get good rules for as low as $10, with re-split aces, double down after splitting, and surrender allowed. Players willing to bet at $25 limits are moved to the high limit room, with double deck games and dealers standing on all 17's. The reported house edge for $10 blackjack at Treasure Island is 0.46% and 0.48%.
The Treasure Island hotel is located next to the Mirage's Lagoon, so no tall buildings block the view from your balcony. The rooms are relatively small for Las Vegas resorts, but they're nice since they were renovated. Rooms don't have a mini-bar, but they have vending service and an ice machine on each floor. Visitors have a range of upscale and casual restaurants, though the buffet is only average.
MGM Grand
MGM Grand offers the same game with a $25 bet minimum during slow period, but the limits increase to $50 to $100 at other times. Bellagio, Mandalay Bay, Aria, and Mirage have the same rules with a $100 limit.
MGM Grand has more than two dozen tables with 6-deck blackjack where the dealers hit on soft 17.
Re-splitting is allowed and so are double-downs. On slow days, you'll find this game with a $15 minimum bet, but most days it's $25 and on weekends it can be $100. The house edge is 0.46%. A few tables have the dealer stand on soft 17, lowering the house edge to 0.26%, but this is for high rollers.
Also, take note that 6-deck tables with a 6:5 blackjack exist at MGM Grand, so be wary and avoid 6:5 tables (1.6% house edge). The same goes for single-deck blackjack at MGM Grand, because the 6:5 payout on a natural blackjack takes the house edge to 1.26%.
If you haven't stayed at the MGM Grand in a while, then you should know the Wizard of Oz theme is long gone. MGM Grand remains a sprawling complex, but gone are the tacky qualities. The West Wing has discounted rooms, so any bad reviews you might see tend to come from that area.
Best $5 Blackjack Table: El Cortez
El Cortez in downtown Las Vegas offers the best $5-limit blackjack game in the city. This is the final single-deck version of twenty-one with a 3-to-2 payout on natural blackjack and a double down on any two cards before splitting. El Cortez blackjack has a house edge of 0.30%. Arizona Charlie's, Silverton, Aliante Casino, Rampart, and Club Fortune each has similar rules for $5 double-deck games of blackjack.
El Cortez is famous for its blackjack tables. It's won the Best of Las Vegas award for blackjack six times in recent years. That means the blackjack tables might be busier than most off-the-strip casinos, but it's worth it. El Cortez has $5 tables with a house edge between 0.30% and 0.45% and $10 blackjack with double-deck rules and 3:2 rules. Most games use six decks. Because of their low margin on blackjack, El Cortez is wary of card counters, so you will see frequent reshuffles when they suspect a counter is at the table.
El Cortez is two blocks off the Vegas Strip and most tourists would not want to walk those blocks to downtown. If you plan to play blackjack at El Cortez, either have a room in the hotel or factor a taxi or Uber ride into your budget. The hotel has an Old Vegas feel. It's got smaller rooms, though they aren't dingy since the 2009 renovation. El Cortez is the ultimate low rollers resort, but they treat low rollers well. If you rent rooms in the new tower, they are big and nice.
Go over the list of the best and worst games of blackjack before playing in Las Vegas. No matter where you plan to be in Sin City, a quick scan will save blackjack players money. Whatever your budget, if you spend less at the blackjack tables, it's more you can spend on other forms of leisure and entertainment while in Las Vegas.
The Worst blackjack games in Las Vegas
The worst places to play blackjack in Vegas feature single-deck or double-deck tables that have a 6:5 payout on blackjacks. The rules fool casual players, but have a negative effect over time. Word has spread and the trend has hurt blackjack's popularity in Las Vegas, as the city has 31 % fewer tables than it did in 2000. Revenues have declined in that period by nearly 50%.
Golden Nugget's Bonus Spin Blackjack is the worst blackjack game in Las Vegas. Four blackjack tables in a party pit near the front door of the Golden Nugget offer an enforced $1 Bonus Spin side bet. The game is bad enough, because it has a 6:5 payout on blackjacks, which gives the main bet a 2.00%+ house edge. What makes it the worst is the mandatory $1 side bet, which has a 23% house edge. Put it together and you can expect to lose $0.33 for blackjack with a 5.5% house edge, making it a worse bet than American Roulette.
The Four Queens has the second worst blackjack bet in town. This also is a $5 main bet with a $1 mandatory side bet. The difference is a 3:2 payout on blackjacks, which is proudly displayed at the table. Despite the higher payout, the effective house edge is 4.38%.
Luxor's Zappit Blackjack is next worst with a 2.38% house edge. Zappit Blackjack lets a player discard a bad card on the two-card deal. As a tradeoff, the dealer pushes instead of busts when holding 22. Most Las Vegas casinos pay 3:2 on Zappit Blackjack, but Luxor pays 6:5.
Visit their website at  OnlineUnitedStatesCasinos.com