ALL POINTS OF THE COMPASS
Our coast-to-coast roundup of the top Native American casinos
By Karrie L. Zukowski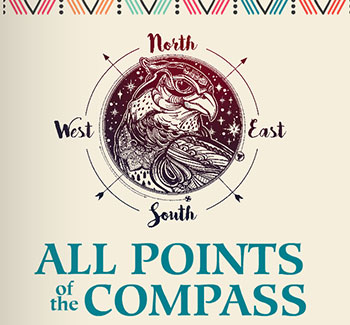 The rise of Native American casinos has been a dramatic one in recent years, a growing trend that has made the excitement of gambling and the casino lifestyle a reality from coast to coast. Where once you had to plan an extended trip just to visit a casino, for millions of gamblers it's now a good bet there's one within driving distance. Here are our selections for some of the top tribal properties in the country. Each one has its own merits, nuances, and surprises, but all are fantastic casinos worthy of a visit.
OREGON'S BEST BET
An inside look at Spirit Mountain Casino
As part of our annual Tribal Gaming issue we like to highlight a special casino, one that stands out from the crowd and makes it their mission to always go the extra mile for their guests. This year, Spirit Mountain Casino was selected for that honor, not just because of its excellent gaming, but for all that they do for their visitors and community.
Casino Player magazine spoke with Spirit Mountain's General Manager Stan Dillon and Marketing Director Shawna Ridgebear to get an inside look at what it takes to be Oregon's most popular casino.
Casino Player: Could you tell our readers a little about the Tribe and the history of Spirit Mountain Casino?
Stan Dillon: Spirit Mountain Casino is owned by the confederated tribes of Grand Ronde. The casino itself is on about a 60-acre parcel of land the tribe has, so we are not on the true reservation itself. They were disbanded, but they did come back together and developed a casino in 1995. The casino has continued to grow and expand and dominate the market as Oregon's largest casino. And the tribe is very progressive and community orientated giving back a lot of money to the community.
How does Spirit Mountain Casino stand out from its competition?
Shawna Ridgebear: If you know anything about Portland, it's known for its huge culinary market. So one of the things that makes Spirit Mountain Casino stand out above the other casinos in the area is we understand and embrace our culinary side and really offer a wide variety of food including the largest buffet in Oregon.
Players flock to casinos offering great promotions and special events. What recent promotions have you held at Spirit Mountain?
SD: One of the popular things is we give away a Mercedes, or our "Luck Be A Lexus" promotion. We just gave away three Subaru's, and last year we gave away a truck, a Cadillac and a sports car. We give away a lot of big prizes and cash. But guests also like getting small prizes because they don't think they can win big prizes. For example, [this year] we gave out turkeys for Thanksgiving.
SR: Another testament to who we are is what we offer to our guests. We understand what people want. Sometimes it's a block of Tillamook cheese, but then the next week we can offer them a brand new Mercedes. Where some places may give guests certificates to walk out the door with, we actually do the frozen turkeys, because we understand that our guests like that – the actual, tangible frozen turkey. It's like we are giving them a gift for their table.
How about on the gaming side of things. What do you offer players?
SD: The casino itself is very progressive— we have a very advanced slot floor. One of the things we're proud of is our slot offerings, the new games we have, the way we keep our games mixed and maintained. We have a slot floor that's rivaled by no one. It's excellent. I have been in the business for 40 years and Shawna for 20 years, so we've seen slot floors.
Right now we are in the middle of our remodel. We currently have about 30 actual live table games. We have all the staples like craps, roulette, and pai gow plus let it ride, free bet, and variations on all the games. We have a poker room with [games] like Texas Hold 'Em with low limit games all the way up to large buy-ins.
We have up to 2,000 slots machines. We feature bingo—we run that inside our ballroom— and we feature keno. A lot of casinos around the country don't feature keno, but it's still pretty big in Oregon so we offer live keno games. Most places in Vegas have taken keno out, but our guests enjoy it, so we keep it.
You recently began an extensive remodel at Spirit Mountain…
SD: The remodel is very interesting. We started out pretty small and grew to the size it is today and what we decided was to go ahead and upgrade it. It's an 82,000 square-foot renovation. It's from top to bottom. We did a very intricate and advanced ceiling system. It's made up of different ceiling grids and the different grids are all electronic and programmable. We can change it to any color imaginable. We can change our ceiling to any patterns and designs. It's very hi-tech and very integrative. It's throughout the whole property. After it was installed it was quite amazing.
And part of that renovation, everyone was asking for non-smoking and it's hard to do. We actually designated a huge section of our casino and are turning that into non-smoking. Of course it's a full service casino – it has a poker room, a keno lounge, a full service bar, cashier cage, full service pit, and even a stage for entertainment. I think the guests are really going to like it.
What has been the guest reaction to the remodel so far?
SR: Spirit Mountain Casino is unique and remarkable about taking feedback from team members, our guests and community and really letting those influence the decisions we make. With the non-smoking area, instead of making it a little side room we made a huge gaming area. But the other thing that came out of it was our new North entrance. We kept getting feedback from our guests that it was a long walk to get to our main entrance. So part of the remodel was the addition of another entrance.
There's more to a casino than just gambling. What can you tell our readers about Spirit Mountain's restaurants and nightlife?
SR: Not only do we have a lot of different entertainment venues in two different areas of the casino every weekend, we have live bands in our sports bar and we will also have live bands going in what will be the non-smoking area. So any given weekend when you come up to Spirit Mountain Casino you have music going on, right on the casino floor. You don't have to go into to a sterile night club and pay a cover charge; we offer it right on our floor for our guests. And we pride ourselves again on bringing in local acts that guests request.
And our food, the Cedar Plank Buffet seats over 500 guests and the offerings rival any Las Vegas buffet. We've got everything from hand-rolled sushi to fresh desserts. We also offer area favorites like dried salmon and traditional food that the tribe had as part of their staple diet.
That's really one of the good things about our culinary offerings, that we understand who we are as part of the community and where we are now. One of our most popular food items at our sports bar is our burger line up. What makes it so special is that the ingredients are all local. Everything from the bun, made at the bakery here, to the grass-fed local beef from Oregon. It costs [us] a lot more money, but you can't skimp on that kind of quality.
If a player could only visit for one night, what would you suggest they do and see?
SD: There is a lot of big name entertainment on the property. That's a really big draw for us. So when you come out you'll see some great headliner acts, great tribute shows, comedians like Ron White, or country singer Martina McBride. We love the country and western here. We have a lot of big name entertainment so that's when we're really packed. People want to come out and enjoy the Legends restaurant or the buffet, go to a show, and stay overnight and act like it's a getaway even though it's only a 30-40 minute drive. For our guests it's a home away from home.
Anything else you'd like our readers to know about Spirit Mountain?
SR: If a guest has visited us in the past, before we did the remodel, they would be absolutely floored to come and see us now. We retained our great customer service and small town charm, but the feel and the glamour of the casino has totally changed. It's absolutely astonishing.

SD: I always tell people "You don't have to fly away to get away". Because just in a few minutes you can drive out here and can be like you're in Las Vegas. You got a beautiful full casino that rivals anything in Las Vegas, food, game offerings, and then can be home in 30 minutes and put your feet up for the night. Who has the time now to fly down there, get a rental car, and go to the casino? Some of the casinos are so big they are hard to get around. We are only minutes away, yet something different.
SPIRIT MOUNTAIN CASINO
GRAND RONDE, OREGON
The Confederated Tribes of the Grand Ronde Community of Oregon are the proud peoples of the Umpqua, the Rogue River, the Molalla, the Kalapuya, the Chasta and many other tribes whose roots go back thousands of years and whose ancestors represent the blending of many different cultures. Nestled in the heart of Polk County, located approximately 65 miles southwest of Portland and only 25 minutes from the coast, Spirit Mountain Casino in Grand Ronde, Oregon was created to enhance economic self-sufficiency opportunities for the Confederated Tribes of Grand Ronde, its members, surrounding communities and to promote economic diversification by the Tribes.
Spirit Mountain Casino offers more than just 90,000 square feet of casino gaming to the community. They also feature 254 deluxe well-apportioned hotel rooms with rich earthy tone decor and contemporary style, along with five restaurants, espresso bar, gift shop, PlayWorld family arcade, live entertainment and special events. It is the perfect retreat for those seeking a memorable escape.
Spirit Mountain Casino has it all! You can test your luck at one of the table games, like Texas hold'em, three card poker, let it ride, pai gow and Spanish 21. There are also 18 blackjack tables, four roulette tables, three craps tables, a 17 table Poker Room, keno, bingo, and both smoking and non-smoking areas. And at The Peak, you'll soon be able to play your favorite games and listen to hot lounge acts in what's going to be Oregon's largest non-smoking casino. So if you like cards, Spirit Mountain is Oregon's the place for the hottest action in the Northwest.
The flashing lights and the sound of clinking coins of 2,000 slot machines are hard to resist. Spirit Mountain has the largest selection of quality slot games in the area. Slot offerings include Frogger, Friends, Game Of Thrones, Jurassic Park Wild Excursion, Orange Is The New Black-Black and Orange versions, just to name a few. But don't forget to take a trip to the town of Bedrock! The sights, sounds, and of course all of your favorite characters from The Flintstones television series make their debut on the Gamefield xD cabinet in this fresh take on the prehistoric wheel.
After working up a monstrous hunger, Spirit Mountain restaurants provide gourmet dining options for every appetite. Whether you're in the mood to experience Cedar Plank, Oregon's largest buffet, or just want to take a break and catch up on the game, Spirit Mountain satisfies every culinary quest. Set against a rustic backdrop, the dining options at Spirit Mountain offer unique cuisine in seven distinct venues including:
Cedar Plank Buffet: This well-priced buffet wows guests with meltin- your-mouth cedar plank salmon, prime rib and unique Northwest and seasonal dishes. Cedar Plank offers seven chef action stations: international, pizza, seafood, carving, American, Asian, and the bakery.
Legends Restaurant: Enjoy the highest service amid the relaxed atmosphere that makes the Pacific Northwest feel like home. Treat yourself with fresh fare like Steak House Dip, Legends Burger, Patty Melt, Smoked Turkey Sandwich or a Crab & Shrimp Cheddar Melt.
Mountain View Sports Bar: Mountain View Sports Bar offers 17 HD flat screen TV's to cover all of your favorite sports events. It has a great bar menu featuring burgers, buffalo wings, brats, nachos, NW microbrews and domestic beer on tap.
Summit View Lounge: Summit View Lounge features a full-service bar and live entertainment on special occasions. Watch your favorite sporting event while enjoying great food and your favorite beer or cocktail, all with direct access to our high stakes gaming area.
If you're in need of a respite from the gaming action, Spirit Mountain Casino features a variety of recurring events and performances, as well as many top acts for one-off shows and extended runs for your entertainment. Spirit Mountain hosts everything from comedy shows to concerts to a regular karaoke night. They bring in world class performers (and support to local talent) to their casino and offer great ticket prices and top-rate venues. Upcoming events include a free Holiday Wine & Spirits Fair on December 17, a free New Years Eve Party on December 31, and a performance by Smokey Robinson on January 14. For more information about Spirit Mountain Casino and all they have to offer, visit www.spiritmountain.com.
MOHEGAN SUN POCONO
PLAINS, PENNSYLVANIA
Stunning and packed with excitement, Mohegan Sun Pocono is one of the most distinctive entertainment, gaming, shopping and dining destinations in Pennsylvania. Situated on 400 acres in Plains, Pennsylvania, Mohegan Sun Pocono features a 238-room hotel with on-site spa and adjacent 20,000 square-foot Convention Center. It is currently home to 82,000 square feet of gaming space including 91 live table games, 2,300 slot machines and electronic table games, a variety of dining and shopping options, nightlife, entertainment and live harness racing. Mohegan Sun Pocono is within easy access of New York, Philadelphia, New Jersey and Delaware.
Mohegan Sun Pocono has grown into one of the biggest gaming destinations in the region featuring over 2,300 slot machines, more than 90 table games and live harness racing. The beautiful 82,000 square-foot gaming floor includes a luxurious high-limit slot room and a private player's lounge. In addition, nearly half of the gaming space has non-smoking sections.
Play an array of over 2,300 slot machine games including the latest technology in slot and virtual table games in denominations from 1-cent to $100. Featured games include the popular Wheel of Fortune games, Triple Red Hot 7's, Monopoly, Deal or No Deal and Hot Shot Progressives as well as newer games such as Wizard of Oz and Dean Martin slots.
The property features more than 90 table games including blackjack, roulette, mini-bac, three card poker, let it ride and craps, as well as a non-smoking poker room. The non-smoking Poker Room includes 18 tables, several flat screen televisions and a bar. A variety of tournaments are offered daily.
One of the largest draws to Mohegan Sun Pocono is the live harness racing on The Downs at Mohegan Sun Pocono. Guests can place their bets at the track, Dial-A-Bet, utilize off-track-wagering sites or follow along online. Players can also earn valuable points that can add up to incredible rewards such as: food, beverages, programs and more utilizing the Racing Rewards Club offered at The Downs at Mohegan Sun Pocono. For more information visit www.mohegansunpocono.com.
MOHEGAN SUN
UNCASVILLE, CONNECTICUT
Owned by the Mohegan Tribal Gaming Authority, Mohegan Sun is one of the largest, most spectacular entertainment, gaming, dining and shopping destinations in the United States. Situated on 185 acres along the Thames River in scenic southeastern Connecticut, Mohegan Sun is home to three unique casinos, two luxury hotel towers with a total of 1,563 rooms, a worldclass spa and golf course, over 85 shops, restaurants and bars as well as three award-winning entertainment venues including a 10,000-seat Arena.
Mohegan Sun radiates excitement every night as celebrated stars light up its stages with electrifying performances. Named one of the world's top arenas, the 10,000-seat Mohegan Sun Arena hosts major acts including Bruce Springsteen, Billy Joel, New Kids on the Block and more. If you're looking for something more intimate, the Wolf Den offers free nightly entertainment by top performers such as Andy Grammer and Eddie Money, and The Cabaret showcases world-class performers like Tony Orlando and Frank Sinatra Jr. in a warm inviting atmosphere.
Three of the world's most amazing casinos, Casino of the Earth, Casino of the Sky and Casino of the Wind, are just steps away. There are more than 5,000 slot machines and over 300 table games, including favorites like blackjack, roulette, baccarat, craps and pai gow, plus poker and a state-of-the-art Race Book. With a variety of slots throughout Mohegan Sun, some of the most popular machines include Red, White and Blues to Double Diamonds and progressive slots with giant jackpots that grow every time they are played. Experience the most advanced technology, featuring everything from video poker to the latest video reel slots. With 42 tables in a state-of-the-art poker room, Mohegan Sun's Casino of the Wind is the East Coast's premier destination for poker! Featuring an array of games such as Omaha, Texas Hold 'Em and Seven-Card Stud, Mohegan Sun's got the game for every enthusiast.
When the day is done and you're ready to kick up your feet, Mohegan Sun's hotel accommodations are nothing less than extraordinary. With hundreds of thousands of rooms turned away in the last few years alone, Mohegan Sun opens the doors to the all-new Earth Tower. Now open, the new tower gives even more guests the opportunity to enjoy the one-of-a-kind Mohegan Sun experience. The new hotel offers 400 well-appointed guest rooms in addition to the already 1,200 spacious and elegantly appointed rooms and suites in Mohegan Sun's deluxe Sky Tower. The $120 million Earth Tower features more meeting space and is just steps away from the spectacular amenities already available, which include the likes of over 85 shops, restaurants and bars as well as three award-winning entertainment venues including a 10,000-seat Arena.
Whether it's a quick bite, a casual lunch with friends or a savory meal at a gourmet restaurant, nothing is left to chance with over 30 dining options at Mohegan Sun. Guests will find a wide array of world-class dining experiences, from celebrity restaurateurs and gourmet meals to burgers and barbeque. Indulge in a hand-selected steak at Bobby Flay's Bar Americain, table side guacamole at SolToro Tequila Grill or enjoy a slice of white pizza topped with freshly- shucked clams at Frank Pepe Pizzeria Napoletana. Sip martinis under the stars at VISTA Lounge, grab a hand crafter cocktail at Tom's Urban or enjoy an ice cold Landshark inside Jimmy Buffett's Margaritaville.
Any night of the week can turn into a party at Mohegan Sun's many clubs, bars and lounges. Play blackjack and sip creative cocktails in plush coves and VIP sections while under the stars at VISTA Lounge at Wombi Rock. Release your inhibitions at Mohegan Sun's hottest nightlife endeavor, Avalon. Joining the ranks of Hollywood, Boston, Singapore and San Diego, Avalon will not disappoint. Enjoy a cold beer at The Lansdowne, an authentic Irish pub and music house or chill with a piña colada in Jimmy Buffett's Margaritaville. End your night with a cocktail at MIST located in Casino of the Wind.
Kick your stay up a notch with a visit to Elemis Spa at Mohegan Sun. Whether it's a day of indulgence or a quick pick-me-up you desire, Elemis Spa is equipped to handle all pampering needs. Surrender to the calling of bliss and indulge in divine spa therapies influenced by ten exotic cultures in the 22,000 square-foot luxurious Elemis Spa at Mohegan Sun. Scenic views soothe the mind and body as you indulge in the extensive spa-therapy menu complete with an array of deluxe treatments and services.
For more information, visit mohegansun.com or call 1.877.226.7711.
SENECA ALLEGANY RESORT & CASINO
SALAMANCA, NEW YORK
From the thrill of over 1,800 of the newest slot machines and over 30 action-packed table games, to seven restaurants, to the luxury of a AAA Four Diamond Award-winning hotel, and the energy of worldclass entertainment-a trip to Seneca Allegany Resort & Casino makes for truly epic après-ski.
Nestled in the foothills of the Allegany Mountains in Salamanca, NY near the Pennsylvania border and just minutes south of Ellicottville, you will be able to experience all that the region has to offer.
Ultimate Relaxation
Seneca Allegany Resort & Casino is home to one of the most impressive hotels in Western New York, awarded AAA Four Diamond certification for every year since 2005. Pamper yourself in any of their 413 luxurious rooms, including 45 corner, end, or center suites. All of their rooms offer spectacular views of the Allegany Mountains with unobstructed mountain vistas. Make a splash in their relaxing indoor pool, unwind as you soak in the steamy whirlpool, or get your heart pumping in their state-of-the-art workout facility.
First-Class Entertainment
The 2,400 seat Seneca Allegany Events Center plays host to the world's finest entertainers. No seat is further than 110 feet of the stage, and two over-sized high-definition video screens in the venue make every seat feel like the "best seat in the house." You can also catch live regional entertainment Friday through Sunday as well as pro sports action anytime of the week at The River Bar, located in the heart of the casino floor. Tickets available at Seneca Resorts & Casinos and Ticketmaster. com, all Ticketmaster locations or by phone at 800-745-3000.
Dining Indulgence
No matter your appetite, hit the culinary jackpot at Seneca Allegany Resort & Casino. At the Western Door, western New York's premier steakhouse, savor cuts, chops and flown-in seafood. All steaks are aged 28 days for ultimate flavor and juiciness.
Delight in the aromas of authentic Italian at Patria. Choose from more than 120 boutique wines from around the world and enjoy dishes that were all prepared from scratch.
Indulge in indecision at the award-winning Thunder Mountain Buffet, including everything from prime rib to shrimp and much more.
Choose from breakfast, lunch, or dinner anytime at the 24-hour Seneca Café. Enjoy your favorite drink and appetizer at The River Bar. When you need food on-the-go, stop by Bear Claw Café and Seneca Café Express.
Unwind, Retreat, and…
Retreat to The Spa & Salon-a place where you can quiet your thoughts, calm your spirit and soothe your senses. Relax with a Swedish body massage, full body wrap or customized facial. Treat yourself to a manicure, pedicure, waxing or hair service in our full service salon. Also, when you book a massage, facial or body treatment, you'll have access to The Spa & Salon's facilities, including pool, hot tub and locker rooms equipped with sauna, steam room and showers.
And, when you're finished relaxing, get some retail therapy and stop by the Logo Shop with an assortment of items from authentic handcrafted Native goods to souvenirs and travel accessories.
For more information, visit www.senecaalleganycasino.com.
VALLEY VIEW CASINO & HOTEL
VALLEY CENTER, CALIFORNIA
Always popular with Casino Player readers, Valley View Casino & Hotel is a luxurious boutique hotel that combines the best San Diego gaming experience with the comfort of beautifully-appointed rooms, breathtaking views, first-class guest service and a complimentary VIP breakfast.
Located in Valley Center, California, the 108 luxurious rooms at Valley View include 96 deluxe rooms and 12 luxury suites and boast an infinity pool as well as breathtaking views of the Palomar Mountain Range. And remember, Valley View has a 21-and-over policy that means at this Southern California casino resort you can truly relax and get away from it all—sans the kids.
Valley View offers a world-class gaming experience through the most innovative slot machines, thrilling table games, a lucrative Players Club, unparalleled guest service, a Certified Largest Non-Smoking Casino Area and more. Enjoy the casino lifestyle in a completely gorgeous setting complete with a beautifully updated VIP Lounge and much more. Who knows, you could even hit a jackpot on any one of San Diego's only Certified Loose slot machines.
When you're ready to relax by the water's edge, pay a visit to Valley View's spectacular infinity pool offering a soothing environment surrounded by the boundless beauty of the Palomar Mountain Range. Take just a few steps from their luxury hotel and you can lounge poolside with a snack or a cold drink, cool down with a dip in the refreshing water and take in the stunning surroundings.
If you're looking for a good time and want the best live entertainment experience, visit the Valley View Casino Center. It has been a San Diego concerts staple since 1966 and welcomes more than 600,000 guests annually. It has become a must-play tour stop for groundbreakings artists such as the Rolling Stones, Bruce Springsteen and U2. Recent acts include Taylor Swift, Katy Perry, Pitbull, Florence and the Machine and LMFAO, as well as world-class sporting events and family shows. For more information or to view upcoming shows, visit valleyviewcasinocenter.com
As another way to thank you for being a loyal guest, Valley View has partnered with San Diego's premier entertainment venue to give you even more exclusive perks that you can't get anywhere else. This includes access to the best tickets for top shows and the star treatment in the on-site Stella Artois Lounge. You'll receive attention that mirrors the first-class guest service you experience at Valley View Casino & Hotel. For more information visit www.valleyviewcasino.com.
AGUA CALIENTE CASINO RESORT
RANCHO MIRAGE, CALIFORNIA
Owned and operated by the Agua Caliente Band of Cahuilla Indians, this luxurious four-diamond property is a full-service resort catering to every kind of gambler and featuring an elegant 16-story hotel with spectacular views of the San Bernadino and San Jacinto Mountains. Each of the 340 rooms feature cozy bedding, flat-screen televisions, and sunken tubs and a modern, cool decor that make for a great night away from home.
The casino itself is a player's paradise, offering 71,000 square feet of the area's best gaming with slots, video poker, table games, plus, the valley's only private poker room, and high-limit gaming in a private atmosphere.
The casino also offers a packed gaming floor featuring 1250 of the hottest slots along with 36 table games with all the favorites, including blackjack, commission free mini baccarat, commission free pai gow poker, mystery card roulette, and Hot Water craps, along with the best selection of progressive novelty games in the valley such as three card poker, ultimate Texas hold'em, crazy 4 poker, and the classic let it ride.
Poker players can get in on the action at the 18-table Poker Room in live games or tournament action. Get dealt in on Texas hold'em, Omaha, and other popular variations with numerous promotions and regular tournaments.
Dining options are plentiful with numerous types of cuisine. A few favorites include: the award-winning Steakhouse for delectable seafood, steak, and wonderful service; Waters Cafe for American classics mixed with unique California cuisine; the Grand Palms buffet for the best in Asian, Mexican, Italian, and American classics; and Java Caliente for gourmet coffee and fresh pastries, bagels, and more. The Poker Deli also offers up great burgers, sandwiches, soups, salads, and desserts for those who don't want to miss any of the action.
For a great night out, head over to The Lounge for nightly live music (for free) and a cocktail. Enjoy a cool cocktail in a relaxed atmosphere at the Rendezvous lounge. Away from the casino, soak up some sun and sip a drink poolside in the 50,000-square foot outdoor playground featuring two swimming pools, a jetted spa, and comfortable cabanas with access to a full-service outdoor bar and grill. Need more relaxation? Select a package from the award-winning, 10,500-square foot SunStone Spa – from mani/pedis and makeovers to massages and body scrubs. The positive energy is truly invigorating, and spa specials and packages are available. Simply put—this property is a vacation in one easy location. For more information visit: www.HotWaterCasino.com
THE SPA RESORT & CASINO
PALM SPRINGS, CALIFORNIA
This sister property of the Agua Caliente sits on nine acres in the heart of downtown Palm Springs and is only a short ride from the Agua Caliente property– perfect for a stay at the main resort hotel and then a side trip out.
Table games aficionados will enjoy plenty of excitement at 29 games including mystery card roulette, single and double deck blackjack, fortune pai gow poker, three card poker, EZ baccarat and more. Slots fans will enjoy machines of every variety and denomination including favorites like Ellen Dance Party, Wolf Run, and Timberwolf. Ready to play bigger? Venture over to the high stakes Platinum Room for slots, blackjack, and mini baccarat. Don't forget your Paradise Rewards Club Card.
After working up an appetite, head over to the award-winning Steakhouse for the best in chops, fresh seafood, and an extensive wine selection. Enjoy a refreshing cocktail during the daily happy hour from 4-6 p.m. Oasis Buffet offers something for every palate including several active cooking stations offering custom-ordered entrées and an expansive international menu ranging from Mediterranean to Latin to regional American as well as delicious dessert and salad stations. For the best in Asian fare, check out the Noodle Bar for delectable dumplings, sushi, miso soup, sake and delicious specialty drinks—and, of course, scrumptious noodle dishes with pork, beef, seafood or vegetables.
Throughout the year locals and visitors alike are met with an array of outdoor entertainment options at Spa Resort Casino, including Concerts Under the Palms, a state of the art venue designed to showcase the best in live music during the cooler months. Check out their New Year's Eve Block Party where visitors and the community are invited to come out and enjoy an evening under the stars filled with live music, food and drink, a fireworks spectacular, and a unique Palm Tree countdown to the new year.
Golfers will delight in the nearby Indian Canyons Golf Resort, which has been a California favorite since 1961. For a night out, grab an ice cold beer with friends. Head to Sundance for the best in local brews, and then to Cascade Lounge, spinning the best hits on Saturday nights. For more information visit: www.SpaResortCasino.com
DESERT DIAMOND CASINO
TUCSON, ARIZONA
Desert Diamond Casino is no diamond in the rough. It is the finely cut gaming jewel of Arizona, offering the area unsurpassed gambling options, fine dining, a pulse pounding nightclub and first-rate entertainment venues.
An enterprise of the Tohono O'odham Nation, Desert Diamond Casinos & Entertainment has been in the gaming and entertainment business for almost 30 years, beginning in 1985 with the opening of Papago Bingo in the Tucson area. In 1993, the first official Desert Diamond Casino was opened on Nogales Highway in Tucson. Six years later, a smaller facility opened in Why, Arizona and a third Desert Diamond Casino near Sahuarita followed suit in 2001. The most recent addition to the Desert Diamond family in West Valley opened its doors in December 2015.
In 2007, the original property on Nogales Highway was replaced with the current modern incarnation, complete with casino, hotel and convention center complex. Offering luxurious, inviting accommodations, quality amenities and warm personalized service, just minutes from the Tucson International Airport, it's a perfect blend of relaxation, business and entertainment. So whether you are traveling to Tucson for business or pleasure—or are a local looking for that "in town" getaway—you'll enjoy being a guest.
All rooms are non-smoking and attractively decorated with contemporary décor with furnishings and textiles in Tucson desert palettes of beige, sand, ivory and black. The spacious and comfortable accommodations offer a complete array of modern amenities including double pillow top mattress with premium linens, HDTV with cable and movies on-demand, large work desk, complimentary wireless Internet access, hardwired data port, dual line speaker phone, voicemail, in room safe, refrigerator, coffee maker and more.
There's always a game for you at Desert Diamond and exhilarating action and jackpots await guests on the casino floor. Take a spin on over 1,000 of the latest and hottest slots or go for that elusive royal flush on one of the countless video poker machines. Test your skills with around-the-clock blackjack and poker tables. You can even enjoy popular poker games like Texas hold'em and Omaha hi/lo split, so grab a seat at the table or join in on one of their exciting poker tournaments.
When it's time to chow down, get ready for some good times and amazing food at Diamond Café. Grab a meal in a comfortable setting with cool vibes and a friendly atmosphere – just steps away from the casino floor. Or if it's variety you seek, Ko:Sin Ki: Buffet has a full menu of options to satisfy everyone in your group. From Sunday brunches to seafood dinners, Ko:Sin Ki: Buffet has it all.
If you want to keep the excitement alive, join in on a dance party or take in a live show with big name entertainers at Monsoon Nightclub. If you need to take a break, step into one of the two relaxing, intimate lounges right on the gaming floor. Stop in for a drink, watch the game, or discuss your winning strategies with friends. The lounges are open seven days a week from 10 a.m. to 2 a.m.
With everything you need for a good time, Desert Diamond Casino is easily Tucson's favorite place to stay and play. For more information on their latest deals, entertainment headliners and promotions, check out www.ddcaz.com.
CHOCTAW CASINO RESORT
DURANT, OKLAHOMA
This four-diamond property is the pride of the Choctaw Nation and only a short drive from Dallas-Fort Worth. With a cool vibe and relaxed atmosphere, the casino is a great spot for a Lone Star or Sooner State getaway. A stay in the Grand Tower or brand new Spa Tower offer luxurious rooms with numerous amenities. For some relaxation, head to the spa for a facial, mani/pedi, or a great massage.
When you're ready to gamble, Choctaw Casino Resort features more than 4,100 slots of every denomination and table games with all the favorites including craps, blackjack, let it ride, and more.The casino also recently expanded its Asian game area for fans of baccarat and pai gow.
Poker rounders will be delighted with the comfortable 30-table room with games of all varieties and limits. Choctaw has become a major player in recent years and along with hosting daily tournaments and promotions, also hosts major tournament series such as the World Poker Tour and World Series of Poker-Circuit. Also, don't forget to check out the best in horse and greyhound racing at the racebook.
Hungry? For a great meal head to Butter-fields Buffet for numerous delectable options. Or for something a bit grander, check out 1832 Steakhouse for a great chop and cocktail. On Tuesday through Saturday evenings, pianist John Emery sets the mood with classics from artists such as Frank Sinatra and Tony Bennett. Numerous others casual and quick serve dining options abound such as Bamboo Noodle Bar, Blue Moon Cafe, and Jackpot Java for a gourmet coffee or snack.
Ready for some more fun? Head to the world-famous Gilley's for a drink and some Western dancing, or take in a concert at the 3,000-seat Grand Theater. The Grand Theater will host top notch performers this year like Kid Rock, Alan Jackson and Chicago. The property also offers plenty of excitement for families at the District entertainment zone – including bowling, an arcade, movie theater, two-story laser tag facility, movie theater, sports bar, and food court. For more information visit www.Choctaw- Casinos.com
SOARING EAGLE CASINO & RESORT
MT PLEASANT, MICHIGAN
Soaring Eagle Casino & Resort is home to the most action-packed gaming floor in Michigan. Located in beautiful Mount Pleasant, Soaring Eagle is an idyllic Midwest destination with 210,000-square-feet of pure, gaming excitement. Here, you can also immerse yourself in luxury and escape the everyday and unwind in the comfort of first class rooms and premium suites that are a retreat all on their own.
No matter which of their 514 well-appointed guest rooms and suites you choose, this is comfort that indulges your senses with everything from in-room Jacuzzis and deluxe fireplaces, to the full-service spa's relaxing aromatherapy and massages. Their dedicated and friendly staff is on hand to make sure everything is perfect.
Step inside this slot player's paradise. With thousands of state-of-the-art slots, including progressives, you're sure to find your favorite games. Table game enthusiasts will experience the widest variety of table game action, including roulette, craps, blackjack and more. Do you enjoy a rousing game of poker? Their Poker Room is open 24 hours a day, 7 days a week. Plus Soaring Eagle is the Midwest's hot spot for the biggest bingo jackpots. But your lucky streak doesn't stop on the game floor.
Whether you crave casual comfort food or delectable fine dining, prepare to indulge; world-class chefs are serving up sumptuous creations. Explore the tantalizing menus from any one of the property's unique restaurants. You can savor the rich flavors of old world Italy at Isabella's; dine in the casual elegance and signature tastes of Siniikaung Steak & Chop House; enjoy great drink specials and delectable dining at Water Lily Lounge; or grab a bite of classic Americana with a quick visit to the Legends diner. If you still can't make up your mind, experience the worldly recipes of Aurora Buffet, featuring sizzling food stations with cuisines from around the globe.
Soaring Eagle is also mid-Michigan's entertainment destination for the biggest names in music, comedy and more. These are the star-studded shows everyone is talking about. And whether it's in the concert hall or ballroom, you're always close to the action. Tickets can be purchased at the Box Office or online through ETix. Some upcoming, "can't miss" shows are A Dickens Of A Killing Murder Mystery Dinner December 23; Jim Gaffigan December 28; Night Ranger & Ratt December 29; Lonestar & Diamond Rio December 30; and a New Year's Eve Celebration to rival most on December 31.
Planning for a family getaway? Take your gang to nearby Soaring Eagle Waterpark and Hotel. The fun is always wet and wild at this 45,000- square-foot indoor water wonderland. Relax and float along the Little Beaver's Bend Lazy River. Catch a wave on the Flow Rider surf simulator. Rock-climb to the top of Makwa's Mountain and plunge into the deep waters below. Make a splash on the three-story water slides: the Loon's Loop and Otter's Run. Visit Biish Falls: a play area for younger kids featuring a giant bucket that pours 317 gallons of water at the command of the mother eagle nesting above. There's even an arcade, family-friendly restaurant, gift shop and more.
No matter what you like to play or do, having a great time is always the name of the game at Soaring Eagle Casino. Plan your getaway today online at SoaringEagleCasino.com or call 1-877-2-EAGLE-2.
TALKING STICK RESORT
SCOTTSDALE, ARIZONA
Talking Stick Resort in Scottsdale, Arizona, is a Four-Diamond haven where fun is limited only by your imagination. World class gaming, luxurious guest rooms, gourmet dining, first-rate entertainment, and a state-of-the-art spa wait to satisfy your every whim.
Bursting with creature comforts and contemporary appointments, deluxe guest rooms exude a relaxing ambiance that melds Southwest style with modern flair. Each spacious room boasts distinguished features, such as floor-to-ceiling windows, complimentary wireless Internet access, countless premium in-room amenities and patio areas or balconies with stunning views of the Camelback and McDowell mountains. This oasis is no mirage.
Offering more than 240,000 square feet of gaming space, the casino floor features more than 800 multi-denominational slot machines, including the hottest new games like Plants vs Zombies 3D – Ancient Egypt and House of Cards. Not to mention a large array of penny slots, video poker, table games, poker and Keno.
Keno just keeps getting better at both Talking Stick Resort and sister property Casino Arizona in Scottsdale. The new Progressive Mega Keno is your chance to win up to $50,000 or more! How it works: when you purchase your ticket, add a Progressive Mega Keno wager to each set of numbers. If a certain amount of your numbers match, you'll win a cash prize. If all of them match, you'll cash in on the progressive jackpot! It's that easy.
Be sure to join the Player Rewards Club to receive bonuses just for playing your favorite games. Player Rewards Club offers members a range of valuable benefits, including entries into the monthly giveaways and drawings, free play, dining discounts, exclusive tournament and event offers and access to the exciting amenities at Talking Stick Resort and Casino Arizona.
Talking Stick is also home to Arizona's largest poker room, known as The Arena. Favorites like Texas hold'em, Omaha and seven-card stud, as well as daily, weekly and monthly tournaments, are featured. On top of that, there are plenty of jackpots and giveaways happening all the time.
With all of this fun and excitement, you're bound to get hungry. The culinary experts at Talking Stick Resort work tirelessly to ensure that visiting guests have a wide range of dining experiences to choose from. With an eye on every detail, all five restaurants have been designed for optimal comfort and to satisfy all dining preferences.
Last but not least, the plethora of amenities. These include: five entertainment lounges, 24-hour in room hotel dining service, two hotel pools with poolside cabana rentals, a 650-seat showroom with regular live entertainment, an on-site florist, barber shop, 24-hour hotel fitness center, concierge service, dry cleaning and valet laundry service, on-site rental car service, adjacent golf course and full service Spa. With so much to do, it doesn't matter whether you booked a relaxing getaway vacation or are in town for a business conference event, Talking Stick's got it all. For more information, visit www.talkingstickresort.com.
COUSHATTA CASINO RESORT
KINDER, LOUISIANA
Step into a world of glitz, gaming, and Southern hospitality at the Coushatta Casino Resort in Kinder, Louisiana. From slots to table games to championship golf, this property has something for everyone—including some of the loosest slots in the region, as certified by Strictly Slots magazine.
A premier casino destination, this property is owned by the Coushatta Tribe and features 100,000 square feet of casino space with 2,800 slots and more than 70 table games. Opened in 1995, Coushatta caters to both Louisianans and Texans across the border. Table game offerings include blackjack, roulette, craps (with 20x odds), pai gow poker, three-card poker, and more. The 20-table poker room offers plenty of action including numerous games, stakes, promotions, and tournaments. Need even more action? Head to the off track betting or bingo pavilion Wednesday through Sunday for big fun and shot at big bucks.
Coushatta also offers the best in dining and lodging options. For a flavorful steak, visit the Big Sky Steakhouse or for some great Louisiana seafood like gumbos, oysters on the half shell, or fried seafood dishes, Gumbeaux's Oyster & Sports Bar fits the bill perfectly. With seven more restaurants and bars, there is something for every appetite.
For an overnight or weekend stay, Coushatta has many options. Top of the list is the Grand Hotel. Coushatta's flagship luxury hotel, The Grand Hotel has been completely renovated into an adult-exclusive property reserved for guests ages 21 and up, offering you a relaxing and refreshing escape. You're also connected to the region's largest gaming floor so you don't have far to go to get in on the action.
Other options include the fashionable and comfortable suites at Seven Clans Hotel or the deluxe lakefront RV and chalet resort at Red Shoes Park. For the golf enthusiast, the Koasati Pines golf course is located in the area's natural wetlands surrounded by magnificent pines and huge live oaks and offers a brilliant 18-hole, par 72 layout. And for entertainment, check out national touring acts at The Pavilion as well as live music and dancing at the Mikko Live. Grab a bowl of gumbo and bring your lucky charm!
From the certified loose slot machines to the tables to the eateries to some after hours fun, Coushatta makes for a great getaway. Load up the golf clubs or just bring some positivity for the casino floor for some fun times. Hopefully some big luck follows you to those loose slot machines. For more information, visit www.CoushattaCasinoResort.com.
ISLAND RESORT CASINO
HARRIS, MICHIGAN
Island Resort and Casino, located in Michigan's Upper Peninsula in Harris, is a luxury hotel and casino where you can experience the best in casino gaming, concerts, shows, and fine dining. Set the scene for a relaxing stay in one of the elegant and comfortable guest rooms or suites. With spacious floor plans and an unmatched array of amenities, it's sure to be a visit you'll remember.
For the slot player, the floor at the Island Resort & Casino is like no other in the Midwest. With over 1,200 games from leading manufactures such as Aristocrat, IGT, Bally and Speilo, the floor not only features the newest games but the newest gaming technology. And the Vegas-Style table games are a cut above the rest! Game choices include blackjack, craps, Spanish 21, three card poker, four card poker and let it ride to name a few. The action is hot and for players of every skill level.
Island Resort Casino provides seven delicious dining options ranging from fine dining to quick bites. For signature appetizers, premium beef steaks and seafood, reserve a seat at 5 Bridges Steak & Seafood House. If sports are your thing, stop by T. McC's Sports Bar. T. McC's features the area's only video wall and personalized viewing and audio areas, plus offers classic sports bar fare and 20 beers on tap.
And during your visit, don't forget to enjoy world-class entertainment in the state of the art Island Showroom. Featuring headline acts, this 1,327 seat theatre- style showroom, has hosted some of the biggest names in entertainment. For more information about Island Resort Casino visit www.islandresortandcasino.com.