A Grand Opening For The Ages in Las Vegas
The $3.9 billion Cosmopolitan debuts in Las Vegas and puts on the show of the year
By Ryan Slattery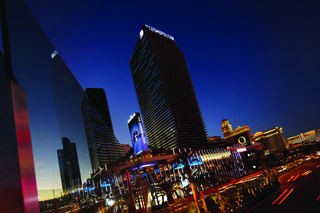 A lot of people were curious to see what $3.9 billion buys nowadays. The curiosity hit a feverish pitch once The Cosmopolitan began running its strange, attention-grabbing commercials under the tagline, "Just the right amount of wrong."
It's just past quitting time for the nine-to-fivers working in Las Vegas and they've already begun to arrive in droves, dressed to the nines with champagne glasses in hand. Perhaps catching a post-work cocktail is a bit more common in Las Vegas than other cities, but today is no ordinary day. The hugely-hyped Cosmopolitan of Las Vegas will throw open its doors to the public in less than three hours— exactly one year to the day that it's CityCenter neighbor Aria Resort & Casino did the same. And it will likely be years (perhaps many years) before Las Vegas sees another grand opening of this magnitude.
First to feast their eyes on the sparkling new luxury resort is a large group of invited guests—many of whom, no doubt, were sipping bubbly next door at Aria a year ago. As I made my way across the sprawling casino floor I couldn't help but hear the reactions from the Las Vegas elite. "Wow, that's stunning," said a woman as she craned her neck to take in every stand of dripping crystals in the three-story Chandelier. Another chimed in, "It's like a waterfall of dripping glass."
The opening of Cosmopolitan was highly anticipated; if for no other reason, a lot of people were curious to see what $3.9 billion buys nowadays. Surely no one was more interested to witness the final product more than German lender Deutsche Bank, which owns the resort. The curiosity hit a feverish pitch once The Cosmopolitan began running its strange, attention-grabbing commercials under the tagline, "Just the right amount of wrong." One spot showed a woman in a cocktail dress licking a plate clean, a dominatrix squeezing into a corset, and a pantless bellhop. It ended with dozens of kittens, rabbits and chicks entering a party scene—a nod to the blockbuster comedy The Hangover.
Gambling millions of dollars on this odd, racy ad campaign had the desired effect—it got people talking. "People told me at Thanksgiving dinner [the commercial] was the topic of conversation, how unique and different the ads were," said Jason Strauss, a partner in Marquee, the Cosmo's expansive nightclub and dayclub.
Cosmopolitan execs said the commercial aimed for the "curious class." They described their target demographic as "broad minded explorers" with a "shared attitude" who are looking for a different side of Las Vegas. "This is the beginning of an era," stated John Unwin, CEO of Cosmopolitan. "I'm promising that we're going to bring back some personality…we are really trying to bring Las Vegas to life."
When the time came to unveil the Strip's newest property on December 15, Unwin and several other executives counted down the final seconds with some gamblers around a craps table. One threw a pair of dice to mark the casino's first wager, rolling a nine. And so it began.
Inspiring & Engaging Every Guest 
The Cosmopolitan took a page out of Steve Wynn's book and decided
on a stylish, contemporary design by acclaimed interior architects
David Rockwell, Jeffrey Beers, Adam D. Tihany and the Friedmutter
Group. Unwin, a former Caesars Palace boss, says The Cosmopolitan sets itself apart "from anything that exists right now in Las Vegas"
and feels the resort "harkens back to an era when guests felt
connected, inspired and engaged by their resort."
Sitting on 8.7 acres of Strip-front real estate, The Cosmopolitan was forced to build up, rather than out. The decision to go vertical—the east tower is 50 stories, the west tower 52 stories—resulted in hotel rooms which feature amazing views from their balconies. That's right, three-quarters of the 2,995 rooms and suites at The Cosmopolitan have private balconies—a rarity on the Strip or, for that matter, at any casino-resort.
In addition, each room features a full kitchenette, state-of-the-art entertainment systems, plasma-screen televisions, wireless internet, a custom in-room bar and bathrooms with Japanese soaking tubs—some right next to a window with a Strip view.
"The five-star luxury room typically looks like it was all bought at the same time. Everything seems to match. It feels like it's bought out of the same catalog," explains Rockwell. "These rooms are curated and assembled. They're more individual, more personal and more varied."
This fresh, unique spirit carries over in the casino's design as well, starting in the lobby where Rockwell outfitted eight columns with LED screens with changing scenes. One minute there might bebutterflies fluttering toward the ceiling; the next, the screens might feature cascading bubbles or autumn leaves falling from aspens. ("Vegas is pretty much open to any fantasy you can project on it,"
Rockwell says.)
That fantasy is in full bloom at The Chandelier Bar. Dripping with more than two million crystals in frozen mid-fall, the three-story chandelier is a centralized social environment that's certain to become The Cosmopolitan's signature eye candy element. When touring the immense property, however, it becomes difficult to pinpoint any one unique feature to symbolize the entire resort. 
 "This came out of me thinking of creating something in the center
of the casino that was social," Rockwell says of the 10,000-square-
foot, three-story Chandelier. "Why not create a chandelier that
you can inhabit? First, I thought of the skin of the chandelier
being made up of two layers—an inner [layer of] Teflon-coated
aircraft cable, and an outer layer with two million glass beads
which we can project light and images on, so you'll feel like
you're floating inside of it. Almost like a hologram."
Cooking With Fire 
There is a sense of discovery in The Cosmopolitan's design. The resort has done a magnificent job of borrowing some of Las Vegas' best ideas, putting a unique twist on them, and blending them together to create something new.  
The chefs are well known, the boutique shops are ones you won't see elsewhere in the city, and the entertainment offerings go above and beyond what can be found down the street. The Cosmopolitan may indeed be, as Strauss says, "a game changer." In an ever-changing city of copycat culture, it just may prompt other resorts to react.
Its 11 retail options are brand-new to Las Vegas. They sell brands such as AllSaints Spitalfields, a sharp-edged British designer of apparel; Stitched, a bespoke tailor; and CRSVR (pronounced
"crossover") Sneaker Boutique, which is co-owned by Las Vegas
resident disk jockey DJ Vice and specializes in limited edition
sneakers.
Similarly, The Cosmopolitan offers culinary concepts from some of
the country's top chefs that are all "first to market." On a
chalkboard in Comme Ça, a fabulous French restaurant by acclaimed
Los Angeles chef David Myers, someone wrote, "One cannot think well, love well, sleep well, if one has not dined well." This Virginia Woolf quote could sum up The Cosmopolitan's entire collection of restaurants. 
The roster of restaurants includes unique eateries such as Blue
Ribbon Sushi Bar & Grill by restaurateurs Bruce and Eric Bromberg;
China Poblano and Jaleo, both by innovative Spanish Chef José
Andrés; Estiatorio Milos, a fine Greek eatery by international
restaurateur Costas Spiliadis; Holsteins, a burger and shake
joint; Scarpetta and D.O.C.G., both by award-winning chef Scott
Conant; and STK, a steakhouse with a flirty, feminine side.
Andrés, a James Beard Foundation-award winner, is often credited
with bringing the "small plate" dining concept to America. At his
Jaleo restaurant at The Cosmopolitan (he has three other Jaleo
outlets in the mid-Atlantic), a huge wood-burning stove is on
display in the center of the restaurant.
"True paella uses wood, pine branches," he explains. "That's what you need to make amazing paella. We are who we are because we're cooking with fire." 
A New Spin On Vegas Nightlife 
"We're breaking the mold in some of the music programs we're
doing," Strauss says of the 62,000-square-foot nightclub Marquee.
"We're bringing some of the biggest international house deejays
and having them play on a proper stage, in a market that really
appreciates music."
While Marquee is positioning itself to be the king of clubs in Las
Vegas, it won't be the only place at The Cosmopolitan to catch live
deejays or bands. The music program at the resort will be unparalleled, featuring everything from live pool deck concerts, to lounge acts with rising stars, to well-known deejays playing in The Chandelier. 
"This hotel is positioning itself as a younger, sophisticated hipper way of experiencing Vegas," Strauss adds. "Instead of themed-out, generalized,  traditional casinos, The Cosmopolitan is breaking the mold of what a Las Vegas casino is in general."
The Book & Stage, a sports book and lounge with signature food items from ballparks across the country, will feature entertainment and bands four to five nights a week, while the Bond Bar is a high- energy space with deejays and percussionists.  In addition, The Cosmopolitan is promising to book top national acts to play at the resort. 
On opening night, Brandon Flowers, frontman for The Killers, played
a 13-song set on the pool deck, while the highlight of New Year's
Eve was a mega-concert featuring Coldplay and Jay-Z, along with
surprise special guests (see sidebar).
SIDEBAR #1
Nightlife Impresario Jason Strauss
"People want grandeur, and you know what? We're a 62,000-square-foot facility on a roof deck overlooking the Las Vegas Strip. That's grandeur," said Jason Strauss, a partner in Marquee Nightclub & Dayclub, during a tour of the three-room space. "We want to raise the bar on nightlife."
To create Marquee, Strauss and his team—who run TAO at the Venetian, one of the most successful nightclub-restaurants in the country, as well as Lavo at the Palazzo—set out on an international discovery mission to find the "latest trends in nightlife" and deliver it to the Vegas Strip. "We think Las Vegas is the nightlife capital of the world and should be the nightlife leader in everything from service, to experience, to content, to design—and that was our goal with Marquee."
The experience begins with a $3 million, 40-foot tall stage in the main room which allows deejays to create a visual, festival-style show around their music. "It really hasn't been out here on that level," Strauss says, "developing shows and entertainment behind the music, instead of just a deejay spinning in a booth. I'm really looking forward to breaking the mold."
Marquee has a variety of different environments under one roof. "A bar experience, a lounge experience and a big time club festival experience," is how Strauss describes it. The scene in the main nightclub stretches outdoors, where there are two pools along with eight private cabanas—each with its own infinity pool. During the day, Marquee's dayclub will have top international deejays playing its parties. At night, it will become an outdoor extension to the main club.
Music in the Boom Box Room will be different than what's happening in the main room. For example, on the weekends, when house music is pumping in the main room, the Boom Box will feature hip hop. There is also an upscale lounge called The Library where funk and R&B dominate the playlist. It has shelves of Vegas-related books, a pool table, a fireplace, and a specialty drink menu for those looking for a "more mature experience."
Strauss says the inspiration for a multi-room venue came from "being plugged in" to everything happening in nightlife around the world. He draw inspiration from one of his old New York City hangouts, Club USA in New York, which had different "exploratory experiences" spread out over multiple rooms.
"We want people to explore every room," Strauss says. "If they get bored of the main room, they can go upstairs and have a specialty cocktail in The Library. If they think that's too mellow and they want to hear some energetic music, they can go down to the Boom Box Room. We want [our guests] to experience something that they can't get at home."
SIDEBAR #2
Designer David Rockwell
"Las Vegas is unlike any place in the world," says designer David Rockwell when asked why he tackled The Cosmopolitan project when he was approached by resort management in the autumn of 2008. "I was interested in the fact that it was more vertical than anything else in Vegas. I felt that's where I could make a difference, by opening up some of the spaces and creating visual landmarks."
While The Chandelier Bar may become the resort's centralized focal point, Rockwell's imprint is all over The Cosmopolitan—from the design of the rooms, to the nightclub, to the Vesper Bar and beyond.
For instance, the LED columns in the lobby gave Rockwell the opportunity to "blur the lines between virtual and physical space" by using imagery he had been researching and working on for the past five years.
"I started to think of how Las Vegas re-imagines itself every ten years," he says of how he approached the project. "In the nineties, it was the place for destination hotels like Paris and Luxor. In the early 2000s, it was [Steve] Wynn and his sense of impeccable craftsmanship, with more focus on architecture. Now, CityCenter is this epicenter of architecture with a capital 'A.' I felt there was an emerging customer looking for a more curated experience, and that we could base the design of this space on change and transformability. We could use image and technology to create a place that will evolve and change as fast as Las Vegas changes."
The acclaimed designer, whose company Rockwell Group has designed hotels, restaurants, museums and other venues from New York City to Hong Kong, says his creative vision was embraced by The Cosmopolitan's management from day one. He believes that many visitors to Las Vegas have a taste for something different, and that The Cosmopolitan delivers a truly unique experience.
"It's very open, and that's a more modern idea," Rockwell notes. "Where this place will succeed, I believe, is with customers who want to come back. The rooms are more thought out and more individual. Everyone is going to come and see every new project once. The trick is to make the project 'sticky' enough to get them come back to experience it more, and that's what we tried to do here—to create a seamless customer experience that, as you move through it, will always be different, will always be personal."
SIDEBAR #3
By Rob Wiser
The Stars Come Out For The Cosmopolitan's Epic Grand Opening
Whenever a major new gaming resort opens—especially in Las Vegas, the ultimate celebrity playground—one of the grand opening's goals is to recruit some famous faces to show up and attract media attention. Whoever handled this task for The Cosmopolitan deserves a medal.
Just a partial list of the stars spotted at the resort over its grand opening weekend: Gwyneth Paltrow, Alex Rodriguez and Cameron Diaz, Jennifer Lopez and Marc Anthony, Sean "Diddy" Combs, Rhianna, Mark Wahlberg, Jeremy Piven, Kristen Dunst, Justin Bartha and Ashley Olsen, Channing Tatum, Kristin Davis, Jamie Lynn Sigler, Sugar Ray Leonard, Dr. Dre, Busta Rhymes, Olivia Munn, Cheryl Hines, Chris Matthews, Timothy Olyphant…we could go on for several paragraphs here.
The highlight of the weekend—and the hottest ticket in town—was the concert Cosmopolitan staged on New Year's Eve for an invite-only crowd of 1,500 revelers. They were treated to a concert with Coldplay and Jay-Z, which turned into a superstar jam session that ran for three hours.
Coldplay kicked off the show just after 11p.m.. Just before midnight, Jay-Z joined singer Chris Martin onstage to ring in the year. After a short break, the hip hop megastar performed a solo set…but he wasn't up there solo for long. Kanye West, John Mayer and Beyonce (Jay-Z's wife) all made surprise appearances, keeping the audience screaming throughout the whole epic affair.
Rumor has it Coldplay and Jay-Z were paid a million dollars apiece for the event.  That's certainly a hefty paycheck for an evening's work—but the buzz and publicity that Cosmopolitan received for this event was priceless.
A Grand Opening For The Ages in Las Vegas.