$1,038,429 JACKPOT HITS AT DESERT DIAMOND CASINO WEST VALLEY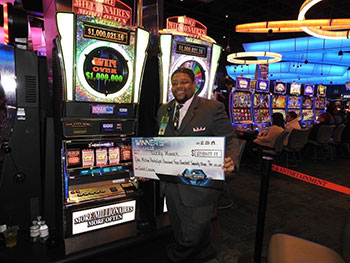 One lucky guest at Desert Diamond Casino West Valley in Arizona had a very happy holiday season, hitting a $1,038,429 million progressive jackpot on Friday, Dec. 20, 2019. The guest, who has chosen to remain anonymous, was playing the Gold Crown machine from AGS. The million-dollar jackpot was hit on a one-credit bet.
Desert Diamond Casino West Valley celebrated its fourth anniversary in the Valley on Dec. 20. A major new expansion with a larger gaming floor featuring the latest slots, poker, blackjack, bingo, five new dining venues and more will open on Feb. 19, 2020.
Treena Parvello, Director of Public Relations and Communications for the Tohono O'odham Gaming Enterprise, said "We always love seeing our guests win big, so welcoming the West Valley's newest millionaire on our fourth anniversary is an extra treat. It goes to show that Desert Diamond Casino is Arizona's place to play, and we're only going to get bigger and better when our new expansion opens on February 19!"
Additional information can be found at www.ddcaz.com or by calling 866-DDC2WIN.