$1.2 MILLION JACKPOT AT DESERT DIAMOND CASINO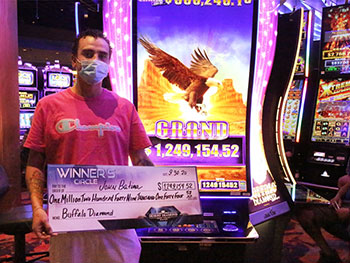 A very lucky guest at Desert Diamond Casino West Valley in Glendale, AZ is taking home a fortune after hitting a $1,249,154.52 progressive jackpot on Wednesday Sept. 30. The lucky guest, John Batina, was visiting the casino with his fiancée when he hit the million-dollar jackpot while playing a Buffalo Diamond machine from Aristocrat.
Treena Parvello, Director of Public Relations and Communications for the Tohono O'odham Gaming Enterprise, said "We always love to see our guests win big, so it's a thrill to welcome our newest millionaire to Jackpot Valley! We're committed to providing a safe and fun place for everyone to play, and we can't wait to see who will take home the next big jackpot."
Desert Diamond Casinos & Entertainment, with three locations in Southern Arizona (Tucson, Sahuarita, and Why) and one in the West Valley in Glendale, AZ, is owned and operated by the Tohono O'odham Gaming Enterprise, an enterprise of the Tohono O'odham Nation. Additional information can be found at www.ddcaz.com or by calling 833-DDC-2WIN.