A Super Time: the Super Bowl can be a winning event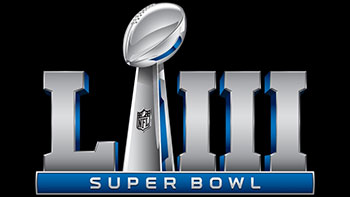 February brings the pinnacle of the NFL season and sports betting world when the Super Bowl kicks off in Atlanta's Mercedes-Benz Stadium. Who will be there remains to be soon, but plenty of sports fans are already putting together their plans for their Super Bowl parties on Feb. 3, and adding some action on the outcome. Here are some ideas on making that Super Bowl a memorable one.


Party Time
The NFL's ultimate championship game is better shared with friends, and plenty of Americans plan to party. A 2018 study by the National Retail Federation found that 18 percent of Americans planned a party each year with an average of $209 spent on the party.
Food is obviously something major to keep in mind. Some nice options include the traditional like hamburgers and hot dogs as well as barbecue, sandwiches, and hot wings. Plenty of snacks and desserts will keep those guests happy in between plays. Chips with salsa, guacamole, or other cips can be big players at any Super Bowl get-together.
The Food Network offers a complete guide to throwing a party on its website and offers this practical advice when it comes to snacks: "Keep guests fully satisfied by arranging your entire spread on the coffee table where it's easily accessible. Don't forget small snack plates and napkins for easy noshing, and keep an eye out for any dishes that need replenishing throughout the game."
One thing to remember—keep an eye on guests who may overindulge. A few beers or cocktails are nice, but don't be shy about offering a friend an Uber ride home instead of getting behind the wheel.
Commercial Success
The price of a 30-second commercial during the game in 2018 was $5 million. That number should rise again in 2019 as networks hope to recoup some of their investment in broadcasting NFL games during the event.
For those advertising companies, an ad is a chance to show off their products or services and build brand awareness in a game that is the most-viewed of any televised program in the U.S. with well over 100 million dialing to check out the action on the field. Companies tend to go all out with major advertising efforts (and budgets) – some with more success than others.
For many, checking out the commercials is much more fun than even watching the game, especially if the game turns out to be a blowout. Everyone has a favorite and the game has featured some pretty well-known pop culture icons and phrases – from Betty White, Farrah Fawcett, and Spuds MacKenzie to the Clydesdale horses, " Apple: 1984," and the memorable Wendy's "Where's the beef?" commercial.
Betting the Bowl
According to the American Gaming Association, Americans wagered $4.76 billion on the 2018 Super Bowl (both legally and illegally). With more states now legalizing the enterprise, that number is sure to rise in 2019. When it comes to gambling on the big game, there is just about every option one could imagine.
Beyond mere betting lines and over/unders, in 2018 sportsbooks offered numerous bets on the game including the coin toss result and how long it would take Pink to sing the national anthem. More game-specific props included total touchdowns, the first scoring play of the game, and even if the game would go into overtime.
When making a selection on more traditional wagers (betting the favorite or underdog, over/under), do some research when making that selection. Don't go overboard on a dollar amount if you don't have a good feeling on the game based on some real evidence or trends.
Other Betting Options
Having a few dollars on a game can make the action much more interesting game, and that's a major reason so many Americans do it. Here are a few other options that friends and family can take part in to have some fun—and hopefully win some money.
Football Squares – If you're having a big party, this classic lottery-style pool game can give everyone a rooting interest—especially when it comes to scoring. The setup is pretty simple and features a grid with 100 squares. Everyone fills in a square (or multiple squares depending on the number of people) and put in a few bucks for each they select. Numbers 0-9 are then drawn for the top row and left column. Team scores determine which square is a winner For information and to set yours up easily, visit SquaresPool.com.
Shotgun Pots – This is perfect for a party with fewer people, and be a lot of fun. Players "invest" a certain amount of money per quarter (or half) and then draw number 0-9. The last digit of the total score determines the winner. For example, if everyone threw in $5 per quarter, the payout would be $50 per quarter to winners. If you drew 4 and the first quarter score is 7-7, you'd be a winner. 7 + 7 = 14, so that four gives you a nice $50 payday.
Fantasy Football – This may apply more to the playoffs, but can be a nice way to extend the fantasy fun. While the traditional fantasy football season may be over, pick a few players each week with friends and see who's a winner and then re-pick the next week. Those who pick the best, including players who keep advancing, win the pool and plenty of playoff bragging rights.
William Hill:
America's Leading Race & Sport Books
With more than 100 locations, William Hill US is America's sports betting leader. William Hill offers the most diverse betting menu throughout the year on everything: pro and college football, pro and college basketball, baseball, horse racing, soccer, auto racing, hockey, MMA, boxing and much, much more. Almost any sport you're looking to get a bet on, William Hill can offer it!
Get Mobile, Bet Mobile – Bet on your mobile device from anywhere in Nevada!
The William Hill Mobile Sports app makes sports wagering in Nevada more convenient than ever! Bet on your iPhone, iPad or Android device from anywhere in the state! Cash deposits can be made at all William Hill Sports Books, Mobile Sports Deposit Hot Spots located inside PTs and Sierra Gold taverns, and 7-Eleven locations throughout Nevada.
InPlay wagering options aplenty – Bet the game live after it's already started!
LIVE InPlay wagering is available on football, basketball, baseball, soccer, and hockey games – plus other select events throughout the year! InPlay allows you to continually bet adjusting sides, totals and money lines throughout the game. InPlay wagering is offered at all William Hill US locations in Nevada, plus via the William Hill Mobile Sports app, allowing you to place a bet on a game at virtually any time!
By navigating WilliamHill.us, you can find plenty of valuable tools to improve your sports betting experience. At WilliamHill.us, they offer an easy to use map to help find the sports book or kiosk location nearest you and helpful How to Bet guides for several sports, including football, basketball, baseball, horse racing, soccer and more.
For more information visit http://www.williamhill.us

Do you have a comment or question about this article?

Look for your question to be answered in either Casino Player or Strictly Slots Magazines.