Joystick Bandit: Next Gaming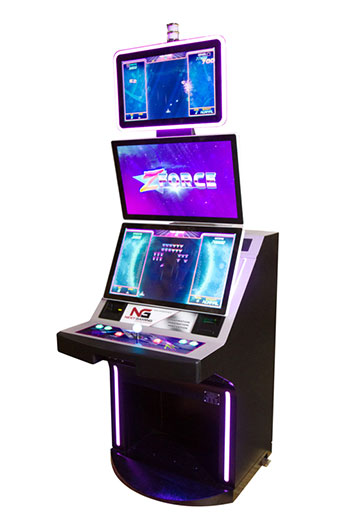 Las Vegas-based Next Gaming is a privately-owned company focused on creating and distributing leading-edge, quality slot machines and equipment to the U.S. gaming market. Founded by Terry Caudill in 2006, the company's dedicated team brings a combined 10 decades of experience to create a unique slot product company.
Next Gaming's video reel products appeal to the "traditional" slot player who enjoys that experience and seeks variety along with entertainment value. Their skill-based games also appeal to a broad demographic like Millennials and those who desire a different type of gaming experience.  These games are designed to be intuitive, which means that based on a player's past interaction with similar games, though not gambling devices, the player can immediately be immersed in the gaming experience.
Next Gaming has a very broad product selection that encompasses video reel slot games, skill-based games and hybrid/skill-based games, driven by an RNG, which makes it compliant in jurisdictions that have yet to allow skill-based games.  Additionally, the games are offered on multiple cabinet styles to provide flexibility with slot floor layouts and game selections.
The company currently has five skill-based patents which allows it to design and create multiple variations for the skill-based experience. In addition, Next Gaming also has IP licenses with TAITO for Bust-A-Move and Arkanoid, as well as with Atari for Asteroids.
"Obviously, skill-based gaming is in early evolution," said Next Gaming CEO Mike Darley. "I think it's really a natural progression for most consumer-based products that need to provide new experiences to their audiences. Targeting the Millennials is certainly a logical strategy. What needs to be acknowledged is that skill-based games can be designed to appeal to a wide variety of customers. Based on the complexity of the game, which can be a very wide range, skill games can be designed to engage the novice as well as the hardcore gamer."
Darley added "Mind you, skill-based gaming is not a panacea which will immediately take over slot floors. There is still a lot to learn. We need to view it as another gaming experience which can attract the younger demographic into wagering in the casinos, enjoy the social interaction and, additionally, offer the current patrons something uniquely different."
Other upcoming games currently in development include: Z Force, Katana Warrior, Sliding Magic, Martian Madness, Bowling Bonanza, and Sunken Treasure. For more information visit www.nextgaming.co.

Do you have a comment or question about this article?

Look for your question to be answered in either Casino Player or Strictly Slots Magazines.