Free Summer Concerts At Fremont Street Experience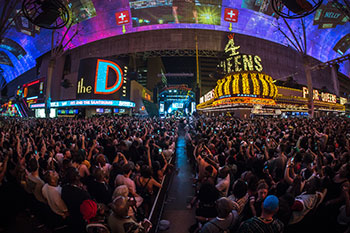 The wildly popular Downtown Rocks concert series is back and ready to rock visitors at  Freemont Street Experience.  Downtown Rocks is free and open to the public. This year's concert line-up is set to be the biggest, ever.
Offering a diverse range of musical genres for audiences of all ages, the series kicked off if May and continues throughout the summer
Upcoming shows include:
July 20 – Fuel, Toadies and Sponge on 3rd Street Stage
July 27 – Pop 2000 Tour hosted by Lance Bass with O-Town, Aaron Carter, Ryan Cabrera and Tyler Hilton on 3rd Street Stage
10 – Collective Soul on 3rd Street Stage
17 – Buckcherry on 1st Street Stage
24 – Cheap Trick on 3rd Street Stage
30 – The Wallflowers on 3rd Street Stage
1 – I Love the 90's featuring Vanilla Ice, Montell Jordan, All-4-One, Tone Loc and Coolio on 3rd Street Stage
Sept. 28 – Smash Mouth on 3rd Street Stage

Do you have a comment or question about this article?

Look for your question to be answered in either Casino Player or Strictly Slots Magazines.