$25,000 Mini Baccarat Lucky Draw at Stratoshpere Casino Hotel & Tower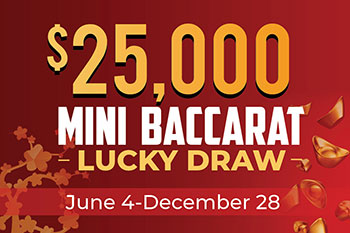 Stratosphere Casino, Hotel & Tower, home to one of the most recognizable structures on the Las Vegas Strip, is hosting a $25,000 Mini Baccarat Lucky Draw now through the end of the year.
Mini baccarat is a smaller, lower-stakes version of the classic table game. The card game of chance is played between a banker, or dealer, and the player – both hopeful for a natural hand equaling a value of eight or nine. If the value of the first two cards dealt is under five, then the player is dealt another card – the hand with the value closest to nine wins.
Stratosphere's $25,000 Mini Baccarat Lucky Draw consists of five drawings held every Friday through December 28 starting at 7:30 p.m. At each of these drawings, five winners will walk away with up to $1,000 in promotional chips. Players have an opportunity to play their hand for a chance to share $25,000 in promotional chips by enrolling in Golden Entertainment's rewards program, ace | PLAY, to earn tickets.  For each banker or player win with a natural eight or nine, one ticket will be earned and entered into the drawings.
Six mini baccarat tables that are located near the main entrance of the property are part of a series of initiatives Stratosphere has been taking to broaden its appeal to Asian gaming enthusiasts. A dedicated baccarat gaming pit debuted earlier this summer and was welcomed with good luck and good fortune by a symbolic Chinese Lion Dance.
"Our $25,000 Mini Baccarat Lucky Draw is just another example of Stratosphere's work to expand its offerings and provide a comprehensive gaming experience to our clientele," said Stratosphere General Manager Chris Fiumara. "We're focused on implementing promotions that make all of our ace | PLAY members feel like they truly are a part of the best rewards program in Las Vegas."
Among the many conveniences, Stratosphere offers ample amounts of self-parking and free valet services, as well as complimentary Tower admission for hotel guests. The iconic Stratosphere Casino, Hotel & Tower offers 2,427 guest rooms and suites and an 80,000-square-foot casino. The 1,149-foot Stratosphere Tower, the tallest freestanding observation tower in the United States, is home to Top of the World, famed for its revolving dining room and acclaimed cuisine; the highest view of the Las Vegas Strip from the Observation Deck; and thrilling attractions and rides, SkyJump Las Vegas, Big Shot, X-Scream and Insanity.
Eligibility to participate in the $25,000 Mini Baccarat Lucky Draw promotions is granted through a complimentary membership with Golden Entertainment rewards programs, ace | PLAY. Complete rules, participation requirements and details are available at the casino rewards desk at each property, open from 10 a.m. to 10 p.m. on weekdays and from 10 a.m. to midnight on weekends.
For more information, call 702-380-7777, 800-99-TOWER (998-6937), or visit StratosphereHotel.com.

Do you have a comment or question about this article?

Look for your question to be answered in either Casino Player or Strictly Slots Magazines.