Free Falling
New promotion offers big money for players at Maryland Live! Casino
By Sean Chaffin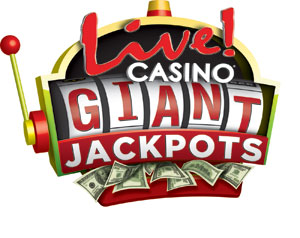 Maryland Live! Casino makes for a perfect getaway for slots players, and is now going the extra mile for customers with its new Live! Giant Jackpots slot promotion which officially kicks off on May 28.
Maryland Live! offers players more than 4,000 of the latest and greatest machines guaranteeing almost anyone can find his or her favorite. Popular titles range from Blazing 7s and Wheel of Fortune to The Walking Dead—certainly something to suit any mood.
With the Giant Jackpots promotion, the property offers even more fun and a chance at a big money score. Giant Jackpots is a mystery progressive jackpot that grows after a spin on any slot machine by any player actively using a Live! Rewards Card or the property's new "Giant Jackpots Card." The jackpot process is simple – use your card, hit it, and win it!
And this promotion is called "Giant" for a reason. Each Giant Jackpot begins with $50,000 and grows until a lucky patron hits it big. Perhaps the best part of the promotion is that a winner is guaranteed by the time the jackpot reaches $100,000.
Once the lucky winner receives their cash, the Giant Jackpot is reset to $50,000 and the process begins again until another lucky winner takes home the cash. All slot machines are eligible for the promotion except for electronic table games, video roulette and video poker.
During the event's official debut, the weekend of May 28-31, Maryland Live! will ring in the new promo with an accelerated progressive jackpot guaranteed to hit by $100,000 during the four-day period. In other words, some lucky player could take home life-changing money that same weekend.
"It's unique for the East Coast," says Mario Maesano, senior vice president of marketing. "We'll be the first casino in the Mid-Atlantic region to do anything like this. It has been done elsewhere in the country, but for this market it's brand new and customers should be pretty jazzed once they catch on."
Maesano says there's no set time limit for the promotion, and it can go on as long as customers find it enjoyable and exciting. The fact that Maryland Live! is a singular property owned by a family company gives the casino some advantages, he adds, enabling them to do things for customers other properties might not be able to.
"We put a lot of emphasis on the fact that we're a family-owned business, a locally-operated business and that separates us in a multitude of ways—how much we spend on customers, how quickly we respond to their needs, and how well we service them," Maesano says. "And that differentiates us greatly from our corporate competitors."
For slots players, that means attention to detail and a commitment to great service. Maesano says Maryland Live! has the largest selection of slots on the East Coast. As a family-owned business, he also believes the casino can do things that are a little more unique, a little more exciting, and a little more fun for customers than larger corporations can. The location of the casino also makes it a great place for gamblers along the eastern seaboard.
"Being in the Washington/Baltimore area, I think we're a central hub for the Mid-Atlantic region for that gaming destination," he says. "There are basically three cornerstones to our slots business. One is fast and friendly service. We spend hours upon hours analyzing our slot service to ensure that it is as expedited as possible based on the entire country response times. I would put us up against any casino in the country in regards to our response times from a slots service standpoint.
"Two, we're heavily promotionally based for our slot product so we always have something going on, always have something exciting. We're always giving something away to keep that excitement going. And three, the huge size of our floor allows us to have the largest selection and variety of product out there."
Beyond the slots, Maryland Live! offers plenty of other action for those looking for some gambling fun, fine dining, and entertainment. Located at the Arundel Mills Mall in Hanover, Maryland (halfway between Baltimore and Washington), this stellar property has a bit of something for everyone.
The $500+ million gaming facility opened in 2012, and is one of the largest commercial casinos in the country. The cool, vibrant atmosphere makes for a great night out. For fans of table games, there are plenty to choose from—200 live action table games including all the favorites: blackjack, craps, roulette, mini-baccarat, pai gow poker, and more. The casino also offers two high limit rooms for those looking to raise their stakes.
Poker fans can bluff and bet in the Poker Room which features more than 50 tables and regular promotions and tournaments. The room will be hosting The Live 5 Hundred on May 23, a $50,000 guaranteed tournament ($200 bounties) with quite a payout for the $500 buy-in. On Memorial Day, the room hosts a $330 buy-in tournament with a $30,000 guaranteed prize pool and $100 bounties.
For some fine dining and nightlife, Maryland Live! also has the answer. After working up an appetite check out one of several fine eating establishments. The award-winning Prime Rib serves up delicious steaks and fine seafood, and features an expansive wine selection. The Live! Buffet is an experience for the taste buds offering home style favorites like fried chicken to classic pasta and pizza to even Asian and seafood favorites to suit any palate. Live! Rewards club members save $2, an additional reason to join the club. Something special is Sunday Champagne Brunch.
For a delectable dinner from the Far East, visit Luk Fu for the best in Asian fare. Sample some delectable Dim Sum, various noodle dishes, and grab a beer from Southeast Asia like Tsing Tao, Kirin Ichiban, or Sapporro.
Other dining options abound include: Bobby's Burger Palace, featuring signature burgers inspired by Chef Bobby Flay's travels throughout America and passion for the grill; Noodles, a cool Ramen noodle bar with savory dishes; Phillips Seafood Express, perfect for Maryland crab cakes, shrimp and other seafood delights; Morty's Delicatessen for perfect subs and sandwiches; and the Cheesecake Factory will fit the bill for any sweet tooth.
Ready for a drink and some entertainment, head to Rams Head Center Stage for the best live acts, including many free shows. A unique and terrific promotion is the Live! Stars singing contest with preliminary competitions continuing through mid-June. The finals will be held on June 27 with a $10,000 top prize. Admission is free. You can also hit the stage with your best karaoke songs with a live band to back you. Karaoke Live! is a regular feature at Rams Head.
Are you a Beatles fan? Check out The Fab Four (a tribute to the band) on July 23. Other upcoming major shows include: The Fifth Dimension (May 28); Michael Bolton (June 11); and High Voltage, an ACDC tribute band and free show (July 11). Other shows include top local and area bands and DJs. A day at the tables and a night out for some live music makes for some big fun.
Maryland Live! offers a great retreat for some fun and entertainment and even offers up the little things one could appreciate, like free parking, accommodations with partner hotels for a weekend of action, and fun. A recent promotion even gave away a replica of the Batmobile from the 1960s "Batman" TV show. A Lexus drawing was planned for Mother's Day.
Like casino officials say, Maryland Live! is about fun and excitement. Grab your lucky charm, player's card, and find your favorite machine. Maybe you'll be the next Giant Jackpots winner. Good luck! ´
Sean Chaffin is a freelance writer in Crandall, Texas. His new book is Raising the Stakes: True Tales of Gambling, Wagering & Poker Faces, available at Amazon.com, and BarnesandNoble.com. Follow him on Twitter @PokerTraditions.
Do you have a comment or question about this article?

Look for your question to be answered in either Casino Player or Strictly Slots Magazines.