ROAD TRIP
Take a tour of some of the top tribal casinos from coast to coast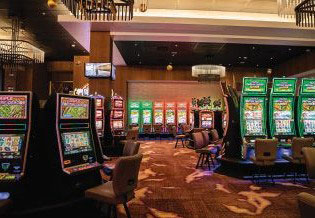 As evidence in our "Tribal Leaders" feature, the growth of Native American casinos has been a dramatic, hard fought and exciting one.
Such growth has brought the excitement of gambling and the casino lifestyle to the masses in a way nobody would have guessed only a few decads ago. Where once you had to plan an extended trip to visit a casino, for millions of gamblers it's now a good bet there's one within an easy driving distance.
According to the National Indian Gaming Commission, there were 574 federally recognized tribes at the start of 2022. There are 524 American Indian gaming operations in the United States and these are owned by 245 of the nation's tribes. Tribal casinos have made a massive impact in the gaming industry for decades and millions of Americans enjoy visiting these premier casino destinations each year. At many casinos, guests have abundant opportunities to mix a little hiking, fishing, swimming and boating with their gaming. But that doesn't mean the properties skimp on their own amenities.
These gaming tribes operate in 29 of the 50 states; we cannot cover them all here, but players and readers will enjoy visiting these top Native American casino destinations. Look to the coming year for some major news on expansions, renovations and developments!
Angel Of The Winds Casino Resort, Arlington, Washington
Angel Of The Winds Casino Resort is owned by the Stillaguamish Tribe of Indians, who opened the casino in October 2004 on its tribal land. With the addition of entertainment venues, diverse dining options, and more space for parking and lodging, Angel Of The Winds Casino Resort creates a place where guests can experience the excitement at the friendliest casino and one of the best player's clubs in the region—Xperience Players Club.
With redesigned décor throughout the hotel and 125 newly remodeled hotel rooms, Angel Of The Winds Casino Resort provides the perfect setting to enjoy your stay. Choose from a Deluxe Double Queen, Deluxe King, or upgrade your stay to a Signature Suite. All rooms feature Beautyrest 4 diamond pillowtop mattresses with custom bedding and linens, spa-like showers with raindance shower features, 55-inch LED TVs, coffee makers, refrigerators, in-room safes, and high-speed internet.
Angel Of The Winds Casino Resort offers fun for everyone with a variety of gaming options, from slots to table games and keno to sports betting—they have it all.
Reap the rewards and find yourself among the latest and greatest slots. Enjoy playing an Xtensive selection of machines from penny to high limit. Featured machines include Cashnado Flash Fire, Cashnado Super Strike, Koi Legend, Lightning Zap, and Press Your Luck Whammy Riches.
Be sure to check out their new, themed, High Limit gaming room—called the Dragon Room—for that ultimate gaming Xperience. The Dragon Room features popular slots, including Triple Fortune Dragon, Dragon Lines and Lunar Celebration. For the best in high-limit table games, The Dragon Room allows you to bet up to $10,000 on one hand of baccarat, win up to $25,000 on Panda bets, and to win up to $20,000 on Dragon and Tie bets.
Whether you're an Xperienced gamer or hitting table games for the first time, with such a great selection you're sure to find something you'll love. The team at table games works hard to create a fun and welcoming atmosphere that makes you glad you stopped in. Games include Fu Bacc, Infinite Fortune Baccarat, Face Up Pai Gow, Craps, Fortune Pai Gow Poker Progressive, Ultimate Texas Hold 'em, and Bahamas Bonus Blackjack.
There's more Xcitement on the way, with an Angel Of The Winds Casino Resort mobile app coming soon. You'll be able to view your current offers and benefits on the go, receive up-to-date information on all property promotions and events, and have the ability to track Xperience Players Club membership discounts on dining, fuel, hotel stays, Strikerz Bowling and more.
Looking to bet on your favorite sport? Sports betting is now open at Angel Of The Winds Casino Resort. You can now wager on the NFL, MLB, NBA, NHL, PGA, UFC, WBA, MLS, Premier League, and many more at The Book. Angel Of The Winds offers guests an Xceptional betting Xperience with a broad selection of professional sports markets and bet types, including live betting and multi-game parlays.
The Book provides guests with a dedicated space for sports wagering, with multiple televisions to keep track of any game. The area features comfortable seating with attached side tables. At The Book, guests can play keno, relax, dine, and watch their favorite teams in one convenient location.
"This is an Xciting time for our guests, as we are the first casino north of Seattle to bring this amenity to our property. Our plan is to continue to enhance the Xperience in the future with an on- premise mobile option and through our helpful and friendly staff at The Book," remarked Travis O'Neil, chief executive officer.
Looking for delicious cuisine? Angel Of The Winds Casino Resort has you covered! Savor the taste of Xceptional steaks at Whiskey Prime Steakhouse. With a variety of meals and a casual atmosphere, Whiskey Prime Steakhouse offers unparalleled service and an array of prime cuts, seafood, and local barrel-aged whiskey for you to enjoy. Or choose from a wide range of delicious meals from across Southeast Asia at Jade Fusion. From bulgogi beef to pho, Jade Fusion is truly a culinary Xperience you won't want to miss. If you're looking for a small bite, a great burger or a wide selection of player favorites, Katie's Kitchen delivers fast, friendly and fabulous food. For a celebratory drink or tasty nibble, visit 210 Brewing CO, a tribally owned brewery, featuring a variety of handcrafted and award-winning beers. Try sensationally prepared Detroit-Style Pizza, Street Corn Dip, Nashville Hot Chicken Sliders and more.
Becoming an Xperience Players Club member is the best way to make the most out of your visit to Angel Of The Winds Casino Resort. From 50% off dining when redeeming points to discounts on hotel, Strikerz Bowling and All Things Sports, the benefits are Xtensive. Membership is free!
For more information or to plan a trip  visit www angelofthewinds com and be sure to follow Angel Of The Winds Casino Resort on Facebook, Instagram and Twitter @AOTWCasino.
COUSHATTA CASINO RESORT, Kinder, Louisiana
Experience the thrills and excitement of the largest gaming floor in the region, featuring the games you like, the jackpots you love, and the personal service you deserve! Step into Coushatta Casino Resort in Kinder, LA. From slots to table games to championship golf, this property has something for everyone—including some of the loosest slots in the region, as certified by Strictly Slots magazine.
A premier casino destination, this property is owned by the Coushatta Tribe, which celebrated its 27th anniversary in January, and features 100,000 square feet of casino space with 2,000 slots and 65 table games. Opened in 1995, Coushatta caters to both Louisianans and Texans across the border. Table game offerings include blackjack, roulette, craps (with 20x odds), Pai Gow Poker, Three-Card poker, and more. The 20-table poker room offers plenty of action including numerous games, stakes, promotions and tournaments. Need even more action? Head over to the off-track betting Thursday through Sunday for big fun and a shot at big bucks.
Coushatta also offers the best in dining and lodging options. For a flavorful steak, visit the Big Sky Steakhous. Or for some great sports bar classics and Cajun favorites, like boudin balls, gator eggs, gumbo and oysters on the half shell, Gumbeaux's fits the bill perfectly. With five more restaurants and bars, there is something for every appetite.
For an overnight or weekend stay, Coushatta has many options. Top of the list is the all-new Grand Hotel. Coushatta's flagship luxury hotel, The Grand Hotel has been completely renovated into an adult-exclusive property reserved for guests ages 21 and up, offering you a relaxing and refreshing escape. You're also connected to the region's largest gaming floor, so you don't have far to go to get in on the action.
Other options include the fashionable and comfortable suites at Seven Clans Hotel or the deluxe lakefront RV and chalet resort at Red Shoes Park. For the golf enthusiast, the Koasati Pines golf course is located in the area's natural wetlands surrounded by magnificent pines and huge live oaks and offers a brilliant 18-hole, par-72 layout.
From the certified loose slot machines to the tables to the eateries, Coushatta makes for a great getaway. Load up the golf clubs or just bring some positivity for the casino floor for fun times. Experience upscale Southern hospitality and hopefully some big luck follows you to those loose slot machines.
For more information, visit www.CoushattaCasinoResort.com.
FireKeepers Casino Hotel, Battle Creek, Michigan
The Nottawaseppi Huron Band of the Potawatomi (NHBP) has been leading by example and made reinvesting in the community a priority since opening FireKeepers Casino Hotel in 2009. The development of one of the nation's finest casino and hotel destinations has generated benefits well beyond its home base of Battle Creek, MI. The tribe makes annual payments to the State and a Local Revenue Sharing Board from casino revenues, in addition to supporting hundreds of charitable endeavors throughout Michigan, Indiana and Ohio, via donations and sponsorships.
This type of hands-on impact, which is the hallmark of the NHBP/FireKeepers' focus on improving the local community, is generally unheard of in tribal gaming communities across the United States. The tribe's most significant investment is The Fire Hub restaurant and connected Kendall Street Food Pantry in downtown Battle Creek. The restaurant provides a much-needed, flavorsome food option in an underserved section of the city. The Fire Hub's most important goal is to give back to the community, which is accomplished via multiple programs. Eighty percent of all restaurant profits, plus monies from purchasers who often round up their purchase with a donation, is allocated to local charities. The remaining 20 percent of profits is reinvested in the property. To- date, The Fire Hub has raised more than $30,000 through this fund. The Kendall Street Pantry, located in the rear section of the building, operates as an agent of the South Michigan Food Bank, distributing food to those less fortunate. In addition, a large greenhouse on nearby tribal land is growing fresh produce year round, to provide free salad bars for schools in the Battle Creek area.
"The Fire Hub reflects so many of the foundations of our tribe," stated NHBP Tribal Council Chairperson Jamie Stuck. "It reflects our care for mother earth, for the goodness it brings us every day. And, our desire to raise up the community."
So far in the 2021–2022 school year, The Fire Hub's greenhouse is on track to provide more than 50,000 pounds of produce to seven area schools and daycares in and around Battle Creek through a program titled Operation Fit, in addition to 500 pounds to Athens Schools (located near the NHBP's Pine Creek Reservation). This program has expanded outside of Battle Creek to 11 schools, a daycare center, and the local YMCA.
NHBP and FireKeepers make it a point to help neighbors in need around the holiday season. The Food and Beverage teams work together to provide a free, traditional Thanksgiving meal for more than 500 guests. They also provide free meals to veterans on Veterans Day, as well as Christmas meal kits in December. The casino also periodically gives away free slot play for guests who donate five or more non-perishable food items. This promotion generates tons of food, which is donated to The Kendall Street Pantry and the food bank through an initiative called Food for Friends.
"From the start, our goal at FireKeepers was to improve the local community, because it is simply the right thing to do," stated FireKeepers Casino Hotel's CEO Kathy George. "Utilizing Operation Fit and the Fire Hub, as well as our amazing staff, we have been able to impact more people than we ever could have imagined and we take enormous pride in witnessing this process."
With six restaurants, and a banquet kitchen on site, FireKeepers places a strong emphasis on food. With all of that food comes a lot of waste. The FireKeepers Food and Beverage team was recently recognized by the Environmental Protection Agency (EPA) with a Food Recovery Challenge National Award for their efforts to prevent and reduce food waste. FireKeepers' wide range of efforts include food reclamation from the casino's restaurants and banquet events, where food prepared and not served is then repackaged and distributed to those in need in the community. FireKeepers also works with food banks to prevent waste through the Fresh Food Initiative (FFI). FireKeepers and the South Michigan Food Bank partner to provide an average of four FFI events each month. At these events, fresh produce is distributed to neighbors in need. To prevent produce from being wasted, the FireKeepers Team develops easy recipes using the produce distributed and provides samples to encourage clients to utilize all the items they receive. In addition, the development of a greenhouse on local tribal land has generated fresh food, which is being utilized to provide free salad bars in local schools.
"We take our strong community focus from our owners, the Nottawaseppi Huron Band of the Potawatomi. Supporting our community and improving the lives of our local residents is important to every person who works here and should be a source of great pride and satisfaction," stated Kathy George. "Building a positive influence is our number one goal."
To learn more about FireKeepers community initiatives, visit www.FireKeepersCasino.com.
Gila River Hotels & Casinos, Arizona
Gila River Hotels & Casinos is celebrating its new prestigious resorts designation as Gila River Resorts & Casinos in a grand way. After 27 years, the enterprise has unveiled its new look and amenities and celebrated the completion of its $180 million expansion and opening of the new Sunrise tower at Wild Horse Pass.
Kenneth Manuel, CEO of Gila River Resorts & Casinos, said guests can expect an elevated experience with the new brand at all Gila River locations: Wild Horse Pass and Lone Butte in Chandler; Vee Quiva in the West Valley; and Santan Mountain in the Southeast Valley, which is slated to open in 2023.
"We are truly excited to introduce ourselves as Gila River Resorts & Casinos. Throughout the past several years, we have been creating a destination packed with thrilling entertainment and new ways to play so that guests can come as they are and own their moment." Manuel said.
Gila River broke ground on the $180 million resort property expansion in August 2020. The new 11- story Sunrise tower, connected to the Sunset tower, rises 150 feet over the desert landscape. Sunrise tower features 205 guest rooms and suites for a total of 447 rooms at the resort. Resort guests arriving at Wild Horse Pass will also notice a newly renovated lobby entrance, which features a stunning chandelier atop the iconic bucking horse sculpture as a centerpiece.
The resort has even enhanced its pool experience with two new pools—the Oasis Pool and the Serenity Adult Pool—and a large hot tub.
Dining and nightlife were key considerations when planning the newly rebranded resort. A stunning glass elevator brings guests to the rooftop, where Prime, A Shula's Steak House, serves up a fresh twist on classic steak house dishes crafted by celebrity chef Demetrio Zavala. Guests can indulge in a new fine-dining experience at the East Valley's new premier steak house destination that offers exceptional flavor combinations, modern decor, grand ambiance, stunning views of the Estrella Mountains, and breathtaking Arizona sunsets. After dinner, the venue transitions into a lounge, 11ven at Prime, a place where crafted cocktails and live DJs pair effortlessly with a fabulous perspective of the Valley.
The casino resort gaming options at Gila River Resorts & Casinos are comparable to Las Vegas. Guests can enjoy Las Vegas–style live table games at all three properties, including roulette, baccarat, craps, poker and slots. As a result, players can partake in a unique and elevated experience while paying lower and more approachable minimums to create fewer barriers for entry to play than Las Vegas.
As "Arizona's Official Sports Headquarters," BetMGM and Gila River Resorts & Casinos partnered to open custom-built sportsbooks at each of Gila River's three locations—Vee Quiva, Wild Horse Pass and Lone Butte—for retail and online sports betting where resort guests can bet on games from all major U.S. leagues and international sporting events in person. Each sportsbook boasts large- screen displays, a media wall, betting kiosks and ample seating.
Seneca Gaming Corporation, New York
Seneca Gaming Corporation celebrates two decades of growth. For generations of tourists, Niagara Falls has stood as a majestic, must-visit destination. For the Seneca Nation, it is where it started an ongoing journey that has made a generational difference in the lives of the Seneca people, as well as the surrounding region.
That journey began 20 years ago, when, on May 14, 2002, the people of Seneca Nation, a sovereign nation of 8,500 members, voted to allow the Nation to enter into a gaming compact with New York State.
"Twenty years ago, the Seneca people chose to give our government the authority to pursue a new path," said Seneca Nation President Matthew Pagels. "In doing so, they forever changed the trajectory of our Nation. The decision to pursue the development of a gaming enterprise was a venture into the unknown. We were a Nation of people looking to build a better, stronger, more sustainable future for the next seven generations."
Nation leaders signed the compact on Aug. 18, 2002, and, just 100 days later, on Dec. 31, 2002, Seneca Niagara Casino opened its doors to the world, completing a historic transformation of the former Niagara Falls Convention Center in downtown Niagara Falls.
"That was a defining moment," said Seneca Gaming Corporation President & CEO Kevin Nephew, the first Seneca Nation member to lead the company. "From that day forward, we have welcomed tens of millions of guests from around the world, and brought some of the biggest names in entertainment to our region. As important, that transformational investment by the Seneca Nation paved the way for Seneca Gaming Corporation to create thousands of new jobs right here in our community."
Seneca Niagara quickly established itself as a premier gaming and entertainment destination. A major expansion, completed in 2006, added the iconic 26-story hotel tower at Seneca Niagara Resort & Casino, which today dominates the Niagara Falls skyline and beckons visitors to enjoy the world-class experience that awaits within.
Just two years after Seneca Niagara opened, in May 2004, the second of the Seneca Nation's casino properties, Seneca Allegany Casino, opened in Salamanca, NY, on the Nation's Allegany Territory. Like Seneca Niagara before, Seneca Allegany Resort & Casino has expanded and developed into a full-scale resort destination, attracting guests from across New York, Pennsylvania, Ohio, Canada and beyond.
With the success and growth of their Seneca Niagara and Seneca Allegany properties, the Seneca Nation and Seneca Gaming Corporation next turned their attention to what was then an under- developed former industrial area in downtown Buffalo, setting the stage for additional growth. Seneca Buffalo Creek Casino opened 15 years ago, on July 3, 2007. The success and excitement were so immediate that the original casino facility twice had to be expanded before planning and construction were complete on the current casino in 2013. Another major expansion followed in 2017.
In all, the Seneca Nation has invested more than $1 billion to develop its three world-class casino properties and each property incorporates elements of Seneca culture and history, from design elements to destination names within each resort. Millions of guests arrive at their doors each year to enjoy an experience that is second to none in the marketplace, with more than 5,100 slot machines, 125 table games, two AAA Four Diamond Award–winning hotels with over 1,000 deluxe rooms and suites, luxurious spas and salons, award-winning fine dining, and high-end retail outlets. Through it all, Seneca Gaming Corporation has also become one of the largest private employers in Western New York, with more than 3,000 employees.
While the numbers tell a remarkable business success story, the true impact of the Seneca Nation's gaming enterprise extends far beyond the casino properties themselves.
"The impacts and the benefits of our gaming business success are felt by the 8,500 Senecas today and will be felt by those who will come after us," President Pagels said. "We have invested in our people, in the services we deliver, and in our territories like never before, and we have moved forward on our path toward economic sovereignty."
Thanks in large measure to the success of its gaming enterprise, the Seneca Nation has built new healthcare, education, community and cultural facilities on its territories, strengthened its welfare and benefits programs for Nation members, and made significant investments in infrastructure, housing, public safety, and other quality of life improvements for its people.
"Reaching the 20-year milestone makes you think of everyone who helped make the journey possible, and also the reason we started this journey in the first place," Nephew said. "First and foremost, our success is a tribute to the courage the Seneca Nation and the Seneca people showed by creating this new chapter in our Nation's history."
"We have a lot to celebrate," he added, "and we're just getting started."
Plan a trip and see what all of the excitement is about. Visit www.SenecaCasinos.com for more information.
Seven Feathers Casino Resort, Canyonville Oregon
In 1992, the Cow Creek Umpqua Tribe opened the Cow Creek Bingo Hall, which is now Seven Feathers Casino Resort. Seven Feathers Casino Resort, the first tribal gaming property in the state, is one of the most popular entertainment destinations in the Pacific Northwest and this April will mark their 30th anniversary. They are planning a full year of fun promotions, celebrations and shows to commemorate the milestone.
Seven Feathers offers over 900 slot machines, 22 table games, a 300+ person bingo hall, a 25,000+- square-foot concert/event venue, 300 hotel rooms (with 12 suites), a full-service salon and day spa, seven dining outlets, gift shop, a family-friendly arcade, an indoor heated pool, sauna, hot tubs and much more. New and returning guests will undoubtedly experience new amenities and enjoy all the updates that have been made at the property. It is the perfect time to visit Seven Feathers and to learn for yourself why this casino has the reputation of being the best in the Northwest.
Recently, the entire East Wing was remodeled with stylish new interior decorating and last year the entire casino and event center received new carpet and tile flooring, as well as some of the dining outlets. The café at the resort was completely rebuilt and rebranded into Takelma Roasting Company, with their very own coffee roasted by their coffee company of the same name and offering more food options with a bistro-style dining area. Stix Sports Bar, temporarily The Stix Fix, is going through a substantial remodel and will reopen this spring. The new space will continue to offer burgers, craft beers and other signature menu items, with non-stop sporting action. Seven Feathers even upgraded its HVAC system to a new technology that kills viruses and pathogens in the air and neutralizes odors.
Upgrades don't stop at the amenities. On the gaming floor, many of the most popular activities keep getting better by adding new titles and modern machines. Seven Feathers pioneered a patented slot technology for their Titans of Cash Bonus Room that uses interactive sound and lighting systems to heighten a unique jackpot bonus experience. They added new non-smoking tables to offer full gaming options for guests with different preferences. The table games were also improved with light-up roulette and light-up craps tables that are one-of-a-kind.
But there's much more than that, even. With a wide variety of concerts, events, trade shows and other entertainment options happening all the time, visitors can expect to enjoy more than the casino when they visit. The fun never stops!
Rock out to legendary performers in their Umpqua Grand Ballroom. Upcoming events include Midget Wrestling Warriors, March 19; Midland, April 2; Hotel California A Salute To The Eagles, April 16; and CageSport 63 Live MMA, May 7.
So, if you feel like celebrating and want to experience the best the Pacific Northwest has to offer, plan a trip to Seven Feathers Casino Resort. For more information on all that Seven Feathers has to offer, visit www.sevenfeathers.com.
Soaring Eagle Casino & Resort, Michigan
The Saginaw Chippewa Indian Tribe is the proud owner of one of the premier casino/resort complexes in the world—the Soaring Eagle Casino and Resort. Soaring Eagle Casino & Resort is home to the most action-packed gaming floor in Michigan. Located in beautiful Mount Pleasant, Soaring Eagle is an idyllic Midwest destination of pure gaming excitement and a place where you can also immerse yourself in luxury and escape the everyday.
Unwind in the comfort of newly renovated first-class rooms and premium suites that are a retreat all on their own. No matter which of their fresh, well-appointed guest rooms and suites you choose, this is comfort that indulges your senses with everything from patio or balcony options to double- headed walk-in glass showers to deluxe fireplaces. Their dedicated and friendly staff will make sure everything is perfect, exceeding all your expectations.
With thousands of state-of-the-art slots in this player's paradise, including progressives, you're sure to find your favorite games. Take a spin on the new and exciting slots always being introduced on the main gaming floor and at the Slot Palace. New games featured are Dancing Drums Prosperity, Ultimate Fire Link, Rakin' Bacon Golden Blessings and Buffalo Diamond. Also included are the Casino Wizard Electronic Table Games. This beautifully designed suite of video table games includes roulette, blackjack, craps and baccarat.
Table game enthusiasts will experience the widest variety of electrifying table game action, including roulette, craps, blackjack, 3 Card Poker and more. Your favorite is always close at hand.
Soaring Eagle Bingo is the largest in Michigan and THE spot for the best bingo action in the Midwest. So, bring your good luck charms and get in the game. Bingo runs every Wednesday thru Sunday with schedules in the morning, afternoon and evening.
But the lucky streak doesn't stop on the game floor. Whether you crave fine dining, casual comfort food, quick bites or something to satisfy that sweet tooth, Soaring Eagle does it right. Prepare to indulge from the moment you are seated.
Siniikaung Steak & Chop House has an award-winning menu bursting with flavorful recipes centered around hand-cut aged steaks along with delicious chops, and the freshest seafood. For the ultimate indulgence try the Siniikaung Signature Filet—it's a mouthwatering masterpiece. Enjoy the casual, yet elegant, ambiance featuring an extensive cellar with a hand-selected list of fine wines, single malt scotch and single batch bourbons.
Ascend is the place to be for select televised sporting events. With several large-screen TVs and plenty of seating, there's no better place to keep the live sports action in full view. Enjoy great food, specialty drinks, craft beer and an unparalleled dining experience.
Legends Diner has all of the classic diner-style favorites. Everything from mouth-watering burgers, dogs and sandwiches to delectable desserts such as malts, floats, sundaes and of course, their famous banana splits. Carry-out is available during regular business hours in Legends Diner & Ascend.
The Little Eagle Café, located in the Slot Palace, features popular comfort foods like burgers, sandwiches, hot dogs, fries, chicken wings and much more. The Little Eagle Café also serves breakfast favorites.
Looking for a sweet treat or delicious pick-me-up? Native Grind features a cafe-style menu with custom-roasted whole bean coffee, housemade artisan breads, pastries, cakes, pies, cookies, ice cream and more. If you can't start the day, or keep the night rolling, without your java, this is your happy place.
Soaring Eagle is Mid-Michigan's entertainment destination for the biggest names in music, comedy and more. Upcoming, "can't miss" shows are comedian and entertainer Joel McHale, March 11; STYX, March 19; Chicago, April 9; Santana, April 16; and Lewis Black, April 23.
No matter what you like to play or do, having a great time is always the name of the game at Soaring Eagle Casino & Resort. Plan your getaway today online at SoaringEagleCasino.com or call 1-877-2-EAGLE.
Treasure Island Resort & Casino, Welch, Minnesota
In 1984, the Prairie Island Indian Community, a federally recognized Mdewakanton Dakota Tribe, opened Island Bingo, a bingo hall with seating for 1,400, in a 30,000-square-foot space. In 1990, after the Indian Gaming Regulatory Act passed, Island Bingo reduced its number of seats to accommodate the addition of eight blackjack tables and a limited variety of video slot machines. From then on, Treasure Island began taking shape.
From its humble beginnings, Treasure Island Resort & Casino has transformed into one of the region's top resort destinations, offering some of the best gaming, amenities, accommodations and nationally known entertainment in the industry.
Treasure Island's gaming floor is comprised of more than 1,800 slot, video poker and video keno machines, 44 table games and a newly renovated 500-seat high-stakes bingo hall.
The resort's 788-room hotel is the second largest hotel in the state of Minnesota and has three towers—Buffalo, Eagle and Wolf—boasting luxurious accommodations including two-room Island Paradise suites and exclusive Presidential and Governor suites. Guests may choose from a variety of year-round Play & Stay and Dine & Stay packages, seasonal Golf & Stay packages and more.
Additional hotel amenities offer fun for all ages. From the swim-up bar, water slides and lazy river of The Lagoon indoor water park, to 24 lanes of action-packed excitement at Island Xtreme Bowl, Cyber Quest arcade and Kids Quest child care, there is something for every member of the family.
Providing endless serenity in a modern and tranquil environment, Wave Spa offers massages, facials, hair services and the best in self-care products. Guests can trade in everyday stress for rest and relaxation, or bring the spa experience home with top-of-the-line hair care, skin care, cosmetics and nail care products.
Treasure Island's variety of dining options will appeal to every palate. Grab-and-go quick bites can be found at Mongo Bay Grill, Xtreme Café, Island Perk and Bingo Café. Guests may also opt to sit down for a full meal at Currents Restaurant. Fine dining awaits at Tado Steakhouse, which offers a sophisticated menu featuring prime cuts of locally sourced 1881 Hereford beef, bison and seafood, with wine pairings and impeccable service.
In 2018, Treasure Island kicked off its first outdoor concert series in its latest venue addition: the Treasure Island Amphitheater. Priding itself in offering the best live entertainment in the region, the 16,000-seat outdoor amphitheater has hosted A-list acts such as Luke Bryan, Lizzo, Kid Rock and Willie Nelson. Inside the casino, national acts can also be found in a more intimate concert setting at the Island Event Center, a 2,800-seat indoor venue. Finally, Parlay Lounge highlights a variety of local and regional musical performers on a weekly basis.
With over 50,000 square feet of elegant, functional meeting space, Treasure Island hosts conventions and corporate events and offers banquet seating for up to 1,000 guests.
Set apart from others in the state, Treasure Island is the only casino in Minnesota located along the Mississippi River. This allows guests the ease of arriving by boat and docking at The Island's 137-slip marina. Furthermore, Treasure Island offers a 95-site RV park and a 100-passenger yacht—Spirit of the Water.
Tribal gaming has allowed the Prairie Island Indian Community, who owns and operates Treasure Island Resort & Casino, to become self-sufficient and provide for themselves. It has allowed the tribe basic necessities many communities take for granted such as sanitary water and sewer, paved roads, healthcare and social service programs. In addition, they recently built an assisted living lodge, Tinta Wita Tipi, where they can provide care for Tribal elders and area seniors.
Treasure Island Resort & Casino continues to be a source of pride for the Prairie Island Indian Community, its guests, team members and surrounding communities. As the largest employer in Goodhue County, Treasure Island provides over 1,500 jobs. In addition to its economic contributions, Treasure Island Resort & Casino and the Prairie Island Indian Community continue the philosophy of being a good neighbor by supporting organizations and individuals through charitable contributions. Together, the Prairie Island Indian Community and Treasure Island Resort & Casino have contributed over $22.5 million to thousands of non-profit and civic organizations throughout the region since 1994.
To learn more about Treasure Island Resort & Casino, visit their website at TIcasino.com.