The House of Blues signals new diversity at the Showboat and for the Atlantic City entertainment scene
by Frank Legato
The Showboat's Mardi Gras casino has catered to the same loyal market for most of its 18 years. Ever since its opening in 1987, the Showboat has been a favorite of the World War II generation, with elderly bus patrons typically crowding into its lobby to dance to live Dixieland performers at lobby bandstands.
If you drive up to the hotel's porte cochere and walk through the main doors, you will still see the scene that has greeted patrons for more than a decade. The lobby performers are still there. The hotel lobby and most of the casino are still draped in the familiar, festive New Orleans Mardi Gras theme.
But now, if you walk past the Taj Mahal and approach Showboat on the Boardwalk, you will encounter an entirely
different scene. The old white Boardwalk faÁade is history, replaced by a sleek, futuristic metallic faÁade centered by a neon marquee blaring three words above the smaller Showboat name: House of Blues.
Last month, the Boardwalk side of Showboat was reborn as House of Blues Atlantic City. It is the 10th location in the famous chain of music clubs begun in Cambridge, MA, in 1992 with the help of such famous investors as Dan Aykroyd, Jim Belushi, Paul Schaffer, Aerosmith and others. But while most of the other nine House of Blues (HOB) locations feature no more than a concert hall along with a blues-themed restaurant and gift shop, parent company HOB Entertainment Inc. decided to make the AC location larger than any HOB in the world, with a collection of features never before included by the chain—and never before seen in Atlantic City.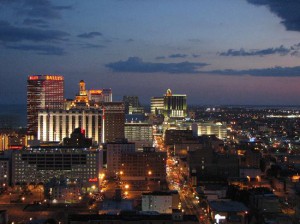 House of Blues Atlantic City represents a grand entrance for the chain into the East Coast market. For Harrah's Entertainment it represents a chance to move the Showboat beyond its elderly day-tripper image to reach out to customers never before served by the casino. Finally, for Atlantic City, the new venue adds even more diversity to an entertainment scene that has exploded with the addition of beach bars, hip nightclub venues and a lineup of the latest rock entertainment at casinos across town.
New Image
The changes to the Boardwalk side of the Showboat go far beyond the faÁade and marquee greeting those strolling the boards. The entire ocean side of the property, formerly host to a French Quarter mockup and a Dixieland bandstand, has been transformed into an 18,000-square-foot entertainment complex including a 2,400-seat, multilevel music hall; a hip nightclub that is open until the wee hours; a Southern-inspired restaurant; a HOB gift shop; blues-themed casino space, including slot and poker rooms; and the renowned, upscale private club Foundation Room overlooking the ocean.
House of Blues Atlantic City constitutes a collection of experiences far beyond what the chain has done in the past. Ron Deimling, who was brought from HOB Las Vegas to serve as general manager of the new AC club, says the company decided to build its largest venue to date here to make a statement about Atlantic City and the East Coast in general.
"This is a great representation for House of Blues, and obviously will make for a huge presence on the East Coast," says Deimling. "We have the Philadelphia market, the New York market and the Atlantic City market—we will have the ability to draw and touch all three markets with this venue. We feel really confident that with the music we're going to offer, the nightclub, the Foundation Room, we will continue to drive more people to the Atlantic City market, thus building [it] into more of an entertainment destination. People are really excited about Atlantic City now. It's becoming more of a destination place, an alternative to the six-hour flight to Las Vegas."
House of Blues Atlantic City has a number of elements that are firsts for the chain, as well as firsts for Atlantic City. For instance, this is the first time the HOB theme actually spills over to gaming areas, with HOB-branded slot rooms and the 45-table HOB poker room. The new poker room will host several tournament events throughout the year tied to the World Series of Poker, which is owned by Showboat parent company Harrah's Entertainment.
House of Blues Atlantic City is also the first venue in the chain with a nightclub designed specifically for late-night revelry. "The nightclub is completely new to the House of Blues," Deimling says. "We do nightclubs in our concert halls, but here, we have a dedicated space specifically designed to cater to that demographic. We've obviously got the concert business down; now we're going to focus on that [nightclub] process. The club is small—about 600 people—with more of an intimate, high-end kind of feel to it. It's a place where I, who am not a club guy, can come in and feel good. Or you can get a clubber to come in [who will] know exactly that he or she is in a club. Music will be DJ-driven, with local, regional and some national brand names."
Finally, for the first time in the chain's history, the HOB theme actually extends onto a beach. Showboat opened the HOB Beach Bar over the Fourth of July weekend.
Blues—and More
While the myriad offerings make the AC venue unique among HOB clubs, the main focus of the enterprise will always remain the same—music. However, the lineup of acts to grace the main stage in Atlantic City goes far beyond the Mississippi Delta blues that provided the inspiration for the chain's founding.
While the main concert hall was "christened" in the spring in the same manner as all HOB stages—with the pouring of mud from the Mississippi Delta into its foundation to conjure up "mojo" for the venue—the first summer's entertainment lineup displays a diversity of rock and blues music that is mind-boggling: Everything from traditional blues to classic rock to alt-rock, pop and hip-hop acts is being booked for the main concert hall.
The hall itself—occupying, appropriately, the space that was once Showboat's Mississippi Ballroom on the second floor—is a dandy, with hand-painted design covering the walls and ceilings, a huge bar and dance floor to one side, and a central stage facing a standing-room floor and balcony seating (the standard HOB arrangement).
After June "soft-opening" concerts by blues-rock guitar icon Warren Haynes and his band Gov't Mule and Southern rockers Lynyrd Skynyrd, the Fourth of July concert featured hip-hop stars Black Eyed Peas. The grand-opening celebration the following weekend featured early '90's icons Counting Crows on Friday, hip-hop titan Eminem on Saturday and, wrapping up the festivities on Sunday—who else?—the Blues Brothers featuring Dan Aykroyd and Jim Belushi, with special guest Buddy Guy and his band.
The rest of the summer is offering a diverse bag of rock, blues and pop—Rusted Root, Richard Marx, Jamie O'Neal, George Thorogood, Hot Tuna, Duran Duran, Whitesnake—even '80's techno-pop icons Devo.
"Diversity is the key," Deimling says. "We want to make sure we get a lot of local, regional and national talent, so we definitely want to set the tone here on the East Coast. But we care about all music demographics. Every week we will have something different. And that's what is unique about the House of Blues. We're not just a blues club. Rock, reggae, rap, jazz—you name it, we have it in our concert division."
The HOB restaurant is a 327-seat Southern-inspired eatery with an open kitchen and dishes like Voodoo Shrimp and Crispy Catfish Nuggets. There's also the Sunday Gospel Brunch, an HOB tradition. Showboat customers will also enjoy the unique combination of an all-you-can-eat Southern-style buffet and live entertainment every Sunday, featuring gospel groups from around the South Jersey region at a tableside stage. "Gospel Brunch is definitely something that is one of our recognizable brands," Deimling says.
The AC version of HOB's renowned Foundation Room, the private club that has drawn thousands of members at all the chain's locations, is one of the venue's crowning attractions. The 14,500-square-foot space is an elegant collection of exotic rooms with African-themed fireside lounges, private East Asian "prayer rooms," a large central bar and a long outdoor deck facing the ocean. Deimling notes that the members-only club is perfect for either private parties or corporate get-togethers. Individual memberships start at $2,200 per year, with corporate memberships priced around $8,000. Membership in Atlantic City will get you into any of the Foundation Rooms in the country. And 25 percent of membership dues goes to the International House of Blues Foundation, which is dedicated to bringing arts and music programs to underfunded schools and communities.
Wrap it all up with an HOB gift shop (another of the chain's traditions) and you have a venue like nothing before at Harrah's, Showboat or in Atlantic City. "So many people view our brand as just music, and we're trying to get away from that," Deimling says. "People are surprised that we have a great restaurant, great retail. Our food is fantastic. We really pride ourselves on our culinary skills. Everyone talks about Atlantic City and New Jersey's culinary arts, and they're very apparent here. We're looking to be a part of that."
What About Showboat?
The new day issued in by HOB by no means translates into the casino turning its back on its core of traditional customers. Dave Jonas, senior vice president of Harrah's Entertainment and head of the operator's AC operations, says there is a clear "line of demarcation" between the Showboat everyone has known for years and the new, ultrahip atmosphere of HOB.
When entering from the porte cochere, Jonas says, "you will not even know there's a House of Blues on the other side of the property."
But what HOB does give Showboat, he adds, is a larger market base—and the ability to cater to the younger visitors who have been pouring into Atlantic City since the opening of Borgata two years ago. "For Showboat and Harrah's, this takes us to a very different level, and really speaks to a very different customer than we've ever spoken to," says Jonas. "This truly is in response to the changing Atlantic City. When Borgata opened, quickly, we sized up that the growth in the market was going to come in a lot of different ways. In no way, shape or form are we walking away from the customer that's been our bread and butter, but there's clearly an opportunity to speak to a little bit younger audience. The beauty of House of Blues is that it speaks to all audiences, so we've really hit a home run with these guys."
In addition to the physical space, Jonas says the time of day will dictate when Showboat communicates to its traditional market and when it opens up for the younger crowd, in what has been called an "8-to-8" strategy.
"We're going to have a two-part strategy," he says. "During the day, it's going to be very much like Showboat as we know it today. After eight o'clock, that place pretty much dies. So there's two things we've created. One, we've created a fabulous entrance at the back of our property, which we've never had before—a reason for people to walk past the Taj—and then we've created an opportunity where after eight o'clock at night, when nothing's going on in this property, that's when House of Blues comes alive. So it is a perfect fit for the Showboat.
"What we have is a brand within a brand. We've taken the Showboat… to a very different level with a brand that's synonymous with entertainment and more. It's not just food; it's not just entertainment. There's a gaming piece to it, there's an entertainment piece to it, there's a food and beverage piece to it. It is awesome."