THUNDER AND TREASURE
Ainsworth triples down on a good thing with sweet zone xtreme
By Frank Legato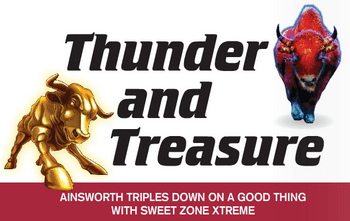 For years, fans of slot games produced by Australia's Ainsworth Game Technologies numbered one particular game series among their favorites. Called Sweet Zone, the games are woven around a central wild-symbol feature that can result in some gargantuan credit wins.
"The Sweet Zone is a special symbol that appears on the second and fourth reels," explains Jason Pawloski, lead game designer for Ainsworth. "On the visual display, there are spots that are highlighted either with a blue box or a red box. If the Sweet Zone symbol lands in the blue box—they'll be in the top or bottom symbol position—that reel turns wild. If it lands in the red box, which is in the middle position, a three-by-three block of reels turns wild."
If that red Sweet Zone symbol lands on the second reel, it turns reels 1, 2 and 3 wild and the pays are re-evaluated. As one can imagine, having the left three reels on a five-reel screen as wild symbols guarantees lots of winning combinations, not to mention a ton of credits—at least 20 times the total bet, according to Pawloski. If the red Sweet Zone lands on the fourth reel, it turns reels 3, 4 and 5 wild—not quite as good, but still quite lucrative.
And it gets more lucrative in the free-spin round, with the reels expanding to nine spaces, and Sweet Zones potentially appearing on both the second and fourth reels—in other words, the entire expanded screen can transform into wild symbols.
"We saw great success with our Sweet Zone family of games, starting with Rumble Rumble several years ago, and that game had good legs," says Pawloski. "They're still all over the field."
Pawloski says his team was tasked with repeating that success with new games in the series, and this month, the result of those efforts will be arriving at a casino near you—a supercharged version of the Sweet Zone series.
Meet Sweet Zone Xtreme.
The Extreme Zone
Sweet Zone Xtreme is the first series of games to come from Ainsworth's new Las Vegas game development studio, which Pawloski heads. He had come to Ainsworth as the Australia-based slot-maker was ramping up the Las Vegas studio, part of the company's new North American headquarters—a massive new facility, the base from which the company is expanding its U.S. business.
Pawloski is a veteran game designer with nearly 10 years at IGT and Cadillac Jack, but his first task upon joining Ainsworth was to learn what made the Australian company's games tick. "The first thing Jason did when he was hired by Ainsworth was to spend six months in Sydney with our amazing game developers over there," comments Mike Trask, the company's director of marketing. "He spent six months over there learning the Ainsworth system and working hand-in-hand with those guys, and he came back to Las Vegas to this world-class building."
Pawloski's team back at the new North American headquarters would include artists, mathematicians, engineers and others that are among the most talented in the gaming industry. "We brought them from all quarters to establish a team we think is right on par with the best in the business," says Trask.
Re-creating the magic of Sweet Zone in a new format was a great challenge to baptize the new game development team. "I wanted to build on what we already had established with the company," Pawloski says, "and one of the things I noticed with the original family of games was that when you go into the free spins, you go in with the same number of lines, distributed over the expanded nine-by-five interface. I thought it would be cool if, when you go into the feature, you would get more lines."
With Sweet Zone Xtreme, when the number of symbols triples to nine per reel, so do the paylines. The game comes in 30-line, 40-line or 50-line configurations. In the 50-line version, the free spins play out on 150 paylines.
That means a red Sweet Zone symbol on the second reel, instead of paying at least 20 times the total bet, pays a minimum of 60 times the total bet. And that's just the minimum.
"It's pretty significant," says Pawloski. "That, right there, can make your bonus."
The Sweet Zone Xtreme line is being launched with two base games, Rumble Thunder and Toro Treasure. "Rumble Thunder is the distant brother of (original Sweet Zone game) Rumble Rumble, and Toro Treasure is the distant brother of Flying Horse, another successful Sweet Zone game," Pawloski says. "In the base game, you can win up to 250 times your bet in Rumble Thunder. In the free spins, because of the triple lines, you can win up to 750 times your bet."
Rumble Thunder is very straightforward, he says. "There is a simple symbol set—four picture symbols, five royals, a bonus, a wild and the Sweet Zone. What you're cheering for in that game is just getting the Sweet Zone, going into the feature— getting that red Sweet Zone symbol. Toro Treasure is a little different."
Toro Treasure is, in fact different in a great way—instead of just a re-evaluation of the wins after several reels turn wild in the Sweet Zone feature in the primary game, you get one re-spin. The three wild reels stay in place, and the other two respin, and there is another evaluation after that. In the free-spin feature, it can re-spin up to three times—that's four Sweet Zone spins.
In the free spins, Toro Treasure's red Sweet Zone is the sweetest— at least 60 times the bet on 150 paylines.

Top Form
The rebirth of the Sweet Zone series is made that much stronger by the fact that it coincides with the launch of a cabinet that makes all those features pop. It's called the A640 cabinet, and it wraps those Sweet Zone features into a package including a high-definition, 40-inch touchscreen video monitor and modern features like a 5.1 surround-sound system and a touch-screen button deck, which allows animation on the buttons but keeps the classic "bash button" for spinning the video reels.
"The look and the feel of the game is a little more modern," says Trask. "Jason's team has done a great job utilizing those screens and providing some tremendous, world-class animation—improved coin showers, and other things that are really going to appeal to players who love the Sweet Zone games and are looking for an upgraded version.
"We also think it's going to appeal to players who have not sat down and tried the Sweet Zone games, just because of the appeal of the 640 cabinet."
By the time you read this, Ainsworth's rollout of Sweet Zone Xtreme will be well under way, with the games projected to be available everywhere Ainsworth games are licensed in North America— which is just about everywhere—by March.
"The best part of the series is its potential for big wins," says Pawloski. "Even if you don't get the Sweet Zone feature in the free spins, you can still rack up large wins, just because there are so many lines. It really doesn't take much to win 20, 30, 40 times your bet."
Trask says players can expect more from the Sweet Zone Xtreme series than the first two games. "We have high hopes, and there are certainly some follow-up titles in the works," he says.
Sweet.
Sweet Zone Xtreme
SLOT TYPE:
Five-reel, 30-, 40- or 50-line video slot; stacked full-reel wild symbols; expanded reels in free-spin bonus event; penny through $10 denominations; optional two-level mystery progressive
PAYBACK % RANGE
85%-96%
AVERAGE HIT FREQUENCY
Approximately 50%
TOP JACKPOT
Rumble Thunder: 250 times total bet Toro Treasure: 750 times total bet
Do you have a comment or question about this article?

Look for your question to be answered in either Casino Player or Strictly Slots Magazines.