Smoke Free Zone
Valley View Casino earns top non-smoking designation in California
By Sean Chaffin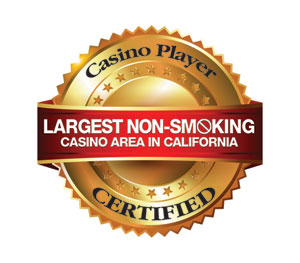 Tired of plumes of smoke surrounding you as you as you try to finally hit that jackpot? Maybe a chain-smoking fellow blackjack player has you wishing he would just 'Äúbutt'ÄĚ out of this game? If so, a trip to Valley View Casino and Hotel, located just north of San Diego, California, might just be in the cards. The resort offers big fun and entertainment in a smoke-free atmosphere.
The resort recently obtained the designation as the 'ÄúCertified Largest Non-Smoking Casino Area in California,'ÄĚ offering a respite for gamblers hoping for some freedom from the gray haze. Casino staff says the title recognizes Valley View'Äôs commitment to serving all of their guests, whether or not they prefer to smoke while playing. Since 2009, the casino has been refining and expanding the non-smoking wing to offer guests smoke-free gaming with all of their favorite slots and table games with full casino amenities and award-winning non-smoking restaurants.
As California'Äôs largest non-smoking casino area, after walking through Valley View'Äôs main doors, guests are just a short distance away from the expansive non-smoking casino wing adjacent to the main casino floor. Guests cross into the enclosed non-smoking casino, more than 22,000 square feet of gaming space. Beyond its 850 loose slots, Valley View'Äôs smoke-free section also offers dedicated table games, a Players Club, promotions area, a full service bar, and restrooms. The casino is owned by the San Pasqual Band of Mission Indians and was opened in 2001, which marked a milestone in the tribe's history. The smoke-free designation is another milestone casino personnel have been working toward.
'ÄúAt Valley View Casino & Hotel, guest service is our #1 priority and we treat each guest like an individual,'ÄĚ says Valley View General Manager Bruce Howard. 'ÄúOur non-smoking casino was designed with our guests in mind. We want everyone to have a memorable experience and providing smoke-free access to gaming, dining, promotions, and the Players Club is part of our larger effort to make each guest visit exceptional.'ÄĚ
Casino officials believe guests love having a non-smoking gaming option and that Valley View staff have worked to accommodate the needs and desires of each guest. By giving guests the opportunity to choose between smoking and non-smoking casino areas, the casino hopes to uphold high service standards and ensure that no guest has to decide between some fun at the gaming tables and slot machines or a smoke-free environment.
This casino takes its non-smoking efforts beyond mere lip service. All of the casino'Äôs award-winning dining options'ÄĒfrom the Maine Lobster Buffet to the elegant Black&Blue Steakhouse to BLD'Äôs caf√©'ÄĒare completely smoke-free. The award-winning buffet offers a unique culinary experience that includes crab, prime rib and desserts for every mood. Guests who sign up for a Players Club card can sample all of the fresh local dishes and 100-foot dessert bar at The Buffet for free. Black&Blue offers delectable steaks, seafood, or the best of both'ÄĒsurf and turf. There are also numerous casual dining options available as well as several bars and lounges for some liquid libations. The Main Stage Bar offers perfect cocktail concoctions and daily live entertainment. Also, all of the hotel'Äôs rooms and facilities are designated as non-smoking and a stay at the hotel is a night in luxury. Every room and suite of this elegant hotel offers amazing views of the surrounding Palomar Mountain Range'ÄĒan amenity certainly not available at most casino resorts. The entire casino also has an advanced filtration system that continuously purifies and circulates clean air throughout all areas of the resort.
'ÄúThere will always be guests that want to smoke and play, and we want to ensure that both these gamers and guests wanting a non-smoking environment are accommodated,'ÄĚ says Joe Navarro, president and CEO of the San Pasqual Casino Development Group. 'ÄúWe are honored that Valley View Casino and Hotel'Äôs efforts to accommodate the needs of all of our guests are being recognized with this title of 'ÄėCertified Largest Non-Smoking Casino Area in California.'Äô'ÄĚ
As a whole, Valley View offers 2,000 of the most popular slots and video poker including the Colossal Coin jackpot, an in-house progressive mystery jackpot allowing players to win up to $1 million when using a Players Club card. The Colossal Coin jackpot has been awarded 112 times and paid out over $9 million in just eight years and is only available at Valley View Casino. Players can hit the jackpot on machines in every denomination with video poker and keno also offered.
For table games players, Valley View offers blackjack (single and double deck), roulette, three- and four card poker, pai gow poker, EZ baccarat, and more. The hotel offers a great stay and a chance to relax in the luxurious infinity pool or take in the free poolside breakfast. Casual dining options are also available as well as several bars and lounges. The Main Stage Bar is perfect for a cocktail and daily live entertainment'ÄĒand a perfect evening.
The Players Club offers casino guests numerous promotions, fun giveaways, and exclusive tournaments. Signing up is quick, easy, and free, and guests can swipe their Players Club card to participate in exciting events and earn points at the same time. Some interesting promotions begin at the casino in September. Starting September 9, guests can enjoy SuperCharged Mondays in the Main Stage bar'ÄĒcheering on San Diego'Äôs favorite football team while enjoying $1 hot dogs and $2 beers'ÄĒa perfect way to spend a football Sunday. Those attending can earn a chance to win the ultimate VIP experience with luxury box seats at a Chargers game at Qualcomm Stadium including round-trip transportation, a one-night hotel stay, and more.
On Oct. 30, Valley View will be abuzz at its exciting car giveaway. Gamblers will have a chance to win a brand new car, and the resort will even pay sales tax and license fees. Also that day, thousands of dollars in daily promotions will be exclusively offered at the promotions areas in both the smoking and non-smoking wings of the casino.
So get your bankroll together and have some'ÄĒsmoking or smoke-free.¬†
Sean Chaffin is a freelance writer in Rockwall, Texas. His new book, RAISING THE STAKES: True Tales of Gambling, Wagering and Poker Faces, is available as an eBook and in paperback at Amazon.com and BarnesandNoble.com. He is also editor of www.PokerTraditions.com, all about poker history, lore, and people. If you have a gambling or poker story idea, email seanchaffin@sbcglobal.net. Follow him on Twitter at @PokerTraditions.
 
Do you have a comment or question about this article?

Look for your question to be answered in either Casino Player or Strictly Slots Magazines.