Penny Lane

Why we love to play those low-denom slots
by Frank Legato
Young casino-goers may not remember, but it wasn't that long ago that the lowest buy-in you could generally find on the casino floor was a quarter.
Little more than a decade ago, quarters ruled the floor, mostly in the form of traditional games with three spinning reels. Three developments over the ensuing 10 years, though, would change everything.
Multi-line video begat nickels. Nickels begat tickets. Tickets begat pennies. We haven't looked back since.
When slot-maker Aristocrat placed the first multi-line video slots on U.S. soil in the mid-1990s, the nickel slot was a dinosaur. Relics of the low-roller "grind joints" of days past, nickel games were simple three-reelers set at the lowest payback permitted by law and placed in low-traffic areas to get something out of otherwise-wasted space. With multiple paylines in the mix, though, the average bet could increase.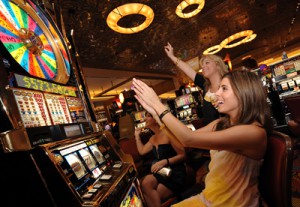 By the year 2000, the market was flooded with nickel multi-line video slots, with ever-increasing numbers of paylines and ever-increasing average bets. With people betting 45 coins on the average nine-line nickel game, average bets were easily more than quarters, and often higher than even the venerable dollar slots. Players loved them for their high hit frequency and often-entertaining cartoon or TV-based bonus rounds.
Those same high bets and high jackpots, though, presented an annoying problem with the nickel slots—there were just too many nickels. Cashing out any reasonable amount of money on the credit meter would invariably empty the hopper, forcing a sometimes-long wait for a fill, not to mention lugging heavy buckets of nickels to coin redemption.
The problem, of course, would be solved by the new ticket-in, ticket-out slots, known in the trade as "TITO." With tickets, cash-out was convenient, regardless of the number of credits.
Consequently, more paylines appeared, along with higher average bets for the casinos, and cash-outs that could be as high as the machine's programmer desired.
The next natural step was a lower denomination.
The Penny Appears
Penny slots had been 1940s novelties in Reno sawdust joints. After 2000, the copper denomination would gain new life. "Tickets really started the proliferation of pennies," says Brenda Boudreaux, vice president of product management for leading slot manufacturer International Game Technology. "TITO definitely gave operators the opportunity to offer pennies. We started seeing video reel games where you could increase the number of paylines. Players usually at least cover the paylines when they play a multi-line game, and tickets gave us the ability to increase the number of paylines."
Boudreaux notes that lowering the denominations made it easier for players to cover all the lines on the multi-line games, and even to play at max-bet. Bottom line—players wagering more were winning more. The low denomination, moreover, allowed those wins to rise to huge proportions, in terms of the number of credits. "Players could wager about the same bet as before, but actually would have the opportunity to win on different pay combinations and stay on the machine longer."
Along with the move to pennies came a modification of the way many slot-makers design their games. Before pennies, the programs of the nickel multi-line videos invariably relied on so-called "dribble wins"—low-paying winning combinations, often lower than the initial bet, that occurred nearly every spin. Players would usually make up for the small wins by hitting a bonus round that typically was an entertaining, comical animated interlude that replenished the credit meter.
With pennies, that began to change. The typical penny video slot is more volatile—meaning the swings of fortune are greater. There will be spells without a winning combination, but the winning combinations, when they do hit, are often huge, putting the credit bank at a level that will allow a satisfying cash-out or a good, long play session.
The bonus features, meanwhile, have become more simple. There are still the simple "pick-a-tile" games, but at a penny game, you're not likely to sit watching a funny cartoon or clips from an old TV show. Mostly, what has taken over is the free-spin bonus round. The "retrigger" became a popular feature—a free-spin round can be re-triggered within a free spin, for even more free spins and more pure profit in the bonus round.
Free-spin bonus rounds are popular the same reason the new style of base game is popular—it repeats the volatility, with the same gambler's adrenaline rush, only often with added features like double or triple jackpots and expanding wild symbols.
Within these new parameters, there is much variety, says Boudreaux—in both video and the new, extremely popular reel-spinning penny games. "Even with reel-spinners, players are getting wins that keep them in their seats, and keep them entertained," she says. On the video side, you have different bonuses, retriggers, free spins—a lot of variety. Players are getting a lot more as they're playing, and they can sit at a slot and make their budgets last longer. It all goes back to time on device, and it is entertaining because there are a lot of different ways to win."
Allon Englman, vice president of game design and strategy for WMS, said there are several reasons why the penny slots are so popular with players, particularly considering that most know they are not "loose?"
"In a penny game the player has the ultimate say in how long they want their money to last. They can bet as little as one cent or in some cases as much as $10. The fact that the games are generally tighter does not make up for the fact that the player is the ultimate decider on how long they can play. In addition, the penny denomination is also a great value proposition to the player."
As to the difference in penny games as compared to playing nickels, Englman said, "Because the player is generally betting less on penny games, the volatility of the games has generally increased. Just because a player is betting only 20 cents they are still interested in winning—lets say $100.
"This player desire has been the main driver of increasing the volatility in games. In addition to increased volatility there has been also a trend to increase the amount of lines the player can bet on. This increase in lines is designed to increase the amount of action and winning combinations the player is eligible for. Because the base denomination is a penny, the player is more inclined to purchase additional lines. You have also seen a trend to offering additional bets to trigger features and more frequent bonus games."
WMS is currently in the process of offering some innovative penny games. "Our Wrap Around Pays series of games is truly designed for the penny player. In this series the player can bet up to 100 lines for a 50-credit bet. The unique concept in this series is that new sets of lines start on each reel and wrap around to the corresponding reel on the left. For example, new lines start on Reel 2 and the end of the lines wrap around and finish on Reel 1. This concept in its initial launch has proved extremely popular with players in the penny denomination."
It's Winning, Stupid
Most players—particularly those who read this magazine—know that penny games are not the place to go if you're looking for "loose" slots. In fact, they have the worst return on the slot floor—usually less than 90 percent.
It doesn't seem to matter. Players are still flocking to these games, for one simple reason: wins.
The low denomination makes large credit wins possible, and the low required buy-in assures that players are in the game when those occasional huge wins occur.
Where clips from movies or TV shows once reigned supreme, "the entertainment is now in the winning itself," says Boudreaux. "The players have grown to look for the familiar penny features: 'How do I get the free spins? Does it have a retrigger? I can get free spins up to 10 times my bet.' They are getting more savvy. These may not be the long, drawn-out bonus rounds of the past, but players are now getting the results they want on the base game themselves, with the bonus as an added feature—like it says, it's a bonus."
These days, IGT puts most of its high-profile new games out in the penny denomination—Beverly Hillbillies, the new DaVinci Diamonds, Wild Orchid, even Megabucks, which offers a life-changing jackpot for a max bet of $3. You'll find a penny decal on Wheel of Fortune Super Spin, which adds a community-play bonus round to the big-money jackpot.
"We also have some good traditional stepper themes we now offer in pennies," says Boudreaux. "We have pennies in each product category."
What about the other denominations? According to Boudreaux, there will continue to be new games in all of the styles, including some great new traditional three-reelers to be launched this fall.
However, the pennies will continue, as well as even smaller denominations: Boudreaux says IGT is now also releasing games in the half-penny denomination, as are many other manufacturers. On these games, you activate two paylines for each penny wagered, which raises the capacity for extra paylines, larger wagers
 and larger jackpots.
Because in the end, larger jackpots—the ones that give you the rush of joy, the ones that keep you playing for a long time—are what it's all about with the penny slots.
Remember: A hundred thousand pennies is still a cool grand.
Why we love to play those low-denom slots.
Do you have a comment or question about this article?

Look for your question to be answered in either Casino Player or Strictly Slots Magazines.