Long Live the King Slot Machine
by Frank Legato
Long Live the King
A decade after the Elvis first appeared on a slot machine, players still can't get enough of him
He wasn't just the King of Rock and Roll, he was the King of Las Vegas. And no one has ever worn the crown with more majesty.
Sinatra and the Rat Pack may have become synonymous with swingin' 60s Vegas, but by the time of his death in 1977, Elvis Presley was a Vegas icon—so much so that his image remains prevalent in Las Vegas to this day, from impersonators and tribute shows to Elvis preachers, Elvis parodies, and that song.
It was Presley's iconic image that inspired game designers at International Game Technology to develop the slot giant's third big, branded game.
In 1997, IGT virtually launched the era of the "slot brand" with the venerable "Wheel of Fortune." That game, which used the famous fortune wheel for bonuses, was quickly followed up with "Jeopardy!" another game-show themed brand, this time using a back-lit replica of the famously brainy show's game board as the bonus display.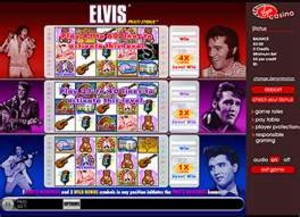 Jean Venneman, IGT's senior vice president of product development, was one of the company's top game designers at the time. She was put in charge of the team that would develop IGT's third high-profile, branded progressive slot.
It was to be like none before it, partly because the developers started with one of the best ideas in the history of the slot business—putting Elvis on a slot machine.
"I was involved in the very first conversation about investigating the creation of an Elvis-branded game," Venneman recalls. "It just hit us. Elvis is such a broadly known icon, and his appeal is timeless. And he had such an association with Las Vegas that he particularly appealed to the gaming audience. It seemed to make sense."
Once the brand license was secured, the development team headed by Venneman was determined to do it justice. Elvis was about the music more than anything, so there would be music in the game. In fact, as long as his music would be in the game, why not a video of the King in performance? These features would be combined with elements of what IGT had scored hits with already—a wheel-style bonus, a mechanical light box, and a popular reel-spinning base game with a big-money, wide-area progressive jackpot.
The technical and creative challenges of creating Elvis, the slot machine, was in linking all these features together. As Venneman notes, some of these features moved IGT into uncharted territory.
"With 'Wheel of Fortune,' we had gotten our feet wet in mechanical top-box features with the wheel, and with 'Jeopardy!' we created a light-box bonus," she says. "For Elvis, we came up with the concept of marrying bonus features to musical clips of a song. Nothing like that had ever been done."
Another first was use of a small LCD video screen as part of the bonus—a feature that would evolve into the "Vision Series" of reel-spinners in the ensuing years, but which would eventually become commonplace in the marriage of reel-spinning and video slots.
The Elvis game combined all these features into a masterful presentation, with Presley's image under a wide-area progressive jackpot meter topped by an "ELVIS" light box resembling the familiar logo from the performer's famous 1968 "comeback" TV special.
Video clips from that special were combined with clips from other famous performances, such as the 1973 Aloha From Hawaii worldwide broadcast, creating a bonus round that was more entertaining than anything on the slot floor at the time.
The top box was a visual feast. Just under the progressive meter was a picture of the leather-clad Presley, guitar in hand, surrounded by a ring of 14 record icons, each representing one of the King's gold records and each bearing a bonus amount.
When three record symbols landed on the reels, the player would hear the famous intro music that marked Presley's concerts as the lights behind the gold records flashed until stopping on one record. The video screen would then show a clip of Presley performing the song as the corresponding bonus credits racked up.
This was attached to base games that were among IGT's most popular at the time—the initial release featured "Five Times Pay" and "Red White & Blue."
The Elvis slot was released in November of 1998 and was immediately a runaway hit. It was one of the earliest slot games marked by people lining up to play and spectators gathering around to watch—not just the jackpot winners, but the live performance clips, which stood out amid a sea of spinning reels.
It was a formula that has endured to this day—according to Venneman, several hundred of those original Elvis games are still in the field. They have been joined by other versions of the brand—from "Elvis Hits," a popular sequel released two years after the original that allowed players to select their favorite Elvis song, to more recent games like 2005's "Elvis Multi-Strike" and the just-released "Viva Las Vegas."
The new game is a slant-top reel-spinner with a throwback mechanical bonus event, featuring the sights and sounds of the famous 1964 Viva Las Vegas film that paired Presley with Ann-Margret.
Along the way, IGT has lent the Elvis brand to Japanese amusement games, European "amusement-with-prizes" machines and other ventures.
Like the popularity of the King's music, still uncannily strong 30 years after his death, the Elvis slot brand lives on, and will continue to appear in new IGT games for the foreseeable future.
In other words, as long as you can get married by Elvis in an off-Strip chapel, you'll be able to see him on a slot machine. •
Long Live the King Slot Machine.
Do you have a comment or question about this article?

Look for your question to be answered in either Casino Player or Strictly Slots Magazines.