SCOTUS To Hear Case That Bans Sports Betting
Nationwide legal wagering could be the result
By Buzz Daly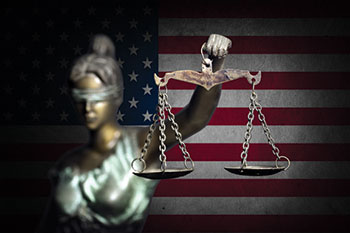 Are millions of advocates for legal sports books being set up for a heart-breaking bad beat, or are they witnessing the dawn of a golden era of sports betting that will wash away the specter of being an illicit activity throughout most of the country? That is the double-edged sword dangling over the gaming industry as it awaits a decision this fall from the Supreme Court on the issue of allowing New Jersey to offer sports betting on professional and collegiate sports.
Legal betting venues would include the state's casinos and race tracks. It looks like after decades of being the black sheep of the gaming business, sports betting could be getting fitted for a new suit of respectability. By agreeing to review a lower-court ruling that blocks New Jersey from legalizing wagering on sports, the high court will be passing judgment on the federal ban that is now in effect.
The decision to hear the case came as a surprise. It was considered a lost cause by many since the acting solicitor general of the United States had asked the court in May not to hear it. Some observers think the justices may have taken the case because it's a states' rights issue.
The court's decision, of course, has ramifications that extend far beyond the single jurisdiction of the Garden State. By agreeing to hear an appeal of a lower court ruling that blocks New Jersey from taking such wagers, the SCOTUS is potentially setting the stage for other states to pass legislation legalizing sports betting.
A decision to repeal the ban, the Professional and Amateur Sports Betting Act of 1992 (PASPA), would put Las Vegas sports books in the cat bird seat vis-Ă -vis extending their business throughout the nation. Launching and running a profitable, professional bookmaking operation requires many layers of serious expertise in such areas as managing liability, line movement, customer service and marketing. Presumably, leading Vegas shops could provide sophisticated management services to newly established books.
Currently, Nevada is the only state that allows betting on single games. With a favorable ruling, that could change in a heartbeat. "At this point, it's sort of inevitable," suggested MGM sports book director Jay Rood. "It will happen at some point, it's just a matter of when." Wynn sportsbook director Johnny Avello said five years ago, he was pessimistic about it happening. "But we've definitely moved a lot closer. It's going to happen," he added.
The notion that such new competition might have an adverse effect on Nevada books does not get much traction among leading Vegas bookmakers. It was once thought that Atlantic City might hurt Vegas; to the contrary, it helped business.
Consensus among Sin City sports book execs is that it makes sense for states to partner with established operations. Opening a satellite book is more cost-effective and reduces risk substantially. There are lots of ways of dealing with the logistics of doing business as a bookmaker. With each state having its own operational guidelines, it is not likely that a single nationwide standard for running the different shops would be implemented.
But let's not allow our enthusiasm over the court's agreeing to hear the case convert our hopes to fantasies. Despite all the valid reasons – economic, social and cultural – to expect a favorable ruling, getting PASPA overturned and deemed unconstitutional is far from a slam dunk.
Forcing lawmakers and policy wonks to take a hard look at the consequences of illegal gambling while the court reviews the New Jersey case is a positive development. The disparity between legal sports betting, about $5 billion annually, and illegal activity of around $500 billion, is mind boggling. That alone should be a compelling argument to support legalization. But of course, the Supreme Court will examine the issue from the perspective of determining how many angels can dance on the head of a pin.
In a major effort to expand legal sports wagering, the American Gaming Association has been putting its considerable lobbying muscle behind the cause. AGA president and CEO Geoff Freeman said he was pleased the court "appears to have responded favorably to our arguments as to why they should hear this important case." He is hopeful that with the court's involvement it will motivate congress "to take the steps necessary to create a regulated sports betting marketplace in the United States."
Although there has been some softening in the objections to such a betting marketplace by professional organizations like the NBA, the AGA has been in the forefront of the campaign to change the hearts and minds of the anti-sports betting establishment. Its efforts are finally kicking in. Most significant is the evolution of the NFL's once steadfast opposition, which has melted with the league's approval of the Oakland Raiders move to Las Vegas.
Should the court overturn PASPA, the potential surge in the creation of new employment would provide President Trump ammunition in his promise to create more jobs. According to William Hill US CEO Joe Asher, "Replacing PASPA will bring sports betting out of the shadows and into the sunlight, creating well over 100,000 jobs and raising billions in tax revenue." Another even more optimistic estimate calls for creation of 150,000 jobs and protection of consumers, 97 percent of whom bet with illegal bookmakers in the U.S. and offshore/online sportsbooks.
Given all the all the factors that should have a positive influence on the court's ruling, it is very possible that the next generation of sports bettors will never know the ignominy of having to break an absurd law just to place a wager on a football game.
Assuming this cliffhanger has a happy ending, let me close with a cautionary reality check. Illegal bookies will continue to exist because they offer credit, and there will be an ungodly spike in the number of touts and sports services offering a huge new market of gullible bettors the "5,000-star lock of the century."´

Do you have a comment or question about this article?

Look for your question to be answered in either Casino Player or Strictly Slots Magazines.