Complete Your Wish List With Holiday Specials At Mohegan Sun
A one-stop shop for all celebrations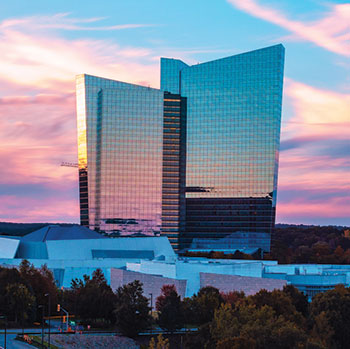 During Christmas and New Year's Eve season, guests can enjoy holiday dining and shopping specials offered across the property at Mohegan Sun. From delightful meals at Todd English's Tuscany and Bobby Flay's Bar Americain, to sweet treats at Ben & Jerry's and Godiva Chocolatier and shopping steals from retail stores such as Robert Graham, find the perfect deal for you and whoever you choose to spend the day with!
Christmas Specials
Come in and enjoy a Christmas meal on Monday, December 25th at Todd English's Tuscany, offering braised veal osso bucco with wild mushroom risotto for $60.00 per person.
From Friday, December 22nd to Monday, December 25th, The Lansdowne Irish Pub & Music House will feature a special Christmas menu including stuffed mushrooms with six New England style mushrooms filled with a sweet and savory Ritz cracker stuffing for $10.00; shrimp cocktail with five jumbo shrimp served with cocktail sauce and lemon for $12.00; 12 oz. slow roasted prime rib served with grilled asparagus covered in hollandaise sauce, roasted rosemary fingerling potatoes and au jus for $26.00; baked stuffed shrimp dinner with jumbo shrimp stuffed with a lemon beurre blanc served with jasmine rice and the daily vegetable for $17.00. Guests also have the option to add two baked shrimp to any entrée for $5.00. *Opening at 5:00pm on Christmas Day.
Book a holiday party now at Jimmy Buffett's Margaritaville and each of your guests will receive a $20.0 gift voucher to use in-store.
For a sweet treat, Ben & Jerry's will be offering a limited batch of crusted candy cane covered/dipped waffle cones and a candy cane sundae topping available for the holidays.
For a little retail therapy at The Shops at Mohegan Sun, visit Godiva Chocolatier to treat yourself or to gift delicious in-store treats and personal collections featuring velvety hot chocolate and creamy chocolate petit four mini presents. In addition, receive 20% off on friends & family and buy more, save more. Or, stop by Robert Graham to receive a complimentary pair of leather tech gloves with a purchase of $350.00 or more, while supplies last.
Guests looking for something fun to do at the end of the day can head over to Kids Quest, and for every $25.00 spent, receive $5.00 to spend on a future visit. As a reminder: Santa visits on December 16th & 17th!
New Year's Eve Specials
On Sunday, December 31st, enjoy a New Year's Eve meal at Bobby Flay's Bar Americain. For $80.00 per person, enjoy an 8 oz. rubbed filet mignon, ½ lobster with roasted lemon butter and choice of spinach or smashed potatoes.
Todd English's Tuscany will offer featured specials of lobster ravioli with smoke lemon burro fuso, arugula and black garlic for $32.00 and a grilled 18 oz. prime bone-in ribeye with Benton bacon wrapped scallops, gorgonzola silk potato and asparagus for $70.00.
New Year shopping deals can be found at Robert Graham. Stop by to receive a complimentary pair of leather tech gloves with a purchase of $350.00 or more, while supplies last.
At Kids Quest, "Party like Potter" on New Year's Eve! Guests are encouraged to wear the Hogwarts House colors of their choice for a night of Harry Potter themed fun and games. Count down to 2018 followed by a balloon drop.

Do you have a comment or question about this article?

Look for your question to be answered in either Casino Player or Strictly Slots Magazines.