Resorts World Catskills Opens The Alder Hotel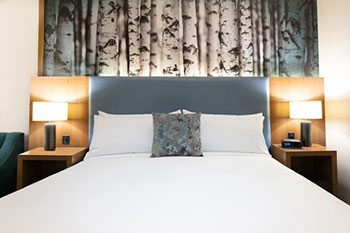 Resorts World Catskills, New York's newest casino resort, opened its new hotel, The Alder, in December offering guests an exciting new way to stay and play in the heart of the picturesque Catskill Mountains.
This new lifestyle hotel offers a host of exciting amenities and offerings including retail, entertainment, and food and beverage options throughout its first floor. The Alder's name evokes the majestic alder tree, a part of the birch family native to the rich ecosystem of the Catskills, known for providing shelter and protection to neighboring wildlife while enriching the natural environment.
The Alder brings to life Resorts World Catskills' commitment to integrating its natural surroundings with a lobby that emphasizes communal spaces and incorporates the outdoor beauty of the Catskills . The 101 guest rooms feature the modern amenities that discerning travelers expect from the destination resort, including hotel amenities from Malin+Goetz, signature design details that marry the modern glamour of the casino resort with the sweeping scenic views, full access to the service amenities of Resorts World Catskills including 100,000 square feet of gaming space, 10 dining experiences and the Crystal Life Spa. Guests of The Alder will also have full access to the luxury indoor pool and fitness center within the Resorts World Catskills hotel.
"Like its name, which was said to know the past, present, and future, The Alder at Resorts World Catskills symbolizes the commitment to returning the region to its roots as an iconic American destination while also helping to grow its future and expand the range of experiences we are able to offer our guests," said Ryan Eller, President & CEO of Resorts World Catskills.
In addition, The Alder also offers New York State's first Topgolf Swing Suite. Topgolf Swing Suite is a golf and entertainment simulator experience for players of all ages and skill levels. The 350-square-foot suite is a high-tech private space with comfortable bar seating, HDTVs, full catering and top-shelf bar service. Each of the two bays will accommodate up to eight players and offer interactive virtual golf and non-golf games, perfect for private parties and events.
"We are proud to team with Resorts World Catskills to provide a new kind of interactive social experience that will entertain visitors of all ages and skill levels in the Catskills," said Topgolf Swing Suite President Ron Powers.
The destination resort continues its expansion in 2019 with the addition of two new offerings, The Kartrite Hotel and Indoor Waterpark and a Rees Jones-redesigned golf course.
For more information about Resorts World Catskills and The Alder, Â  visit www.rwcatskills.com

Do you have a comment or question about this article?

Look for your question to be answered in either Casino Player or Strictly Slots Magazines.