Morongo Casino Resort Breaks Ground on New Expansion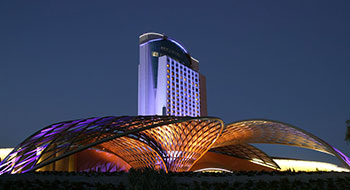 Morongo tribal leaders and a host of dignitaries gathered on Monday to break ground on a breathtaking new renovation and expansion project that will transform the heart of the AAA Four-Diamond Morongo Casino, Resort & Spa.
With ceremonial shovels of dirt, Morongo Tribal Chairman Robert Martin and members of the Morongo Tribal Council marked the milestone flanked by retiring Riverside County Supervisor Marion Ashely, Riverside County Supervisor-elect Jeff Hewitt and elected and business leaders from the cities of Banning and Beaumont.
"Morongo has come a long way from the tiny bingo hall we operated on the reservation back in the 1980s," said Chairman Martin. "Today, we pen a new chapter in our story as we continue to nurture new opportunities for our people, our community and our region. Today, we take a step toward generating another 425 new full-time jobs to add to the more than 2,500 jobs that Morongo already provides."
Set to be finished in 2020, elements of the expansion and renovation project include:
An elegantly designed 65,000-square-foot expansion which will increase Morongo's existing gaming floor by more than 30 percent, allowing for the addition of 800 new slots, new table games and new bar, lounge, and other guest amenities.
Renovation of the casino's gaming floor and amenities, and renovation and replacement of first-floor restaurants to elevate the dining offerings.
Development of a free valet parking structure with 750 spaces, including premier parking and charging stations for more than 70 electric vehicles.
The project will also create more than 1,000 construction jobs.
"This beautiful new expansion is going to help power the economy for our region for many years to come as it will bring hundreds of new jobs and millions of dollars in new economic activity," said Riverside County Supervisor Marion Ashley. "This project is the latest example of how Morongo continues to help move our region forward."
Chairman Martin noted that two of the construction partners are Native American-owned companies, Banning-based Sage Mountain Construction and Hal Hayes Construction, ranked as the 7th Top Native American-Owned Business in the U.S. by DiversityBusiness.com. Other construction partners include Yates Moorefield LLC.
"We've put together a top-notch construction team that brings together the best in the business," Chairman Martin said.
The expansion and renovations were designed by Bergman Walls & Associates and Kenneth Ussenko Design, who have created palaces for royalty in Qatar and luxury resorts in Belize, Las Vegas and across the globe.
"At Morongo, our goal is always to exceed the expectations of our guests by offering an unmatched gaming and luxury resort experience," said John James, Chief Operating Officer of the Morongo Casino. "With this exciting renovation and expansion, we are upping the ante to ensure that we stay true to that principle."

Do you have a comment or question about this article?

Look for your question to be answered in either Casino Player or Strictly Slots Magazines.