Resorts World Catskills Set to Open Feb. 8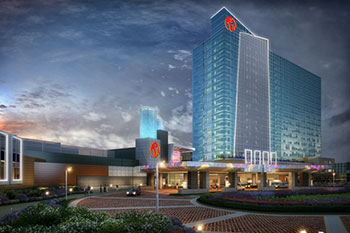 The much-anticipated opening of Resorts World Catskills in Monticello, NY, looks to be coming sooner than expected, with the announcement of plans to open the doors of its luxury casino resort to the public for the first time on February 8th.  The opening comes several weeks ahead of the March 1 opening date under the terms of the casino license, issued by the New York State Gaming Commission.
Resorts World Catskills will officially open at 8 a.m., when the public will have the first opportunity to experience this region's most anticipated Las Vegas-style gaming with more than 150 live table games and 2,150 state-of-the-art slot machines, as well as a myriad of hospitality and nightlife options to satisfy all palates.
'ÄúOur staff has worked tirelessly to ensure that when we open our doors for the first time, we will be ready to provide our guests an unparalleled experience,'ÄĚ said Ryan Eller, President and Chief Executive Officer of Resorts World Catskills. 'ÄúThis opening, and making it happen ahead of schedule, is a reflection of our commitment, not only to our patrons and guests, but to becoming a positive contributor to the fabric of the Catskills region as a whole.'ÄĚ
Resorts World Catskills will feature extensive casino gaming options, first-class amenities and luxury accommodations, all within a short 90-mile drive from Manhattan. It is the cornerstone of a $1.2 billion project that will include the casino resort, a planned entertainment village, an indoor waterpark lodge, and an 18-hole Rees Jones designed golf course.
'ÄúAll of us at Resorts World Catskills enthusiastically await the opportunity to unveil our casino resort and bring unmatched excitement, entertainment, and Las Vegas-style gaming to the region,'ÄĚ said Charles A. Degliomini, Executive Vice President of Resorts World Catskills. 'ÄúWith our opening, we look forward to driving tourism to the Catskills, stimulating the economy and making meaningful contributions that help put the Catskills back on the map as a premier getaway and true destination.'ÄĚ
Following its public opening, Resorts World Catskills plans to mark the 15-day Lunar New Year celebration with a series of festivities and events. A Grand Opening celebration is scheduled for May 2018. More information on events, and additional opportunities to experience Resorts World Catskills, will be released in the coming weeks.
Do you have a comment or question about this article?

Look for your question to be answered in either Casino Player or Strictly Slots Magazines.