Hard Rock Hotel & Casino Atlantic City Opening A Smashing Success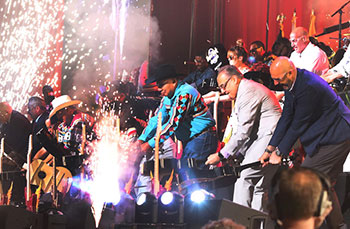 Hard Rock Hotel & Casino Atlantic City opened its doors on June 28, one of the most highly-anticipated property grand openings in Atlantic City.
Located on the world-famous Atlantic City Boardwalk, the 17-acre property welcomed the public with the brand-famous guitar-smash, which included a star-studded line-up of celebrity guitar smashers, ranging from Black Panther star, Michael B. Jordan to singer/songwriter of "Gold," Kiiara.
"This is an historical day for both Hard Rock and Atlantic City and we're thrilled to welcome brand enthusiasts, locals, families and music lovers with open arms to experience our one-of-a-kind offering," said Jim Allen, chairman and CEO of Hard Rock International. "We are grateful for our partners, and together, we completed the more than $500 million renovation in record time."
Hard Rock Hotel & Casino Atlantic City is positioned to be the region's go-to entertainment destination, boasting an expansive casino with 2,200 slots and 120 table games, in addition to more than 20 concept-based restaurants, lounges and premier entertainment venues – Hard Rock Live at Etess Arena and Sound Waves. Its music-inspired contemporary design features 2,000 guestrooms and suites, as well as its extensive amenities, including the Rock Spa & Salon, Body Rock Fitness Center, 150,000 square feet of meeting space, first-class retail offerings, The Sound of Your Stay music amenity program and the world-famous Rock Shop, featuring Hard Rock merchandise and an array of classic music memorabilia.
HARD ROCK HOTEL & CASINO ATLANTIC CITY
Hands down the most anticipated casino launch in years, the Hard Rock Hotel & Casino Atlantic City officially opened its doors on June 28, with countless streams of excited players bursting through the doors to get their first look at the hottest new property on the East Coast.
Set on the 17-acre site which formerly housed the Taj Mahal, the new Hard Rock is positioned as a one-of-a-kind entertainment experience, offering the best gambling as well as unrivaled dining, entertainment, shopping, bars, lounges, spas and so much more.
What makes the Hard Rock so unique is the excessive attention to detail and care that has been taken to ensure the property meet all of the expectations of their guests. The focus has been to create the ultimate casino experience for everyone that walks through the door, from extensive and targeted game selection, to overall design, amenities, entertainment, and customer service. Indeed, their mantra from the beginning has been "By players, for players" a sentiment that powerfully resonates with gamblers and distinguishes Hard Rock from any other casino entertainment complex anywhere.
Take the gaming floor for example. To put it simply, it's a thing of beauty. Designed to be intuitive and easy to navigate, visitors will find a different vibe at every turn in an environment that is both rewarding and carefree. And best of all, players are never far away from the action.
"Our slot floor was developed to offer a comfortable and entertaining gaming experience. We developed smaller banks and carousel layouts that allow easy flow through the casino and open site lines to showcase our product," said Dave Polizzi, Vice President of Slot Operations at Hard Rock Atlantic City. "We positioned the most popular game themes in multiple locations throughout our floor so players could have additional opportunities to play them."
For table game enthusiasts, Hard Rock provides an ample selection, with a wide variety of limits to cater to everyone from the casino novice to the big bettor. Their game mix includes favorites like craps, blackjack, baccarat and roulette with added progressive bonus games such as Super 4, which will interface with their upcoming online gaming product. But that's not all.
Hard Rock's Asian gaming room is perhaps the best in Atlantic City, offering 16 baccarat games, including Macau style baccarat. pai gow, pai gow tiles and Asian poker. And in their high limit area, players will find blackjack, single zero roulette and craps in a comfortable room with dedicated cocktail service, table side food offerings and a private cage for customers.
"We want Hard Rock Atlantic City to be known for a fun, professional gaming environment, with liberal rules and odds for the serious gambler," offered Herb Gee, Vice President of Table Games.
Go Wild
There are many reasons to call Hard Rock Atlantic City home, not the least of which being the superb three-tiered Wild Card player reward program – Premiere, Elite and Rock Royalty – each with its own host of unique and enticing perks.
As a Premier Member, players will have the opportunity to earn comp dollars from play at slots and tables; earn free play from play at the slots, available to redeem on your next trip; and presale ticket access to some of the hottest entertainment.
Elite card holders receive all of the perks of Premiere players as well as a host of other benefits like invitations to member-only slot tournaments and events, 2X sweepstakes entries, discount hotel rooms, a special birthday offer, shopping discounts, complimentary parking and more.
For the crème de la crème, Rock Royalty players receive all of the perks of Premiere and Elite players, as well as complimentary priority lines for a selection of restaurants, access to the Rock Royalty lounge; priority lines at card services and the casino cashier; a personalized host; free show tickets; free valet parking; room discounts and upgrades and more.
And since Hard Rock has taken the stance of "It would be unfair to start over," if you're a premium player at another property, simply show your players card and they'll upgrade your Wild Card Tier. Along with that, you'll receive free play, a complimentary hotel room, a dining offer.
For more information visit www.hardrockhotelatlanticcity.com
Do you have a comment or question about this article?

Look for your question to be answered in either Casino Player or Strictly Slots Magazines.