Aristocrat Technologies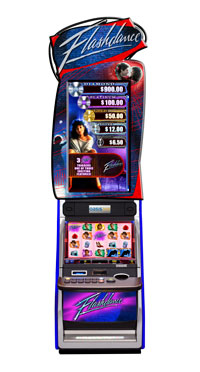 Aristocrat brought on a load of new game design talent this year, including industry legend Joe Kaminkow, who previously made slot history as the theme-master for IGT. At Aristocrat, he has brought the best out of several great new branded slots.
At the top of the list is Flashdance, based on the iconic 1983 film starring Jennifer Beals as a Pittsburgh welder living in a converted factory building who transforms herself into a professional dancer.  The game, in Aristocrat's Feature Top Box Video group, combines intricate animation, graphics and video footage of the movie's dancing sequences with the film's famous music—"Maniac Free Spins," "What A Feeling Free Spins"—all driven home to the player with the new Aristocrat Surround Sound Chair.
Another major branded slot in Aristocrat's lineup will appeal to younger players: The Walking Dead, based on the first season of the AMC series that has grown into the most-watched drama in basic cable history. The show's theme of humans trying to survive as hordes of zombies swarm the ruins of a post-apocalyptic world is reproduced in video, animation and reel symbols under a $500,000 multi-site progressive jackpot housed in Aristocrat's Vervehd cabinet, featuring a 31.5-inch LCD top monitor.
At the other end of the slot age spectrum, the baby boomers will be given Batman 1966. Kaminkow, who was the architect of IGT's game based on the modern-day Batman film The Dark Knight, was given the job at Aristocrat to re-create
the campy 1960s Batman TV series starring Adam West and Burt Ward, complete with all the "Bam!"-"Boom!"-"Crunch!" comic-book sound balloons, villains like Frank Gorshin's Riddler and Cesar Romero's Joker, and all the cornball clichés that made the '60s series so irresistible.
Aristocrat is pumping out new titles in its proprietary brands, such as Buffalo Stampede, based on Aristocrat's Buffalo, its top video slot. There also will be new versions of Wonder 4, the multiple-reel-set games that feature a multi-game, multi-reel concept. There are four reel sets, and the player can choose to play any or all of the four base games at once. A unique "Drag and Drop" technology allows the player to drag any of the game titles from the menu and drop them on any of the reel sets
Do you have a comment or question about this article?

Look for your question to be answered in either Casino Player or Strictly Slots Magazines.